Bolt Promising Hard Effort And Fast Time In 200m In Lausanne On July 7
*Watch The Dream Mile In Britain? Not These Days While the BBC interrupts the evening news for updates on Wimbledon and British tennis darling Andy Murray, the Bislett Games and Dream Mile were going to go un-broadcasted in England thanks to Setanta Sports going under in the UK.
*But Wait! Eurosport Saves The Day: Now dozens will watch the Bislett Games across Britain, as a deal has just been finished that allows Eurosport to pick up the slack and televise Golden League.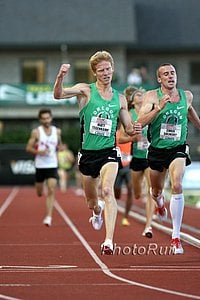 LRC: The Week That Was This week, our weekly recap looks exclusively at the 2009 USA Outdoor Track & Field Championships. We start by saying, "I told you so" as we compare the success of these Trials to an Oregon basketball game. We then tell you where Alan Webb would have finished in the men's 1,500 final, take a look at all the big name pros that had flameouts and give Barack Obama some unsolicited advice. Plus, Rupp's Lexus, Barringer's bling and more. You can compare our Week That Was to the LRC message board UNCENSORED version from Lickety Split.
Peachtree 10km Road Race Is Saturday In Atlanta - Serves As USATF 10km Road Championship
Top Eritrean Marathoner Yared Asmerom Selects Merhawi Keflezighi As His Agent
*Pat Butcher Can't Wait For Berlin's Sprint Clashes To Arrive
*Older "Butcher Blog" On Late-Bloomers Like Haron Keitany And Paul Evans If you haven't read about Paul Evans before, his is a great story.
*Science Of Sport On Oscar Pistorius' Case To Be Included With Able-Bodied Runners
*Heavy Duty Oscar Pistorius Research Analysis Science of Sport, one of our favorite reads, has been researching and posting on the Oscar Pistorius case for a year-and-a-half and we consider them the experts on the subject.
Injury News:
Previous USATF News:
Sprint Rivalries Heat Up As World Stars Soon To Clash
*Gay - Bolt [Powell] Rivalry Now Set For Berlin
*Bolt On Gay: My 100m Record Will Be Very Hard For Him Bolt says watch out for Asafa Powell as he continues to recover from the ankle injury. Powell ran sub-10.00 this weekend into a headwind. Usain also reminds Gay that his 9.75 was run with a serious tailwind.
*Bolt Says He Is Lacking In Overall Fitness But He Will Get Fitter August and the WCs are still several weeks away.
*Michael Rodgers Used To Sell Air Jordans Out Of His Car Trunk To Get By Now Nike sponsors him and he's the USA 100m champion.
*Down Goes Fraser! Well At Least Her 100m Time Shelly-Ann Fraser is sort of the Dawn Harper (who?) of Jamaica. She isn't a big star despite her 100m Olympic victory because the bigger story was The Bolt.

You Don't See This Every Day: 400m Hurdles Trash Talk
*Jamaican Isa Phillips Will Be Major Obstacle To USA 1-2-3 400h Sweep He's now the third-fastest Jamaican ever at the event after a 48.08 this weekend.
*Bershawn Jackson, College Soph Johnny Dutch And Olympic Champ Angelo Taylor Sweep Hurdles, Jackson Predicts Sweep At Worlds
*Hurdler James Carter Throws Out Some Veiled Drug Accusations, Says He May Switch To Decathlon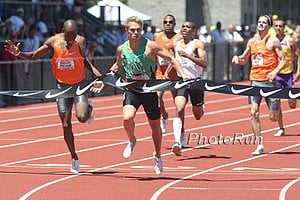 Sunday Men's Distance Action LRC Lomong Gets First, Symmonds Gets Another, Webb A No Show In the men's 800, rivals Nick Symmonds and Khadevis Robinson put on a show down the homestretch with Symmonds coming out on top. In the men's 1,500, Alan Webb pulled out before the race with an injury, and that left favorites Lopez Lomong and Leo Manzano dueling down the homestretch with Lomong coming out on top. Arkansas Razorback Dorian Ulrey closed nearly as fast but started the last lap a second back and finished 3rd. Recap and race videos.

More Men's Distance: *Nick Symmonds Wins Thrilling 800 Over KD Oregonian
*Galen Rupp Selects Michael Johnson To Be His Agent Somehow we don't see Rupp pulling a Wariner and signing with adidas and then dumping his coach.
*Ben Bruce On Men's Steeple: "I Blew It."

200: Shawn Crawford Blows Away Field In Men's 200

High Jump: Tora Harris Wins High Jump, Oregon's Jesse Williams Finishes 4th And Won't Go To Worlds

Shot: Christian Cantwell Wins Shot Put

JR: Mac Fleet Wins 1,500 At Junior Meet, Pulls A Deak At The Finish (Photo)
Spain
Marta Domínguez Runs 9:16.50 World-Leading Steeple, Jana Pittman Returns From Injury IAAF
Saturday USATF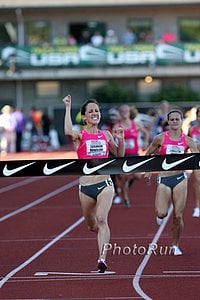 Saturday Distance Action
LRC Rowbury Back Atop The US 1,500 Ranks Christin Wurth made it interesting, opening up a 3-second lead at the bell on Shannon Rowbury, but Rowbury blitzed the last lap in 60 seconds to get the come-from-behind win and put her back atop the US 1,500m rankings. Anna Willard, attempting the steeple/1,500 double, was third.

LRC Josh McAdams Gets His 2nd USATF Steeple Crown McAdams held off the challenge from Dan Huling.
USATF Friday
Alberto Avalanche Continues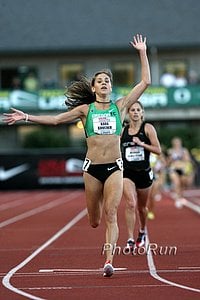 LRC Kara Goucher Gets 5,000 Crown If you thought Kara had given up on the track now that her marathon career is in full swing, think again. Goucher blasted away from Jen Rhines with 500m to go and coasted to her 2nd straight USATF 5k track crown. Goucher will run the marathon in Berlin. NCAA champ Angela Bizzarri moved up for third. Chasing the World Championship "A" standard wasn't the first thing on her mind, as she's never left the country. Goucher's win gave Alberto Salazar-coached athletes 3 of the 4 distance titles in Eugene. The fourth title (the men's 5k) went to Alberto's co-worker Jerry Schumacher, as Matt Tegenkamp led a 1-2-3 Portland sweep.
More Goucher: Oregonian: Goucher Wins 5,000 While Working On Her Marathon Speed

Day 2 AP Recap: Mike Rodgers Goes From Selling Air Jordans Out Of The Back Of His Car To Winning The USA 100m 9.91w for Rodgers. In the women's 100, Carmelita Jeter outleaned Muna Lee in a fast 10.78w.
Friday: Watch The IAAF Golden League Bislett Games Live From Oslo Online At 2PM Eastern And On Universal Sports TV Network Tape Delayed At 5PM Eastern *Results *Startlists
*LRC Preview
LetsRun.com Oslo Preview Stars include Kaki, Bekele, Isinbayeva, Ohuruogu vs. Richards, Defar vs. Melkamu vs. Cheruiyot, The Dream Mile and even Alistair Cragg vs. Ryan Gregson.
Sanya Richards, Only 24, Couldn't Be Happier Heading Into Clash In the article, she discusses her wedding planning with a TV celeb planner and how happy she is.
Oslo Dream Mile Preview Brit Andy Baddeley is the returning champion of the legendary event but will have his hands full* with Augustine Choge - he of 3:29 form. *Not anymore, as Baddeley is injured and won't compete.
Bislett Games See Return Of 5,000m After 2 Years Without A Race Longer Than 1 Mile Meseret Defar and Tirunesh Dibaba will clash over 5,000m.
Men's And Women's 5,000m Previews Kenenisa Bekele, going for the Golden League Jackpot this year, will face 10 men who have run under 13:00.
Christine Ohuruogu Makes Rare Appearance Against Sanya Richards Richards has broken 50 seconds 34 times in her career vs. Ohuruogu's 2!
Catherine Ndereba To Run Bogota Half On August 3
Promotion: Submit Video Of Your Moves To Win Dance With Usain Bolt ON THE TRACK After His 100m At London's Crystal Palace This is hilarious.
Andrew Wheating Is Heading To Europe For A Mile And Some 800s We think this is a great idea to get him more experience.
Dick Patrick Of USAToday Writes About Alan Webb's Injury, USATF Losing Dan Pfaff To London 2012 Charles Van Commenee and the UK Athletics administration have lured another top coach from North America, Dan Pfaff. Previously, they got 2 top Canadian coaches who worked, for one, with international standout Tyler Christopher.
Bruny Surin And Other Canadians Upset With Apparent Decline In Canadian Athletics
Previously Dan Pfaff Hired To Lead 2012 Performance Centre in London Wejo has met 2 coaching geniuses in his life, Pfaff and JK. Pfaff is most known for coaching former Olympic champ and 100m WR setter Donovan Bailey, but at Texas he coached field event NCAA champs. He can do it all. Of course. another UK paper has to make a big deal of him coaching Marion Jones.
A Look At The World's Best Junior Female Athletes
Wishful Thinking: Winnie Chebet Hopes To Do Better Than Pamela Jelimo Chebet is a 4-time world junior and youth medalist at 800m, but her best is only 2:04. Time will tell in her case. From coach Japhet Kamei: "She could not perform well this year because she spends most of her time in class since she is a candidate. She has not been in intensive training. But I am certain she will rock the world in 800 metres as her high discipline standards will be helpful."
Recommended Read: Interview With Jordan Hasay Joe Battaglia does a long interview with Hasay that answered a ton of our questions. Does Hasay have too much pressure and attention? Yes. Is she incredibly mature and disciplined? Yes. Is she overtrained? We say "No" and think she may actually be able to progress despite the weight of expectations.
Dawn Harper Named USATF Athlete Of The Week Harper, Olympic champ at 100m hurdles, again comes out on top versus Lolo Jones as she wins the US title and the Visa Championship Series 25k.
Stay Up On The Multi-Event World Leaders
Kenya Selects 3rd Placer At Trials (Bernard Kipyego) Over Moses Masai For The World Champs Team At 10k, Will Only Have 1 Woman On Team If anyone needed proof that Kenya is still a male-dominated society, it is that the US will send 3 to Worlds in the women's 10k and as it stands Kenya will send 1.
Michael Johnson's 3 Steps To Save The Sport Shorter meets, more sponsorship on athletes jerseys, and relevant events focusing on competition not records. And how about attempting to entertain fans at the event? That means music. If they do it at every other sporting event in the world why not track?
More UK News: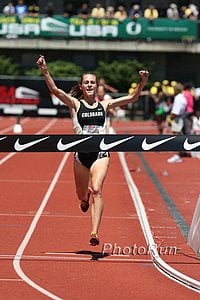 Sunday Women's Distance Action LRC Hazel Clark Gets National Title #5 As Maggie Vessey Leaves It Too Late, Barringer Cruises, Willard Makes 2nd World Champs Team In the women's 800, Hazel Clark went wire-to-wire as Prefontaine surprise winner Maggie Vessey took her Borzakovskiy-like come-from-behind tactics to another level. With 200 meters to go, she was 20 meters behind. She threw down a 28-second last 200 but it was too little too late as she finished 4th. 20-year-old Phoebe Wright picked the perfect time for a nearly 1-second PR to finish 3rd in this tight race. Jenny Barringer took the drama out of the women's steeple as she dominated and Anna Willard was content to just make the World Championships team after she made it in the 1,500 the day before. Collegian Bridget Franek finished third to put a ticket to Berlin on the agenda.
Elsewhere In The World Of Track & Field
*Mo Farah To Return From Pyrenees With Hopes Of Breaking Moorcroft's 13:00 5k Record Farah has been super-dedicated this year to his training, traveling to Kenya over the winter and now to the Pyrenées to Paula Radcliffe's camp, and his performances have soared.
*Arkansas Razorback Wins Jamaican Long Jump Trials With A-Standard 8.21 Big performance for Alain Bailey.
*5k Man Yuichiro Ueno Steals 1,500m At Japanese Champs Recaps and video from Brett Larner of all of the action. Japan has pretty good sprinters and distance runners but their milers stunk it up this weekend. *IAAF Recap Of Japanese National Track Championships
Marathon News
*Rocking 'N' Rolling In Seattle Marathon And Half Marathon Peter Gilmore nabs second in 2:18 while Berhane Adere ran a 1:11 half.
*Kenyan Marathon Teams Announced For World Champs Martin Lel relegated to backup on the men's side. Catherine Ndereba, too.
Sign Of The Apocalypse: Near 90-Degree Weather In Oslo Leading Up To Golden League Meet
Rumblings
*Nike Inks 4-Year Deal With USATF That Will Expand If Chicago Wins 2016 Olympic Bid The deal with the global running apparel and footwear leader is a rather humble $2.5 million a year.
*Opinionated Cram And Van Commenee Clash Over Former's Criticisms We're not surprised by this.
Jamaican Champs
Bolt Runs 20.25 To Win 200 At Jamaican Champs
Previous: Usain Bolt 9.86 Into Wind Over Powell, Shelly-Ann Fraser 10.88 Into Wind
*Video Of Bolt's 100
Saturday USATF
Non-Distance Action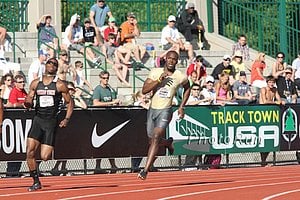 400: LaShawn Merritt, Sanya Richards Dominate 400 Meters

Jumps/Throws: Big Marks From Dwight Phillips, Kara Patterson Highlight Day 3

Jrs: Chalonda Goodman Gets Sprint Double And Anastasia Jelmini Gets Throws Double At US Junior Champs

Recommended Reads: Walter Dix's Contract Dispute With His Agent Has Taken Its Toll On His Running In 2009
*Galen Rupp Understands The Glare German Fernandez Is Under - Alberto Salazar Says Ritz Is One Guy He Always Wanted To Take On
*Oregon Recruit Jordan Hasay Is Growing Up Fast

It's Official: Nicole Bush Broke Her Foot On Water Jump That Was Too High