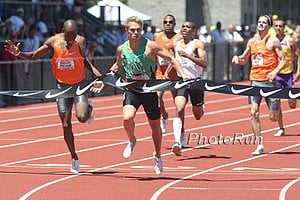 Sunday Men's Distance Action LRC Lomong Gets First, Symmonds Gets Another, Webb A No Show In the men's 800, rivals Nick Symmonds and Khadevis Robinson put on a show down the homestretch with Symmonds coming out on top. In the men's 1,500, Alan Webb pulled out before the race with an injury, and that left favorites Lopez Lomong and Leo Manzano dueling down the homestretch with Lomong coming out on top. Arkansas Razorback Dorian Ulrey closed nearly as fast but started the last lap a second back and finished 3rd. Recap and race videos.

More Men's Distance: *Nick Symmonds Wins Thrilling 800 Over KD Oregonian
*Galen Rupp Selects Michael Johnson To Be His Agent Somehow we don't see Rupp pulling a Wariner and signing with adidas and then dumping his coach.
*Ben Bruce On Men's Steeple: "I Blew It"

400 Hurdles: Bershawn Jackson, College Soph Johnny Dutch And Olympic Champ Angelo Taylor Sweep Hurdles, Jackson Predicts Sweep At Worlds
*Hurdler James Carter Throws Out Some Veiled Drug Accusations, Says He May Switch To Decathlon

200: Shawn Crawford Blows Away Field In Men's 200

High Jump: Tora Harris Wins High Jump, Oregon's Jesse Williams Finishes 4th And Won't Go To Worlds

Shot: Christian Cantwell Wins Shot Put

JR: Mac Fleet Wins 1,500 At Junior Meet, Pulls A Deak At The Finish (Photo)
Spain
Marta Domínguez Runs 9:16.50 World-Leading Steeple, Jana Pittman Returns From Injury IAAF
Saturday USATF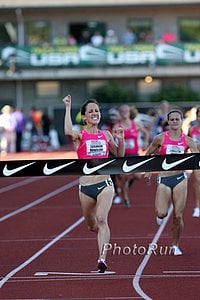 Saturday Distance Action
LRC Rowbury Back Atop The US 1,500 Ranks Christin Wurth made it interesting, opening up a 3-second lead at the bell on Shannon Rowbury, but Rowbury blitzed the last lap in 60 seconds to get the come-from-behind win and put her back atop the US 1,500m rankings. Anna Willard, attempting the steeple/1,500 double, was third.

LRC Josh McAdams Gets His 2nd USATF Steeple Crown McAdams held off the challenge from Dan Huling.
USATF Friday
Alberto Avalanche Continues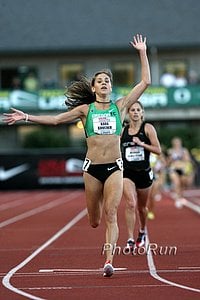 LRC Kara Goucher Gets 5,000 Crown If you thought Kara had given up on the track now that her marathon career is in full swing, think again. Goucher blasted away from Jen Rhines with 500m to go and coasted to her 2nd straight USATF 5k track crown. Goucher will run the marathon in Berlin. NCAA champ Angela Bizzarri moved up for third. Chasing the World Championship "A" standard wasn't the first thing on her mind, as she's never left the country. Goucher's win gave Alberto Salazar-coached athletes 3 of the 4 distance titles in Eugene. The fourth title (the men's 5k) went to Alberto's co-worker Jerry Schumacher, as Matt Tegenkamp led a 1-2-3 Portland sweep.
More Goucher: Oregonian: Goucher Wins 5,000 While Working On Her Marathon Speed

Day 2 AP Recap: Mike Rodgers Goes From Selling Air Jordans Out Of The Back Of His Car To Winning The USA 100m 9.91w for Rodgers. In the women's 100, Carmelita Jeter outleaned Muna Lee in a fast 10.78w.

Women's 100: Women's 100: Muna Lee Becomes First Woman Ever To Run 10.78 And Lose

Olympic Trials Will Be Cut To 6 Days In 2012 This doesn't seem to cut the financial cost on athletes much or reduce the amount of stress on them much (Project 30 goals), but having the Trials over 2 weekends is perfectly fine with us. The old system wasn't broken and the new one isn't much different.
Milan
Eliud Kipchoge Runs World-Leading 12:56 In Milan IAAF
USATF Thursday
Alberto In Straight Sets

LRC Galen Rupp Wins USATF 10k Title link fixed Galen Rupp made it look easy, easily putting away from a surprising Dathan Ritzenhein over the last 500 to win his first USATF title in his last time in the Oregon Duck jersey. Along the way, Rupp dispatched a who's who of American distance running, as veterans Meb Keflezighi and Abdi Abdirahman tried to push Rupp. Rupp's win capped a great day for Alberto Salazar as in the women's 10k final, the Salazar-coached Amy Begley shocked Beijing Olympic medallist Shalane Flanagan in the 10k over the last 150m.
More Rupp: Race Results Weekly: BEGLEY AND RUPP GET TWO DRAMATIC USA 10,000M VICTORIES Rupp is the first athlete to win the USATF 10k and NCAA 10k crown in the same year.
*Eugene Register Guard Recap: Galen Rupp Gets First USATF 10k Crown
*Fabulous Galen Rupp Wins USATF 10k Title

LRC 800 And 1,500 Recaps We give you analysis on the 800s and 1,500s you won't find anywhere else: Rob Myers Gate, Maggie Vessey's giving us a coronary, and Golden Coachman making the 800 semis with one shoe. Of course we've got the basics like Alan Webb and Will Leer.
More Men's Distance: Wheating Wanted To Run 1,500, Lananna Made Him Pull Out
*Three OTC Guys Advance In Steeple
USATFs Complete *Race Videos (Also On Right Of Homepage)
Jamaican Champs
Saturday USATF
Friday USATF
Thursday USATF Women's 10k