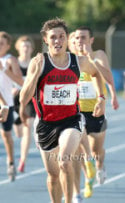 LRC Week in Review: Introducing Curtis Beach and Chalonda Goodman Sure we talk about Usain Bolt, Deena Kastor, and Kim Smith, but this week two high schoolers most of you have never heard of who deserve some major props. There seems to be little doubt in our minds that Beach is the best high school athlete ever by a long shot. The scary thing is the national decathlon record holder (who already beats Bryan Clay in 3 events) could perhaps be the best mid-d runner in America as well if he focused on it as he ran 1:50.75 for 800m this past weekend to get 2nd at NON. Goodman meanwhile already is good enough by herself to get in the top 20 as a team at NCAAs.
JJ Clark Selected to Coach Tennessee Men's Program He's had great success with the women at Tennessee but some Tennessee alums see this as a slap in the face to long-time Vols men's assistant George Watts. The press release from the AD says he hopes Watts has a prominent role in the new program.
*JJ Clark's Comments
On the boards: American 10k Legend Todd Williams Says Vols choice for Head Coach.... a very bad one!
Charles van Commenee Doesn't Hold Back on Given Frank Assessment of British Team How about this, "[People in] your sport come across as a collection of pussies"
Jamaican Track Offices Broken Into Usain Bolt's home was robbed last week as well.
For the Old Timers: Former Fourth Placer at Olympic Marathon Trials Dave Gordon Now Trying His Hand at Cycling
Germany Wins 1st European Team Champs As Spain Dominates Mid-D It was Germany, Russia, Britain & France in the top 4. The winners in the 800, 1,500, 3k, 3k steeple, and 5k were Miguel Quesada (1:47.64), Rui Silva (3:42.07), Jesús España (8:01.73), Mustafa Mohamed (8:28.09) and Mo Farah (13:43) for the men. For the women, it was Yuliya Krevsun (1:58.62), Anna Alminova (4:07.59), Gulnara Galkina-Samitova (8:46.88), Antje Möldner (9:32.65) and Dolores Checa (15:28).
*Dwain Chambers Stars As Britain Gets 3rd He won the 200 on Sunday as he stepped in for an injured teammate. Chambers: "The 200m is not my specialist event and I didn't know what I could do against these guys. This was about getting points for the team. I thought go for it and not to lose."
*IAAF Recap Of Day 1
*IAAF Recap Of 2nd Division: Belarus, Finland & Norway Do Well
*Behind Dwain Chambers Victory In 100 And New British Record In PV, Brits Off To A Good Start Chambers was disapointed with his 10.07 time.
*Former FSU Star Hannah England Runs 1:59.94
*Tim Benjamin: "I almost quit running." His pullout of Beijing obviously made him think about walking away altogether.
*The Independent Looks At 1st-Ever European Team Championships Controversial New Rules
Tyree Washington To Finally Be Given 2003 World Championship Gold Medal in Eugene This Week, But He's Still Bitter Washington: "I was their role model. But when I wanted to get help [in procuring the medal] from my federation, USATF, and the IAAF, they turned their backs."
Inspirational: 5 Years After Being Told She'd Never Run Again, Woman Represents Great Britain For 1st Time At 100km Ultra
Ken Goe Of Oregonian: No Doubt About It, Rupp Is Best Since Prefontaine (At Oregon)
Road Action
For 1st Time Since 1994, Two Americans Win Grandma's Marathon Christopher Raabe became the 1st American man to win since 1994 as he won in a PB of 2:15:13 in the state in which he was born. Mary Akor won the women's race. *MBoard: Grandma's Marathon Finish

Steamboat Classic 4-Miler
Defending Champs Kim Smith (19:38) And Ridouane Harroufi (17:44) Defend Crowns
Pre-Race
Recommended Read: Peoria Native Justin Young's Complete Dedication To Running Is Paying Off He's now a 2:13 guy who will represent the USofA in Berlin the marathon. A lot of guys who are more talented simply give it up as running as a pro requires a ton of sacrifices.
*7 Olympians Including Marathon Champ Dita Running Steamboat
Three Awesome Reads
1) All 4 Legs On Texas A&M's 4 x 400 Recount Their Feelings Before & During Race They came through big time thanks in part to a walk-on running 45.56. Unreal. Anchor Justin Oliver's advice to his teammates: "Show some heart."
2) A Look At The 1976 HS 4 x Mile Record By South Eugene High The team was hoping to run 16:40 but ended up running 17:06 in bad weather and all alone. 33 years later, their record still stands.
3) Meet Track & Field News #1-Ranked 1,500 Guy From 2008 - Haron Keitany The guy is a real talent as he didn't even start running until 2005 when he saw some of his friends on television.
2016 Olympic Hunt: Rio Has The Buzz After IOC Meetings We're sure the athletes would probably prefer Rio over Tokyo, Chicago and Madrid. Rio is sexy.
Dumbest Article Ever: Ignoring Infrastructure & Stadium Costs, Beijing Olympics Turned A Profit So they made $80 million if you ignore the $2.8 billion they spent on infrastructure/venues. How can you ignore that?
College News:
*Barringer, Williams Named USTFCCCA Women's National Athletes Of The Year

*Ashton Eaton And Galen Rupp Are D1 Track Athletes Of Year
US Nationals This Weekend
Kenyan Nationals This Weekend
Linet Masai to Have Her Hands Full
Jamaican Nationals This Weekend
Puma's Got a 3 Part Video Where They Followed a High School Team from the Puma HS Nationals, to Penn Relays, to the Boston Street Meet. Part 1 Below:

Part 2: Penn Relays
Part 3: Puma Street Meet
Saturday: Robby Andrews Caps Great Senior Season With Win In 800
*National Decathlon Record Holder Curtis Beach Runs 1:50.75 To Get 3rd
*Nice IAAF Recap Of Meet: Chalonda Goodman Gets Meet Records In 100 (11.30) And 200 (22.94) She won them for the 3rd year in a row and will be going to UT.
*Recommended Reads On HS Stars: 1) Awesome Article On Curtis Beach In one weekend, he did two decathlons, a 4 x 800 and a 4 x 400.
2) Jordan Hasay Named MaxPreps Female Athlete Of The Year
Friday: Chelsey Sveinsson Breaks Jordan Hasay's SOPHOMORE RECORD!!! Wow!!!
*Trevor Dunbar Wins 2-Mile Over Freshman
*Dunbar Wins 2-Mile In 8:49
Thursday: Solomon Haile (14:32) And Emily Sisson (16:34) Easily Win 5ks
Nice Update On Kenyan Star And 26:35 10ker Micah Kogo The Olympic bronze medallist who took down Lagat in NY but lost to Bekele in Rome is looking to dethrone Bekele in Berlin.
Random Links From A Slow Weekend
*Blade Runner Stars At Scottish National Championships He was the most sought-after athlete at the meet, where he got 3rd in the 200 in 22.20.
*IAAF Recap Of Day 2 Of South American Champs
*Cuba's Yordani Garcia (8348) And Germany's Jennifer Oeaser (6442) Win IAAF Combined Events Challenge
*Junior Star Fridah Kaimuri Wins 5k In Kenya
If you can't cut it as a runner, try the triathlon!
Article On Former Dartmouth XC Runner Jarrod Shoemaker And His Triathlon-Crazed Family (Editor's note: Dartmouth alums and triathlon fans, calm down. The comment about triathletes not being good athletes is a joke. We enjoy making fun of Dartmouth alums and with Tom McArdle AWOL, we have to pick on Shoemaker.)
Random Links
*Jamaica's World Youth Team Announced
*IAAF Recap Of Day 1 Of South American Champs In Peru Interesting to note that the winner of each event is automatically in the World Champs whether they have the A or B standards. Peru's Inés Melchor delighted the home crowd with a national record and win in 16:00.
*IAAF Recap Of Day 1 Of Combined Events Challenge
An Inside Look At The Internal Fighting Within Athletics Kenya's Nairobi Branch
Good News: Tyson Gay Commits To Running 100 At USAs
Bad News: Tyson Gay Has Only Committed To Running 1 Round Of 100 He might run more than 1 round if he feels good.
*Video: Gay Raring To Take On Bolt
20-Year-Old Russian Yelena Kofanova Runs World-Leading 1:59.09 Sadly, all we can say when a Russian woman runs well is, "Make sure you drug test her."
A Look At Next Week's Japanese Track Champs Entries and schedules are now up. Any athlete with the A or B standard that wins is automatically on the WChamps team.
Lengthy Nick Symmonds Radio Interview In Eugene, extensive track and field interviews get put on the radio. Imagine that.
Seb Coe Talks About His Favorite Teacher - The Geography Guy That Let Him Leave Class Early To Get In More Mileage
US Soccer's Miracle On Grass!!
Nate Jenkins Getting Ready for Worlds Marathon in August
LRC The Week That Was This week we start off with some random thoughts before getting to the 2009 NCAA champs, the start of the Golden League, and some really fast women's 10k action. Along the way, we revise the men's 10k results from NCAAs, show that the regional qualifying system works, and state that there is only one John McDonnell. We also give props to Stanford (sorry, Ryan Grote) and Galen Rupp and ponder: did Oregon really choke? Plus, we give props to Augustin Choge and wonder if he can be the next Kenyan star?
University of Colorado Grad Sara Vaughn to Run for adidas
Galen Rupp After The Rupptet (6:43)