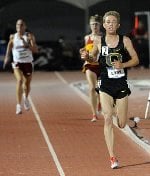 Day 2: LRC: NCAA Day 2 Recap: Rupp Wins 1st Outdoor Title With Style As Lisa Koll Fails To Score In an unbelievably exciting men's 10k that featured a 63-second first lap and a 75.99-second 22nd lap (including a 42-second 200), Shawn Forrest & Sam Chelanga teamed up and threw everything they could at Galen Rupp but Rupp more than handled it all as his storybook senior season continued, as he won his 1st NCAA outdoor title. In the end, Rupp closed in 1:58.9 and 3:01 to get the win. If he had to go sub-4 to win, he very well might have done it. Unbelievable. It also was unbelievable that the favorites in the women's 10k and men's 1,500 failed to score and advance respectively. Oregon's Matt Centrowitz, Jr was last in his semifinal heat, tightening up the team competition. We recap the action from Thursday.
*Oregonian: Tag Team By Forrest & Chelanga Can't Stop Rupp From Winning 1st NCAA Outdoor Title After Centrowitz Fails To Advance In 1,500
*We Agree AP: "There are times Galen Rupp looks as if he's toying with opponents."
*Oregon's Title Hopes Take Body Blow As Favorite Matt Centrowitz Finishes Last In 1st Round Of 1,500 All we can say at letsrun.com is "you're welcome" for reporting the "rumor" that we heard he had a stress fracture. People come here for the inside info which we consistently produce.
*Updated Men's Team Battle Thanks To T&FN They have it too close to call between A&M And Oregon with A&M winning now after the 10k.
*Updated Women's Team Battle Thanks To T&FN Oregon is now a projected winner over A&M thanks to Jamesha Youngblood's surprise 3rd in the LJ.
LRC: NCAA Day 1 Track Recap
*LRC: Field Event And Multi Recap The big story on Day 1 was a 3 hour and 15 minute rain delay which pushed everything late into Wednesday night/Thursday morning. Galen Rupp had to stay up late (his 5k prelim started at 12:40 am), but he was rewarded with as easy a qualifying round as possible, as it was much cooler than expected due to the rain and late start. Rupp's quest for history will have its toughest test tonight in the 10,000m final versus NCAA record holder Samuel Chelenga. Perhaps the other big news on Wednesday was the return to action for Colorado's Jenny Barringer after her shocking 3:59 1,500 at the Prefontaine Classic on Sunday. We have an 8-minute video interview with her and it seems apparent after talking to her that perhaps no one in the world predicted her stunning run on Sunday. In other action, the first round of the men's and women's 100s sizzled, but the rain made things much slower in the semis. Plus recaps of round 1 of the 800s, steeples and 5ks. More coverage coming.
*LRC: See Whom LetsRun.com Visitors Have Picked To Win Here
More NCAA Day 1:
Previous NCAA Coverage:
Rupp All Over The News:
*LRC: Pre-Meet Report From Arkansas: Does Matt Centrowitz Have A Foot Injury?
*LRC "Pardon The InteRUPPtion" Employee #1's take on Galen Rupp's amazing senior season.
*Rupp On The Front Page Of USA Today Sports Dick Patrick wrote a great article, including quotes from Alberto, Lananna, Rupp's Dad and Sam Chelanga.
News From Oregon Papers:
*Indoor Debacle At NCAAs Motivates Hog Jumpers
*Lananna Thrilled To Be In Hunt For Triple Crown He's trying not to be intimidated by the name John McDonnell on the scoreboard.
*Jumps Are Key To Arkansas
*Lengthy Oregonian Article On Rupp It mentions the "Haters" on LetsRun.com.
*The Register-Guard Preview: Rupp, Centro & Wheating Lead The Way As Ducks Favored To Win First Title In 25 Years
*AP Preview: New Coach Bucknam Trying To Make His Own Mark At Host Arkansas
*Watch Out For Oregon's Big-Meet Long Jumper Jamesha Youngblood Oregon will need points from unheralded stars like Youngblood if they want to upend a strong Texas A&M squad.
*John McDonnell And Arkansas Excited To Host NCAA Outdoors And Hope To One Day Host Olympic Trials
LRC: 2009 NCAA Men's Preview We break down the men's mid-d and distance events plus the relays, 100, 400 and team competition for you.
LRC: 2009 NCAA Women's Preview We break down the women's mid-d and distance events plus the relays, 100, and team competition for you.
LetsRun.com's 2009 NCAA Prediction Contest After reading our previews, we dare you to see how your knowledge stacks up against that of the very brightest - the LetsRun.com community. Who has truly the best knowledge of NCAA track and field? Enter the contest and find out. Get your friends and compete in your own group. And because we are kind-hearted souls, a perfect distance ballot will net you $20,900.
North American-Flavored News
*Youth Runners Take Note: Interview With Kevin Sullivan He's been at the top for 20 years.
*Interview With 31-Year-Old Sprint Veteran Shawn Crawford Crawford is a really interesting interview.
*Solomon Haile vs. Lukas Verzbicas - Clash Headlines 2009 Midwest Distance Gala Boys 2-Mile Field This meet always produces impressive high school and pro times.
Toronto Festival Of Excellence (With Bolt) Was Thursday
Big Profile On Bolt Prior To His Run In Toronto On Thursday Bolt's Agent: "Usain's got personality, that X-factor that can make people happy. He likes to entertain them and to have a good time."
*Toronto Meet To Be Streamed On ESPN 360 If you have the right internet provider you can watch Usain Bolt's 100m season-opener for free.
*Wanna See Bolt Live? It'll Cost You Between $50 and $250 Bolt is a star and the venue only seats 6,500. Interesting to see that the race tried to have a $1 million bonus for Bolt to break a WRecord but no insurance company would insure it at a reasonable rate.
Chats
*One Of Running's Brightest Optimists, Hendrick Ramaala, Still Hungry For Wins Ramaala wants another major marathon victory. It's going to be tough to get one with Wanjiru, Geb, Merga and Lel out there, but he's going to give it a go.
*Track & Field News Interviews World #1 Lashinda Demus Demus is coached by her mother and is now back after having a couple of babies.
*Runner's World Brief Chat With Serena Burla Burla continues to surprise with her NY Mini 10k runner-up.
*Interview With Sara Hall
Veronica Campbell-Brown Has Been The Most Quiet Candidate For World's #1 Female Sprinter Injury bugs have kept her quiet thus far, but look out in July and August.
Toronoto Festival Of Excellence *Full Results
As If Anyone Cares ... Non-NCAA/Bolt News
*Spain's Natalia Rodríguez Runs World-Leading 8:35 3k
*IAAF Hurdles Preview Of Golden League
Mid-Week Non NCAA Action
Greece: Dayron Robles Runs 13.30 In First Race Of 2009 In Greece
*South African Johan Cronje Runs 3:35 1,500 PB In Greece
*Thessaloniki Greece Results

UK: Nike Contract Flap Prevents 3 Top Athletes From Competing In Last Night's UK Athletics' Inaugural Super8 Competition It's supposed to be a team competition to revive fan interest in the sport, but athletes couldn't wear the swoosh on their jerseys and as a result the Nike athletes had to pull out.

Poland: Josef Odlozil Polish Meet Recap
Tonight In Toronto
Usain Bolt Getting A Reported $250,000+ To Run In Toronto The article also has comments from legendary coach Dan Pfaff on Bolt.
*Edwin Moses And Michael Johnson Give Usain Bolt Advice After He Wins Laureus Award
*Toronto Meet To Be Streamed On ESPN 360
A Star Rising And A Star Falling?
LRC The Week That Was Everyone loves teenagers, so this week we do an exhaustive analysis of teen sprint phenoms and tell you how we think the next Usain Bolt likely isn't in Jamaica but rather Texas. We also look at a slew of great performances from some teen distance phenoms and tell you who apparently benefits the most from NCAA Regionals, before telling Nike to get rid of having everyone in the race wear the same uniform and tell you how to get rid of your Prozac. We also wonder why Asbel Kiprop wasn't DQed.
LRC Running Cartoons: Jeremy Wariner And Alan Webb A LRC reader sent these cartoons to us. Check 'em out.
Good Quotes From The Wacky World Of Track & Field
"You put a 1.2 (metres per second) wind behind me instead of in my face, and we may have had a world record today." - Yesterday's Quote Of The Day from American long-jumper Dwight Phillips.
"They read in the paper that she runs on caliche, and they call saying, 'How do we get one of those caliche tracks?' They think it's something fancy. They can have this one." - Steve Butler, superintendent of the Rochelle school district where All-American farm girl Bonnie Richardson trains on some dirt circle. What's unique about Richardson is that she has led Rochelle to 2 Texas state titles. By herself.
International Running
*IAAF Previews The 2009 Golden League Middle Distance Competition For $1mil
*Big Meet Taking Place In Poland Wednesday Throwing events are stacked as are the steeple and the hurdles.
*Dayron Robles Opens Up And Blanka Vlasic Returns To Action Wednesday In Greece Robles is looking to get back in form for the 110 hurdles, an event he dominated last year. American David Oliver will be breathing down his back this year.
*Berlin Wants Bolt, But Does Bolt Want Berlin? Short answer: NO. Agent says street race idea in Berlin is news to him.
*Indian Runner Who Failed Gender Test And Attempted Suicide Now Joins Coaching Ranks Sounds ideal.
*Kenyan Press Call Jelimo And Lagat's Performances Worrying Apparently they didn't get much training preparation this year. If they relax and do things right up until Worlds, they should be fine.
British Opinion
*Pat Butcher On One Of Track's Worst Components: Rabbited Races Butcher has often railed against rabbits in the sport and we agree. Too much emphasis is being placed on time and not enough on man vs. man competition.
*Steve Cram On Dwain Chambers: He Won't Be Missed In The Golden League Drug users continue to be taught the lesson: don't come clean about drugs or you will lose your career.
*Elsewhere In Europe: Berlin Golden League Couldn't Afford Bolt On The Track In June So they want him on the road in October.
LRC: US Athletes Are Kicking Butt In 2009 A brief look at how the US is stacking up in 2009. Trivia: which US athlete is in the top 4 in the world in 3 Olympic events? Hint: Ivy League Alum with dyed hair.
LRC Bowerman Mile: Asbel Kiprop Is The Best Miler On The Planet & He Lets Everyone Know It The soon-to-be Olympic Champ Asbel Kiprop didn't get to enjoy hs "win" in Beijing, but he certainly did on Sunday as he mowed down the field in 3:48.48 and was so brilliant that he started to celebrate before he even had the lead - over 100 meters out!!!
LRC Pre W1,500: A Race for the Ages - JENNY BARRINGER GOES SUB-4:00 The CU Buff's sensational year just got infinitely better as she stunned the field (and the crowd), becoming the 2nd clean American to break 4:00, and nearly got the win as a ton of American women ran really fast.
LRC Pre Track Event Recaps Lots of great action, including a STUNNING win by American Maggie Vessey in the women's 800. Other big wins went to Nick Symmonds in a stacked men's 800, as well as Michael Rodgers in the 100 in a world-leading 9.94. Plus Bernard Lagat in the men's 3k.
LRC Pre Field Event Recaps *Pre Photos The action in the field produced some amazing results, especially from American Dwight Phillips, who became the =5th-farthest jumper in history with an 8.74 jump into a headwind. Phillips won the Olympics in 2004 but didn't make the US team last year. Read our recaps of all the events that took place in the field as NBC showed you almost nothing.
More Pre News: *Eugene Register-Guard Sports Page Has Tons Of Prefontaine Classic Coverage
*Jelimo And Nancy Lagat Get Slammed In Nairobi Paper
*Joe Battaglia Offers His Prefontaine Winners And Losers
Barringer: *Lengthy Post-Race Article With Quotes From Barringer (She Said She Thought She Could Run 4:04)
*CU Buffs Story On Barringer (CU Assistant Heather Burroughs Says They Thought She Could Run 4:02 Or 4:03)
Men's 800: Nick Symmonds Wins Prefontaine 800 Again, Beating 2 Olympic Medallists Oregonian
Men's Long Jump: Dwight Philips Jumps 28 feet, 8 1/4 (8,74) To Beat Saladino (Best Jump In World In 15 Years)
Men's 300: LaShawn Merritt Defeats XMan In Pre 300
More: *LA Times Editorial On Pre "This is track as it should be."
*Mary Slaney Says Watching Last Year's Olympic Trials Was Difficult
*Prefontaine Classic Quotes

Because We Love You:
Last Three Minutes Of Galen's Greatness (i.e., Incredibly Exciting Men's 10k On Thursday)
Re-vote