Rose Kosgei Gets Biggest Win Of Career At New York Mini 10km Agressive from the start (5:04 first mile), she hung on late for the win as unkown American Serena Burla was 2nd. *LRC: Who The Hell Is Serena Burla?
2009 NCAA Meet Is Fast Approaching
LRC: 2009 NCAA Men's Preview We break down the men's mid-d and distance events plus the relays, 100, 400 and team competition for you.
LRC: 2009 NCAA Women's Preview We break down the women's mid-d and distance events plus the relays, 100, and team competition for you.
LetsRun.com's 2009 NCAA Prediction Contest After reading our previews, we dare you to see how your knowledge stacks up against that of the very brightest - the LetsRun.com community. Who has truly the best knowledge of NCAA track and field? Enter the contest and find out. Get your friends and compete in your own group. And because we are kind-hearted souls, a perfect distance ballot will net you $20,900.
Toronto Festival Of Excellence (With Bolt) Is Thursday
Big Profile On Bolt Prior To His Run In Toronto On Thursday Bolt's Agent: "Usain's got personality, that X-factor that can make people happy. He likes to entertain them and to have a good time."
*Wanna See Bolt? It'll Cost You Between $50 and $250 Bolt is a star and the venue only seats 6,500. Interesting to see that the race tried to have a $1 million bonus for Bolt to break a WRecord but no insurance company would insure it at a reasonable rate.
Kenyan News
Kenya Unlikely To Host 2010 African Champs As Sports Ministry Won't Give Them The Money The head of Athletics Kenya is irate at the sports minister for favoring soccer: "She will run to football for every small reason, carrying a bag of money."
Double Jeopardy Doesn't Exist In Kenya Either
10k At June 25-27th National Champs (Not WChamp Trials) To Be Used To Pick Kenyan WChamp Team The Kenyans are smart to realize making the guys run two 10ks two weeks apart is foolish.
*Richest Race In Kenyan History - Sotokoto - Will Be Upgraded To Full Marathon In 2010
*Sammy Kitwara Wins 5k At Kenyan Police Champs
European 10k Challenge - Men's Winning Time 27:57, Women's 31:34
*Recap Of German Pro Meet 67.48 women's jav and 2.00 women's HJ.
*Day 1 Of IAAF Combined Event Challenge Is In Books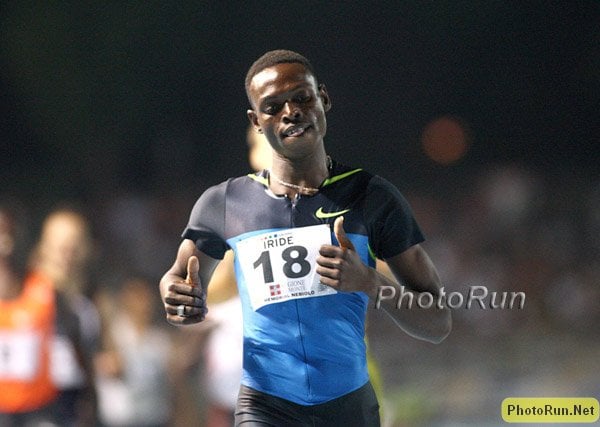 Doha, Rabat, Hengelo ... Now Turin - "Cocky" Kaki's Win Streak Continues *Photos

*What's Next In Europe? Warsaw Meet Preview

*Yelena Isinbayeva Decides To Vault In London - Media Explodes With Articles "You know you're a track star when ..."
*Yelena Coming To London To Vault - Bolt To Sprint
*Glen Mills Impressed But Not Intimidated By Gay's 19.58 We want to give Glen Mills an honorary LetsRun.com degree for being such a good coach.
*Writer Excited About Gay Vs. Bolt
*World's Fastest Female Sprinters Jeter And Williams To Face Off In Eugene With Golden Girl Fraser American Carmelita Jeter is slowly building quite a name for herself.
*IAAF's Prefontaine Classic Preview Not quite the caliber of the LRC's A Fan's Guide to Pre.
Twittering Is New Obsession Of Many - LetsRun Says: Don't Twitter. Run!
NCAA Meet Starts In Less Than 1 Week - Expect Aggie/Duck Team Battle
*Texas A&M Aggies List Their NCAA Track & Field Squads
*Tough Luck: Oregon Javelin Thrower Tears Her ACL At Regional Meet Our NCAA analysis is coming out this weekend, but until then we'll give you a preview: it looks like Oregon and Texas A&M are going to be tight on both the men's and women's side at NCAAs.

Dexter Lee's Agent Upbeat For His Client's Potential The young Lee has run 10.31 and has come through big at world juniors. Reebok has decided to give him a contract and hope he goes big after some developmental years spent studying in the US.
Part 1: The Next Bolt? 17-Year-Old Jamaican Double World Champion Dexter Lee Goes Pro For Reebok
Profiles Of New York Mini 10k Entrants Led By Catherine The Great
Boston And New York Want To Host Olympic Trial Marathons Again, But Want It Cheaper
Brief Chat With Deena Kastor Runner's World
Free Self-Help Tip: Exercise Elevates Moods Of Test Subjects For 12 Hours After We were thinking maybe this study means we should go running in the morning rather than waste 8 hours of "elevated mood" sleeping. Or you can just run 12 hours apart every day and always be happy.
Wall Street Journal Writer Asks: Can Ivy League Sports Teams Get Their Luster Back? LetsRun.com asks: Did we miss something? We didn't notice the luster was gone. The writer assumes that because Harvard can't compete with USC in football that Ivy League sports have something wrong with them. We disagree but it's still a worthwhile read.
Prefontaine Classic Brings In The Stars *TV On NBC 2 - 4 pm Eastern Sunday, June 7 *Events/Results *LRC: We'll Probably Do A Semi-Live Blog as Meet is Telecast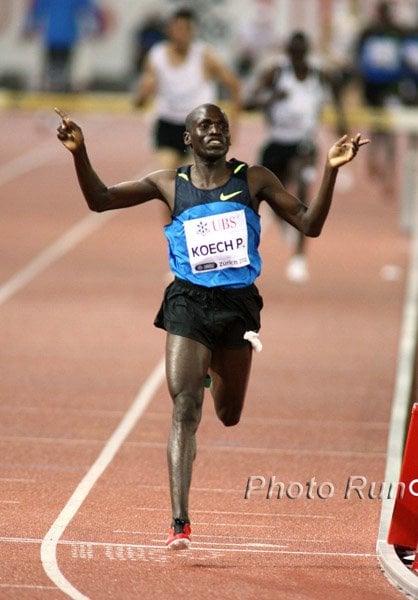 LRC: A Fan's Guide To The 2009 Prefontaine Classic
We break down the events in great detail in chronological order. Print this handy guide out and sit down and enjoy the NBC telecast. The meet is going to be great as the fields are so stacked that we had to pick a 2008 US Olympian to finish dead last in one race. The Bowerman mile is top notch with Asbel Kiprop and Haron Keitany. Sadly, we think it's a higher probability that Alan Webb is a DNS than that he breaks his high school PR in this race.
*MBoard: Will Lagat Get AR In Men's 3k?
*IAAF Preview Of Pre Classic
*American Women Looking For First Sub-4 1,500 Since 2002
*Shalane Flanagan To Race 1,500 At Pre But Marathon Might Beckon Soon
*Brit 800 Star Jemma Simpson Adjusting Nice To Life In Eugene She made the move with OTC head Marc Rowland.
*Pre Classic To Have Two 100-Meter Races
*Asafa Powell's Agent - Ankle Injury Isn't Concern - Expect Big Race At Pre Agent: "He is going to come back with a vengeance and really wants to win this race."
*Rend Lake Produces Again: Sprinter Ryan Bailey Goes Pro After Frosh Year And Is Running Pre Classic The article says someone like him might make $200,000 per year. We say no way.
*Elijah Greer Wants Natinoal HS Record Of 1:46.45
*Catching Up With HS 800 NRecord Holder Michael Granville (video coming) He never ran faster.
*Pre Meet Website Including Event Previews
*Anna Willard Going For 1,500m This Weekend Against Barringer Before Moving Up To Steeplechase
*MORE ON PRE BELOW
Awesome Read: Oregonian's Ken Goe Says It's Not Fair For Pac 10 To Advocate Cutting Regionals "Doing away with the regional meets would cut costs, but at the expense of fairness.
Hot HS Action
*Recap Of Kenyan HS Champs
*Jordan Hasay Goes Out A Champ
*7 Boys Run 4:11 Or Better At NJ State MOC
*3 At 8:55 Or Better In Texas
*26' LJ In Texas
*Texas Girl Wins 2nd Straight State Team Title All By Herself
*New Boys 300h National Record
Doping News
Italian Authorities Indict 10 Austrians For Doping Offenses From Torino Olympics
Jenny Meadows: "I have had a great start to the season." Beating Jelimo certainly will pump somebody up.
Glen Mills Trying To Be Patient With 19-Year-Old Johan Blake Blake has other ideas as the sprint phenom wants to make the Jamaican WChamp team.
Must Read On Barry And Darren Brown - Father/Son Sub-4:00 Darren's father Barry Brown was one of the leading members of the Florida Track Club along with guys like Marty Liquori, John L. Parker and Frank Shorter before taking his life when Darren was a child. Amazing read about an amazing kid giving it a go as a professional runner.

Good News: Augusta State (GA) Adds Cross Country As A Sport

1:48.66 For Robby Andrews At NJ Meet Of Champs - Full Results A LRC reader wrote to us saying the NJ MOC was sick and he was right.

Kenyans Do Racewalking! Photo Evidence In The Link
More Pre Articles
*Yuriy Borzakovskiy Ready To Begin Summer Season At Prefontaine
*Too Good To Be True: Gay Not Running 100m At Pre
*Asafa Powell Says Ankle Will Get Stronger With Racing
*Another Great Piece On Overshadowed Olympic Champion Dawn Harper
*High Jumper Jesse Williams Thriving In Track Town USA (TM)
*1:47.68 HS Senior Elijah Greer Going For HS 800m Record At Pre
*Asafa Powell Gets Chance For Redemption Sunday At Pre Against Tyson Gay
*Pamela Jelimo, Nancy Lagat And Janeth Jepkosgei Lead Kenyan Charge To Pre Meet Add 1,500m star Asbel Kiprop and 3:30 guy Keitany to the 9-strong list of Kenyans competing in Eugene.
*Nick Symmonds Returns To Pre, Where He Made A Big Splash In 2007
*A Look At The History Of Foreign Athletes Coming To The Pre Meet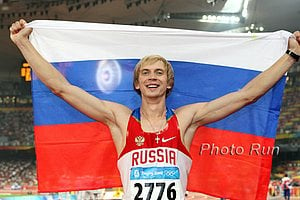 National Running Day Was Wednesday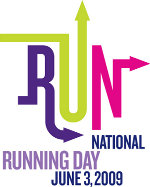 Tell Us What You Did On National Running Day
Hengelo Meet Sizzles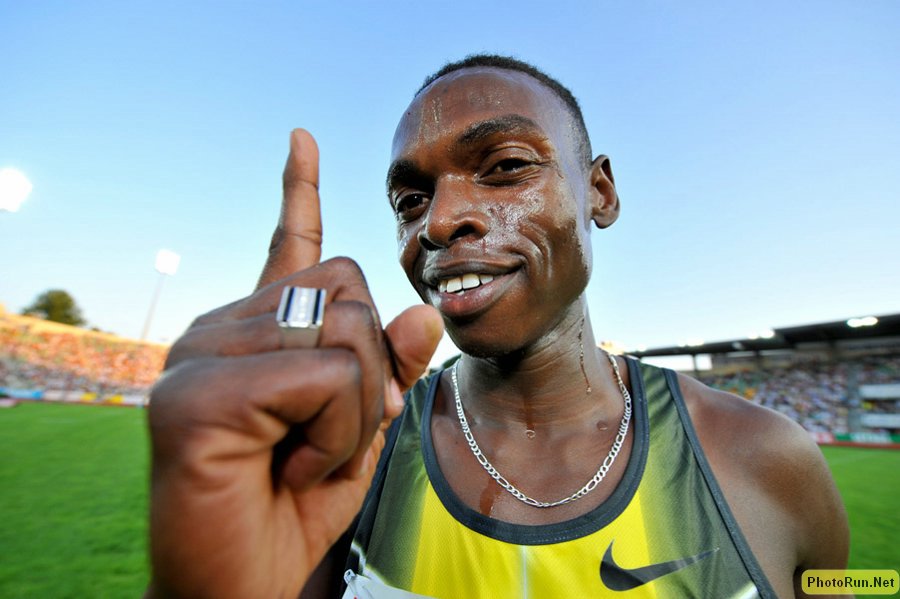 *LRC Recap *LRC Thread *Hengelo Results There were some unexpected results in Hengelo including Kenenisa Bekele dropping out of the 1,500, and some super performances including another impressive win by the man to the left (Abubaker Kaki) and a sub-4:00 run by Gelete Burka. Americans Reese Hoffa and Dwight Phillips had tight contests with international stars Thomasz Majewski and Irving Saladino plus all 3 steeplechase medal winners from Beijing squared off. Find out more in our recap including who became the first man under 13:00 in 2009 (you will be surprised).

NCAA Regionals
Amazing Page: All Regional Results On One Page
Busy Weekend Photos
*Freihofer's 5k Run For Women PhotoRun
*San Diego Rock 'N' Roll Marathon PhotoRun
*Reebok Photos PhotoRun
*Hengelo Photos Durand Photo
*NCAA East Regional Photos PrettySporty
Sign Up: Cornell's Summer Track/XC Camps Featuring LetsRun's Rojo
*Cornell Track & Field Camp July 12-16
*Cornell Cross-Country Camp July 26-30
Experienced D1 Coaches. Cornell Athlete Counselors Including NCAA Qualifiers. A Lot Of Fun. Stay In The Dorms. Eat In One Of The Best College Dining Halls. Every Event Covered. Distance Runners Welcome At Both. All Skill Levels Welcome.