Reebok GP Is Saturday In NYC *TV Reminder: Live on NBC 4:30-6:00 EST

Free Ticket Giveaway Each Day On LRC Click here for more info. Final 5 pairs of tix available Friday. Friday's Question is now up.
Nice Profile: With Centro In Her Corner, American Miler Lindsey Gallo Is Focused On Worlds Gallo: "It was difficult leaving Mike, he was my coach for eight years, but I felt like it was time to leave Ann Arbor just to see if I could motivate myself and get the spark back in my training."
Lots Of Press Conference Related News *Video: Press Conference Highlights
*USA Today: Healthy Tyson Gay Excited To Run 200 Meters At Reebok
*AP Preview: Lauryn Williams Still Trying to Overcome Jamaicans And "Voodoo Doll" Comment Apparently a lot of the islanders took great offense to Williams' comment about what was the difference between the US & Jamaican sprinters in Beijing. Also Tyson Gay slams the US-Jamaica sprint rivalry idea.
*IAAF Preview: Gay & Powell Want Your Attention Tyson Gay faces Jeremy Wariner and Wallace Spearmon in the 200 as Powell runs the 100m.
*MBoard Talk About Who Will Win Men's 5k
*Kennedy's 5K AR To Go At Reebok On Sunday?
Recommended Read: Reuters Profile Of Zersenay Tadese - The Man Who Is Bigger In Eritrea Than David Beckham Is In Britian The guy has had a remarkable journey. He started as a cyclist and now is known as the former world XC champ but in his first international XC race, he didn't even know to start when the gun went off.
Sad News: Upstate New York Running Columnist Diane Sherrer Loses Battle With Cancer
Oregon News
Only at Oregon could a guy who is top 10 at NCAAs in cross be considered overshadowed
*Oregonian Eugene Register Guard "Overshadowed" Shadrack Biwott Coming Into Fine Form At Right Time The guy had a hell of a PAC-10 meet as he lost to an Olympian in the 10k by two seconds before losing the 5k to the collegiate leader by .06.
*Nice Oregonian Eugene Register Guard Article On Whether Regionals Are Good Or Bad For Track Dan Steele bashes the format while Vin Lananna gives a more measured response (he used to coach the little guy at Dartmouth so we think he's staying true to his roots).
*Meet Director Expects Jelimo To Break Meet Record At 800 Although his comments came before her shocking loss last weekend.
*After Two-Year Hiatus, 400 Hurdles Will Be Back on Men's Side At Pre Classic With All 3 Olympic Medallists
Prospect That Wild Lion Might Eat You Made Richest Race Ever In Kenya "Exciting" Says Race Winner We didn't realize the Sotokoto race was held in a national park.
LRC Week That Was This week we give praise to Scott MacPherson, tell you why it may be okay to dislike the French after all, give you free coaching advice, and marvel at how a running book is actually on the New York Times Best Seller list. Speaking of NY, we also start to get ready for Reebok Grand Prix. Plus we announce the arrival of Deriba Merga as a true great, and mourn Pamela Jelimo's first-ever loss at 800.
Soccer News That Distance Fans Can Appreciate Venezuela Arrives 12 Days In Advance Of Match Vs. Bolivia If you thought playing football in Denver's "Mile High Stadium" was tough, try Bolivia's "2.25 Mile High" stadium, where they famously trounced Argentina 6-1 after Maradona's boys got there 2 hours before game time. That's right, Bolivia plays their World Cup quallies at 3,600m altitude. How they get away with that we don't know.
More Road News From Last Weekend
Easy Money: Man Wins $1000 For 2:39 Marathon
*50 Year Old Man Gets 3rd In Ogden 20k And Wins $750
*Former NC State Runner John Crews Wins Men's VCM
*Heidi Westerling Shatters CRecord & Wins 3rd Vermont City Marathon
World Marathon Majors Champion Irina Mikitenko To Run Worlds Hoping To Medal "At Home" Mikitenko, the dominant woman's marathoner not named Paula right now, is undoubtedly passing up a huge payday at NYC or Berlin to run for German glory at the World Championships. Or maybe she's planning to do 2 fall marathons.
USAIN BOLT MANIA BUILDING FOR JUNE 13TH RACE IN TORONTO
Recommended Read: Canadian Olympic Columnist - Buy Your Tickets For Bolt Race Now "You can have your Michael Phelps and all your swim medals -- I've seen a bunch of them the last two Summer Olympics -- but I wouldn't necessarily pay to watch him swim. I'm buying tickets so my kids can say they saw Usain Bolt run in Toronto. The way my brother saw The Beatles when they were here. The way so many went to Woodbine to watch Secretariat run."
*Shawn Crawford To Face Bolt In Toronto June 13th
Jeremy Wariner And LaShawn Merritt Please Brace Yourselves
Usain Bolt: "I want the 400m world record." What a great piece as Bolt finally seems motivated to attack the 400 next year. He says he's even willing to lose out on the 100 meters if that's what it takes.
Right On! IAAF Says They May Change Olympic Schedule To Allow Bolt To Do 100, 200, 400 Triple IAAF: '"If Usain continues to do amazing things, is super motivated, we'd be insane not to consider it."
Son Of London Marathon Director To Be Paced at Rock 'N Roll Marathon By Ryan Hall (and Josh Cox) As He Tries To Beat His Dad In A Bet We love the British. Over a pint, Tom Bedford bet his dad he could run 2:25 in the marathon. Not sure if his dad knew he'd get some awesome help. Plus he's raising a lot of money for charity in the process.
Nike Mile: Nick Symmonds Opens Outdoor Season With 1:46 Four elite events were held on the Nike campus and Kara Goucher ran the 800/mile double 15 minutes apart. Her husband Adam ran in the men's mile.
It's Official: Sammy Wanjiru Withdraws From Worlds To Go After WRecord At Berlin Marathon Kenya's replacement for Wanjiru - 4-time Boston winner Robert Kipkoech Cheruiyot, who was an alternate. Insane.
Freihofers Run For Woman Is Saturday In Albany
*IAAF: Benita Johnson's Quest For 4-Peat To Be Challenged By Very Tough Field Led By Teyba Erkesso Erkesso has been firing on all cylinders in 2009 as she won the Houston marathon in 2:24 as well as winning BOTH in Ottawa and San Francisco (Bay to Breakers) last weekend.
*RRW: Loaded Field To Challenge Johnson In Her Quest For Win #4
*Strong European Opposition To Battle Benita Johnson
Other News
*Big Stars, Led By Roman Sebrle, Ready For 2nd Stop On IAAF World Combined Events Challenge
*IAAF Recap Of 2nd Leg Of Asian GP
*Olympic Discus Champ Stephanie Brown Trafton Talks About Her World Leading PR In Her Online Diary
Ryan Hall Gets Advice From Stoned-Out Hippie
Warning: Don't Do The Triathlon: You are twice as likey to die doing that as a marathon
Busted Steroid Dealer Says He Dealt Drugs To Washington Nationals & Capitals Players "You name the sport, and I've sold steroids to athletes who play it."
It's Official Christine Ohuruogu To Skip Golden League Jackpot Opportunity By Missing Berlin The Brits are acting like this is a big sacrifice. In reality, she isn't good enough to win them all.
World Championship Marathon News
*Mara Yamauchi Hoping To Continue Breakthrough At World Champs Intersting to learn that the Brit spent part of her youth in Kenya.
*Irina Mikitenko And Sabrina Mockenhaupt To Headline Host Germany's WChamp Marathon Team
Random Links
IAAF Recap Of Big Throwing Action At Czech Meet Reigning Olympic and World champion Gerd Kanter beat former World champion Virgilijus Alekna.
*2-Time 400-Meter Hurdles WChamp Jana Rawlinson On Comeback Trail With New Coach Not a surprise since she was married to her old one and they broke up.
Recommended Read Amazing Article On Fam, Arguably The Best American Runner In 2009 Anthony Famiglietti fell apart in the 2007 US championships, getting upset (he was a 27:30/13:10 guy) by three guys in the steeple and failing to make it to Osaka. Since then Fam has been on a tear thanks to - in his opinion - a new lifestyle.
More On Wesley Korir's 5-Minute Marathon PR From IAAF Can you say Karma? "On Sunday, having bought his usual pair of tuna sandwiches - planning to eat one that night and then one after the race on Monday - on exiting the shop and seeing a homeless woman asking for help he gave her one of the sandwiches, and ate the other."
Morgan Uceny On The Comeback Trail Universal Sports Cornell alum Morgan Uceny had a stellar 2008 in the 1,500m and 800m but is coming back from injury in 2009.
Pat Butcher's Latest Blog Reviews A Running Book On The NYTimes Bestseller List And 2 Others Born To Run by Christopher McDougall is one of the top-selling books in the country as it looks at the Tarahumara Indians of Mexico and their ability to run hundreds of miles as they hunt food. One of McDougall's ideas was to have US ultra-marathon legend Scott Jurek compete against some of the Tarahumara.

NCAA Regionals Start Friday Afternoon
East Info *Live Results *Declared M *W *Heats M *W
West Info *Results? *Declared M *W *Heats M *W
Mid-East Info *Live Results *Declared M *W *Heats M *W
Mid-West Info *Results? *Declared M *W *Heats M *W
9 men in the West Region qualify for the 100m and 10 for the 400m compared to 32 and 33, respectively, in the East region. 8 women in the West 200m.
Where are the meets? East: NC A&T. West: Oregon. Mid-East: Louisville. Mid-West: Oklahoma.
2009 LetsRun.com Summer Training Programs Info Updated!
Click Here For Details
We're bringing back our summer training programs and are using our original banner from 2001. Learn from LetsRun.com's world-renowned JK and a former pupil of the LetsRun.com initital summer training program who went on to be an NCAA All-American. Yes, ladies and gentleman, that is right - we've had one summer training program in the past and it produced one All-American.
Non-D1 Collegiate Nationals This Past Weekend
NCAA DII: St. Augustine Stops Abilene Christian's String Of 7 Straight DII Crowns, Lincoln Women Win 6th Title In 7 Years
*DII National Results
Previous: *Day 1 Recap Queens' Tanya Zeferjahn won the 10,000 in 35:38 while Harding's Daniel Kirwa won in 29:46 over Adams State's Brian Medigovich. *Tons Of Articles Available Here Thanks To Great Coverage By San Angelo Standard-Times
NCAA DIII Wartburg (Iowa) College Wins Nationals On 4 x 400, University Of Wisconsin-Oshkosh Men Win
*Info *Men's Results *Women's Results *Video Interviews Of All Event Winners
*LRC: Message Board Thread On DIII NCAAs As It Takes Place *Hamilton's Peter Kosgei wins 3rd straight steeple title and then wins the 5k even though he lost his shoe 4-6 laps into the race.
NJCAA Outdoor Meet At Hutchinson *Meet Website *Results
NAIA Nationals *Aron Rono Gets 4th Straight 10k *Live Results And Info
LRC Review: Must Read Kenny Moore's Best Efforts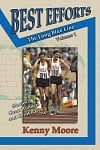 Kenny Moore's Best Efforts Is Back In Print When this book showed up at LRC corporate headquarters to be reviewed, the response was, ""Holy sh*t! That book is one of the top 2 running books I've ever read." The offical LRC review is in and it is very positive: "I believe a great work only receives the label 'great' if it has passed the test of time. Best Efforts passes the test because it will refresh the man or woman who was following the runners of the 60s, 70s and 80s." Also as a special to LRC readers, you can buy an autographed copy of the book for only $14.95.