LRC: The Week That Was We try to make sense of the big-time NCAA track and field conference action by comparing Oregon's distance prowess at the PAC-10 meet to Arkansas' at the SEC meet and sympathizing with sub-4 guys and 17-foot vaulters that can't score at conference. We also pause to read an email from one of the greatest legends in track and field history who is a LetsRun.com visitor in addition to being a two-time Olympic champ. Along the way we also admire Galen Rupp's kick and ponder, "Is there something wrong with Jacob Hernandez and is there something really special about LaShawn Merritt?" All that and much more.
Recommended Read: Interview With Athlete/Coach Who Is "More Lydiard Than Lydiard" - New Zealand's Barry Magee With all the information out there, we always find it refreshing to read one of Arthur Lydiard, Barry Magee and LetsRun.com's favorite lines on training: "Train, don't strain."
Reebok Announces Preliminary Lineups For May 30th Meet At Icahn Stadium In NYC The meet is going to be very, very good. Get your tickets now. New Yorkers show that, unlike LA, you care about track and field.
Joe Battaglia On 7'8.75" High Jumper Jesse Williams And Weekend Action Williams missed the Olympic high jump final after coming in as a co-favorite, but he upped his PR this winter and is convinced he can compete with the best in the world.
Simon Hart On How Charles Van Commenee Is Making Strides Where Dave Collins Failed Van Commenee is committed to attending events and helping coaches of elites do the best they can. He was on hand to watch star heptathlete Jessica Ennis set her heptathlon personal record last weekend.
14.35! Thousands Watch Usain Bolt Annihilate 150m World Record Geb takes the windy 10k in 27:34 as Bolt puts on a show, beating his nearest competition by an absurd 0.7 seconds. *Bolt's Last 100m Was 8.72! *Watch Replay Manchester Great City Games Men's 150m Final *Usain Bolt Interview *Watch Replay Of Entire Manchester City Games, Which Includes 10km As Well As Women's 150m.
Sammy Kitwara Crushes Bay To Breakers Record, Deena 3rd In Women's Race *Results
Phelps Loses In First Meet Back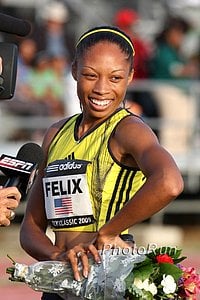 *IAAF Recap: Lots Of World Leaders At adidas Meet *LA Times Recap Of adidas Meet *Reuters Recap Of Meet
What happened? A ton. LaShawn Merritt absolutely crushed the men's 200 in a way that we've never even seen Usain Bolt win a 100 or 200. Bernard Lagat looked good as usual in the 1,500 as Manzano totally bombed along with Shalane Flanagan, who bombed in the 5k. Jenn S. jumped high as usual as well. Anna Willard looked like she'll get the AR in the steeple soon, as the meet was plagued by poor attendance and poor announcing and too many false starts and windy weather once again.
*Universal Sports Analysis Of adidas: Who Had Good Days/Bad Days
*USATF: Merritt, Wariner, Felix Shine
*Angelo Taylor Fumes After Hurdles Put In Wrong Spot
*Jeremy Wariner Is Now Reunited With Clyde Hart His decision to abandon him may have cost him millions. *Video Of Wariner Talking About Hart
LRC: Semi-Live Blog: Our Thoughts As The 2009 adidas Track Classic Is Broadcast Live On ESPN2
LRC: A Fan's Guide To The 2009 adidas Track Classic The meet is stacked and we give you an in-depth breakdown of all of the men's and women's mid-d and distance action and give you the highlights of some fantastic sprint action. A lot of story lines, including the return of Alysia Johnson in the women's 800. Will Shalane Flanagan or Anna Willard get the American record in the women's 5k and steeple? Can anyone challenge Bernard Lagat in the loaded men's 1,500? Plus the following non-distance stars: LaShawn Merritt, X Man, Jeremy Wariner, Terrence Trammell, Lauryn Williams, Muna Lee, Allyson Felix, Sanya Richards, Dawn Harper, Perdita Felicien, Stacy Dragila, Jenn Stuczysnki and others.
Bolt/Geb In England, Bay To Breakers, Phelps And Power Conferences Took Center Stage Last Weekend
BUPA Great Manchester City Games & Run - Bolt's Getting All The Press *Breaking News: Watch It Live Online Sunday 12-1:30 PM EST
Recommended Read: *Geb Still Has Big Goals It seems the only thing that has changed is Geb is now rich as hell and enjoys training alone.
*Ato Boldon: "Thank God I retired before this guy (Bolt) started to run like this."
*The Independent Profiles Bolt Bolt: "I am not going to let anyone change me ..."
*Bolt: "I'll take record to 9.4 sec."
*Gebrselassie And Bolt Hoping For Records Bolt wants Bailey's 14.99 world's best for 150m while Geb wants the UK all-comers 10k record of 27:25.
*Bolt To Ronaldo: Get Tougher & Get More Yellow Cards
*European Champ Darren Campbell Is Paid To Give Out Sprint Advice To Football Clubs
*Bolt Ready For Race That Is Reminiscent Of Professional Foot Races Held In 19th Century In Britain The "American Wonder" George Seward was the star back in the day.
*Bolt: "Car crash has changed my outlook on life."
Interesting Article On Michael Phelps' Return To Competition We're a running site, but it's fascinating watching Phelps deal with his Olympic success and fame. We wonder who will have the better 2012 Olympics, Usain Bolt or Michael Phelps?
Jeremy Wariner On Going Back To Coach Clyde Hart The incredible LaShawn Merritt - Jeremy Wariner rivalry may be the extra motivation necessary to move MJ's 400m world record lower in the coming years. Merritt and Wariner opened up with 44-second 400s this year and Merritt looked phenomenal in his 200m win at Carson. Hopefully we'll see a few showdowns this year, including in the Berlin World Championships final.
Bolt Says Of Course He Will Be Gunning For 2012 Bolt wants to be "a legend" and to do that, he wants to be on top in 2012 as well.
Notable Weekend Action
*Josephat Ndambiri Goes Sub-27 Again In Blustery Conditions In Japan Prior to 2009 no person had ever broken 27 on Japanese soil and now Ndambiri has done it twice in less than a month.
*NZ's Valerie Vili Has Huge 20.69 Throw In Brazil She's the best women's thrower in the world and may change nationalities to Great Britain.
*17 Year-Old Chinese Triple Jumper Sets Age Group World Record 17.13m That is a monster jump for a youngster.
*Amos Choge Kipruto Takes Mombasa Marathon Crown In 2:13
*Kenia Sinclair Jamaica's Lone Winner In Carson This Weekend In The 1,500m It's pretty amazing their only win came in a distance event.
The Big 4 Have Their NCAA Conference Meets
PAC 10 Meet *Press Release *Entries *Results *Live Blog/Stats From PAC 10
*Oregon Duck Men & Women Absolutely Dominate In Front Of Raucous Home Crowd *Centro, Rupp, Wheating: Oregon Goes 1-2-3 In Men's 1,500 *MB Thread On 1,500 *Video Of Great Finish In 1,500
*Register-Guard's Women's Recap: Duck Women Get 1st Title Since 1992
*Register-Guard's Men's Recap: Whole Meet Was "An extended victory lap" For Oregon
*Oregonian's Men's Recap: "A Perfect Day of Track & Field" For Men
*Oregonian's Women's Recap: 1st Title Since 1992
*Oregon Scores 26 Points In Men's 10k Thanks To 1-2-4-7-8 Finish
*Galen Rupp's 54-Second Last Lap Leads Ducks To 26 Points In 10k Salazar: "Not bad for a kid who can't kick."
*UW Wins 3 PAC 10 Titles Including Women's Steeple & 10km

SEC Meet *Meet Info *Flash Results
*Thanks To A Staggering 83 Mid-D & Distance Points Arkansas Upsets #2 Florida To Win Men's Title
*Florida Gator Women Win
*After Taking Abuse From Florida Fans, Trindon Holliday Silences Them With 10.01 100 Meters
*Arkansas Men In Lead Heading Into Final Day As Aileen Bailey Wins LJ & HJ And McPherson Wins Steeple
*Sarah Bowman Wants 1st Outdoor Team Title - May Do 1,500, 800, 5k Triple
Arkansas Women Get Off To Fast Start; Men Lagging J-Mee Samuels didn't make the final. *Arkansas Puts 4 In 800 Final
Meet Preview: Arkansas Will Have Its Hands Full With Host Florida Bucknam: "A lot of things lean towards Florida winning this championship. By no means are they insurmountable odds."

Big 10 Meet *Meet Info *Results
*Penn State Women Win Big 10 Title By 1/3rd Of A Point
*Hassan Mead Wins 5k &10k To Lead Minnesota To Big 10 Title
*Thread: Big Ten Men's 150m Won In Under 4:00!
*Minnesota Men Lead By 26 Heading Into Final Day
*Gopher Women Up By 7 With 14 In Finals *Gopher Women Hoping To Complete Triple Crown
*Wisco Men Devastated By Loss Of Jager, Bethke, Eagon And Withrow, Have No Shot This Year They're taking the mass-redshirting route after Coach Schumacher's departure.
*Jeff See Going For 1,500m Title At Home PSU's Sam Borchers got the 1,500m title last year.
*Penn State Preview Awesome: Reigning champs PSU women will march out stud Gayle Hunter in the heptathlon, open 100 hurdles, 200, LJ and TJ!!!

Big 12 Meet *Meet Info *Results
*Nebraska Men Dominate Big 12 Meet
*Texas A&M Women Win 3rd Straight Outdoor - 6th Straight Overall
*AP Recap Of Big 12 Meet *Iowa State's Lisa Koll Wins Unprecedented 3rd Straight 10k Title
*Ryan Vail & Ok. St. Go 1-2 in 10km.
Tadese Tola Smashes Patrick Makau And Ritzenhein's Course Record To Win Healthy Kidney 10k In Central Park In mile four, it became a battle against the clock as Tola got the win in 27:38 to pick up the $20k Zayed CR bonus. LRC: Top 25 Results/Discussion
Announcements (Good Meets For Post-Collegiates!):
*New Name, Same Deal: New Balance Boston Twilight Series 2009 *Video Preview Of New Balance Boston High Performance Twilight Meets
*$1000 Fast Mile In Warwick, NY June 1st Looking for sub-4:10 guys.
*Natalie Willer Named USATF Athlete Of The Week After Junior Pole Vault Record, Plus Other Top Marks
*Host A Clinic To Learn About Treating/Preventing Running Injuries
*Vin Lananna Wants Hasay To Anchor World Record 4 x 1,500 Next Year For Ducks Lananna is the king of publicity. Tennessee set the 4 x 1,500 mark pretty low this year with Sarah Bowman's super 4:10 anchor leg at Penn.
Haile Gebrselassie And 1991 400h WChamp Samuel Matete Team Up To Start Great Zambian Run The first one will be in Nov.
*The IAAF's Take On Paul Tergat's Words In Berlin Tergat calls his marathon WR the "climax" of his career and doesn't think a future win in a world marathon major is in the cards for him.
*More than 1,500 Doping Tests Planned For Worlds - Total Cost $408,000
Power Conference Action Last Weekend
Settle the Debate