adidas, Bolt/Geb In England, Bay-To-Breakers, Phelps And Power Conferences Take Center Stage This Weekend
Big 10 Meet Starts Friday In Buckeye Country *Meet Info *Live Results
*Wisco Men Devastated By Loss Of Jager, Bethke, Eagon And Withrow, Have No Shot This Year They're taking the mass-redshirting route after Coach Schumacher's departure.
*Jeff See Going For 1,500m Title At Home PSU's Sam Borchers got the 1,500m title last year.
*Penn State Preview Awesome: Reigning champs PSU women will march out stud Gayle Hunter in the heptathlon, open 100 hurdles, 200, LJ and TJ!!!

PAC 10 Meet Starts Saturday, Rupp Entered In 1,500, 5k, 10k *Press Release *Entries *Live Results Link Coming
*Oregonian Projecting Oregon With 63 Point Men's Victory - Tight 6 Pt. Women's Victory
*One Of Last Vestiges Of Martin Smith Era, Chris Winter, Enters PAC 10 Meet As Favorite In Steeple
*Lananna Wants Oregon Women To Get 4 x 1,500m Record Next Year
*A Look At Scholar, Defending PAC 10 400 Champ And Oregon Team Captain, Keshia Baker
*Thanks To 1-2-8 Finishes In Multis, Duck Teams Have Big Leads Heading Into Meet The Duck men should win while the women's team battle will be hotly contested with a lot of teams in the mix.
*Eaton, Ackly Go 1-2 In PAC 10 Decathlon
*Theisen, McFadden Finish 1-2 In PAC 10 Heptathlon
*Rachel Yurkovich Looking For 4th Straight Javelin Title

SEC Meet Started Thursday At Florida *Meet Info *Flash Results
Meet Preview: Arkansas Will Have Its Hands Full With Host Florida Bucknam: "A lot of things lean towards Florida winning this championship. By no means are they insurmountable odds."
*A Nice Look At Walk-On Jumper Mychael Stewart Of Arkansas The Sr. is Mr. Team Player.
*Feature On Arkansas Frosh Jumper Tarik Batchelor
*Sexism? Sarah Bowman Is Only 7th Collegiate Women To Be Featured On Cover Of Track & Field News
*A Look At LSU's Chances
*#1 Ranked Florida Gator Men Excited To Be Hosting Meet
*Jeff Demps Looking To Win NCAA Titles In 2 Sports This Year The super-frosh has yet to make his mark in track yet due to injury after a standout fall in football.
*Demps: "I'm a football player that runs track."
*A Week Old Look At Arkansas' Andy McClary, Who Has A 3:36 PB But No NCAA Outdoor All-American Certificates

Big 12 Meet Is This Weekend *Meet Info *Live Results
*Underdog Texas Teams Say They Are Ready To Pounce If Favorites Stumble
*Nebraska Will Be Searching For Its 100th Conference Title
Interesting Article On Michael Phelps' Return To Competition We're a running site, but it's fascinating watching Phelps deal with his Olympic success and fame. We wonder who will have the better 2012 Olympics, Usain Bolt or Michael Phelps?
*adidas Is Saturday PreRaceJitters Talks With Marshevet Hooker She'll be in a loaded women's 100m at adidas.
*USATF Preview Of adidas Meet
*Tyson Gay And Veronica Campbell-Brown Pull Out Of adidas Meet Despite running a 45-second 400m, Tyson Gay's handlers deem him unready for a 100m or 200m at this point. We're glad to see he's trying to time things right this year.
Josh Moen On His Hanson's To USA Minnesota Move Plus Bay-To-Breakers Preview
Yesterday: Sunday's Bay-To-Breakers 12km Could Be Really Cool
*Deena Kastor To Battle Sammy Kitawara & Winner Might Take Home $37,000 Kastor will have a head start but she likely will be tracked down by Kitawara who has been on fire winning the World's Best 10-K and City-Pier-City Half-Marathon.
Announcements (Good Meets For Post-Collegiates!):
*New Name, Same Deal: New Balance Boston Twilight Series 2009 *Video Preview Of New Balance Boston High Performance Twilight Meets
*$1000 Fast Mile In Warwick, NY June 1st Looking for sub-4:10 guys.
*Natalie Willer Named USATF Athlete Of The Week After Junior Pole Vault Record, Plus Other Top Marks
*Host A Clinic To Learn About Treating/Preventing Running Injuries
*Vin Lananna Wants Hasay To Anchor World Record 4 x 1,500 Next Year For Ducks Lananna is the king of publicity. Tennessee set the 4 x 1,500 mark pretty low this year with Sarah Bowman's super 4:10 anchor leg at Penn.
A Slow News Day
Haile Gebrselassie And 1991 400h WChamp Samuel Matete Team Up To Start Great Zambian Run The first one will be in Nov.
*The IAAF's Take On Paul Tergat's Words In Berlin Tergat calls his marathon WR the "climax" of his career and doesn't think a future win in a world marathon major is in the cards for him.
*More than 1,500 Doping Tests Planned For Worlds - Total Cost $408,000
More Ridiculous Press For Justin Gatlin
Has anyone pointed out that Gatlin pleaded guilty to doping and that nearly everyone associated with Graham was also a doper? Somehow Gatlin has reporters seemingly buying his story.
*The Syringe That Started It All
*Absurd: Trevor Graham Says He Never Provided His Athletes With Drugs & Says Revenge For Turning In BALCO Doomed Him "Graham says that five of his former athletes - Olympians Antonio Pettigrew, Dennis Mitchell, Duane Ross, and Jerome Young, as well as Garfield Ellenwood - all lied during testimony in his federal trial for perjury when they said he provided all of them with contact information about admitted steroid dealer Angel Heredia."
*Graham Deals With Loss of Two Sons His real son died in 2002 and now Gatlin couldn't care less about him.
*Gatlin: "I have no feelings for (Trevor Graham)." Clearly he needs someone to blame.
*More Gatlin Q&A: He Gives Opinions On Tyson Gay, Walter Dix, Usain Bolt & Whether He'd Still Be #1
*Gallery Of Graham's Sanctioned Runners
Day 1
Recommended Read: Interview With Justin Gatlin About His Controversial Positive Tests And Ruined Career Universal Sports
*Justin Gatlin's Biographical Timeline 2000-2008 Take a look at the rise and fall of the American and 2004 Olympic hero turned banished star. Universal Sports
*Interesting Article: Justin Gatlin Can't Wait To Come Back In July 2010 Universal Sports
Tuesday's Recommended Reads: 1. Minnesota Gopher Runner Gabriele Anderson Fighting Cancer
2. Ato Boldon Interview From RunnersTribe
3. Interview With Justin Gatlin About His Positive Tests And Ruined Career
4. Fantastic Update On Shaheen, Formerly Stephen Cherono
Other Big-Time Athletes In The News
*LaShawn Merritt Updates Us On His Progress This Year He and Jeremy Wariner both opened up with 44-mid this year.
*Britain's Jessica Ennis Excited After Big PR In Heptathlon She's looking to podium at Worlds.
*Dutchman Bram Som Back Running Well With 2:19 1,000m 1:43 Guy.
*Elva Dryer To Run Freihofer's Run Freihofer's has one of their best fields ever lined up.
*Get To Know Aussie Intermediate Hurdler Tristan Thomas He's blowing it up this year.
Useful Steeplechase Interview With Canadian Alex Genest
We'll Add It To The List Of LetsRun Links UK Athletics Announces New Road Running Website: www.realbuzzrunbritain.com
USA Berlin WC Marathon Squads Announced
*Browne, Jenkins, Cabada, Young And Gabrielson To Run Marathon For USA In Berlin That's quite the cast of characters on the men's side.
*Brief Chat With USA World Champs Marathon Reps: Goucher, Davila, Moody And Gomez
*USA Announces Women's Marathon Team For Berlin World Championships
*More USA Jenny Barringer Not Sure What Event To Focus On
Great Action Lined Up In Manchester, England
*Bolt Is In England And They're Trying To Answer The Question: What Makes Bolt Tick? This article is great and tells you a lot about the most famous track and field athlete of the 21st century. Start with this quote: "He partied a lot last year and look at the success! I guess it works for him. He arrives at the club at two in the morning and leaves at five - so it's not like 10 hours wild partying or anything." Also read about Bolt's nickname among law enforcement in Jamaica: "Lead foot."
*Marlon Devonish Pumping Up His Chances Of Downing Bolt This Weekend "Of course I want to go there and win. I don't think Bolt will be in 9.6 shape yet - and he's had a car accident as well." All we can say is Good Luck, Marlon.
*Big Weekend In Manchester As Bolt Will Run 150 And Geb Will Run 10k
Interesting Read: What Happened To Track In Illinois? Good History In Here "Today, high school athletics is carried on the backs of walk-on coaches. This is not to say that there aren't some great non-faculty coaches in sports like track and field. There are. But being a walk-on coach makes recruiting and promoting your program in the hallways and classrooms almost impossible. It is not surprising that today most schools have a new track coach every three years - and that is not how you build a program and develop great teams and great athletes." Coach Skip Stolley on why the quality of track and field programs has declined sharply in Illinois (and likely in many parts of the US).
Great For The Golden League: Bekele Going For Golden League Jackpot In 3k/5k In 2009 Considering what happened in Doha, Qatar last weekend we don't give Bekele much of a chance of going 6 for 6 in the 3k/5k against Shaheen, Kipchoge, Choge and others.
Getting Smarter: Brits Go To Independent Drug Testing Agency Later This Year - Drug Suppliers Will Be Targeted BBC
Why Our Sport Is Cool: Britain's Oldest Olympian - '32 and '36 4 x 400 Medallist Godfrey Rampling - Turns 100
Prefontaine Meet Lines Up 3 Olympic Throws Gold Medallists
Canova-Trained Bosnian Athlete Set To Compete In Mombasa
Must Read - In Depth Look At Shaheen, World's Fastest-Ever Steeplechaser
Pat Butcher writes about a man who left Kenya for Qatar so he could speak his mind, outdueled El Gerrouj in the Moroccan great's first 5k, and ran 7:53 for the steeplechase all in the summer of 2003. Butcher provides a deep look at Shaheen's toughness that you won't find anywhere else, including his reaction to running 7:32 in his return to the track (where he was defeated by several Kenyans). Watch Shaheen race Ezekiel Kemboi at the 2003 World Championships - One of the greatest steeple races, if not the greatest, of all time, with fantastic commentary.
This Weekend's Races Will Be Exciting
1. Adidas Track Classic Startlists Just check out the events and you'll see it's a great meet.
2. Haile G And Vivian Cheruiyot Look To Break 10k Records In Bupa Great Manchester Run Sunday *BUPA Great Manchester Run Start Lists
3. Deriba Merga Coming Back Quickly From Boston To Attempt Ottawa's MDS Nordion 10k
4. PAC 10s: Ken Goe Predicts Oregon Will Sweep PAC 10 League Titles In His Oregon Running Roundup
Last Week's Results Still Trickling In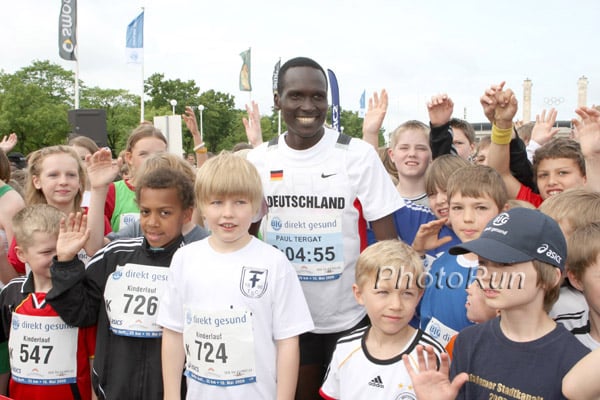 *Paul Tergat Misses Big Berlin 25K After Training Injury, Still Has Fire In The Tank He says a sub-2:00 marathon will never happen, that 2:02 is virtually impossible.
*Zimbabwe Proud Of Their Two Stud Long Jumpers For Florida State At 8.05 And 7.73m Last Weekend
*Oregon's McKay High Graduate Ryan Bailey Runs 10.06 For Rend Lake College 6th-best in the world this year.
Scandals And Dramatic Plots
*Writer: Valerie Vili Worth Paying For To Remain A New Zealander She's only netting 40k a year and pouring $160k into keeping her career going.
*Bolt Is All Set To Come Back *Bolt Gets His Insurance Claim Taken Care Of In World Record Time
*Changing Tunes: Reports Say Blanka Vlasic Will Compete Full Golden League Schedule Maybe she wants to get the million this year. The best high jumper of her era failed in her final Golden League meet, came up short at the Olympics, and fell short again at the European Indoor Championships!
*Quinnipiac In Court Over Alleged Title IX Manipulations
*Scolded WADA To Release "Enhanced" Wherabouts Rule As European Countries Threaten Funding Withdrawal WADA's finally met its match: funding cuts!
*Berlin - Despite $$$ Controversy - Appears To Be Landing Top Athletes
*Pointless: Dad Of Bumped Fan Wants Big Baby To Apologize He did apologize and for that we give him a classy thumbs up.
Golden League Controver$y: Vlasic And Other Top $tars Considering Berlin Boycott Vlasic, who barely lost out on her share of the Golden League Jackpot last year, is considering removing herself from the competition this year as it looks like Berlin is hurting for funds to pay the stars their appearance fees.
Tuesday's Usain Bolt News
*Great Quotes From T&T's Richard Thompson On The Sound Of Bolt Whooshing Past Him In The Now Legendary Olympic Final
*Steve Cram Not Impressed With The Bolt 150m Idea
*It Looks Like Bolt Will Race In Manchester
*Usain Bolt Is Healthy And Ready To Run Again