Fascinating Series On Fallen USA Sprint Star Justin Gatlin Recommended Read: Interview With Justin Gatlin About His Controversial Positive Tests And Ruined Career The likeable Gatlin, Nike, Trevor Graham, Chris Wetstine, USATF, WADA and others combine in what is still - at least in our mind and Gatlin's mind - a mysterious failed doping test. Universal Sports
*Justin Gatlin's Biographical Timeline 2000-2008 Take a look at the rise and fall of the American and 2004 Olympic hero turned banished star. Universal Sports
*Interesting Article: Justin Gatlin Can't Wait To Come Back In July 2010 Universal Sports
Tuesday's Recommended Reads: 1. Minnesota Gopher Runner Gabriele Anderson Fighting Cancer
2. Ato Boldon Interview From RunnersTribe
3. Interview With Justin Gatlin About His Positive Tests And Ruined Career
4. Fantastic Update On Shaheen, Formerly Stephen Cherono
Other Big-Time Athletes In The News
*LaShawn Merritt Updates Us On His Progress This Year He and Jeremy Wariner both opened up with 44.mid this year.
*Britain's Jessica Ennis Excited After Big PR In Heptathlon She's looking to podium at worlds.
*Dutchman Bram Som Back Running Well With 2:19 1000m 1:43 Guy.
*Elva Dryer To Run Freihofer's Run Freihofer's has one of their best fields ever lined up.
*Get To Know Aussie Intermediate Hurdler Tristan Thomas He's blowing it up this year.
Useful Steeplechase Interview With Canadian Alex Genest
We'll Add It To The List Of LetsRun Links UK Athletics Announces New Road Running Website: www.realbuzzrunbritain.com
LA Marathon Extends Media Reach To Radio, Internet
Weekly Must Read
LRC Week That Was We start off our recap with some sentimental stuff before analyzing the super GP in Doha and the Oregon 4 x Mile attempt. Along the way, we ponder whether Eliud Kipchoge is the most underrated runner in history and we also definitively answer who is the greatest 4 x Mile team in history - 2009 Oregon, 2005 Michigan or 2002 Stanford? Plus we even talk about a 6:22 marathoner and the inspirational story of two guys you've never heard about, Mekubo Mogusu and Sho Kimura.
Big Results From Sunday
*Linet Masai Crushes Hilda Kibet By A Minute Over 10k In Glasgow *Results
*From Kenya Kenya's Coach Kirwa Calls On Young Athletes To Be Consistent Kenyan sprinters are starting to emerge, one clocks 9.9 hand-timed 100m on basically a dirt track.
*Huge Marks For Cuban Field Eventers In Fortaleza, Brazil
*Cuban Triple Jumpers Giving GB's Phillips Idowu Something To Ponder
Blogs And Opinions
Doug Logan Turns 66, Blogs About How Hip And Active He Is
Rick Broadbent Gives His Top 10 Running Movies And Trashes A Classic
Slovenia's Primoz Kozmus On His Preparations For Outdoors
Inspiration: Injured British Soldier Completes London Marathon In 2 Weeks
More Weekend Action:
Prague: Patrick Ivuti Gets 2:07:48 Course Record At Prague Marathon
Japan: Yukiko Akaba (Mother Of A 2-Year-Old) Blitzes 1:08:50 At Sendai Half Marathon
Berlin: Matthew Koech And Peninah Arusei Win Berlin 25k
Florida: FSU's Brian Chibudu Jumps 26'5" Colleigate Leader In Long Jump
Multis: British Heptathlete Jessica Ennis Returns To Competition After 11-Month Hiatus With Personal Best
*Combined Events Recap From IAAF
IAAF Recap Of Sensational Meet That Produced 13 World Leads!
The 2009 pro season got underway in unbelivable fashion as the first big 1,500 of the year produced two times that surpassed the yearly lead from 2008 as Haron Keitany and Augustin Choge changed the lead 3 times in the last 10 meters. Keitany forgot to lean and Choge got the win. The men's 3k was unreal as 6 guys, including Saif Shaheen, ran sub-7:33 but the winner in dominating fashion in 7:28.37 was Olympic 5k silver medallist Eliud Kipchoge. And the men's 800 may have been even better as the dual between the 19-year-old sensations lived up to the hype. (Soon-to-be) Olympic 1,500m champ Asbel Kiprop ran 1:43.16 but LOST to Abubaker Kaki's wire-to-wire 1:43.09. 2004 Olympic champ Ezekiel Kemboi threw it down with a sub-8 steeple to start the year (sick). Plus Travis Padgett won the men's 100, Allyson Felix the women's 400, and more.
*More Post-Race Links: *After Opening With 7:58 Steeple, Kemboi Sets His Sights on Shaheen's 7:53 WR
*Vlasic Is Spectacular Yet Again She had a good attempt at the WR
*Given His 1:43 Opener, Can Olympic 1,500 Champ Kiprop Get 1k World Record?
*Steph Twell Runs 4:11 in 1,500
Must Read - In Depth Look At Shaheen, World's Fastest Ever Steeplechaser
Pat Butcher writes about a man who left Kenya for Qatar so he could speak his mind, outdueled El Gerrouj in the Moroccan great's first 5k, and ran 7:53 for the steeplechase all in the summer of 2003. Butcher provides a deep look at Shaheen's toughness that you won't find anywhere else, including his reaction to running 7:32 in his return to the track (where he was defeated by several Kenyans). Watch Shaheen race Ezekiel Kemboi at the 2003 World Championships - One of the greatest steeple races, if not the greatest, of all time, with fantastic commentary.
This Weekend's Races Will Be Exciting
1. Adidas Track Classic Startlists Just check out the events and you'll see it's a great meet.
2. Haile G and Vivian Cheruiyot Look To Break 10k Records In Bupa Great Manchester Run Sunday *BUPA Great Manchester Run Start Lists
3. Deribe Merga Coming Back Quickly From Boston To Attempt Ottawa's MDS Nordion 10k
4. PAC 10's: Ken Goe Predicts Oregon Will Sweep PAC-10 League Titles In His Oregon Running Roundup
Last Week's Results Still Trickling In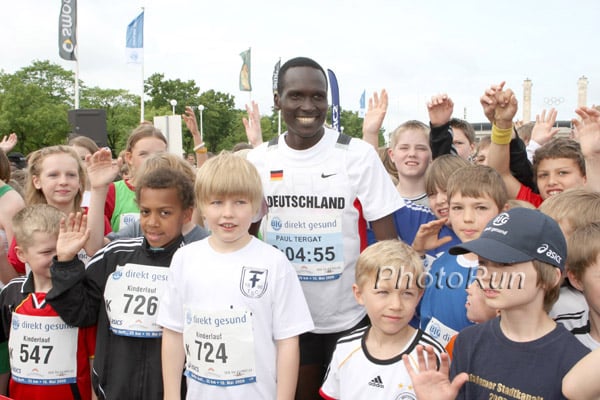 *Paul Tergat Misses Big Berlin 25K After Training Injury, Still Has Fire In The Tank He says a sub-2:00 marathon will never happen, that 2:02 is virtually impossible.
*Zimbabwe Proud Of Their Two Stud Long Jumpers For Florida State At 8.05 and 7.73m Last Weekend
*Oregon's McKay High Graduate Ryan Bailey Runs 10.06 For Rend Lake College 6th-best in the world this year.
Scandals And Dramatic Plots
*Writer: Valerie Vili Worth Paying For To Remain A New Zealander She's only netting 40k a year and pouring $160k into keeping her career going.
*Bolt Is All Set To Come Back *Bolt Gets His Insurance Claim Taken Care Of In World Record Time
*Changing Tunes: Reports Say Blanka Vlasic Will Compete Full Golden League Schedul Maybe she wants to get the million this year. The best high jumper of her era failed in her final golden league meet, came up short at the olympics, and fell short again at the European Indoor championships!
*Quinnipiac In Court Over Alleged Title IX Manipulations
*Scolded WADA To Release "Enhanced" Wherabouts Rule As European Countries Threaten Funding Withdrawal WADA's finally met its match: funding cuts!
*Berlin - Despite $$$ Controversy - Appears To Be Landing Top Athletes
*Pointless: Dad of Bumped Fan Wants Big Baby To Apologize He did apologize and for that we give him a classy thumbs up.
Golden League Controver$y: Vlasic And Other Top $tars Considering Berlin Boycott Vlasic, who barely lost out on her share of the Golden League Jackpot last year, is considering removing herself from the competition this year as it looks like Berlin is hurting for funds to pay the stars their appearance fees.
Tuesday's Usain Bolt News
*Great Quotes From T&T's Richard Thompson On The Sound Of Bolt Whooshing Past Him In The Now Legendary Olympic Final
*Steve Cram Not Impressed With The Bolt 150m Idea
*It Looks Like Bolt Will Race In Manchester
*Usain Bolt Is Healthy And Ready To Run Again
The American Running Scene
Fascinating Look At The Steroid Scene In Baseball Circa 2002
More Drugs: WADA Not Backing Down To Soccer - Whereabouts Rule Will Apply
Ducks Get Collegiate Record, Miss 16-Minute Barrier A raucous Hayward Field crowd ringed the track and pushed Oregon to the collegiate record but they missed the coveted 16-minute barrier. 3:59.53 for Centro, 3:59.60 for Wheating, 4:05:21 for Biwott, 3:58.93 for Rupp.
*Message Board Thread The thread suggests this should be a yearly event. It is; it's called the Penn Relays. Adam Goucher ran 14:00 in the 5k and Jesse Williams high jumped 2.34 in other action.
25km Races *Results
Dan Browne, Sally Meyerhoff Win USA 25K Titles At Fifth Third River Bank Run, Both Finish 2nd Overall