Weekly Must Read
LRC Week That Was We start off our recap with some sentimental stuff before analyzing the super GP in Doha and the Oregon 4 x Mile attempt. Along the way, we ponder whether Eliud Kipchoge is the most underrated runner in history and we also definitively answer who is the greatest 4 x Mile team in history - 2009 Oregon, 2005 Michigan or 2002 Stanford? Plus we even talk about a 6:22 marathoner and the inspirational story of two guys you've never heard about, Mekubo Mogusu and Sho Kimura.
Big Results From Sunday
*Linet Masai Crushes Hilda Kibet By A Minute Over 10k In Glasgow *Results
*From Kenya Kenya's Coach Kirwa Calls On Young Athletes To Be Consistent Kenyan sprinters are starting to emerge, one clocks 9.9 hand-timed 100m on basically a dirt track.
*Huge Marks For Cuban Field Eventers In Fortaleza, Brazil
*Cuban Triple Jumpers Giving GB's Phillips Idowu Something To Ponder
Blogs And Opinions
Doug Logan Turns 66, Blogs About How Hip And Active He Is
Rick Broadbent Gives His Top 10 Running Movies And Trashes A Classic
Slovenia's Primoz Kozmus On His Preparations For Outdoors
Inspiration: Injured British Soldier Completes London Marathon In 2 Weeks
More Weekend Action:
Prague: Patrick Ivuti Gets 2:07:48 Course Record At Prague Marathon
Japan: Yukiko Akaba (Mother Of A 2-Year-Old) Blitzes 1:08:50 At Sendai Half Marathon
Berlin: Matthew Koech And Peninah Arusei Win Berlin 25k
Florida: FSU's Brian Chibudu Jumps 26'5" Colleigate Leader In Long Jump
Multis: British Heptathlete Jessica Ennis Returns To Competition After 11-Month Hiatus With Personal Best
*Combined Events Recap From IAAF
IAAF Recap Of Sensational Meet That Produced 13 World Leads!
The 2009 pro season got underway in unbelivable fashion as the first big 1,500 of the year produced two times that surpassed the yearly lead from 2008 as Haron Keitany and Augustin Choge changed the lead 3 times in the last 10 meters. Keitany forgot to lean and Choge got the win. The men's 3k was unreal as 6 guys, including Saif Shaheen, ran sub-7:33 but the winner in dominating fashion in 7:28.37 was Olympic 5k silver medallist Eliud Kipchoge. And the men's 800 may have been even better as the dual between the 19-year-old sensations lived up to the hype. (Soon-to-be) Olympic 1,500m champ Asbel Kiprop ran 1:43.16 but LOST to Abubaker Kaki's wire-to-wire 1:43.09. 2004 Olympic champ Ezekiel Kemboi threw it down with a sub-8 steeple to start the year (sick). Plus Travis Padgett won the men's 100, Allyson Felix the women's 400, and more.
*More Post-Race Links: *After Opening With 7:58 Steeple, Kemboi Sets His Sights on Shaheen's 7:53 WR
*Vlasic Is Spectacular Yet Again She had a good attempt at the WR
*Given His 1:43 Opener, Can Olympic 1,500 Champ Kiprop Get 1k World Record?
*Steph Twell Runs 4:11 In 1,500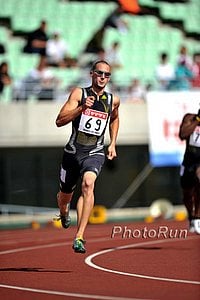 Osaka Recap: Jeremy Wariner Runs 44.69 To Kick off His International Season In Japan, Kerron Clement Wins Hurdles
USA Today Profile of Shelby Greany Who Just Set Girls National 2k Steeple Record
*LRC MB Thread: Greany Set 2k Steeple Record
Preview Of Sunday's Prague Marathon: Patrick Ivuti, The Chicago 2007 Champ, Is The Headliner
Golden League Controver$y: Vlasic And Other Top $tars Considering Berlin Boycott Vlasic, who barely lost out on her share of the Golden League Jackpot last year, is considering removing herself from the competition this year as it looks like Berlin is hurting for funds to pay the stars their appearance fees.
Tuesday's Usain Bolt News
*Great Quotes From T&T's Richard Thompson On The Sound Of Bolt Whooshing Past Him In The Now Legendary Olympic Final
*Steve Cram Not Impressed With The Bolt 150m Idea
*It Looks Like Bolt Will Race In Manchester
*Usain Bolt Is Healthy And Ready To Run Again
The American Running Scene
Fascinating Look At The Steroid Scene In Baseball Circa 2002
More Drugs: WADA Not Backing Down To Soccer - Whereabouts Rule Will Apply
Ducks Get Collegiate Record, Miss 16-Minute Barrier A raucous Hayward Field crowd ringed the track and pushed Oregon to the collegiate record but they missed the coveted 16-minute barrier. 3:59.53 for Centro, 3:59.60 for Wheating, 4:05:21 for Biwott, 3:58.93 for Rupp.
*Message Board Thread The thread suggests this should be a yearly event. It is; it's called the Penn Relays. Adam Goucher ran 14:00 in the 5k and Jesse Williams high jumped 2.34 in other action.
25km Races *Results
Dan Browne, Sally Meyerhoff Win USA 25K Titles At Fifth Third River Bank Run, Both Finish 2nd Overall
HS On the Front Page Of LetsRun.com
Robin Reynolds, Florida Frosh, Wins 4 State Titles (11.56, 23.67, 54.95, 19'4" Long Jump) Great marks all around.
*Video Interview And Footage Of Her Races
Pretty Impressive In Oregon: Blind, Deaf Track Athlete Alfredo Castaneda Excelling In Oregon
*Update: Alfredo Castaneda Concludes Season With A PR
USAIN BOLT NEWS
Bolt Back In Training, Reports "Slight Discomfort" After 10 Minutes Of Wind Sprints
*Usain Bolt's 150m Street Race Participation Next Week Is Up in Air He'll be there for sure, whether he runs is touch-and-go.
*Jamaican Column: Bolt "is ideal to model Louis Vuitton menswear, pink shirts, Calvin Klein boxers and Gillette." Scroll down to see this guy's future plans for Bolt off the track.
*Chambers Reiterates: "It's All About Project Bolt." Nice to see cnn giving track some love with story and video interview.
Shannon Rowbury, David Torrence Win US Medtronic Road Miles 4:00 for Torrence got him $14,000 as they rounded up his time but gave him the $10k sub-4 bonus. Somehow Rowbury didn't break 4:28 (4:34), so no 10k for her. Race videos on the right of our homepage with more coverage at Flotrack.
Meet HS Decathlon Record Holder Curtis Beach The guy is an freak in that he comes to the decathlon from a mid-d background. He almost ran at NTN last fall. USA Today made a big deal of the fact that he's going to Duke. "In the end, it was a clear first choice even though on the surface it looks terrible because historically they haven't been a great track program."