More Results From A Busy Weekend
Top Weekend Action
3 Highly Recommended Reads
Interviews With College Runners
Events To Honor Fallen Heroes
Quotes From Today's Track And Field Buzz
Solomon Haile Headed To Arkansas!
IAAF World Champs/Golden League Announces New USA Television Deal Inked With NBC/Universal Sports This will be good for track fans and the sport as long as NBC remains committed to showing the World Champs on NBC like they are doing this year. Our sport's biggest events need maximum exposure (broadcast television) and they do not get that on cable. For hard core track fans, this is great news if you are in a Universal Sports area as you'll be able to see a lot more events on tv.
Japan-Based Mekubo Mogusu Recovering Physically And Emotionally From Car Wreck In Kenya That Left His Coach In A Coma Flashback: Mogusu ran 3 sub-1 hour half marathons in 2007.
A Number Of Beijing Medallists Highlight Field Events In Doha This Weekend
Steve Cram On Rashid Ramzi And Why Almost Everyone Had Their Suspicions
Aussie Record-Holder Collis Birmingham Writes About His Training Stint In California The Australian group spent a big chunk of time training and racing in the western United States with some good results.
Bupa Great Edinburgh Run
She's Back! Deena Kastor Returns To Form As She Gets Win In her first big race since last year's Olympic injury, Kastor dominated as she took command on the first big hill just 3km in the race as she crushed 3-time champ Jelena Prokopcuka as well as former world 10km champ Sally Barsosio, who was 3rd. Next Up: Bay To Breakers On May 17th.
*Micah Kogo Wins In Course Record 28:13
Pre-Race:
*Deena Kastor's Excited To See Return From Broken Foot Continue In Scotland Interesting - she says emphatically she wants to run in London 2012 at age 39.
Interesting Read: Race Shows Contrasting Worlds Between Richness Of West & Poverty Of Kenya An interesting look into what life in Kenya is truly like.
Payton Jordan Cardinal Invite *Results *Photos
1 Day After The Fact - Lots Of Interesting Articles
*Despite Miscounting Laps, Chris Derrick Steals Spotlight From Centrowitzes With American Jr. Record Lauren tied the Stanford school record with her 4:10 PR as brother Matt ran 3:36. *MBoard Thread On Derrick Miscounting Laps
*Centrowiz, Just 19, Is Now 6th-Fastest Collegian Ever (but only 3rd on Oregon all-time list)
*Another Long Recap Of Stanford Meet
*Ok. State's Dave Smith Pleased With Stanford
It All Depends On Whether Glass Is Half Full Or Empty
*Jordan Hasay Gets Smoked In Stanford, Finishes Next-To-Last
*Hasay Runs Her 2nd-Fastest 1,500 Ever & 4th-Fastest Prep Time Ever
Chris Derrick 13:29.98 American Junior Record!!!, Matt Centrowitz Jr. 3:36.92 Over Lee Emanuel, Jenny Barringer 15:07.64 Wire-To-Wire Collegiate Record, Tim Nelson 27:36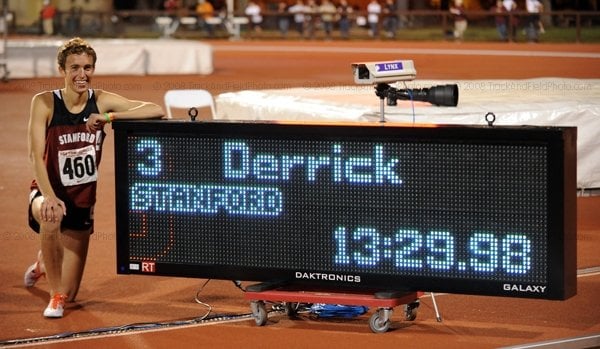 This meet didn't disappoint. Third place of heat 2 of the 5k may have been the highlight as Chris Derrick defeated fellow frosh German Fernandez to get Galen Rupp's American Junior Record in the 5k. Jenny Barringer has been so good in 2009 that she set a collegiate record while running slower than she did indoors. She was actually disappointed with her collegiate record. The premier pre-meet event, the men's 5k, didn't quite live up to its hype as a slow second mile killed any chances of a World Championships "A" qualifier, as Alistair Cragg outkicked Matt Tegenkamp to win in 13:22. Videos from top races from Runnerspace on the right of the home page and more from Flotrack.
*San Francisco Chronicle Recap
Asafa Powell Injured Ankle At Penn, Will Miss Friday's Doha Meet BBC
"I used to play judo and the art of playing judo is take the force andpressure on you and return it to throw your opponent - and this is the moment for the Olympic movement to throw its weight behind that brand and reaffirm its values." - Seb Coe's take on how the Olympics fighting cheating in sports can be a model to fight cheats in all walks of life.
Lots Of Interesting Drug News/Reactions
*Phil Hersh Says It's A Good Thing They Caught Ramzi And A Good Thing It Wasn't Bolt Read the comments below his article to see how people react.
*Jason Stewart Says He And Nick Willis Had Their Suspiscions About Ramzi ... as did pretty much everyone else who follows running.
*Seb Coe On Recent Frauds And London's 2016 Preparations Worth a read.
*European Union and WADA Battling Over Right To Test Athletes
*Seb Coe Really Upset At Ramzi Positive Result
*As A-Rod Gets Set To Return To Yankees' Roster, Book Claims He's Been Juicing Since High School Makes us glad our sport actually tests, bans and punishes its stars who are exposed as cheats.
This Weekend's Action
*Kipruto Crushes French Road 10k In 27:43
Nick Willis' Father Not Surprised By Ramzi's Positive Test
*It WAS Ramzi! Bahrain's Gold Medalist Rashid Ramzi Busted For CERA EPO After Olympic Retest Thread Here The LetsRun voters had this one with no problem as our poll shows that >70% of you apparently were never fooled by Ramzi's performances. See the 2008 Olympic 1,500m final results here. See our photo album from the Olympic 1,500m final here.
MORE: *All 6 CERA Cheats' Names Published
*Kenya's 6th Olympic Gold Is Coming Soon
*Picture Of Croatian 800m Runner Whose A-Sample Came Back Positive For CERA
*Italian Cyclist Busted For CERA Calls For Retest
*IAAF Issues Statement On Drug Test Results
Stanford Payton Jordan Highlights (You Can Fast Forward To The End Of Each Race). Chris Derrick American Junior Record 13:29.98!
Men's 1,500 - Centro Cruises
Alistair Cragg Over Tegenkamp (Dobson Stops A Lap Early)
2004 Olympic Gold Medallists: Justin Gatlin, Shawn Crawford, Jeremy Wariner, Liu Xiang, Felix Sanchez, Yuriy Borzakovskiy, Hicham El Guerrouj, Kenenisa Bekele, Stefano Baldini, Ezekiel Kemboi.