The NY Times Looks At How Many Colleges Are Cutting Sports Due To Recession While Other Schools Are Flush With Cash Interesting to learn that MIT cut 7 sports, while UW cut its swimming teams and Cincinatti its scholarships in track/cross-country. Meanwhile, SEC schools are so loaded with sports $$ that Arkansas is giving $1 million to the University to help it out.
Top Weekend Action
NCAA Conference Action
Big East: Notre Dame Men Win Big East By 1/2 A Point Over Lousiville! It was the 100th Big East crown for the Irish overall as the Cardinal women got the win. *Complete Men's Results *Complete Women's Results
*Army M & Bucknell W Win Patriot League
Rivalries
*UCLA - USC: USC Sweeps Mens & Women's Dual For 1st Time Ever The UCLA women almost never lose to USC (2nd time in 17 years) but they did this year. Click here to see a ton of highlight videos (guys and girls in tears at USC about the win). Click here to see video replay of meet.
*Washington-WSU Dual: Talk About Close: Washington Husky Women 86.66 - Wash. St. 86.33 The Washington Husky St. Cougar Men Meanwhile Won Easily
Lilac Bloomsday Run Results:
Lineth Chepkurui And John Yuda Win Yuda is the first non-Kenyan men's winner in 15 years (he's from next door in Tanzania)
Ethiopian Champs Day 3 & 4 Recap Women's steeple was the highlight.
Guadeloupe: *Results
LaShawn Merritt Runs 44.50 World Leader In Guadeloupe, Phillips And Demus Get World Leaders
Texas Invite: *Results
Tyson Gay Runs 45.57 400, Alonso Edward Runs 9.97 100 And Lopez Lomong Gets Beaten In 800 (1:48.42)
Jamaica International: *Results
Kerron Stewart Runs 10.92 World Leading 100, Sanya Richards Beaten In 400
Dusseldorf Marthon: Rabbit Wins In 2:10:46
*Sabrina Mockenhaupt Gets "A" Standard With 31:25
Broad St. Run : Kenyans Jane Murage (53:31) And Linus Maiyo (47:21) Win In Rain In Philly 2nd straight title for Murage. *Chip Timing Malfunction At Back Of Pack
3 Highly Recommended Reads
*Outstanding Read: Lopez Lomong Gets His Brothers And Brings Them To The US This article is a once-in-a-lifetime read.
*Great Article Remembering Payton Jordan
*Recommended Read: Michael Johnson Answers Readers Questions From BBC It only took a couple of questions before a LetsRun.com thread was mentioned: *LRC Thread: Bolt vs. Bekele Over 600m (MJ says Bolt would take it easy, we disagree) Also Read: Michael Johnson On Dwain Chambers' Talk Of Beating Bolt
Mary Wittenberg Courting Radcilffe, Wanjiru And Others For Another Stellar NYC Marathon *Photos
Interviews With College Runners
*Flotrack Interview With New Mexico's Rory Fraser
*Interview We Missed With Princeton's Mike Maag
Events To Honor Fallen Heroes
*Great Event: May 17th Sydney Half Marathon Will Be Held In Honor Of Kerryn McCann
*Elite Hammer Throwing Competition Held In Honor Of Deceased Thrower
Bolt Is OK - Won't Race This Weekend *Photos Of The Car And His Million Dollar Feet
Message Board Update: Bolt Doing Fine After Car Wreck Word from his agent Ricky Simms.
*In-Depth Read On The Fallout From Bolt's Car Wreck Manchester meet organizers are worried about Bolt being able compete mid-May while others worry about the World's Fastest Man's lifestyle in the fast lane.
*"Me all right, a just few cuts man, me all right." - Usain Bolt To Jamaica Observer
*Ricky Simms, Bolt's Agent, Says He Will Cancel This Weekend, The Future Is Not Yet Clear
Quotes From Today's Track And Field Buzz
1. "When I think of these athletes who win by cheating, they get a lot of kudos and probably a lot of sponsorship and accolade that comes with it, and you can't ever take that back. So the cheats do momentarily prosper in this system. All we can say is that we believe Nick is a genuine champion and we are mighty proud of his bronze - and now his silver." - New Zealand Olympic Committee secretary general Barry Maister
2. "Honestly, track and field didn't need another blow like this. Our reputation is truly depleting and it doesn't help when fans who have long loved the sport begin to doubt what they see." - Dee Dee Trotter
3. "I found it too distressing to stay in England after what happened in Athens – I felt like I'd let the country down. I decided I didn't want to live somewhere where I was recognised all the time." - Paula Radcliffe in an interview with The Telegraph
4. "He is not seriously injured and therefore Jamaica can collectively breathe a sigh of relief." - Andrew Holness, the leader of Jamaica's parliament
New Shoes, New Marathons, And Bucknell Masters Keep On Truckin'
*Group Of Bucknell Masters Win American Odyssey Relay Their beloved former Bucknell coach Art Gulden would be proud.
*Chicago Marathon's 45,000 Spots Have Filled
*Virgin London Marathon On Its Way To Selling Out
*Dutch Company ECCO Announces New Shoe
*Need A Vacation And A Marathon? Go Cheap To Costa Rica
A Must See And A Must Bookmark - Amazing Marathon Research Published See the top 200 performances in the marathon from 1940-2008. There's an amazing amount of information on this site.
Regional Track Meets In Texas Are Casualty Of Swine Flu
NCAA
1. Latest Men's Track NCAA Rankings - Florida Overtakes Oregon For Top Spot

1a. Texas A&M Stays On Top In Women's NCAA Rankings
Discus News
Announcements
Must Read
LRC: The Week That Was We give you insights into Boston, London and Penn Relays. In between emphatically telling you whether Ryan Hall's start in Boston was too fast and wondering what Doug Logan thought of the US team's relay success at Penn, we ponder whether Kara Goucher should have run London and show you that Meb and Ritz aren't in the same class as Hall. Additionally, we present for the 1st time the LRC Maxim For Distance World Records.
Bupa Great Edinburgh Run
She's Back! Deena Kastor Returns To Form As She Gets Win In her first big race since last year's Olympic injury, Kastor dominated as she took command on the first big hill just 3km in the race as she crushed 3-time champ Jelena Prokopcuka as well as former world 10km champ Sally Barsosio, who was 3rd. Next Up: Bay To Breakers On May 17th.
*Micah Kogo Wins In Course Record 28:13
Pre-Race:
*Deena Kastor's Excited To See Return From Broken Foot Continue In Scotland Interesting - she says emphatically she wants to run in London 2012 at age 39.
Interesting Read: Race Shows Contrasting Worlds Between Richness Of West & Poverty Of Kenya An interesting look into what life in Kenya is truly like.
Payton Jordan Cardinal Invite *Results *Photos
1 Day After The Fact - Lots Of Interesting Articles
*Despite Miscounting Laps, Chris Derrick Steals Spotlight From Centrowitzes With American Jr. Record Lauren tied the Stanford school record with her 4:10 PR as brother Matt ran 3:36. *MBoard Thread On Derrick Miscounting Laps
*Centrowiz, Just 19, Is Now 6th-Fastest Collegian Ever (but only 3rd on Oregon all-time list)
*Another Long Recap Of Stanford Meet
*Ok. State's Dave Smith Pleased With Stanford
It All Depends On Whether Glass Is Half Full Or Empty
*Jordan Hasay Gets Smoked In Stanford, Finishes Next-To-Last
*Hasay Runs Her 2nd-Fastest 1,500 Ever & 4th-Fastest Prep Time Ever
Chris Derrick 13:29.98 American Junior Record!!!, Matt Centrowitz Jr. 3:36.92 Over Lee Emanuel, Jenny Barringer 15:07.64 Wire-To-Wire Collegiate Record, Tim Nelson 27:36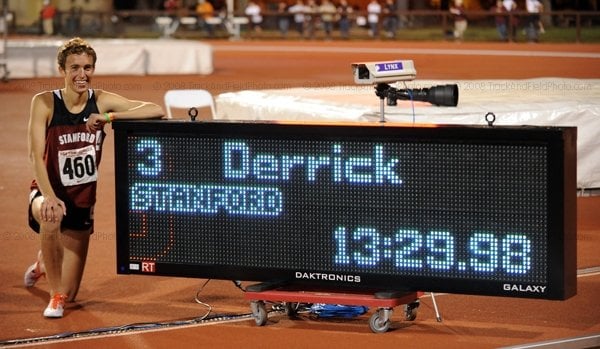 This meet didn't disappoint. Third place of heat 2 of the 5k may have been the highlight as Chris Derrick defeated fellow frosh German Fernandez to get Galen Rupp's American Junior Record in the 5k. Jenny Barringer has been so good in 2009 that she set a collegiate record while running slower than she did indoors. She was actually disappointed with her collegiate record. The premier pre-meet event, the men's 5k, didn't quite live up to its hype as a slow second mile killed any chances of a World Championships "A" qualifier, as Alistair Cragg outkicked Matt Tegenkamp to win in 13:22. Videos from top races from Runnerspace on the right of the home page and more from Flotrack.
*San Francisco Chronicle Recap
Asafa Powell Injured Ankle At Penn, Will Miss Friday's Doha Meet BBC
"I used to play judo and the art of playing judo is take the force andpressure on you and return it to throw your opponent - and this is the moment for the Olympic movement to throw its weight behind that brand and reaffirm its values." - Seb Coe's take on how the Olympics fighting cheating in sports can be a model to fight cheats in all walks of life.
Lots Of Interesting Drug News/Reactions
*Phil Hersh Says It's A Good Thing They Caught Ramzi And A Good Thing It Wasn't Bolt Read the comments below his article to see how people react.
*Jason Stewart Says He And Nick Willis Had Their Suspiscions About Ramzi ... as did pretty much everyone else who follows running.
*Seb Coe On Recent Frauds And London's 2016 Preparations Worth a read.
*European Union and WADA Battling Over Right To Test Athletes
*Seb Coe Really Upset At Ramzi Positive Result
*As A-Rod Gets Set To Return To Yankees' Roster, Book Claims He's Been Juicing Since High School Makes us glad our sport actually tests, bans and punishes its stars who are exposed as cheats.
This Weekend's Action
*Kipruto Crushes French Road 10k In 27:43

Nick Willis' Father Not Surprised By Ramzi's Positive Test
*It WAS Ramzi! Bahrain's Gold Medalist Rashid Ramzi Busted For CERA EPO After Olympic Retest Thread Here The LetsRun voters had this one with no problem as our poll shows that >70% of you apparently were never fooled by Ramzi's performances. See the 2008 Olympic 1,500m final results here. See our photo album from the Olympic 1,500m final here.
MORE: *All 6 CERA Cheats' Names Published
*Kenya's 6th Olympic Gold Is Coming Soon
*Picture Of Croatian 800m Runner Whose A-Sample Came Back Positive For CERA
*Italian Cyclist Busted For CERA Calls For Retest
*IAAF Issues Statement On Drug Test Results
Interesting Interviews
*Paula Radcliffe Does An Interview Totally Focused On Questions Of Finance
*Great Brief Chat With Nick Willis The chat took place before the Ramzi results came out.
*Interview With Aussie Coach Sean Williams
*World XC Champ Gebremariam Wins 10,000m On First Day Of Ethiopian Championships
*Kenya Names Their 10-Person Berlin World Championship Team Hello Sammy Wanjiru. Not sure why his name is on there, other than they really hope he runs for them despite announcing he's running Berlin City a little over a month later.
Kenya's Preliminary WC Squads:

Men:
Sam Wanjiru
James Kwambai
Duncan Kibet
Daniel Rono
Emmanuel Mutai

Women:
Agnes Kiprop
Helena Kiprop
Irene Limika
Catherine Ndereba
Salina Kosgei

Men Alternates:
Luke Kibet
Abel Kirui
Martin Lel
Robert Cheruiyot
David Kipkorir

Women Alternates:
Martha Komu
Risper Jemeli
Lydia Cheromei
Edith Masai
Irene Mogaka
Other Quotes & Excuses
1."The Bahrain Olympic Committee apologizes for receiving such news from the IOC since it ensured Ramzi went through all the necessary doping tests before the games and they were all negative." Well, isn't that wonderful. What does the Bahrain Olympic Committee do? Item 1: Buy athletes from other countries. Item 2: Make sure they're doped to the gills.

2. "I would venture that no Brit, apart from Radcliffe and Yamauchi, and certainly no British man will get near to winning London in at least the next quarter century." - Pat Butcher in his latest Butcher's Blog entry.

3. "I don't see why I should take a path that would ruin me or my image. I don't know if I'll still be able to race, but I will always ride because cycling is my life." - Italian cyclist Davide Rebellin. Maybe you shouldn't have taken CERA.

4. "I know I am clean and have not done anything that would contradict that. I haven't used anything different than I did in 2007." - Dominican weightlifter Yudelquis Contreras. Of course, they didn't test for CERA in 2007.
News From The UK
*Recommended Read: Pat Butcher On Sad State Of GBR Men's Distance Running Lots of bashing of Britain's men's marathoners this week.
*Brief Chat With Miling Stud Lee Emanuel If German Fernandez ran the indoor NCAA mile, Emanuel's life probably would be a lot different right now. He skipped 3:39 and 3:38 and went right to 3:37.99 last weekend after winning the indoor mile at NCAAs.
*British Olympic Association Confident Their Athletes Are Clean Total media spin. The implied meaning: "We're confident most of our athletes didn't test positive or skip multiple tests this year." They were probably saying they were confident back when Dwain Chambers, David Millar and Christine Ohuruogu were getting banned and admitting to their offenses.
Stanford Payton Jordan Highlights (You Can Fast Forward To The End Of Each Race). Chris Derrick American Junior Record 13:29.98!
Men's 1,500 - Centro Cruises
Alistair Cragg Over Tegenkamp (Dobson Stops A Lap Early)
2004 Olympic Gold Medallists: Justin Gatlin, Shawn Crawford, Jeremy Wariner, Liu Xiang, Felix Sanchez, Yuriy Borzakovskiy, Hicham El Guerrouj, Kenenisa Bekele, Stefano Baldini, Ezekiel Kemboi.