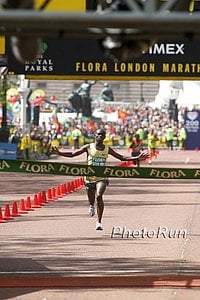 Men: Wanjiru The Best In The World Sammy Wanjiru beat the world's best in the heat of Beijing and he did it again on Sunday on the streets of London to prove he is the best competitive marathoner in the world. After a suicidal opening 5k (they were sub-2 hour pace), the halfway mark was reached in a blistering 1:01:36. Wanjiru blew things open with a 4:25 19th mile and then held on for the win after Olympic bronze medallist Tsegay Kebede closed within 1 second of him during the 25th mile of the race. American Meb Keflezighi led the US charge in 9th in 2:09:21 while Dathan Ritzenhein just missed his first sub-2:10 clocking with a 2:10:00 in 11th.
*Race Splits And Coverage From Science Of Sport
*Post Race Interview With Wanjiru
*Ritz's Reaction To His Race
*IAAF Recap Of London
*Men's Photos
On the boards: *LetsRun Message Board Thread Following The Race
*Adam R. With A Super-Accurate American Prediction We've received word Adam R is also Brett in Tokyo of Japan Running Blogspot.
*Time for an Honest Assessment of Ritz's Performance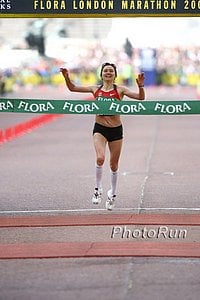 Women: Mikitenko Repeats Defending champ Irina Mitikenko was facing the Olympic champ Constantina Dita and the silver medallist Catherine Ndereba, but her biggest challenge on Sunday came from a Brit not named Paula, Mara Yamauchi. Yamauchi hung close until the final 10k of the race.
*Race Splits And Coverage From Science Of Sport
*Yamauchi Signals Her Arrival Into The Elite
*NY Times London Recap
*Women's Photos
*Search Results And Splits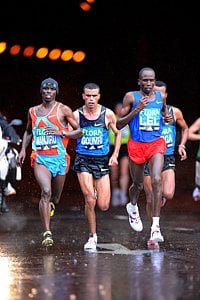 Pre-Race:
Recommend Read: Britain's Greatest Marathoner Ron Hill Still Going Strong At Age 70 The dude was running sub-2:10 nearly 40 years ago.

LRC London Marathon Men's Preview

LRC London Marathon Women's Preview
British Distance Woes: What Can Be Done?
Paula Radcliffe Talks About British Men's Lack Of Mental Toughness Paula talks about the fragile male ego and sounds like Paul Tergat: "A lot of it is about the mental outlook of the athlete." Times of London

Ian Stewart Is Tasked With Turning Around British Distance Running And He Says They Need To Run More Miles "The low-mileage approach has destroyed British distance running." "It's a big lifestyle change. In the last 10-15 years there was a groundswell of opinion that said 'less is more.' We had runners doing more work in the gym. But they're not doing that in Kenya or Ethiopia, they're getting miles under their belt." www.guardian.co.uk
Great Post-Race Piece On 2009 Boston Champ Deriba Merga He said when he woke up he knew he would win. He's apparently now going to turn down a huge payday and run the World Champs in Berlin. The guy likes to race!
*After Passing Out, Tune Came To & Had No Idea Who Won The Race
Marathon Tidbits: Defending Champs Tune & Cheruiyot Both Out Of Hospital / Rodgers Calls Race Maybe Most Fantastic Boston He's Ever Run / USAirways Air Traffic Controller Runs In 2:40s The Celtics owner even ran.
*Kara Goucher No Longer Fears The Marathon In NYC, she was surviving at the end; in Boston, she was racing. The only problem is now she's planning on starting a family. Maybe American fans desperate for victory should raise a ton and try to get them to consider adoption.
*Kenyan Paper Reports Of Kosgei's Victory She was a little "scared" because the early pace was so slow.
*Shalane Flanagan Might Run Marathon In Future
Drake Turns 100
Brutus Hamilton/NYRR Distance Carnival
Tyson Gay Runs 46.34 At Sun Devil Track Classic
Webb's 4:00 Win
Michael Coe's 3:56
Puma Street Meet Winners Announced
We Have Our Winners: What Does Fast Mean To You? The voting was very tight and 2 hardcore LetsRun.com fans were neck and neck with Kara Haas coming out on top. She'll gets a VIP prize pack and the opportunity hang out with Usain Bolt this Sunday at the Boston Street Meet. Preview video below. Top 5 entries at the article above.
LRC Review: Must Read Kenny Moore's Best Efforts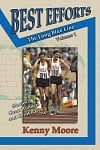 Kenny Moore's Best Efforts Is Back In Print When this book showed up at LRC corporate headquarters to be reviewed, the response was, ""Holy sh*t! That book is one of the top 2 running books I've ever read." The offical LRC review is in and it is very positive: "I believe a great work only receives the label 'great' if it has passed the test of time. Best Efforts passes the test because it will refresh the man or woman who was following the runners of the 60s, 70s and 80s." Also as a special to LRC readers, you can buy an autographed copy of the book for only $14.95.