Boston Photos *Video Highlights from our partner Universal Sports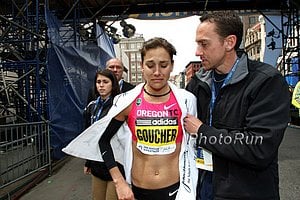 *LRC' Post-Race Comments/Interviews: We give you some our thoughts and extensive interviews with Goucher/Hall, etc. We upset a lot of old timers who come to LetsRun.com, urge the BAA to pay Deriba Merga $10,000 to take English classes, and do the more traditioanl like give our take on the races.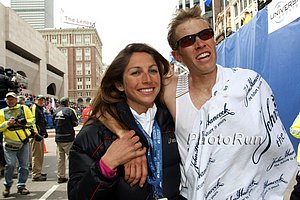 LRC: The Week That WasPrior to Boston, a lot happened in the world of running and we try to make sense of it all - from Alan Webb's outdoor debut, to Mt. SAC, to debutante marathoners in Vienna, to dopers possibly going to jail.
Steve Cram On His Most Exciting London Entrant: Debutant Zersenay Tadese No time to catch your breath as a great FLORA London Marathon is 5 days away.
Britain Sprint Talent Emerging This Year
Kenya's "The Nation" Highlights Another Weekend Of Kenyan Marathon Dominance
USA News
Jamaican Gold Medalists Lose At University Invitational In Jamaica
Jeremy Wariner ... He Won't Be Coached By Clyde Hart, But He Will Wear Different Color Shoes In Each Round In Berlin
Interesting: NHL Contract Has 5-Month Window (Playoffs And Off-Season) Where Players Know They Will Not Be Drug Tested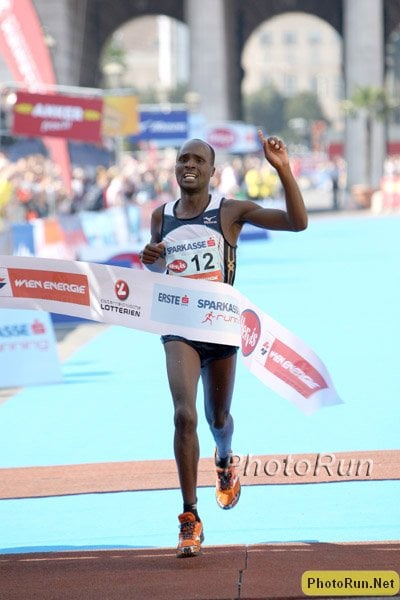 Gilbert Kipruto Kirwa Debuts In 2:08:21 Vienna Win Photo Gallery *Race Recap Austrian marathon record on the women's side as hometowner gets the win, great debuts on the men's side (4 under 2:10). Men's winner says, "After this debut I hope to run 2:04 one day." Rotterdam and Paris have everyone Kenyan thinking they can run 2:04. 2000 Olympic Steeple Champ Reuben Kosgei dropped out of his first marathon.
*2 More Kenyan Wins In Turin: 2:09:07 And 2:26
Recommended Watch BBC Goes To Jamaica And Looks At Usain Bolt's Upbringing See his elementary school, his dirt track, and his father wearing a Barack Obama hat.
Dwain Chambers At Mt. SAC
*Recommended Read: LA Times: Reformed drug cheat on a redemptive run
*San Diego Tribune: Chambers running for the sake of running. Chambers ran in anonymity in LA, as the announcer didn't even announce the fact he was on the B 4 x 100.
*Video Interview Of Chambers At Mt. SAC
NCAA/US Track News
Kansas Relays:
*Alan Webb Wins In 3:58.9 After Being Challenged By Peter Van Der Westhuizen
*AP: Webb, Who Opened His 2009 Outdoor Season With A 3:58.9 Win, Is Focused On Training Less In 2009
*Jim Ryun's 42-Year-Old 3:54.7 Record Survives
*Pre-Race Article On Webb


BAA Road Miles: Darren Brown Surprises, Anna Willard Confirms Again She's a Really Good Miler Darren Brown did something very unfamiliar on Sunday - win a race. He got used to being beaten in high school and college but got a very big win on Sunday. Anna Willard did something she is growing accustomed to - winning. She easily dispatched Olympic 10k bronze medallist Shalane Flanagan on the streets of Boston. Photos, video, and more.

Mt. SAC: *Results Here
Lee Emanuel Sizzles, Juan Barrios Over Fam And Solinsky
NCAA indoor mile champ Lee Emanuel showed he's the real deal by blowing away the field to run 3:37 in the 1,500. Juan Barrios outkicked Anthony Famiglietti and Chris Solinsky in the last 100m to win the 5k in 13:16 (video of last 100 here). David Torrence got the biggest applause, winning the Puma mile and a 1-year contract by going 2:05.4 - 1:55.7. *5k Video *1,500 Video *Mile Video
*Videos With Announcing
*Videos With No Announcing The Mt. SAC PA announcers are some of the best in the business.
*Dwain Chambers Running 200m & 4x100m At Mt. SAC Saturday
*Thursday: American Olympian Lindsay Anderson Wins Steeple In World Leading Time At Mt. SAC
*IAAF Preview: Olympic Medallists Allyson Felix, Sheena Tosta, Tasha Danvers (GBR), Kerron Clement And Shawn Crawford To Compete

ACC *Florida St. & UVA Tie For Men's Title As FSU Wins Women's
Oregon-UCLA Dual: Rupp & Wheating Return To Hayward With Wins As Meet Comes Down To 4 x 400 (Oregon Wins) *MB Thread
1996 Olympic Marathon Champ Josiah Thugwane Wins Forever Resorts Loskop 50km Ultra
A Preview Of Sunday's Nagano Marathon
Just As Paul Tergat Predicted, Victor Kigen Wins Belgrade Marathon
Christian Cantwell Throws World-Leading 21.53 In Africa
Meet Mongolia's Olympic Marathoner Serod Batochir Who Is Training In The UK For The 2012 Games