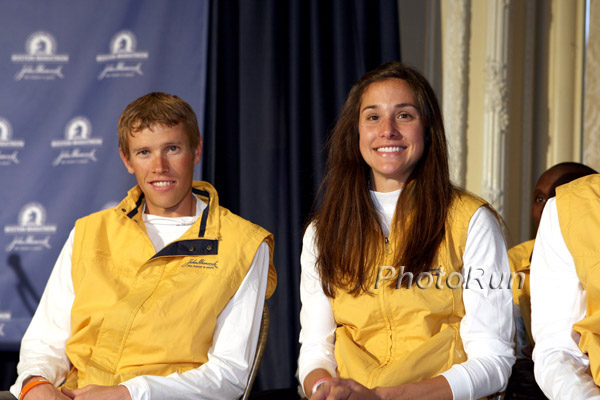 LRC: Boston Media Day: Can An American Win It? The stars in Boston addressed the media on Friday and LetsRun.com was there to cover it all. Of course we've got Ryan, Kara, and Robert the Champ but much, much more, including Ryan Hall's confidence, Kara Goucher's ability to pull a Kempainen, Kara's demons, Brian Sell's possible retirement, and even a life-sized statue of Brian Sell made out of pasta. Story and videos.
*Ryan Hall, Kara Goucher, Robert Cheruiyot, Evans Cheruiyot, Deriba Merga, Brian Sell Interviews

*PhotoRun's Boston Press Conference Photos
*Science Of Sport Boston Predictions: Goucher & Cheruiyot (Hall 3rd)
*Goucher Tells David Monti She Has A Chance To Win
*Goucher's Hometown Paper: Goucher Eager To Run Boston
*IAAF Preview Of Boston - Cheruiyot: "Boston is my second home."
*Legendary Coach Bill Squires Predicts Good Runs For Goucher And Hall
*Get Live Boston Updates On Your Cell Phone - Track The Elites All Morning
*LRC Preview Of The Men's Field - Can Hall Win It? The short answer is yes but it won't be a walk in the park.
*LRC: Meet Neil Cusack: The 1974 Boston Marathon Winner & Ireland's Only Boston Champion PJ Browne gives you insight into the only Irish champ in Boston. His article clearly reveals that Boston in 1974 was a totally different era. Famed television anchor Walter Cronkite interviewed the winner and the headline in the NY Daily News the day after the race was, "Irishman wins Boston, trains on beer." Cusack never reached his full athletic potential as he had to work several jobs.
*LRC Preview Of The Boston Women's Field We tell you what we think of Kara's chances and introduce you to an elite field comprised of neophytes and veterans, with our take on just how strong the field really is. See below for a ton of good articles on Boston
Don't Forget: Hansons-Brooks Sending Team To Boston
*Brian Sell On Where He Sees Himself And His Teammates Finishing On Monday Hansons-Brooks brought a lot of excitement to Boston with their 2006 squad.
*Kevin Hanson On Hansons-Brooks And The Resurgence Of American Marathoning Hanson predicts 6 Brooks-Hansons runners in the top 15! "The six people, I think, will all finish in the top 15, 20th at the worst."
*Pre-Boston Interview With Central NY Runner Fred C. Joslyn
*Ryan Hall Gets Front-Page Sports Feature in USA Today What a pleasant surprise to see Hall featured in the paper yesterday morning.
*Kara Goucher Gets Some Love From USA Today Salazar says Goucher's much better prepared than for New York as she's had 9 100 mile weeks. Brian Sell also gets some love.
*Can A Tall Blonde Surfer-Guy Runner Win the Boston Marathon?
*David Monti/Universal Sports Preview Boston They have a picture of the bibs some of the top runners will wear.
*Ryan Hall Q&A In Hometown Big Bear Grizzly
*Man To Run Boston Marathon 4 Times Consecutively Raising money for wounded soldiers.
*adidas Extends Boston Marathon Sponsorship Conspiracy theorists thinking Nike is buying Kara Goucher's victory should think again.

Great Dire Tune Article - She's The Reigning Boston Champion And Will Be In The Running In 2009 *Another Must-Read Dire Tune Article Universal Sports This article uncovers a tense drama that took place between Ethiopian teammates before Beijing. Bezunesh Bekele's husband pulled a gun on Deriba Merga, Tune's training partner at the time, all because there was sentiment that Tune didn't deserve her national team spot. Interestingly, Tune, Bekele and Merga will each be competing in Boston on Monday.
*Video Interview With Kara Goucher The best part is you get to watch her run on the Alter-G Treadmill ... it looks really strange.
*Science Of Sport Previews The Men's Field In Boston A great analysis of Robert Kipkoech Cheruiyot's winning strategy last year and predictions for this year.
*Robert Cheruiyot The Betting Favorite In Boston, Ryan Hall The 3rd Choice
*Asics To Offer Special Ryan "Hall-elujah" Shirt
*Wow, Curb Your Enthusiasm - Great Article On Deriba Merga From his tough upbringing to his wont for pushing the pace in big races only to fade at the end, this article opened up the world of Merga to us. More introductions: This Article Introduces You To The 3 Male Cheruiyots In Boston
*Supercool Brooks Running Superfans Website
Bolt News
*British Column: Bolt's Apology Unnecessary "The 'news' that Usain Bolt recently admitted to knowing as a child how to roll a joint belongs in the same category as the fact that bears defecate in woods."
*Usain Bolt Answers Readers Questions On Video In Britain He's #1 rule to being a champion, "Listen to my coach." He also takes a question at the end from a guy who claims to have walked him down in HS.
*Brit Marlon Devonish To Face Bolt In Next Month's Street Race He ran a 10.11 last week. All we can say is that will look like an 11.00 next to Bolt.
*Bolt, Isinbayeva And Dibaba Finalists For 2009 Laureus World Sports Award
The Best Of The Rest From Boston Coverage:
LRC's Week That Was Read about the death of a miling legend, the running world's version of Bernie Madoff, the longest article ever on Lance Armstrong, and of course our early take on Ryan Hall's predictions with only days remaining before Patriot's Day and the Hancock Boston Marathon.
NCAA News
*ACC Meet Is This Weekend In Miami, FSU Favored On Both Sides All we can say is the ACC should be embarrassed that the conference meet is before Penn and Drake.
*Rupp & Wheating To Debut At UCLA vs. Oregon Dual Meet This Weekend UCLA coach Art Venegas guaranteed a victory after last years meet.
*USA Today Article About Drake Relays Inspiring Phil Knight And Many Others
Recommended Reads
*1984 Boston Marathon Champion Lorraine Moller On Her Life As A Women's Distance Running Pioneer Moller wrote a book on her ground-breaking career and life outside of running. Definitely you should read this article.
*Brief Chat With Shannon Rowbury America's top miler on the breakup of John Cook's group, her goal of getting the 5k "A" Standard at Cal, training with Leo Manzano and much more.
*Jim Hage On Running Boston - He Ran Boston Several Times Between 1981 And 1998, Often Rubbing Elbows With The Greats There are some great nuggets in this piece from the past 28 years in Boston.
*Great Q&A With Arizona's Zack Lloyd He can squat almost 800 lbs, throws the shot 69 feet and took a shot put to the neck and it didn't even hurt. Distance runners reading about guys like this are just in awe.
NCAA News
Mt. SAC Has Started *Results Here *Entries *Live Video Friday Night
*Dwain Chambers Running 200m & 4x100m At Mt. SAC Saturday
*Thursday: American Olympian Lindsay Anderson Wins Steeple In World-Leading Time At Mt. SAC
*IAAF Preview: Olympic Medallists Allyson Felix, Sheena Tosta, Tasha Danvers (GBR), Kerron Clement And Shawn Crawford To Compete

ACC Has Started *Live Results
Big Names Announce Intent To Compete In NYC's Reebok Grand Prix It will be great to see the World XC champ Gebremarian, as well as Tyson Gay and Veronica Campbell-Brown.
Doping News
*Once A Cheat Always A Cheat - Tyler Hamilton Tests Positive For DHEA In Anti-Depression Medication - Career Over Not sure if we're buying the anti-depression excuse as this guy supposedly once doped 114 out of 200 racing days.
*Will Jail Time Deter EPO Cheats? Greek Race-Walking Champion May Go Behind Bars
Upcoming Marathons
*Sunday's Vienna Marathon Will Feature Only Debut Marathoners Including some future stud Kenyans and this guy: Austrian Man Striving To Hold Every National Record From Steeplechase Up To 42.195km
*Turin Marathon Preview
*Grandma's Marathon Still Has 1,800 Spots Open, Organizers Worried
Kenya/Africa News
*David Rudisha To Return To Action In Kenya In Stellar 800m Matchup With Asbel Kiprop Last year, we told you Rudisha was going to be a star but an injury and Boaz Lalang derailed his Olympic hopes. He'll be back in action soon in Kenya against the Olympic 1,500 silver medallist.
*"They brought in sacks of sand which was placed at the barriers and water poured on top of it. That is not what is expected, someone couldeasily be injured and that is why I opted out." - Kenya's Paul Koech on the conditions for the steeplechase at an AK meet. Koech is getting heat from crazies over there for not running this local meet.
*World's Top Steeplechaser Paul Koech Fires Back At Athletics Kenya Read Koech's quote about the condition of the steeplechase barriers at the track meet, it's absurd.
*Vivian Cheruiyot And Pamela Jelimo Open Seasons In Kenya At 1,500m This might be the first time we've ever seen Jelimo go above 1,000m. Both won their preliminary heats. Jelimo (4:19) remains undefeated in her life at any event 800 and longer.
News From Jamaica
*Article On Bolt Hosting The PUMA Street Meet - We'll Be Sending Some Lucky Fans With VIP Passes
*Jamaicans Prep For Travel To Penn Relays

Alan Webb Hoping Next Week's Drake Relays Mile Will Kickstart A Successful 2009 Season Drake was very kind to Webb in 2007 as he ran 3:51 to shatter Steve Scott's record and that race catapulted him to an unreal year. Last year, he says he tried to be "Superman" and it backfired. "I tried to push the envelope in training and every aspect and I sort of ended up getting nothing out of it." *Drake Relays Release On Webb
Be Inspired Will Tarantino - Man With Incurable Brain Cancer Runs 2:29:30 And 2:26:09 He's a LRC fan and will be running London next week.
Interested In Making Sure We Learn From Ryan Shay And Travis Landreth's Deaths?
Important Conference On Athlete's Heart, Sudden Death And Hypertrophic Cardiomyopathy June 26-27, 2009
Proof That Almost Anyone Might Be A Cheat
*44-Year-Old Italian Roberto Barbi (A former 2:10 Guy) Banned For Life
*South Africa's 2:06:33 Gert Thys Eligible For Competition After Serving 2-Year Ban
*IAAF World Athletics Tour Going To Dakar This Weekend The only meet of the year in Africa.
Coaches Ask Athletics Kenya To Crack Down On Athletes Who Run Prelims At Local Meets But Not Final
*Kenyans Depart For Amref Salzburg Marathon
European Athletics Congress 2009 Is Underway In Lausanne
*Seb Coe To Address The Congress
Interviews And Stories
Boston Video: Kara On Throwing Up
Boston Video: Ryan On Winning
Boston Women's Poll