It's Boston Time!! We start with the official LRC Preview Of The Boston Women's Field We tell you what we think of Kara's chances and introduce you to an elite field comprised of neophytes and veterans, with our take on just how strong the field really is. See below for a ton of good articles on Boston

Great Dire Tune Article - She's The Reigning Boston Champion And Will Be In The Running In 2009 *Another Must-Read Dire Tune Article Universal Sports This article uncovers a tense drama that took place between Ethiopian teammates before Beijing. Bezunesh Bekele's husband pulled a gun on Deriba Merga, Tune's training partner at the time, all because there was sentiment that Tune didn't deserve her national team spot. Interestingly, Tune, Bekele and Merga will each be competing in Boston on Monday.

Video Interview With Kara Goucher The best part is you get to watch her run on the Alter-G Treadmill ... it looks really strange.
Boston Men
Science Of Sport Previews The Men's Field In Boston A great analysis of Robert Kipkoech Cheruiyot's winning strategy last year and predictions for this year.

Robert Cheruiyot the Betting Favorite in Boston, Ryan Hall the 3rd Choice

Asics to Offer Special Ryan "Hall-elujah" Shirt

Wow, Curb Your Enthusiasm - Great Article On Deriba Merga From his tough upbringing to his wont for pushing the pace in big races only to fade at the end, this article opened up the world of Merga to us. More introductions: This Article Introduces You To The 3 Male Cheruiyots In Boston

Supercool Brooks Running Superfans Website
The Best Of The Rest From Boston Coverage:
LRC's Week That Was Read about the death of a miling legend, the running world's version of Bernie Madoff, the longest article ever on Lance Armstrong, and of course our early take on Ryan Hall's predictions with only days remaining before Patriot's Day and the Hancock Boston Marathon.
NCAA News
*ACC Meet Is This Weekend In Miami, FSU Favored On Both Sides All we can say is the ACC should be embarrassed that the conference meet is before Penn and Drake.
*Rupp & Wheating To Debut At UCLA vs. Oregon Dual Meet This Weekend UCLA coach Art Venegas guaranteed a victory after last years meet.
*USA Today Article About Drake Relays Inspiring Phil Knight And Many Others
Sprint News
*Usain Bolt Apologizes For "Rolling Joint" Comment *In other Cannabis-Based News: Entire Japanese Track And Field Team Suspended Indefinitely After Pole Vaulter Allegedly Smokes Pot
*Justin Gatlin Settles Out Of Court With USADA, USOC No word on what the settlement means. We hope it means he didn't get a penny. *Gatlin Message Board Thread
News From Britain
*Deena Kastor Enters BUPA Great Edinburgh Run - Will Face Jelena Prokopcuka
*Former FSU Star Tom Lancashire Hopes For Symbiotic Rivalry With Fellow British Miler Andy Baddeley
*Brit Marlon Devonish Opens With 10.11 Clocking
One Of The Best Streaks We Know Of In Running
Scroll Down And Meet Scott Weeks - The Upstate New Yorker Has Run Sub-2:00 In The 800 And Never Over 2:00 Every Year Since 1988
LRC Review: Must Read Kenny Moore's Best Efforts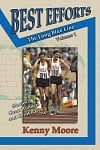 Kenny Moore's Best Efforts Is Back In Print When this book showed up at LRC corporate headquarters to be reviewed, the response was, ""Holy sh*t! That book is one of the top 2 running books I've ever read." The offical LRC review is in and it is very positive: "I believe a great work only receives the label 'great' if it has passed the test of time. Best Efforts passes the test because it will refresh the man or woman who was following the runners of the 60s, 70s and 80s." Also as a special to LRC readers, you can buy an autographed copy of the book for only $14.95.
Interviews And Stories
College Action Coming Up - Mt. SAC & Drake!
Jan Zelezny, Retired Javelin World Record Holder, Can Still Chuck It With The Best *Video Of Zelezny's Ridiiiiculous World Record Throw Zelezny retired but heaved a throw last weekend that would have put him 11th on the world javelin list in 2008.
Liu Xiang Mobbed By Fans At Surprise Public Appearance *Coach: Liu Xiang Doubtful For Worlds A Sept. or Oct. return is more likely.
Other News
Crescent City 10km Oldest Elite Runner In Field, Mark Kiptoo, Defeats Youngest, Ethiopia's Feyisa Lelisa Having met Kiptoo in Kenya, all we can say is the Kenyan XC captain is a class act.
Great Science Of Sport Analysis of Two Oceans Marathon: Paying The Price For Poor Pacing
Universal Sports Previews Previews Top Middle Distance Runners For 2009
Universal Sports Previews Top Sprinters For 2009
Universal Sports Previews Top Marathoners For 2009
Paula Radcliffe Refuses To Set Date On Comeback She wisely wants to make sure she's recovered from surgery before committing to a comeback.
Jelena Prokopcuka To Battle Sally Barsosio (and Now Deena) At Bupa Great Edinburgh Run On May 3rd