Crescent City 10km Oldest Elite Runner In Field Mark Kiptoo Defeats Youngest in Ethiopia's Feyisa Lelisa Having met Kiptoo in Kenya, all we can say is the Kenyan xc captain is a class act.
Former USSR Great Ulmasova Dies At 56 She ran 8:26 for 3k back in 1982. Obviously her death will raise drug related questions.
CARIFTA Games Recap: Jamaica 67 - Trinidad & Tobago 29 - Bahamas 28In case you are counting, that's 25 in a row for Jamaica.*Carifta Games Recap From IAAF
Great Science Of Sport Analysis of Two Oceans Marathon: Paying The Price For Poor Pacing
LRC Review: Must Read Kenny Moore's Best Efforts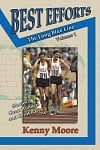 Kenny Moore's Best Efforts Is Back In Print When this book showed up at LRC corporate headquarters to be reviewed, the response was, ""Holy sh*t! That book is one of the top 2 running books I've ever read." The offical LRC review is in and it is very positive: "I believe a great work only receives the label 'great' if it has passed the test of time. Best Efforts passes the test because it will refresh the man or woman who was following the runners of the 60s, 70s and 80s." Also as a special to LRC readers, you can buy an autographed copy of the book for only $14.95.
Universal Sports Previews Previews Top Middle Distance Runners For 2009
Universal Sports Previews Top Sprinters For 2009
Universal Sports Previews Top Marathoners For 2009
Pyongyang Marathon Women's Results Are In

North Dakota HS Star Laura Roesler To Compete In Minnesota This Weekend
Max King Runs 49:21 Road 10-Mile A Week After 50-mile Ultra Win
Recommended Read: Meet Duncan Kibet The Kenyan not only runs fast but he also entertains off the track, like Usain Bolt.
Paula Radcliffe Refuses To Set Date On Comeback She wisely wants to make sure she's recovered from surgery before committing to a comeback.
Slow News Day - Random Boston Articles
*adidas Unveils Special Edition Boston Marathon Shoe Only 800 of the Supernova Sequence 2 will be made.
*Women To Run Boston Marathon Blindfolded
*Boston To Have Names On Bibs For 1st Time
*Ryan Lamppa's 5 Favorite Boston Marathons
Coach: Liu Xiang Doubtful For Worlds A Sept. or Oct. return is more likely.
Jelena Prokopcuka To Battle Sally Barsosio At Bupa Great Edinburgh Run On May 3rd
Awesome News 2004 Olympic Race-Walking Champ May Go To Jail For Doping She's been charged by a Greek prosecutor for EPO use and could go to jail for two years.
Weekend Results

Army-Navy *Men's Results *Women's Results
*Army Men Complete Sweep Of Titles For 2008-09
*Navy Women Complete N-Star Sweep With Win

Sun Devil: ASU Results (Liam Boylan-Pett Over Brandon Bethke In 1,500)
*Video

Sea Ray Results The meet was interrupted by the horrible storms that blanketed the Southeastern US. US Olympian Anthony Famiglietti won the 1,500 in 3:42.77.

Bucknell Bison Results (Mt. SAC East) LetsRun.com's Rojo's Cornell squad gets its 2nd and 3rd guys under 29:50 for 10k this year. Scott "Slicko" Anderson sub-4.

UCLA Rafer Johnson/Jackie Joyner-Kersee Results

HS Arcadia Results
*Curtis Beach 7909 near-Beamonesque HSR Decathlon
*LA Times Recap: Michael Woepse Vaults 16'9" Jordan Hasay's bid to be the first 4-time winner of the 3,200 was derailed as she pulled out with a fever.
*Throwers Win MVP Awards At Arcadia
*Trevor Dunbar 5k - Arcadia - 14:33.96
*Video/Photos

CARIFTA Games:
*Day 2: Grenada's 2009 World Youth Champion Kirani James Run 45.45 To Beat Usain Bolt's Record
*Day 1 Recap
Puma Street Meet! Final Day to Enter
LetsRun.com PUMA Boston Street Meet Hosted By Usain Bolt Contest Win VIP passes, accommodation, and transportation (worth $1,400) to the PUMA Street Meet to be held in Boston the weekend after the Boston Marathon and hosted By USAIN BOLT. You'll get to meet Usain Bolt and enjoy some unique track and field on the streets of Boston. The event will truly bring track to the fans with music, dancing, good food and the chance to race the fastest man in the world on the streets of Boston. Entries Due By Midnight Wednesday.


April Fools
April Fools Archives:
Judging from the emails and phone calls, a lot of viewers fell for our 2009 April Fools home page.
*2009 *2008
*2007 *2006
*2004 *2003
*2002 *2001
We were threatened with a lawsuit for our 2004 edition.
LRC World XC Coverage
LRC Post-Race Coverage: We break down World XC, give props to Moses Kipsiro, tell you why the Kenyan system is broken, try to save World XC for the future, tell you why Dathan Ritzenhein's big XC win from 2005 may not have in reality been a big win, analyze how steep the course was and give you exclusive post-race interviews with Kim Smith, Ryan Gregson and Julie Culley. Plus the scoop on the post-race party thrown by the Prince and the challenge Ryan Gregson issued German Fernandez. You can watch the races online here, read recaps,/see results here, and see photos here.
LRC: The Week That Was 2009
*Week 14:The world of marathoning has changed forever
*Week 13: World XC - What's wrong with the Kenyans? Gregson & Fernandez united.
*Week 12: Training advice from Hall, Goucher wins in Lisbon and Port-a-Potties in Boston.
*Week 11: NCAAs, Gate River, what Eli Manning and Galen Rupp have in common.
*Week 10: Last chance, European Indoor, D. Chambers and Diamond League.
*Week 9: USAs, NCAA conferences, World's Best 10k.