Chris Devine Sued In $70 Million Racketeering, Fraud And Embezzlement Lawsuit Devine is the owner of Devine Racing, the incompetent group known for not paying its bills on time for the LA, Vegas, and Salt Lake City Marathons. Devine sold off the LA and Vegas marathons earlier this year in order to raise cash, but then word came out this week that next week's Salt Lake City Marathon may not go on because Devine hasn't paid its bill to the cops. The Salt Lake Tribune did a little investigating and found the recently filed lawsuit by family of isolated millionaire C. Robert Allen accusing Devine and his partner of fraud in building their radio business. We've always wondered how a group so incompetent in running a road race could build up such a reported fortune in the radio industry. Devine of course is entitled to his day in court but this lawsuit seems to conncect a few dots.
More: Next Week's Salt Lake Marathon May Not Go On As Devine Hasn't Paid Bills For Police
*More Details On Some Of Lawsuit Against Chris Devine
*New Federal Lawsuit Accuses Chris Devine Of Defrauding Isolated Millionaire Out Of $70 Million
Weekend Results
Sun Devil: ASU Results (Liam Boylan-Pett Over Brandon Bethke In 1,500)
Sea Ray Results The meet was interrupted by the horrible storms that blanketed the southeastern US. US Olympian Anthony Famiglietti won the 1,500 in 3:42.77.

Bucknell Bison Results (Mt. SAC East) LetsRun.com's Rojo's Cornell squad gets its 2nd and 3rd guys under 29:50 for 10k this year. Scott "Slicko" Anderson sub-4.

UCLA Rafer Johnson/Jackie Joyner-Kersee Results

HS Arcadia Results
*Trevor Dunbar 5k - Arcadia - 14:33.96

Random: *CARIFTA Games Day 1 Recap
*Stephanie Twell Runs Road 10k PB
US News
Boston, NY Want To Host US Olympic Marathon Trials Again In 2012 (But Switch The Sexes)

In case you missed it: Dan Lincoln (Yes, The US Steeple Record Holder) Training In Portland With Coach Schumacher Plus news Chris Solinsky almost had a career ending injury and Matt Tegenkamp got hurt as well this winter. *LRC Thread
North Pole Marathon Recap IAAF
Recommended Reads from Earlier this Week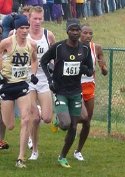 LRC: Shadrack Kiptoo Biwott Talks About His Brother - The New Kenyan National Record Holder - 2:04:27er Duncan Kibet Yes that's right, Kiptoo Biwott and Kibet are brothers. Kiptoo Biwott gives insight into how they got into running, how he ran 20km in his first run ever and how his brother's training compares that to that of the U of O. Fascinating stuff.

LRC Interviews Oklahoma State Coach Dave Smith Get the latest scoop as Rojo catches up with Coach Smith after both returned from World Cross-Country. The interview covers a ton of stuff, including the performances of Okla. St. runners Ryan Vail and German Fernandez in Amman, what it's like being the coach of a phenom, and also a preview of what's to come for German (and his "sore foot") this outdoor season. In case you missed Rojo's piece yesterday on Shadrack Kiptoo Biwott, it's here.
Boston Athletic Association Announces Elite Mile Fields For Day Before John Hancock Boston Marathon Click through to view what look like intriguing fields.
French Drug Agency May Bring Sanctions Against Lance Armstrong, Who Passed Their Independent, Unannounced Hair, Blood And Urine Tests *LRC Thread He went to take a shower after his training ride. Imagine if Kobe Bryant was on vacation in Spain and the Spanish authorities sent an unannounced drug tester to his chateau to take 3 separate samples. Whether Armstrong has cheated or not, this witch hunt by the French is, as Armstrong said, "outrageous." LetsRun.com corporate (aka Wejo) does not agree. Armstrong could easily sabotage his sample in the shower, so it is critical to determine whether the tester said Lance could take a shower. And there is this piece on Lance, which Wejo just read, where a Ph.D. scientist says, "So there is no doubt in my mind he (Lance Armstrong) took EPO during the '99 Tour" (which is discussed on the message board here). Worth a read.
Great Story On Chicago's Olympic Bid In 2009 Compared To 1901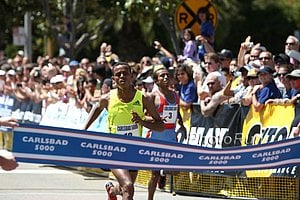 LRC Week That Was The world of marathoning may have changed forever this week and we give you all the analysis. Kenya had 13 people go sub-2:09 in a single day, the US has had 6 ever. Not to mention an 18-year-old (Ethiopian) running 2:06 and a 21-year-old running 2:05. Plus, we tell you about the best coach you've never heard of (Claudio Berardelli), give you an update on junior star Feyisa Lilesa, and show you why Mondo tracks aren't the solution to Kenyan domination. Plus an update on the rest of the weekend action.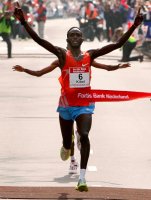 Rotterdam: Duncan Kibet Edges James Kwambai In Thrilling (And Fast) Rotterdam Marathon
This race had it all - fast times, a thrilling finish ... and US television coverage! James Kwambai (who had battled Gebrselassie deep into his 2:03:59 world record run last year in Berlin) and Duncan Kibet (a 2:07 marathoner who came to life yesterday on LetsRun.com thanks to a video from his agent from the Netherlands' version of LetsRun, which you can see on the right hand column on this home page) battled step-for-step at a blistering pace, dropping half marathon star Patrick Makau in his debut. Kwambai pulled ahead the final 500m and appeared to have it won, but then Kibet put on a furious charge to pass Kwambai in the final 10 meters to get in the win in a stunning 2:04:27. Yes, 2:04:27 for both men.
*Video Of Race The last 5 minutes (well, 1 minute) is a must. You can skip around and Ed Eyestone is on the commentary.
Paula Radcliffe Had Bunion Surgery With Amol Saxena, May Be Back For Worlds Apparently, the bunion was the root cause of all of Paula's recent problems.
Usain Bolt News
Bolt Track And Field's $10 Million Man? That's how much Bolt wants to eventually make per year. NY Times profile
Bolt's Appearance Fee Is A Reported $250,000 Only $100,000 if you want him to come speak to kids and not actually run according to the article. If you win the Puma Street Meet LetsRun.com Contest, you can hang out with him for free. Get your entries in.

Excellent Profile On Usain Bolt Guardian.co.uk The quote of the day from Saturday came from this article. It talks about Bolt's hard-partying ways, his confidence, and his fear. Plus, news Walter Dix tried to intimidate him at the Olympics.
LetsRun.com Announces The PUMA Boston Street Meet Hosted By Usain Bolt Contest Enter to win VIP passes to the PUMA Street Meet to be held in Boston the weekend after the Boston Marathon and hosted By USAIN BOLT. The event will truly bring track to the fans with music, dancing, good food and the chance to race the fastest man in the world on the streets of Boston.


110 Hurdle News
*Liu Xiang Says He Had Not Given A Date For His Comeback But This Year Is A Possibility
*Dayron Robles Expected To Return To Competition From Thigh Injury In June
*Dayron Robles, Pamela Jelimo To Ostrava Golden Spike In June; Robles Set His WR There Last Year IAAF
UK Athletes' Lawyers Lament "Appalling Drafting" Of New UK Sport Contract In order to secure Lottery funding through 2012, UK athletes need to sign this contract. Unfortunately, all of the major players' lawyers are telling them not to sign it because the wording likely will restrict their ability to get private sponsorship. Don't be surprised if the contract gets re-written. *Flashback: Top British Athletes Might Refuse New Deal
Speaking of Boston ... Brief Chat With Ryan Hall Another super interview (this time from Runner's World) with the zen-like Ryan Hall, 26. There is some talk on the boards about Boston's fields being weak, but any marathon with this guy is far from weak. Read about Hall's tempos at 7,000 ft. starting under 14:00 for 5k, weather updates from Mammoth and Hall's jaw-dropping mathematical evaluation of his fitness compared with Beijing. Plus: *Boston Advice From Past Champions John Kelley, Amby Burfoot And Others The common theme: don't go out too fast!
NCAA News
You've Likely Never Heard Of These Guys - But Chances Are You Will Soon
Previously: Ryan Hall Talks About Boston Chances *Looks Like Boston Ran Out Of Money For 4-Time Champ Catherine Ndereba We're sure there is a certain American marathoner out in Oregon who can breathe a little easier knowing Catherine the Great won't be going for Boston win #5 this year! Ndereba will have to settle for London.
Steve Cram Writes About Swedish Mile Great Arne Andersson, Who Passed Away A Few Days Ago Cram writes about how Andersson's and fellow Swede Gunder Hagg's rivalry was a seminal moment for Roger Bannister becoming inspired to break the 4-minute mile barrier in 1954. Both Swedes broke the existing world record but had their careers cut short because they accepted money for some of their races.
Pat Butcher Writes About Meeting Andersson This is a good read. Andersson was a pioneer in the sport and banned for being a pro in 1946. Butcher writes about meeting him and Andersson's reaction upon being reinstated as an amateur at the age of 65. LRC's Andersson thread here.
Update On Jenny Crain's Recovery From Near-Fatal Strike By Auto Driver We saw this link on Runner's World's racing page and had to put it up. It sounds like Crain is progressing through a very, very tough recuperation and perhaps some of our readers want to send her well wishes. Original LRC Thread From August 22, 2007, one day after Jenny was struck by a car and critically injured while training for the 2008 Olympic Trials.
Stat of the Week
5 - the number of men who had ever run sub-2:06 in the marathon 1 year ago.
4 - the number of people who went sub-2:06 on Sunday on the day that may have changed the marathon forever.
A Very Happy Duncan Kibet
Kibet may have ended the Letsrun.com jinx for good. Featured on the homepage in a video you can find here on Saturday, the unknown, iphone-loving technology geek went out and stunned the world, running 2:04:27 to win the incredibly exciting Rotterdam marathon.
April Fools
April Fools Archives:
Judging from the emails and phone calls, a lot of viewers fell for our 2009 April Fools home page.
*2009 *2008
*2007 *2006
*2004 *2003
*2002 *2001
We were threatened with a lawsuit for our 2004 edition.
LRC World XC Coverage
LRC Post-Race Coverage: We break down World XC, give props to Moses Kipsiro, tell you why the Kenyan system is broken, try to save World XC for the future, tell you why Dathan Ritzenhein's big XC win from 2005 may not have in reality been a big win, analyze how steep the course was and give you exclusive post-race interviews with Kim Smith, Ryan Gregson and Julie Culley. Plus the scoop on the post-race party thrown by the Prince and the challenge Ryan Gregson issued German Fernandez. You can watch the races online here, read recaps,/see results here, and see photos here.
LRC: The Week That Was 2009