LRC Interviews Oklahoma State Coach Dave Smith Get the latest scoop as Rojo catches up with Coach Smith after both returned from World Cross-Country. The interview covers a ton of stuff, including the performances of Okla. St. runners Ryan Vail and German Fernandez in Amman, what it's like being the coach of a phenom, and also a preview of what's to come for German (and his "sore foot") this outdoor season. In case you missed Rojo's piece yesterday on Shadrack Kiptoo Biwott, it's here.
Boston Athletic Association Announces Elite Mile Fields For Day Before John Hancock Boston Marathon Click through to view what look like intriguing fields.
French Drug Agency May Bring Sanctions Against Lance Armstrong, Who Passed Their Independent, Unannounced Hair, Blood And Urine Tests *LRC Thread He went to take a shower after his training ride. Imagine if Kobe Bryant was on vacation in Spain and the Spanish authorities sent an unannounced drug tester to his chateau to take 3 separate samples. Whether Armstrong has cheated or not, this witch hunt by the French is, as Armstrong said, "outrageous." LetsRun.com corporate (aka Wejo) does not agree. Armstrong could easily sabotage his sample in the shower, so it is critical to determine whether the tester said Lance could take a shower. And there is this piece on Lance which Wejo just read where a PHd scientist says, "So there is no doubt in my mind he (Lance Armstrong) took EPO during the '99 Tour" (which is discussed on the message board here). Worth a read.
Cyrus Hostetler Named USATF Athlete Of The Week
Great Story On Chicago's Olympic Bid In 2009 Compared To 1901
News From The Carribean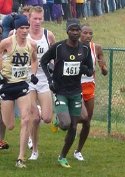 LRC: Shadrack Kiptoo Biwott Talks About His Brother - The New Kenyan National Record Holder - 2:04:27er Duncan Kibet Yes that's right, Kiptoo Biwott and Kibet are brothers. Kiptoo Biwott gives insight into how they got into running, how he ran 20km in his first run ever and how his brother's training compares that to that of the U of O. Fascinating stuff.
German Steroid Victims Dismiss "Whitewash" Apology From Former East German And Current German Track & Field Coaches "This letter is no satisfaction to the victims. These coaches had 20 years to come out and help in an essential way to clarify what was being done. But instead they were silent for 20 years until now with this letter. That is not a real apology. It cannot be." *Yesterday: Former East Germany Coaches Admit To Doping Athletes
Fam's Blog On Transcendence There are a lot of blogs out there from distance runners and Fam's seems to be one of the best - it is certainly unique. Given the fact that he has been pretty dominant in the USA running scene at a whole bunch of distances off and on for the past 2 years, his thoughts and inspiration are worth a read. Speaking of blogs, Australia's Hollie Emery Blogs About Her World Cross-Country Trip
Max King Wins 50-Miler *Boards: Max King wins American River 50 mile race Some LRC commenters aren't happy that King is running ultra events instead of focusing on beating the Kenyans. We're just glad to see he's having fun.
USA News
A First On LetsRun ... Thrower News: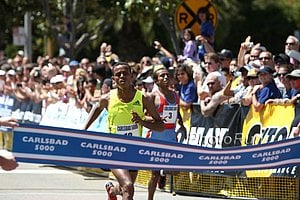 LRC Week That Was The world of marathoning may have changed forever this week and we give you all the analysis. Kenya had 13 people go sub-2:09 in a single day, the US has had 6 ever. Not to mention an 18-year-old (Ethiopian) running 2:06 and a 21-year-old running 2:05. Plus, we tell you about the best coach you've never heard of (Claudio Berardelli), give you an update on junior star Feyisa Lilesa, and show you why Mondo tracks aren't the solution to Kenyan domination. Plus an update on the rest of the weekend action.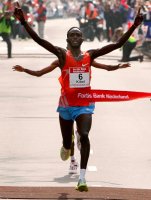 Rotterdam: Duncan Kibet Edges James Kwambai In Thrilling (And Fast) Rotterdam Marathon
This race had it all - fast times, a thrilling finish ... and US television coverage! James Kwambai (who had battled Gebrselassie deep into his 2:03:59 world record run last year in Berlin) and Duncan Kibet (a 2:07 marathoner who came to life yesterday on LetsRun.com thanks to a video from his agent from the Netherlands' version of LetsRun, which you can see on the right hand column on this home page) battled step-for-step at a blistering pace, dropping half marathon star Patrick Makau in his debut. Kwambai pulled ahead the final 500m and appeared to have it won, but then Kibet put on a furious charge to pass Kwambai in the final 10 meters to get in the win in a stunning 2:04:27. Yes, 2:04:27 for both men.
*Video Of Race The last 5 minutes (well, 1 minute) is a must. You can skip around and Ed Eyestone is on the commentary.
UK Athletes' Lawyers Lament "Appalling Drafting" Of New UK Sport Contract In order to secure Lottery funding through 2012, UK athletes need to sign this contract. Unfortunately, all of the major players' lawyers are telling them not to sign it because the wording likely will restrict their ability to get private sponsorship. Don't be surprised if the contract gets re-written. *Flashback: Top British Athletes Might Refuse New Deal
LetsRun.com Announces The PUMA Boston Street Meet Hosted By Usain Bolt Contest Enter to win VIP passes to the PUMA Street Meet to be held in Boston the weekend after the Boston Marathon and hosted By USAIN BOLT. The event will truly bring track to the fans with music, dancing, good food and the chance to race the fastest man in the world on the streets of Boston.


Speaking of Boston ... Brief Chat With Ryan Hall Another super interview (this time from Runner's World) with the zen-like Ryan Hall, 26. There is some talk on the boards about Boston's fields being weak, but any marathon with this guy is far from weak. Read about Hall's tempos at 7,000 ft. starting under 14:00 for 5k, weather updates from Mammoth and Hall's jaw-dropping mathematical evaluation of his fitness compared with Beijing. Plus: *Boston Advice From Past Champions John Kelley, Amby Burfoot And Others The common theme: don't go out too fast!
NCAA News
You've Likely Never Heard Of These Guys - But Chances Are You Will Soon
Previously: Ryan Hall Talks About Boston Chances *Looks Like Boston Ran Out Of Money For 4-Time Champ Catherine Ndereba We're sure there is a certain American marathoner out in Oregon who can breathe a little easier knowing Catherine the Great won't be going for Boston win #5 this year! Ndereba will have to settle for London.
Steve Cram Writes About Swedish Mile Great Arne Andersson, Who Passed Away A Few Days Ago Cram writes about how Andersson's and fellow Swede Gunder Hagg's rivalry was a seminal moment for Roger Bannister becoming inspired to break the 4-minute mile barrier in 1954. Both Swedes broke the existing world record but had their careers cut short because they accepted money for some of their races.
Pat Butcher Writes About Meeting Andersson This is a good read. Andersson was a pioneer in the sport and banned for being a pro in 1946. Butcher writes about meeting him and Andersson's reaction upon being reinstated as an amateur at the age of 65. LRC's Andersson thread here.
Update On Jenny Crain's Recovery From Near-Fatal Strike By Auto Driver We saw this link on Runner's World's racing page and had to put it up. It sounds like Crain is progressing through a very, very tough recuperation and perhaps some of our readers want to send her well wishes. Original LRC Thread From August 22, 2007, one day after Jenny was struck by a car and critically injured while training for the 2008 Olympic Trials.
Yoko Shibui Enters "Diet Camp" Link changed to the original source. Spikesmag was using a JapanRunningNews translation info without attribution.
Brief Chat With Delilah Dicrescenzo Dicrescenzo is trained by a Kenyan coach and runs in New York City. She's going for the steeplechase as her main event.
IOC Members "Most Impressed" With Chicago After Visit Chicago certainly had some big names stumping for them in Obama, Clinton and Mr. Basketball Michael Jordan.
Great Article On One Of The Craziest Sporting Events In Jamaica: "Champs"
Article On Masais (Moses and Linet) Training In Teddington, GB *Photo Of The Fastest Distance House In Great Britain It's filled with Kenyans.
Recommended Reads/Clicks
History Lesson: Belayneh Densamo Recalls His 1988 World Record In Rotterdam That Stood For 10 Years

Edwin Moses Speaks Out On Drugs And Dwain Chambers

Ryan Hall Interview With Running Times "You gotta choose your battles. So for me, that battle is the marathon in Boston."

X-Man Working With Brooks Johnson To Get His Career Back On Track
Stat of the Week
5 - the number of men who had ever run sub-2:06 in the marathon 1 year ago.
4 - the number of people who went sub-2:06 on Sunday on the day that may have changed the marathon forever.
A Very Happy Duncan Kibet
Kibet may have ended the Letsrun.com jinx for good. Featured on the homepage in a video you can find here on Saturday, the unknown, iphone-loving technology geek went out and stunned the world, running 2:04:27 to win the incredibly exciting Rotterdam marathon.
April Fools
April Fools Archives:
Judging from the emails and phone calls, a lot of viewers fell for our 2009 April Fools homepage.
*2009 *2008
*2007 *2006
*2004 *2003
*2002 *2001
We were threatened with a lawsuit for our 2004 edition.
LRC World XC Coverage
LRC Post-Race Coverage: We break down World XC, give props to Moses Kipsiro, tell you why the Kenyan system is broken, try to save World XC for the future, tell you why Dathan Ritzenhein's big XC win from 2005 may not have in reality been a big win, analyze how steep the course was and give you exclusive post-race interviews with Kim Smith, Ryan Gregson and Julie Culley. Plus the scoop on the post-race party thrown by the Prince and the challenge Ryan Gregson issued German Fernandez. You can watch the races online here, read recaps,/see results here, and see photos here.
LRC: The Week That Was 2009
*Week 13: World XC - What's wrong with the Kenyans? Gregson & Fernandez united.
*Week 12: Training advice from Hall, Goucher wins in Lisbon and Port-a-Potties in Boston.
*Week 11: NCAAs, Gate River, what Eli Manning and Galen Rupp have in common.
*Week 10: Last chance, European Indoor, D. Chambers and Diamond League.
*Week 9: USAs, NCAA conferences, World's Best 10k.