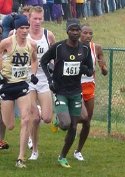 LRC: Shadrack Kiptoo Biwott Talks About His Brother - The New Kenyan National Record Holder - 2:04:27er Duncan Kibet Yes that's right, Kiptoo Biwott and Kibet are brothers. Kiptoo Biwott gives insight into how they got into running, how he ran 20km in his first run ever and how his brother's training compares that to that of the U of O. Fascinating stuff.
USA News
A First On LetsRun ... Thrower News:
African News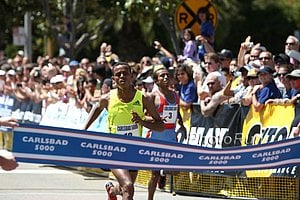 LRC Week That Was: The world of marathoning may have changed forever this week and we give you all the analysis. Kenya had 13 people go sub-2:09 in a single day, the US has had 6 ever. Not to mention an 18-year-old (Ethiopian) running 2:06 and a 21-year-old running 2:05. Plus, we tell you about the best coach you've never heard of (Claudio Berardelli), give you an update on junior star Feyisa Lilesa, and show you why Mondo tracks aren't the solution to Kenyan domination. Plus an update on the rest of the weekend action.
Americans In Action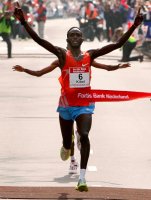 Rotterdam: Duncan Kibet Edges James Kwambai In Thrilling (And Fast) Rotterdam Marathon
This race had it all - fast times, a thrilling finish ... and US television coverage! James Kwambai (who had battled Gebrselassie deep into his 2:03:59 world record run last year in Berlin) and Duncan Kibet (a 2:07 marathoner who came to life yesterday on LetsRun.com thanks to a video from his agent from the Netherlands' version of LetsRun, which you can see on the right hand column on this home page) battled step-for-step at a blistering pace, dropping half marathon star Patrick Makau in his debut. Kwambai pulled ahead the final 500m and appeared to have it won, but then Kibet put on a furious charge to pass Kwambai in the final 10 meters to get in the win in a stunning 2:04:27. Yes, 2:04:27 for both men. This letsrun.com message boarder was right when he posted yesterday, "Expect a couple 204s in rotterdam tomorrow, maybe even wr!" and saying, "All these guys running under an hour in the half are going to make 206 look as commonplace as under an hour has become. The marathon is finally starting to get as fast as it should be based on the the 5k and 10k in recent years by the africans."
*Video Of Race The last 5 minutes (well, 1 minute) is a must. You can skip around and Ed Eyestone is on the commentary.
Cathy Freeman Getting Married In Top Secret Wedding On Easter
US Track Action
Texas Relays: *Results *Video
*Texas Relays Recap (Andra Mason Takes Crack At American Record In High Jump)
*Destinee Hooker Jumps World Leader In HJ Then Gets Engaged At Texas Relays
*Texas Produces A High School Prodigy, Craig Lutz The sophomore ran 9:03 for the 3,200m win and ran 30:46 for 10k on the roads last week.
Florida Relays: *Results
*Demps Helps UF Pass Competition
*Florida Wins Six Events To Conclude Florida Relays
*Video
Oregon Duck News
*Oregon Men Lose 800, 1,500 And Steeple & Meet To Indiana
*Duck Women Want Titles Just Like The Men
*Video From Meet
*Great Preview Of Oregon's Pepsi Team Invitational
*Check Out The First Outdoor NCAA Team Rankings
Don't Expect To See Liu Xiang In Berlin Unless he's there to check out the cultural aspects of one of Europe's most hip cities before heading to Nordrhein-Westfalen to visit Oberhausen and Gelsenkirchen.
World News
Drug News
Bolt News
LRC Boards: Amazing Information From Renato Canova On Training Of Rotterdam Winner Duncan Kibet And Runner-Up James Kwambai
Surprise! Germany's Sabrina Mockenhaupt Won The Berlin Half Marathon Might be the only [major] race all weekend won by a non-Kenyan or Ethiopian.
World Cross-Country Stories
*A Closer Look At World XC Champ Gebremariam And Countrywoman Gelete Dibaba
*Florence Kiplagat Completes Perfect Cross-Country Season With Win In Italy Kiplagat's husband Moses Mosop dominated the men's 10k by 32 seconds over Worlds 6th placer Matthew Kisorio. Mosop won the Kenyan XC trials but couldn't kick with the best in Amman, finishing only 11th!
*IAAF Struggling To Find World XC Sponsors, It Might Fade To Once Every 2 Years *Update: Isaiah Kiplagat's Report On IAAF XC Going Biennial May Be Premature
Now The 4th-Fastest Marathoner Ever (behind Kibet And Kwambai), Tergat's Next Task Will Be Berlin 25k In May *Fagan Said He Felt Flat And Terrible Despite Almost Taking Down Great Ireland Run Paul Tergat was only 1 second ahead of Martin Fagan in Ireland. Tergat is really pumped, Fagan in the dumps.
Brazil's Kleberson Davide Runs 1:44.67, 6th Fastest South American Of All Time With all the attention on the marathons this weekend, Kleberson Davide turned some heads with a blazing 800m run.
Ho Hum: Paris Vincent Kipruto Wins Paris Marathon In 2:05:47 As 6 Go Under 2:07 (A Record) And 11 Under 2:09 (A Record) This may be known as the weekend marathoning changed forever. You run a 2:08 and you finish outside of the top 10 in a "B" level marathon. Kipruto is just 21 23 years old.
Message Board Thread: 21 23-year-old Kenyan runs 2:05 at Paris Tim Hutchings, the commentator for the race, emailed us to say that Kipruto told him in perfect English he is 23, despite what the IAAF recap says.
More Weekend Road Action
Carlsbad 5k: Results *Photos
Recap: Ethiopian 2007 World Champs member Aheza Kiros held off American Shannon Rowbury for the win on the women's side. On the men's side, Daba Bekana edged Ethiopian compatriot Abreham Cherkos. Cherkos had run a blazing fast 13:07 indoors in Prague in February. Anthony Famiglietti led the US charge in 6th place as Marc Davis' American record of 13:24 from 1996 still stands.
Great Ireland Run
Rui Silva Over Tergat Over 10k The veteran Tergat was pleased with his 28:46 clocking, only 1 second behind Silva, just one month after his Lake Biwa win. Ireland's Martin Fagan was 3rd 1 second back and Portugal's Ana Dulce-Felix won the women's side.
Washington DC Cherry Blossom: Recap
Ridouane Harroufi of Morocco and Lineth Chepkurui of Kenya successfully defended their crowns. Sally Meyerhoff ran an American best and Catherine Ndereba was fifth in 54:27. *Results
Berlin: Bernard Kipyego Runs 59:34 In His Debut Half Marathon, Sabrina Mockenhaupt Clocks 68:45 IAAF

Milan: Stramilano Half Marathon Recap IAAF
Recommended Reads/Clicks
History Lesson: Belayneh Densamo Recalls His 1988 World Record In Rotterdam That Stood For 10 Years

Edwin Moses Speaks Out On Drugs And Dwain Chambers

Ryan Hall Interview With Running Times "You gotta choose your battles. So for me, that battle is the marathon in Boston."

X-Man Working With Brooks Johnson To Get His Career Back On Track
A Very Happy Duncan Kibet
Kibet may have ended the Letsrun.com jinx for good. Featured on the homepage in a video you can find here on Saturday, the unknown, iphone-loving technology geek went out and stunned the world, running 2:04:27 to win the incredibly exciting Rotterdam marathon.
April Fools
April Fools Archives:
Judging from the emails and phone calls, a lot of viewers fell for our 2009 April Fools homepage.
*2009 *2008
*2007 *2006
*2004 *2003
*2002 *2001
We were threatened with a lawsuit for our 2004 edition.
LRC World XC Coverage
LRC Post-Race Coverage: We break down World XC, give props to Moses Kipsiro, tell you why the Kenyan system is broken, try to save World XC for the future, tell you why Dathan Ritzenhein's big XC win from 2005 may not have in reality been a big win, analyze how steep the course was and give you exclusive post-race interviews with Kim Smith, Ryan Gregson and Julie Culley. Plus the scoop on the post-race party thrown by the Prince and the challenge Ryan Gregson issued German Fernandez. You can watch the races online here, read recaps,/see results here, and see photos here.
LRC: The Week That Was 2009
*Week 13: World XC - What's wrong with the Kenyans? Gregson & Fernandez united.
*Week 12: Training advice from Hall, Goucher wins in Lisbon and Port-a-Potties in Boston.
*Week 11: NCAAs, Gate River, what Eli Manning and Galen Rupp have in common.
*Week 10: Last chance, European Indoor, D. Chambers and Diamond League.
*Week 9: USAs, NCAA conferences, World's Best 10k.