This Weekend
UK News
Katie Waits Brief Chat Adjusting to her 2nd year as a pro quite nicely. USA indoor champ.
An Interesting Conversation With 84-Yr-Old George Puterbaugh: The Guy Was Running 2:05 For 800 In His 50s
LetsRun.com's Week That Was This week we break down Galen Rupp's amazing performance at the NCAA meet and tell you how Rupp pulled an Eli Manning. We then tell you how one guy is being paid $50,000 for not making the Kenyan world XC team before introducing you to the 2012 Olympic triathlon champion.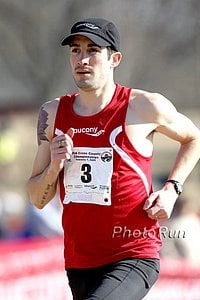 Race Footage And Video Interviews
*Video Of German's 3:55.02 At Big 12 Championships
*Interview With Martin Fagan After His Irish Record Half Marathon
*Recommended Listen Watch: USATF's Gate River Run Video Watch how the race unfolds and see the inspired and thrilling performances put on by Fam and Tim Nelson.
*Pre- & Post-Race Interview With CPC Champ Sammy Kitwara
List Of Team USA World XC Squads *USA Squads Ready For Amman The biggest names are on the junior men's squad.
Recap Of This Year's IAAF Permit XC Meets Without Kenenisa Bekele and Tirunesh Dibaba, multiple winners basically didn't exist.
Times: Dwain Chambers Is Basically Screwed Turns out Berlin probably won't be letting him into the Golden League Meet. Plus, Mr. Chambers thinks it's a good idea to go back to Victor Conte and Coach Remi K.
Takaoka To Retire In 2009 During his career, Takaoka-san owned the 3k, 5k, 10k and marathon national records (and he has only lost the 5k).
NCAA D1 Indoors
Men *Results/Start Lists
LRC Day 2: Rupp And Oregon updated Galen Rupp's victory in the men's 3k was so dominating it won't be appreciated. Rupp powered away from the field on the first lap and the rest of the runners waved the white flag as Rupp went on to win in 7:48.94, capping the greatest NCAA indoor meet ever by a distance runner. Rupp's weekend was one for the ages and led Oregon to the men's title. Jacob Hernandez won the men's 800 and New Mexico's Lee Emanuel was a surprise dominant winner in the mile.
*Video Of Last laps Of Mile, 800 From Saturday
*Arkansas' Chris Bucknam: "We'll have to go back and reevaluate a little bit." The Hogs got 8th.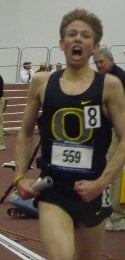 LRC Day 1 Men: The Incredible Galen Rupp!!! The guy who used to not be able to close out races now is a monster. He closed the last 800 of the 5k in 1:55 and then came back and did the nearly unthinkable - outkicking the milers, including Ulrey by .72, to give the Ducks the DMR win. Rupp had 0 NCAA track wins before Friday. Now he has two and he's going for an unprecedented triple on Saturday. His sick double had never been done before. Recap, results, photo links, video interviews above. Interview with Derrick fixed.
*Oregonian On Rupp's Incredible Day *Video Of Last 400 Of DMR
*Arkansas In 3rd After Day 1 Ulrey: "They put me in position to do it and I let them down."
*Chelanga Can't Match Rupp's 1:55.3 Close *Live Blog From Oregon Ducks
*T&FN Men's Prediction - Oregon Edges Arkansas
*Oregon Paper Has Ducks Blowing Away Competition Interesting to point out that that Wheating has a blister.
*Galen Rupp Will Do Whatever It Takes To Give Ducks The Title Oregon women going for 1st-ever top 10 showing.
*Jacob Hernandez Hoping To Beat Wheating, Mulder And His Own Teammate Hernandez lost the school record to Tevan Everett.
*Oregon Plane Makes Emergency Landing On Way To Meet
*Rupp, Fernandez And Rojo Honored By USTFCCCA
NCAA D2 Meet
*Start Lists/Heat Sheets/Results
*DII Indoor Predictions
NCAA D3 *Results *Live Video Mile starts at 4pm.
Knee Injury Forces Steve Hooker Out Of Next Week's Australian National Champs: Two Weeks Of No Running And 4 Weeks Of No Jumping Are Coming Up
Mo Farah With Great Training Advice: "That's the biggest lesson I've learned from Beijing: you have to listen to your body. It takes time to learn that skill and last year I didn't really have it. Four weeks before the Olympics my body gave me signals to take it easy. But I didn't listen. By the time we got to Macau [the British team's pre-Olympics base] I felt flat and tired."
Sex And Sport: RunnersWorld Magazine Claimed An Orgasm The Night Before A Race Helps Women Marathoners
Coach Of Olympic Silver Medallist Long Jumper Godfrey Mokoena Says He Still Hasn't Been Paid 10% of His Bonus Money It sounds fair to us that coaches deserve 10%. But then we hear of some top runners paying their coaches nothing. LetsRun.com's JK deserves 25%.
Allyson Felix To Open Season At Mt. SAC
Unexpected News: Shalane Flanagan Highlights B.A.A. Invitational Road Mile During Boston Marathon Weekend Fairly big cash prizes will be offered for the road mile. Winner gets $3,000.
New Mexico's Lee Emanuel, 24, One Of 2 British Winners At NCAAs
Recap Of Nike Indoor Meet Distance Events
Study Of Chinese Athletes Shows Almost 25% Of Them Lied About Their Age To Gain Advantage In Sport Immense pressure to win cited as reason for huge percentage of Chinese athletes fabricating birthdates.
News From Japan
*Japanese Legend Takaoka To Retire After Tokyo Marathon
*Kyoto, Kobe and Osaka Look To Join Tokyo In Hosting Mass Participation Marathons
*World Champs Bronze Winner Ogata Hopes To Make 4th Worlds Appearance For Japan
NCAA D1 Indoors *Results/Start Lists
Day 2 LRC Bowman Stops Kipyego's Quest For History, Barringer Dominates And JJ Clark & Tennessee Win Sally Kipyego tried her best to get a record 10th NCAA title. She led every step of the women's mile except for the one that matters most, the last one, as Tennessee's Sarah Bowman past her for the narrowest of wins (video here). Bowman helped lead Tennesse and famed mid d coach JJ Clark to the NCAA title. Jenny Barringer put on a show in as her fabulous 2009 continued with an NCAA record in the 3k. Updated with Kipyego interview, last laps of 800, women's mile.
*Video of Last laps of mile, 800 from Saturday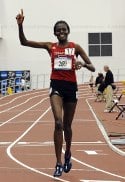 Women LRC Tennessee, Kipyego And Hooker Make History The Tennessee women and coach JJ Clark smashed the world record in the DMR, Sally Kipyego got a record-tying ninth NCAA title with ease, and Destinee Hooker outdid them all by getting Aggie fans to cheer for a Longhorn with an NCAA record in the high jump. Recap, results, photos, video above.
*Barringer Deserves Praise For 3k Win
*Sally Kipyego Gets Record-Tying 9th NCAA Title In 5k She'll go for the outright record on Saturday in the mile.
*Texas Tech Wonders: Is Kipyego The Greatest Athlete In School History?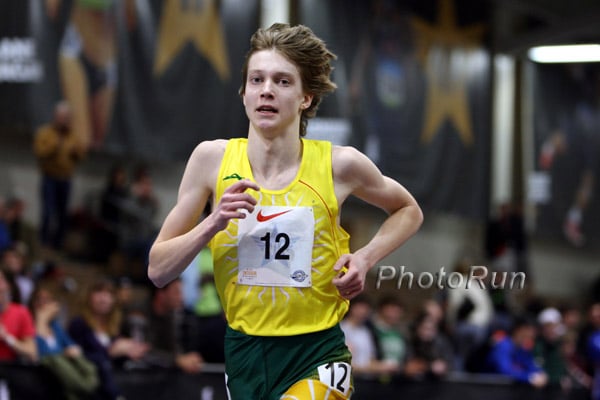 HS Nationals - Have We Found The Next Galen Rupp?
*NIN: FRESHMAN Lukas Verzbicas Runs 14:18.42 To Break National Record Then Comes Back And Wins 2 Mile In 8:57 Yes, that's right. A freshman now has the indoor national high school record. The kid is now going to take a break from track to do triathlons. *Message Board Thread On Lukas Verzbicas *5k Recap *2 Mile *Jordan Hasay Runs 10:10

*NSIC: Robby Andrews Becomes 1st Sub-1:50 Half Miler In US Indoor HS History
*Solomon Haile Goes 14:22
City-Pier-City Half Marathon: Sammy Kitwara Upsets The King Haile G And Wins His 7th Straight Race!!! The women's race also had an upset winner as Catherine Ndereba was beaten. Martin Fagan ran great to capture Ireland's half marathon record from John Treacy. Watch the final 26 minutes of the Fortis City-Pier-City Half Marathon here.
*Pre- & Post-Race Interview With Kitwara
Gate River 15km
LRC Fam Sprints To Gate River Win Over Tim Nelson Amy Yoder-Begley wins the women's title over Katie MacGregor. *USATF Recap *Top 10 Results