LRC The Week That Was This week we talk about cheating in Tallahassee, the world's most famous cheat named Dwain, Germany's answer to Bob Beamon and a busy week for Doug Logan. Plus our quotes, videos and photos of the week.
Sebastian Bayer Is Germany's Modern Day Bob Beamon *LetsRun User Links To Sebastian Bayer Photos Bayer jumped the second-longest indoor Long Jump ever out of nowhere in Turin on Sunday.
Video Interview With Australia's Ryan Gregson Gregson settles the LetsRun debate as to who is better right now, Gregson or German Fernandez.
As The World Turns: Dwain, Charles, Berlin ...
*What A Break: Berlin Golden League Meet Will Allow Chambers To Compete
*Berlin Golden League Breaking Ranks In Allowing Chambers To Compete
*Article On How Dwain Chambers' Book Could "Set Athletics Free"
*Van Commenee Admits Decision To Keep Chambers Off Relay May Cost GB A Berlin Medal
*Dwain Chambers Names 3 Americans Coached By Remi Korchemmy And Supplemented By Victor Conte
A Fond Farewell To Athletics Journalist John Rodda
Shani Davis: America's Greatest Middle Distance ... Speed Skater
A New Site For Track Stat Nuts: All-Athletics.com
Excuse Me Doctor, Will Music Help Me Run Faster? We save you a trip to the Dr.
NCAA D1 Fields Released
*Men's Field - It's official; German Fernandez is skipping the meet. 18 teams in men's DMR causes havoc as in most events only 14 men got in compared to 17 in most women's.
*Women's Field
Sad News
Trackshark.com May Be Shut Down Due Lack Of Support From Wasserman Media
Good Reads: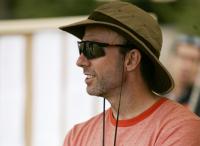 1. Fantastic Read: Brief Chat With OK St. Coach Dave Smith Find out what German Fernandez will be up to in the coming months and get the skinny on the locker room talk about the LetsRun.com Ryan Gregson vs. Fernandez debate.
2. Insanity: 15-Year-Old Jamaican Boy Man Runs 10.42 While Reigning World Junior 100m Champ Doesn't Even Qualify For Final With 10.75!
3. Full Text Of Doug Logan's Project 30 Response Logan is charging full steam ahead with changes in USATF.
4. Victor Conte Says Chambers' Mgmt. Team Mailed Him $10,000+ Check For Drugs In 2002 The question is, did managaer John Regis know his client was on an elaborate doping regimen?
5. Galen Rupp Did 3 x Mile In 4:30, 4:27 And 4:17 After Running 3:57 In The Mile
6. Ryan Hall Talks About Enjoying Olympic "Failure"
Back In The Limelight: Geb Attempts To Blast Wanjiru's Half Marathon Record This Weekend If Geb can get his record back, it would be his 27th World Record. Ryan Hall will be there too, tuning up for Boston. has pulled out of the race.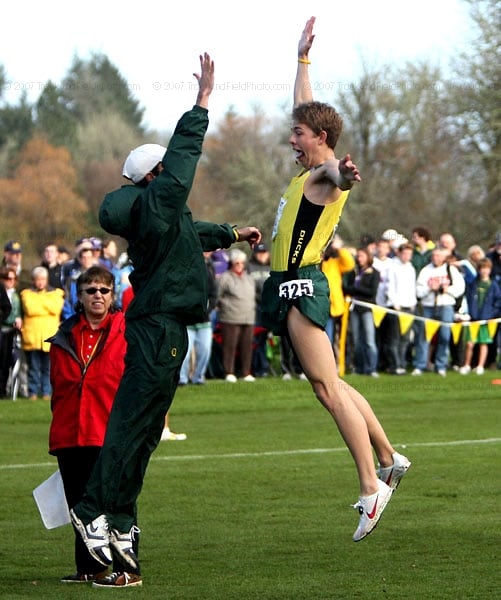 Domestic & NCAA News
*USOC Turmoil Causing ... Well, Turmoil
*OU Ducks Will Complement Distance Speed With Multi-Event Prowess At NCAAs
*Track & Field News Picks NCAA Winners: The Rupp Double
*Track & Field News' Women's NCAA Predictions
*The Week That Was For HS: Distance Gala Weekly On Last Weekend's Big HS Meets
International News
*Mary Cullen's Medal A Bright Spot For Irish Athletics
*Fidel & Raul Churning Out Decathletes: 2 Cubans Go Big In Opening-Season Multi
*Rob Myers Wins Road Mile In NZ
*361 Japanese Collegians Break 70 In Half Marathon Championships
*Alphen 20k Results And Recap From The Netherlands
2 Weeks Into Training Camp, Kenyan Team Is Pumped *Accomplished Kenyan Runners Giving Back To Their Hometown, Iten
European Champs, Chambers Saga, And van Commenee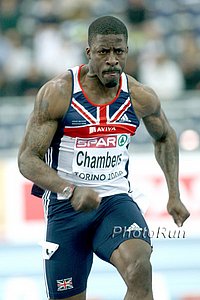 *Victor Conte Says Chambers' Mgmt. Team Mailed Him $10,000+ Check For Drugs In 2002
*Van Commenee Gives Dwain Chambers The Boot From GB Berlin 4x100m Team Way too early to be focused on 2012 in our minds.
*UK Athletics Chairman Comments On Dwain Possibly Being Suspended For Dishonoring T&F

Liu Xiang News
*Liu Xiang And Surgically-Repaired Achilles Tendon Arrive Back In Shanghai
*Targeting London 2012 Otherwise "I wouldn't have had this surgery."
Blogs, Stars And Interviews
*Great Blog From America's Best Athlete Bryan Clay
*Read A Little About One Of The Most Dominant Groups In The Country: Baylor Bears Men's 4x400m
International News
*Steve Ovett To Assume High Profile Role In Advising Australian Olympic Hopefuls
*Rwandan Distance Runners Bail On Amman To Collect Paydays If the US economy is in the tank, we're guessing Rwanda's ain't too rosy.
*Irish Sport Mired In "Turf Wars"
Rupp Finally Goes Sub 4: 3:57.86!!! *Video