Shalane Flanagan Ready for 2009 Debut at Reebok Boston Games
by: Jess Barton, LetsRun.com
Shalane Flanagan, the 2008 Olympic Bronze medalist in the 10,000m and the American record holder in the indoor 3,000m and the outdoor 5,000m and 10,000m, may soon add another record to her name. Flanagan is set to run the 5,000m this Saturday at the Reebok Boston Indoor Games. There she will chase Marla Runyan's record of 15:07.33 which was set in 2001 and there is a $25,000 bonus if she is successful. Flanagan believes this is possible saying, "I don't want to take anything for granted, but I would hope that since last summer I was able to run basically 15:10 back to back that sneaking under 15:07 should be feasible."
The Marblehead, Massachusetts native is excited to be running back at home, "I think I'm addicted to running here at home," said Flanagan. "I think there's nothing more special than running in front of your family and friends and people that really genuinely care about you and your performances."
I sat down with Flanagan after the Boston Indoor Game's press conference to discuss her past success, her future and her newly announced departure from coach John Cook.
How has your training been going since the Olympics and is it true that you were injured?
I had some really nasty tendonitis in my foot leading up to the Olympics. I was just hanging on by a thread for CVS (US 5,000m National road championships). After that I took about a month off and it was a slow recuperation process throughout this whole fall. I didn't even know if I would be ready or fit enough to run this race, but just in the nick of time before we went down to train in Mexico my foot started to feel much much better and since then training has been going really well.

Was this the same foot that you had surgery on?
It was. It was the post-tib tendon. I think I just needed to strengthen it. I think I neglected some of my strengthening exercises, I think I got a little lazy on them. Just by getting back to that and tweaking my orthotics things are much better.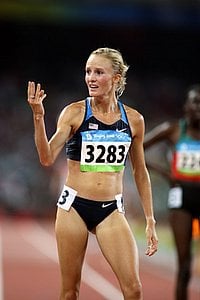 3 = Bronze
With all of the attention you got from your medal at the Olympics and the whole experience in general, was it hard to settle back into a good training routine?
No, not really. I obviously treasure and am super excited that I was able to obtain that kind of success so early, and I have now accomplished one of my biggest dreams. But I feel like there's so much more left to do and when I go back home, people are excited for me, but the day goes on, and life goes on. Having a medal is nice, but I still want so much more out of this sport.

How do you think your Olympic experience will help your running career?
I think if anything it has made me relax a little bit more because I have obtained one of my life long goals. I can really just start to enjoy and absorb all of the great experiences and opportunities that I've been given through this sport. So I'm hoping that the performances will still come.

You do a lot of drills now, did you do these before your foot surgery as well?
In college I did some hurdle drills and some other drills that I don't necessarily do now. It is emphasized more so now that I do it on a routine basis, whereas in college it was more sporadic because I raced so much.

How often do you do the circuit drills and where did you get them from?
We just squeeze them in when we can. It's like an extra little workout, especially right now because I find that it's an easy way to get fit without actually having to run intervals. My teammate Erin Donohue was actually a really big fan of them and that is how we somewhat started them. She went online and found some information about them from this ultimate fighter that she found and so we started incorporating that.

What do you consider to be the most important part of your training and what do you attribute to your success?
I think an accumulation of years of training. It's a compounding of interest of miles and just age in general just allows me to be stronger every year. Also racing a little less allows me to build that compound interest and really start to see those kinds of efforts come through in my races.

Do you plan on moving up to the marathon?
I would love to move to the marathon. I still have a lot of goals on the track. If I want to emulate anyone I want Paula Radcliff type times before I go to the marathon. So I really want to run fast on the track before I move to the marathon. But I'm super excited about the marathon. I think one of the most inspirational performances I've watched was the Men's Marathon Trials and from that day on I've just been really excited about running one myself.

Since you are from the Boston area would you consider opening up at Boston?
I would love to open up at Boston. That would be a really special day.

What is your goal for Saturday's race?
Just have a good performance. I'm extremely motivated to just run well in front of my family. I've done a lot of altitude training recently so I don't know how fast I am. I know I'm extremely strong, so I just hope some of that strength will transcend into some speed. I would like to go after the American Record if it presents itself and I'm feeling good.

Why did you chose Boston Indoor Games over XC Nationals?
It was a tough choice because I love cross country. But it came down to the opportunity to come home and see my family and try to make a record attempt here in my home town. It's something special and more than anything I like to perform in front of my family.

Since your mom moved down to North Carolina do you often see each other?
We do. We do a lot of gardening together and see watches our cats when we're away.

Why have you decided to leave John Cook?
Erin Donohue and I are both not working with John Cook anymore. I think what it comes down to is that I'm bumbed out about it, I'm sad it did not work out. I wish that it would work out or could work out but we just had very different ideas and goals of where we wanted to take our careers. It's like if you were working for someone and you and your boss had completely different ideas of where you wanted the company to go, it would be hard to work together. That's the way I look at it. If you don't ultimately have the same dream and the same goal it's really hard to get things done. .. We just didn't see things the same way.

Do you have any advice for aspiring elite runners?
Train hard, train smart, someday it is going to pay off, maybe not tomorrow, but maybe the next day.
More Reebok Boston: LRC: A Fan's Guide To The 2009 Reebok Boston Indoor Games: Men's Mid-D & Distance Events
LRC: A Fan's Guide To The 2009 Reebok Boston Indoor Games: Women's Mid-D & Distance Events
*LRC! 2009 Reebok Boston Games Press Conference: Kara Goucher And PVaulters Ready To Shine
Jess Barton, a sophomore at Northeastern University from Newton, Massachusetts, was the two time Boston Globe Runner of the Year.