LetsRun.com: A Fan's Guide To The 2009 Prefontaine Classic
June 5, 2009

By LetsRun.com
Below you will find the previews for nearly all of the events we expect to see on television (2-4 pm NBC EST on Sunday). We present the coverage in chronological order and preview the men's long jump, men's steeple, men's 400h, women's discus, women's 1,500, women's long jump, men's 100, women's 100h, men's high jump, men's shot put, men's 3,000, women's 400, men's 800, women's 100, women's 800, men's 300, women's 2k and men's mile. All times listed are EST.
Men's Long Jump (1:38 pm)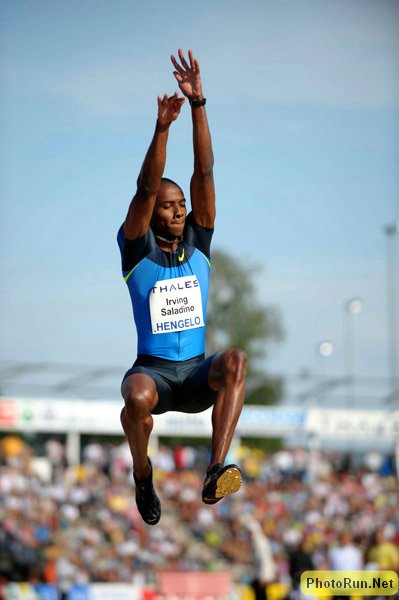 Likely a 2-man battle between Irving Saladino (left, 7th-best wind-legal distance of all time) and Dwight Phillips. Last week in Hengelo, Saladino took the world lead out to 8.56, stealing the Hengelo lead away from Phillips' 8.45. Phillips wasn't done, however, as he was jumping for joy after a huge 5th jump that came up just short of the Panamanian at 8.54.
Last year in Hengelo, Saladino jumped 8.73, one of only 2 recorded jumps over 8.73 since Carl Lewis and Mike Powell were soaring 8.87 and 8.95 (WR) back in 1991.
One of the big reasons the 2008 Olympics were a disappointment for the US track & field squad was the performance by the US competitors in the field events. The shot putters came in ranked 1-3 in the world and only managed silver (Christian Cantwell). But compared to events like the long jump, triple jump and high jump, silver was pretty good, as the US couldn't manage a finalist in those technical events.
Dwight Phillips, who won the 2005 WC's and 2004 Olympics with jumps around 8.60, could be the US medal hope of the future get himself and the US back on the jumps podium if he can consistently match Saladino in the mid 8's. Hopefully the Hayward crowd will get Phillips jumping his farthest yet.
LONG JUMP: Irving Saladino (Panama), Dwight Phillips, Yayah Berrabah (Morocco), Miguel Pate, Fabrice Lapierre (Australia), Brian Johnson
Trevell Quinley, Matthew Turner
Men's Steeplechase (1:46 pm - just prior to start to tv broadcast)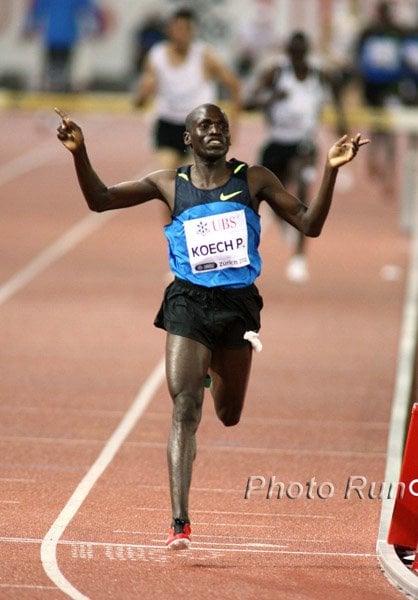 This is an interesting field as it includes two absolute world stars in Kenya's Paul Koech (right) and Ezekiel Kemboi. Many won't remember this, but these two guys went berserk against each other about 4 weeks ago in Doha, Qatar (results). Koech ran from the front as he has been doing for a couple years now, clicking off splits leading to a near-8:00 pace. But in Doha, Kemboi had the better kick and threw down like a monster with 250m to go, leaving Koech and Olympic champion Brimin Kipruto in his wake (pun intended).
Kemboi ran 7:58 in that race for one of the best steeple performances in the history of track and field, while Koech still finished second in 8:01. We are pretty sure that Koech set the American all-comers steeple record last year, but it could go to either one of these guys if the conditions are right.
Behind the two 8:00 guys are a slew of guys from America. Aside from Anthony Famiglietti and Dan Lincoln, this race is basically showing us all of America's top steeplers and is going to give us a good idea of who is going to represent the US this summer in Berlin. Billy Nelson and Josh McAdams earned Olympic spots next year but they are basically neck-and-neck with guys like Kyle Alcorn and Tom Brooks, who represented the US the year before in Osaka.
This race, however, might not tell us a whole lot unless the Americans run as a pack for a while. If they go out way too hard then it will just be a mess.
We're a little confused about what the rabbit will be doing as Luke Watson likely can't keep pace for Koech and Kemboi for more than 3 laps. That's no dig against Watson; running 2:40 1,000m pace over hurdles for more than about 1,000m is no easy task for a guy who has been running 8:40s to 8:50s. If he sets the pace for the Americans at the World Championships A standard, that would make much more sense, though it would be a bit strange to have a rabbit back behind the leaders.
Strange but true: Neither Kemboi nor Koech medalled in Beijing. Koech didn't even make the Kenyan team despite running the fastest time in the world in 2008. The medallists were Kipruto (gold), some French guy (silver) and Richard Matelong (bronze).
More American analysis: the reason McAdams (right) and Nelson made the Beijing team is their kicking prowess. Fam set a strong pace in the Trials steeple final and these guys were able to endure the tough pace and finish strongly. They kicked very well in the Eugene Trials of 2008. Also in the field on Sunday will be sub-8:20 guy Brian Olinger as well as veteran Steve Slattery (8:15 PR!) as well as younger guys only a couple years removed from NCAA competition Ben Bruce (8:26 this year) and Dan Huling. We'll see how they stack up and what pace they decide to set.
LRC Prediction: 1. Koech 2. Kemboi 3. McAdams ? 4. Too close to call
STEEPLECHASE: Paul Koech (Kenya), Billy Nelson, Kyle Alcorn, Dan Huling, Josh McAdams, Roba Gary (Ethiopia), Ben Bruce, Tom Brooks, Steve Slattery, Brian Olinger, Ezekiel Kemboi (Kenya), Luke Watson--pace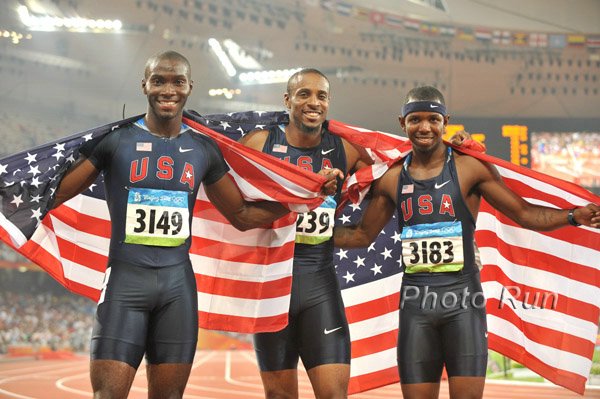 Men's 400m Hurdles (2:03 pm)
This race has three of the US's best 400 hurdlers, including Angelo Taylor (center, 2000 and 2008 Olympic champ), Kerron Clement (left, silver) and Bershawn Jackson (right, bronze). The only guy that's missing is 2004 champion Felix Sanchez, but we'll see him later in the year in the European meets. The rest of the field will try to break up the trio.
Hopefully the hurdles will be set up properly this time.
LRC Prediction: 1. Kerron Clement (we think he's the best this year) 2. Angelo Taylor 3. Bershawn Jackson
400 METER HURDLES: Angelo Taylor, Kerron Clement, Isa Phillips (Jamaica), Bershawn Jackson, Markino Buckley (Jamaica), James Carter, Kenneth Ferguson, Michael Tinsley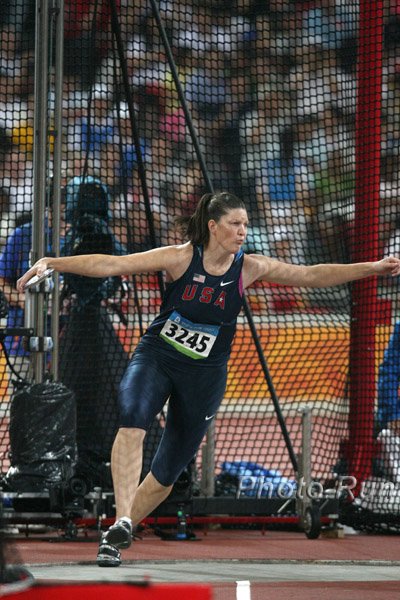 Women's Discus (2:07 pm)
Nobody really pays any attention to US women's throwers, but we love the Stephanie Brown Trafton (right) story. When all the talk was about how the US team failed at the Olympics, people like SBT were going out there and kicking some serious butt. She won one of the US's most unexpected gold medals of all time and she was working a full-time job while she trained.
Women's 1,500 (2:10 pm)
This race has last year's surprise Olympic champ in Nancy Lagat but she isn't the story here at all as she's been struggling so far this year. The leader of this field is Ethiopia's Geleta Burka, who ran a world leading 3:58.79 on Monday in Hengelo in a race that she dominated. In that race, Russia's Anna Alminova ran 4:01.54 for second, so she should be in the mix for the runner-up honors. To us, that is one of the big storylines in this race - who will get 2nd behind Burka.
Whoever is the top American in this race certainly will be in the battle for 2nd. Normally if we told you that Christin Wurth-Thomas, who PRed in 4:03.96 last week at Reebok two weeks after nearly breaking her 800 personal best, you might think she'd be the favorite to be the top American. You'd be wrong, as the field includes 2008 US Olympic Trials champ Shannon Rowbury making her outdoor track debut. Rowbury ran 4:00 last year. What type of form is she in this year?
But wait. Rowbury is not the favorite for top American honors in our mind. We've got to go with Anna Willard, who ran 1:59 last week at Reebok. Despite the fact that her 1,500 PR is only 4:06, we're going with Willard as she has been sensational so far in 2009 and is a bit more race sharp.
What makes this race really interesting to us is that it also includes US steeplechase record holder Jenny Barringer. It will be great to see a preview of the Barringer - Willard steeple clash we expect to see at USAs in this race. At the shorter distance of 1,500, Barringer is a huge underdog as her PR for the 800 is just 2:05.43 and 4:08 for 1,500.
A nice subplot to this race is if Barringer can get Hannah England's collegiate record of 4:06.19. We say yes.
Oh yeah, Olympic 10k bronze medallist Shalane Flanagan is also in this race but her 1,500 PR is 4:05, so she'll struggle to get in the top 3 most likely. Also factor in Rowbury's former teammate with coach John Cook, Erin Donahue (right). Treniere Clement, who won the US 1,500 title in 2005, 2006 and 2007, is also racing but, like Alan Webb, her struggles from 2008 have carried over to 2009 as she only ran 4:09 last week in New York.
LetsRun.com Prediction: 1) Burka 2) Willard 3) Alminova 4) Rowbury 5) Wurth-Thomas
Entire field: Nancy Lagat (Kenya), Gelete Burka (Ethiopia), Anna Alminova (Russia), Shannon Rowbury, Christin Wurth-Thomas, Nuria Fernandez (Spain), Erin Donohue, Meskerem Assefa (Ethiopia), Anna Willard - 4:06.26, Jenny Barringer - 4:08.38, Nikeya Green--pace, Shayne Culpepper, Shalane Flanagan, Treniere Clement
Women's Long Jump (2:19 pm)
It's an unusual and exciting situation in the US as the duo of Brittney Reese and Funmi Jimoh are ranked #1 and #2 in the world currently. Reese has jumped over 7 meters while Jimoh, the less consistent of the two, is just under 7. Russia's Yelena Sokolova was on fire indoors and is one to watch this year.
LRC Prediction: 1) Sokoleva 2) Reese 3) Balta 4) Jimoh
LONG JUMP: Brittney Reese, Funmi Jimoh , Knjesa Balta (Estonia), Tianna Madison, Yelena Sokolova (Russia), Hyleas Fountain, Grace Upshaw, Tabia Charles (Canada), Jovanne Jarrett, Brianna Glenn
Men's 100 (2:23 pm)
This race basically has most of the big names in the sprint world except for the biggest in Usain Bolt and Tyson Gay. Olympic silver medallist Richard Thompson will headline the field in terms of accomplishments, but he was beaten by both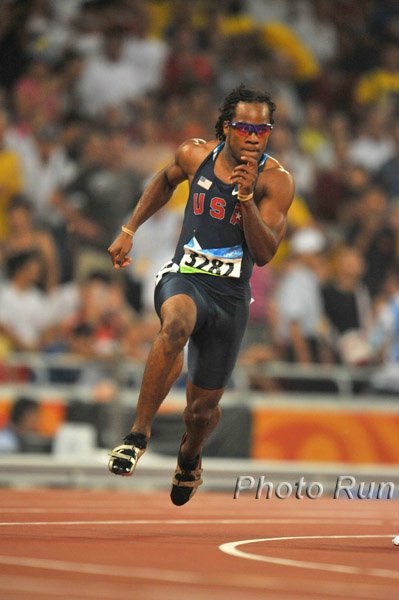 Michael Rodgers (a wind-aided 9.93) and Travis Padgett (9.96) last week in New York when he ran 10.01. Former world record holder Asafa Powell was also in that race but only ran 10.10. This race is big for Powell, who desperately needs a better showing.
We're excited though about this race because it's the first time 100 and 200 meter medallist Walter Dix (left) will be competing in front of a large crowd in 2009. Dix is in a dispute with his agent and not allowed to run in appearance-money races, but since this is a requirement of his Nike deal, he is good to go. Dix is tied with Padgett with the fastest wind-legal mark in 2009 (10.00).
LRC Prediction: 1) Dix 2) Padgett 3) Rodgers
Men 100m: Asafa Powell (Jamaica), Walter Dix, Michael Rodgers, Churandy Martina (Neth Antilles), Richard Thompson (Trinidad), Marc Burns (Trinidad), Jaysuma Ndure (Norway), Travis Padgett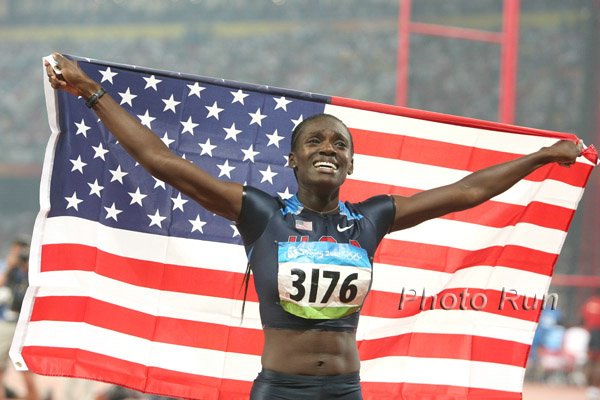 Women's 100m Hurdles (2:30 pm)
We're fortunate to have the best in the world here in this race. There are 3 notable exceptions, however: American sweetheart Lolo Jones is coming back from injury, we don't know where Aussie Olympic medal winner Sally McClellan is, and Spain's Josephine Onyia got busted for drugs a couple weeks ago.
But what we have is really good. Gold medal winner Dawn Harper (right) is here, as is medal winner Priscilla Lopes-Schliep. They'll have plenty of competition from the field listed below. There are probably about 6 women who could win this race, which is exciting. If you haven't read it yet, check out Dawn Harper's story.
LRC Prediction: We'll go with Canada getting their only event win on the day from either Perdita or Priscilla.
100 HURDLES: Dawn Harper, Brigitte Foster-Hylton (Jamaica), Damu Cherry, Priscilla Lopes-Schliep (Canada), Ginny Powell, Michelle Perry, Perdita Felicien (Canada), Hyleas Fountain--alternate, Vonette Dixon (Jamaica)
Men's High Jump (2:35 pm)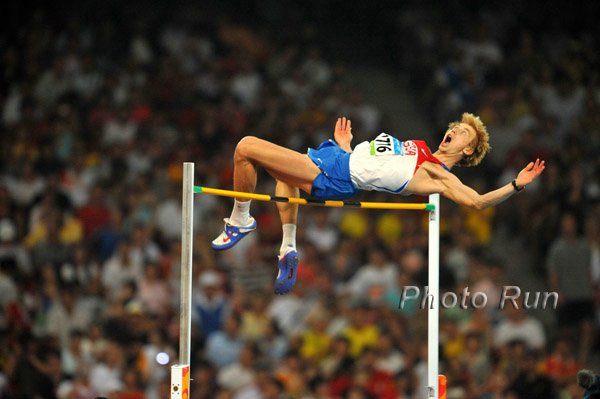 This event may turn out to be one of the best competitions at Pre. Andrey Silnov comes to Pre ready to open his season after his gold medal campaign last year. The picture to the right basically tells the story. Countryman Ivan Ukhov (2.34 SB) is jumping well after his funny episode last year where he was filmed high jumping while apparently intoxicated.
Britain's Germaine Mason won a silver medal at the Olympics and will be in the competition. America is represented by the #1 and #2 seeded jumpers in the world in Andra Manson (2.35) and Eugene resident Jesse Williams (2.34). German Raul Spank is 4th on the world list with a 2.31.
Other jumpers of note are American standouts Jamie Nieto and Dusty Jonas, as well as Bahama's high-jump neophyte Donald Thomas.
HIGH JUMP Jesse Williams, Andrey Silnov (Russia), Raul Spank (Germany), Ivan Ukhov (Russia), Yaroslav Rybakov. Andra Manson, Dusty Jonas, Donald Thomas (Bahamas)
Germaine Mason (Great Britain). Jamie Nieto
Men's Shot Put (2:38 pm)

American throwing fans will get a look at Poland's Tomasz Majewski (right), the man who took home the Beijing gold medal ahead of all three of America's throwers, who came in to the event ranked 1-3 in the world. Time is running out to watch the 1-man show that is Dartmouth alum Adam Nelson. It appears his days at the top are nearing an end. In 2009, Dan Taylor, Reese Hoffa and Christian Cantwell have all thrown over 21.53 meters while Nelson has barely cracked 20 meters. Dan Taylor, the one from the big 4 who didn't make Beijing, has the farthest throw of the year at 21.78.
SHOT PUT Tomasz Majewski (Poland), Christian Cantwell, Andrey Mikhnevich (Belarus), Reese Hoffa, Adam Nelson, Dorian Scott (Jamaica), Dylan Armstrong (Canada), Dan Taylor
Men's 3,000m (2:42 pm)
Meet organizers did a super job putting this field together in another "off event" for distance runners outdoors. Bernard Lagat, fresh off his 13:03 performance in New York, will run what some believe to be his best distance against an incredibly talented field.
Sileshi Sihine is a virtually unbeatable runner from Ethiopia who would have about 8 global championship gold medals were it not for countryman Kenenisa Bekele. Eliud Kipchoge is one of the top 5,000m runners in the world (finished 2008 as #2 behind Bekele). Saif Shaheen opened his season in Doha, Qatar, running about 7:32 for this same distance. He finished behind Kipchoge, who ran a stunning 7:28! Shaheen, the world record holder (7:53) in the 3,000m steeplechase, said after the race that he was very happy with his race considering it was his first one back.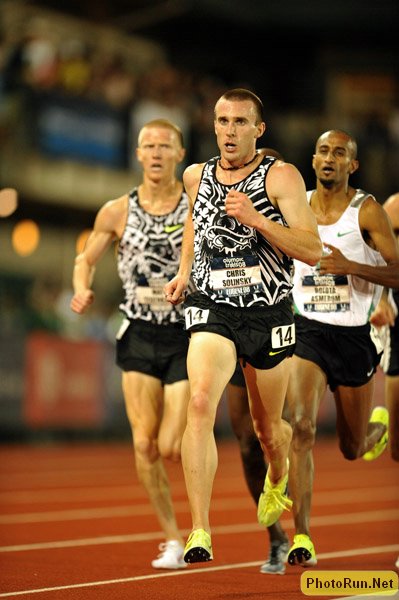 Guys like Moses Masai (one of the top 5 10,000m runners of all-time with a 26:49 PR) and 20-year-old Mathew Kisorio (6th at World cross-country) probably won't make the top three in this loaded race (we haven't even mentioned a couple of very fast Ethiopians).

American running fans will also have the pleasure of watching some of our best homegrown talent in Chris Solinsky (left, 13:18 this year), Matt Tegenkamp (left, 13:22 this year) and Brent Vaughn (13:18 PR), as well as former NCAA wrecking ball Alistair Cragg competing for Ireland.

Trying to figure out who might make the US world team in the 5,000m? This race may help. Lagat, if he chooses to run the 5,000 at Worlds, is a lock, but the other 2 spots 3 spots look up for grabs between a lot of guys who have proven they can run around 13:20. (Editor's note: by virtue of his 1500/5000m double gold in Osaka 2007, Bernard Lagat earns automatic entry in both events in the 2009 WC's. The US is therefore allowed 3 other competitors in each event provided they have met the requisite qualifying standards.)

LRC Prediction: 1) Kipchoge 2) Lagat 3) Sihine 4) Shaheen 5) ?

3000 METERS: Bernard Lagat, Sileshi Sihine, Eliud Kipchoge (Kenya), Moses Masai (Kenya), Abreham Feleke (Ethiopia), Matt Tegenkamp, Chris Solinsky, Leonard Komon (Kenya), Matthew Kisorio (Kenya), Saif Shaheen (Qatar), Brent Vaughn, Alistair Craig, Dejen Gebremeskel, Steve Sherer--pace, Julius Achon--pace

Women's 400 (2:58 pm)
6 of the top 10 from last year are in this race but in our minds it will come down to four women. American Sanya Richards often does well at Pre but she was defeated in her outdoor opener in Jamaica when she ran 51.12 to Novelene Williams' 50.99. Jamaica's Natasha Hastings beat Williams at adidas by running 51.46. Olympic silver medallist Shericka Williams of Jamaica ran 50.58 last weekend at Reebok for 2nd.
LRC Prediction: 1) Richards 2) S. Williams 3) Hastings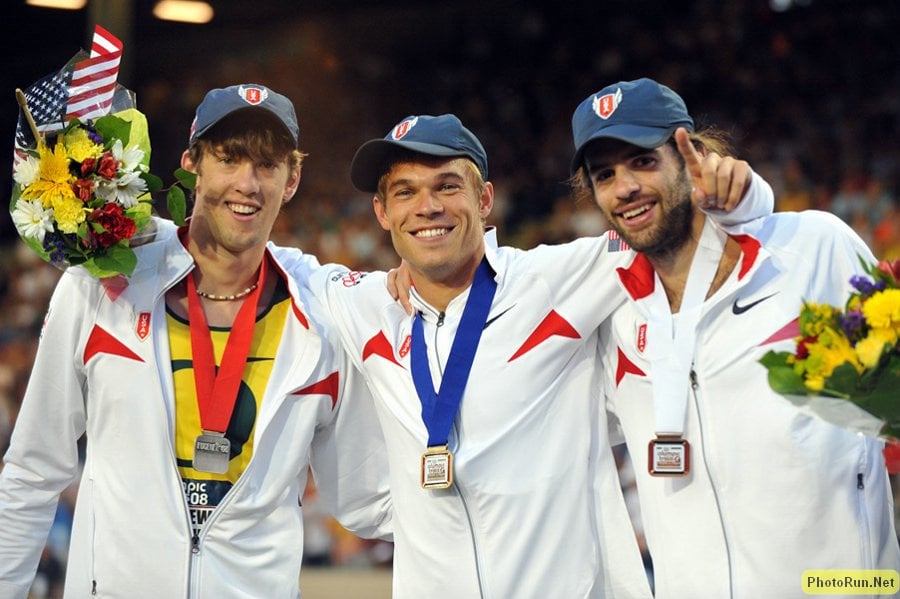 Men's 800 (3:04 pm)
This is a loaded 800. Seriously, we just made our predictions and it's scary who we have finishing next-to-last in this field and 3rd-from-last in this field. (Spoiler alert: we picked an Olympic champ next-to-last and an Olympic silver medallist 3rd-from-last).
We could probably make a case for everyone in the field having a shot at winning except for 2008 US Olympian Christain Smith (right, in one of the 2008 Trials' most memorable moments), who is a bit outclassed in the field. Leading the way in terms of recent accomplishments is 2007 World champ and 2008 Olympic bronze medallist Alfred Yego. Yego is still only 22 and comes into the meet in good form as he ran a PB of 3:34 in Doha to open his outdoor season. He set the Pre-Classic record of 1:44.01 last year. Well, it's not actually clear that Yego is the leader in terms of recent accomplishments, as the Olympic silver medallist from Beijing, Sudan's Ahmad Ismail,
is also running in his outdoor debut for 2009 after running 1:44.75 indoors. 2004 Olympic champ Yuriy Borzakovskiy will also be making his outdoor debut in this race. Borzakovskiy ran 1:42 last summer. Rounding out the foreign-based competitors is Morocco's Amine Laalou, who has run 1:43 or 1:44 each of the last 6 years, including an impressive 1:43.36 last Monday in Hengelo. Laalou may be poised for a career-best year as it looks like some overdistance training may be paying dividends for him, as prior to the 1:43, he ran the first 1,500 of his life and got 2nd in Morocco in 3:34.
There are five North American-based Olympians in the race in Canadian Gary Reed (world rank #5 last year), Kenyan Boaz Lalang and Americans Khadevis Robinson (left), Nick Symmonds, and Christian Smith. All of them but Symmonds raced last week at Reebok, with Robinson getting the win in 1:46.00 over Reed's 1:46.22, Lalang's 1:46.48, and Smith's 1:46.69. Symmonds opened up last week in Oregon with a 1:46.25 so he should be a factor as well.
In terms of predictions, we don't think it's smart to go with guys who haven't raced this year, so we're ruling out Borzakovskiy and Ismail. We'd love to see KD get the win as a sort of redemption for his Olympic Trials heart-breaking 4th place finish in his last race at Hayward field, but it's a long way from 1:46 to 1:43.
Editor's Addition 6/6/09: HSer Elijah Greer (and soon-to-be Oregon Duck) is a late entrant into the field. He'll be going for Michael Granville's HS record of 1:46.45 from 1996. Greer has run 1:47.68 so he has a shot. The record may bring a curse with it as Granville never ran faster than he did in HS.
LRC Prediction: 1) Yego 2) Laalou 3) Robinson 4) Symmonds 5) Reed 6) Lalang 7) Ismail 8) Borzakovskiy 9) Smith
Women's 100 (3:11 pm)
On paper, this is all about 2005 world outdoor champion Lauryn Williams versus 2008 Pre Classic winner Torri Edwards and 2008 Olympic gold medallist Shelly-Ann Fraser. But the race isn't run on paper and both Edwards and Williams were crushed last week at Reebok by Carmelita Jeter, who won (10.85w) and Muna Lee (10.88w), who got 2nd. Shelly-Ann Fraser has done nothing to prove she's in good form this year but her compatriot in Olympic silver medallist Kerron Stewart won in Doha in 10.93.
LRC Prediction. 1) Stewart 2) Edwards 3) Lee
Women's 800 (3:23 pm)
For the first time in 18 years, someone besides Maria Mutola will win this race as, after 17 straight, Mutola has retired. A few weeks ago, everyone would have assumed the winner would be Olympic champ Pamela Jelimo, who had never lost an 800 meter race in her life. However, the fame of the Olympic title and marriage apparently weren't great for Jelimo's training as she suffered a shocking defeat in Morocco a few weeks ago when she ran 2:02.46. If Jelimo doesn't win, it might be 2007 World champ and 2008 Olympic silver medallist Janet Jepkosgei. But Jepkosgei wasn't great in her one race of the year either, as she ran 4:13 in her 1,500 outdoor opener (her PR is 4:08).

The people we know who are in fine form are Hazel Clark (USA), Kenia Sinclair (Jamaica) and Tatyana Andrianova (Russia). Andrianova of Russia ran 1:56.00 last year and 1:59.60 last weekend in Russia. Sinclair was on 1:57-8 pace before tying up at Reebok and settling for 1:59.66. Hazel Clark was 3rd last week behind Sinclair in 2:00.09 in New York. Britain's Jemma Simpson ran 1:59.17 last year.
2007 US Champ Alysia Johnson hasn't been running great so far this year.
LetsRun.com Predictions: A lot of runners have the opportunity of a lifetime to beat Jelimo. Man, this is a tough race to predict as we aren't really sure what the two Kenyans will do.
LRC Prediction: 1) Sinclair 2) Andrianova 3) Jelimo 4) Jepkosgei 5) Clark 6) Simpson 7) Johnson
Men's 300 (3:29 pm)
We're not sure what the 300 world's best is but are assuming they are going after it. In our mind, this race comes down to two. While more of a 200 guy than 400 guy, Wallace Spearmon has run 45.22 for 400 before. He ran 19.98 last weekend at Reebok, so he won't be easy to beat. But the winner of this race in our minds looks to be Olympic 400 champ LaShawn Merritt. He ran a great 20.07 into a headwind at the adidas Track Classic when he just crushed the field and won by .64 a few weeks ago. Last week, he looked average winning the 400 at Reebok in 44.75 after having opened the year 44.50.
The guy we expect to be third is Trinidad's Rennie Quow, who ran a 44.89 last week.
LRC Prediction: 1) Merritt 2) Spearmon 3) Quow
Women's 2,000m (3:38 pm)
There likely will be two battles going on in this unusual race distance: the battle up front between the leading Africans and the battle somewhere behind that between some of America's top runners at the 3,000m all the way up to the marathon.
Kara Goucher returns to racing on the big stage after a primer meet about 10 days ago in Oregon. She'll face American Olympians Jen Rhines and Amy Yoder-Begley plus a race-sharp Sara Hall, who has competed well this year against weaker competition than will be found in this race. Goucher ran great shorter races this winter against some decent American competition on the track. This will be an interesting challenge for her against some of the best the US and the world has to offer.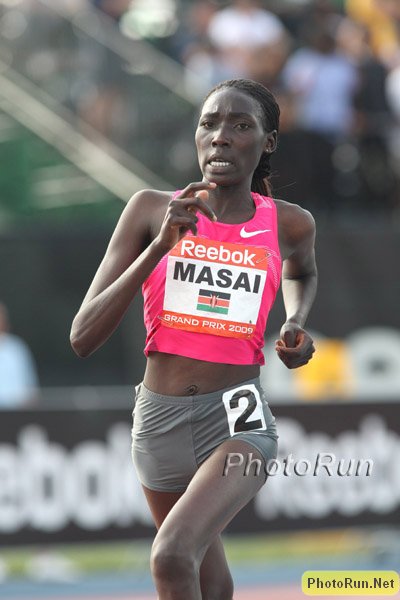 With no disrespect to the American women, they are likely going to have a great deal of difficulty keeping up with Bahrain's Maryam Jamal and a quartet of Kenyans led by Linet Masai (left). Jamal is the reigning world 1,500m champion and has a 3:56.18 PR at 1,500m. Masai must be brimming with confidence as she just flew in from New York where she beat one of the greatest runners ever, Tirunesh Dibaba, at her best event, running 14:35 for 5,000m.
As for the other Kenyan entrants: Vivian Cheruiyot is a 4:06/8:28 runner who ran 4:08 this past weekend and ran a Kenyan record 8:30 indoors this year. Sally Kipyego is a 4:08/8:48 runner, so she is a ways behind the top women as far as PRs go. Pauline Korikwiang is a wild card who has competed sparingly this year. She ran 14:45 as a junior runner, good enough for the Kenyan junior record.
LetsRun.com Prediction: 1) Maryam Jamal 2) Linet Masai 3) Vivian Cheruiyot 4) Kara Goucher 5) Sally Kipyego
W 2000 METERS Startlist - Maryam Jamal (Bahrain), Linet Masai (Kenya), Vivian Cheruiyot (Kenya), Pauline Korikwiang (Kenya), Jen Rhines, Sara Hall, Sally Kipyego (Kenya), Marina Muncan--pace. Amy Yoder-Begley, Kara Goucher, Lauren Hagans
Foreign Based Runners in Bowerman Mile at 2009 Pre Classic
(Listed in order of strength)
Asbel Kiprop (Kenya) - 3:31 last year, 1:43 and 3:34 this year.
Belal Mansoor (Bahrain) - 3:31 pb, 3:37 this year.
Haron Keitany (Kenya) 3:30.90 in Doha. 2:16 1k.
Nicholas Kemboi (Kenya) - 19 year old has run 3:33.
Juan van Deventer (South Africa) -Pb last week at Reebok when he pushed Manzano to line in 3:34.30
Henok Legesse (Ethiopia)- 3rd in Reebok last week. 29 and just started competing in 2008.
Shedrack Korir (Kenya) - 3:31 guy each of last two years. 3:35 indoors but only 13th in Morocco.
Peter van der Westhuisen (S Africa) - 3:35.33 pb at Reebok last week.
Josephat Kithii (Kenya) - former world youth Silver guy lost to Jon Rankin in Jamaica.
Moise Joseph (Haiti)--pace
Jackson Kivuna (Kenya)--pace
Bowerman Mile (3:52 pm)
We don't care what you read elsewhere; the men's mile is about one thing in our minds - the US debut of (hopefully) soon-to-be 2008 Olympic 1,500 champ Asbel Kiprop. Kiprop is a miling sensation in our minds. Not like that's an original thought since he's likely to be the Olympic champ and he's still only 19. Kiprop would put on a fine show as he's in amazing form having run 1:43.17 in Doha before getting the win in Hengelo on Monday in 3:34.45.
But the race is far, far from a one-man show. The #1 ranked 1,500 meter runner last year according to Track & Field News was Kenya's Haron Keitany. In Doha this year, he ran faster than the world leader from 2008 as he clocked 3:30.90 - which came after a 2:16 1k showing indoors. We'd expect those two to clearly battle for the win, although there are a few other foreign-based runners that could be in the mix (see box).


American Based Runners in Bowerman Mile at 2009 Pre Classic
(Listed in order of strength)
Leonel Manzano - 3:34.14 pb at Reebok last week
Nate Brannen (Canada) - 3:34.65 last year, 3:37.03 for 2nd this year at adidas.
Lopez Lomong - 3:39.21 and 1:47.42 this year. 3:36.36 pb last year.
Evan Jager - 3:40.60 pb this year.
Alan Webb - 3:41.62spb from indoors. 3:30.54 pb.
Steve Sherer--pace
As for North American-based runners, there are three runners that we think at least stay in contention for a while. US Olympian Leonel Manzano comes into his first Pre Classic full of confidence having run 3:55 in the mile and 3:34 for 1,500 each of the last two weeks in victories. Alan Webb's old college teammate also could be up there, as Nate Brannen has been running well so far in 2009. The race in our minds is a huge test for Lopez Lomong. Lomong has only looked mediocre recently in two 800s (1:48.42, 1:47.42) and his 1,500 debut at adidas (3:39.90), although he did split 3:54 in his outdoor opener at Penn Relays. All three of those guys, if they run well, could break Alan Webb's high school PR of 3:53.43 (We be shocked if Manzano didn't break it).

The two remaining guys in the field - Evan Jager and Alan Webb himself - have no chance of breaking the 3:53.43 mark.

LetsRun.com Prediction: 1) Kiprop 2) Keitany 3) Kemboi 4) Manzano
North American runners: 1) Manzano 2) Brannen 3) Lomong - Sadly we think it's a higher probability that Alan Webb is a DNS than that he breaks his high school PR in this race.