The Week That Was Jan. 21 - Jan 27, 2008
January 29, 2008
*Last week's week in review can be found here
By LetsRun.com
The Week That Was: Week 4: Jan 21 - Jan 27 of 2008
A ton of action took place this week both on the road, on the grass and inside as action heated up all around the globe. Before we get to the action, we'll start our The Week That Was with the biggest non-competition ;news of the week.
Maria Mutola Says She'll Retire After This Year
Mutola is arguably the greatest female 800 meter runner in history. She was first an Olympian 20 years ago - way back in 1988 as a 14-year old. She made her first mark in a big-time way on the international scene in 1991 when she was 4th at the world championships. Since then she's been at the top or near the top of the 800 meters on the world scene. In 1993, she won the first of a remarkable 13 world championship golds at 800 - yes that's not a typo - thirteen: 10 indoors and 3 outdoors. Throw in an Olympic gold from 2000 and two Commonwealth golds and a 1:55.19 pb and you've got an unbelievable career. She will be missed.
One other thing about 1993 that is interesting in regards to Mutola. 1993 was the first of 15 straight Prefontaine Classics that Mutola has won. Can she get #16 in 2008? The IAAF article on her retirement said that Mutola may run a few events after this year. We think she should keep going to Pre until she loses.
US Professional Track Season Gets Underway

This week the US professional track season got underway. It started on Martin Luther King Day at Fresno State with the Run for the Dream Meet which was part of the Visa Championship Series for the first time.
If a Tree Falls in a Forest...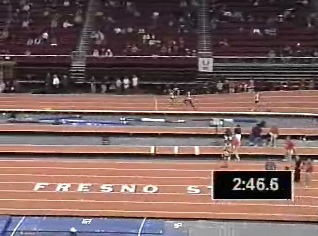 It Looks Worse Than it Was
Attendance A Reported 4,487
The meet featured a scored US vs the World format which we liked, but promoters were disappointed by the turnout. In our minds, track fans need to put their money where their mouth is and pay to go to a pro meet every year instead of complaining about how unpopular track is. It seems ludicrous that people will pay $75-150 bucks to go to a meaningless NBA game (although we guess often people go in corporate seats) but refuse to pay $20 bucks to go to the one pro meet in their market (or refuse to pay $5 to watch something online when they dropped $5 everyday at Starbucks) (We ran into a huge track and field aficionado that we know on Saturday and he was trying to score free tickets to Reebok Boston 4 hours before it started). That being said, looking at the race fields, there weren't a lot of interesting competitive races or big name stars to bring in a crowd. Additionally with the amateur part of the meet included, the entire meet lasted 10 hours, so perhaps fans didn't know when to come out. Maybe at a community event in a smaller market like Fresno, good marketing alone can overcome a lack of interesting races, but someone will have to show it to us first for us to believe it. The men's 4*400 was won in 3:21. That's a mediocre time for a high school team in Texas. (Results are here)
But the meet did have some interesting performances. Amy Acuff hasn't been over 2 meters since 2001, but she quickly showed that her best years of high jumping may not all be in the rear view mirror. She cleared 1.95 and then came close in her attempts at setting a new American record (2.02, 6' 7.5"). The other highlight for us was Allen Johnson winning the hurdles. Allen's longevity has been amazing, but last year some injuries caught up to him and prevented him from making the US World's team. But clearly Allen has Beijing on his mind as he was back competing indoors for the first time since 2005. He turns 37 on March 1st, but can't yet be overlooked in Beijing.
*Results *Recap
Reebok Boston Games

The real big kickoff to the US professional track season was the Reebok Boston Games at the Reggie Lewis Center. Boston sports fans are now spoiled in general, but even before their pro sports teams were winning everything in sight (we keep mentioning this trying to jinx the Patriots in the SuperBowl), they came to expect fabulous performances at the Reebok Boston Games: Haile G running for the only time indoors in America, Kenensia Bekele getting beat, 2 world records by Tirunesh Dibaba (2005, 2007) and near world records by Meseret Defar.
We've got a detailed recap of the meet with event by event recaps, photos, and a video from one of the few guys who actually says something interesting in a post-race interview (Khadevis Robinson) here. The meet thanks to the two last events,the women's two mile (where Meseret Defar and Kim Smith both smashed drug cheat Regina Jacobs world record) and men's 3k (where Aussie Craig Mottram ran the fastest 3k indoors ever on American soil, knocking Haile Gebrselassie off his pedestal), redeemed itself by coming close to its traditional high standards.
*LetsRun.com 2008 Reebok Boston Recap +Photos and More
Norwich Union Glasgow Grand Prix
Across the pond, Bernard Lagat was making his 2008 debut in advance of his Wanamaker Mile showdown this week with Craig Mottram. Lagat, the 1500 and 5000m world champion in 2007, opened the season right how he wanted with a win in the 1500m. In other action, Craig Pickering blasted past his rivals to win the 60m dash, and former European junior champ Ariane Friedrich joined the 2.00m club in the high jump.
*IAAF Recap *More on Lagat's Race
Osaka Marathon: If You've Never Run a Marathon, You Probably Never Will After Watching This Video
The Osaka Marathon was not only a Japanese selection race for the Olympics, but it was the marathon debut of Japanese 5k and half marathon record holder Kayoko Fukushi.
Fukushi is seen by many as the future of marathon running in marathon mad Japan (marathon and ekidens are regularly on LIVE national tv). In her half marathon debut, she defeated 2004 Olympic champ Mizuki Noguchi AND set a Japanese national record of 1:07:26. Pretty impressive.
Things started out perfectly fine for Fukushi, as it was almost a Sunday stroll. Brett Larner at his Japanese running blog reported:
Clearly she had not run a marathon before if she thought it was a laughing matter. But as every experienced marathon runner knows, the marathon doesn't begin until somewhere around 20 miles, or in this case 30km for Fukushi. According to Larner, she slowed to 3:42/km and then really started to lose it:
Yes the future of Japanese marathoning was running 10 minute miles (6min/km). But if you think that was tough for her, wait until you see the video below and her final quarter mile. What happened was not pretty. She falls here 3 times, sometimes flat on her face (which started bleeding), but valiantly gets to the finish.
Fukushi ran pace runs of only 22km (13.7 miles) before the race. Goes to show no matter how talented you are, talent alone will not get you through the marathon. That is why everyone, but especially the Japanese, have so much respect for the marathon distance.
As for the race itself, Brit Mara Yamauchi, who married a Japanese man, set a pr to win in 2:25:10.
Continue: Click Here for Page 2 Of Week That Was (Spirit of the Marathon Debut, plus we give our weekly thumbs up/thumbs down awards. We praise an 86 year old millionaire, a letsrun.com message boarder. We talk about ourselves, Pablo Solares, Kiwis, and the Dueling D's amongst other things)
Got news, info, or results? Email us at [email protected]