LRC The Week That Was We review the last week in the running world. Of course we cover the big stories like Foot Locker's, Xman's arrest, Honolulu, European XCs, (and the biggest race of the week in terms of money the Lagos Half Marathon) but we also go behind the scenes and tell you of some people you might not be aware of like Sgt. Nathan Pennington and Lineth Jepkirui (get used to seeing her name). Plus we praise the winners and losers of the week and are doing our part to make the 100th finisher at NCAAs All American.
Auburn's Jerry Clayton Named North America, Central America, and Caribbean Coach of the Year He coached high jump champ Donald Thomas (the dude who jumped 7 feet in high tops 2 years ago to get discovered) and decathlete Maurice Smith. He also coached Charles Austin, the 1996 Olympic Gold medallist in the high jump.
Glynis Nunn-Cearns To File Formal Complaint With Athletics Australia for Tongue Lashing by John Steffensen
*Some in Australia are Sick of John Steffensen's Antics
*Steffensen Could Be Suspended for Verbal Outburst
"(Perhaps) Marion Jones isn't a villain or bad person. She just picked the wrong sport. If she was in the NFL or MLB, she could sit out a month, and now come back and train for Beijing while starring in Nike commercials."
-LetsRun.com writing about the MLB drug policy in our well received new feature, "The Week That Was"
Indiana Newspaper Praises Footlocker Champ Mike Fout
Veronica Campbell Is Now Veronica Campbell Brown and She Has Her Eyes on the Beijing Double IAAF
Athens 7th Placer Naoko Sakamoto Out of Osaka Marathon With Injury
"But I also recognise that it's once every four years, things can go wrong and it would not mean there was anything wrong with me. But you have to keep going back as often as you can and hope things come right for you...That's part of racing, especially doing marathons. You spend 14 or 15 weeks building up for one race and hope it goes well on that day. If it doesn't, you are screwed. It's not like you are doing a 100 metres when you can go and do another one two days later. It doesn't happen that way. If you look back at my marathons and ask whether I would swap one of them for my one balls-up, of course I would."
-Paula Radcliffe in an extensive profile in the Guardian as she prepares for her once in every 4 years opportunity next year in Beijing.
Footlocker XC
Boys: 2007 Footlocker Boys Recap: Midwest Champ Michael Fout Wins Luke Puskedra took it out in a suicidal pace and Fout, the Midwest champ, hung just a few seconds back and stormed to the win as the Midwest Region swept 5 of the top 10 spots. Pre Race Favorite German Fernandez was third.
*Results
Photos:
*2007 Foot Locker Boys Race Photos
*Photos of All 40 Footlocker Boys
*More Post Race Coverage: Dyestat, Milesplit
On the boards: Move Delaware to the South It and Arkansas have never qualfied anyone for the finals.
Hey Delilah!: USATF Club Nationals XC Recap
Delilah DiCrescenzo of the Hey Delilah song is your 2007 USATF Club National XC Champ. Ryan Warrenburg of Zap Fitness won the men's crown as Zap defended its team town. *Results
On the boards: After Party Mayhem Apparently, a guy from the ATC got tasered and arrested at the afterparty.
All is Well at Oregon Thanks to AD Patrick Kilkenny and $100 Million from Phil Knight www.registerguard.com
Jeremy Wariner and Asafa Powell Racing in Australia in February
Kenyan News: World 800m Champ Alfred Kirwa Yego to Get Married This Weekend
*Edith Masai's Run in Singapore Has Kenya Back in First Place in Greatest Race on Earth Series
XC This Weekend:
Europe: Britain's Stephanie Twell Trying to Be First Woman to Win Back to Back European Junior Titles Times of London
USA: ZapFitness and BAA to Defend Club National XC Titles This Weekend in Ohio
*On the boards: USATF XC Club Nationals This Weekend
Xavier Carter Arrested Earlier this year a warrant was put out for his arrest for allegedly stomping on the hood of a woman's car like it was a "trampoline". He definitely seems to hang out with the wrong crowd. This time he was arrested for running from the cops when they tried to arrest his buddies. Maybe Nike should sponsor the cop who caught him instead. His dad is concerned "about (the) choices that he's been making lately. But I know he's a good and he's going to be OK. He's growing up. He's made a few mistakes. It's difficult being in the public eye sometimes and he hasn't handled it well so far.''
*Carter's Dad Concerned and Other Charges Fromer Earlier Incident Are Supposedly Going Away After Xavier Paid for the Car Repaired
*Message board thread
LetsRun.com Contest Recap: Women Dominate 2008 LetsRun.com Men's Marathon Trials Contest
8th Grader Wins Contest and 4 from Her PE Class in the Top 30
Yes, ladies and gentleman an 8th grade girl who does not even do track won our contest. It's a great story. Read up on how a letsrun.com fan, got his PE class to follow the 2008 Olympic Marathon Trails.
British Drug News:
Britain's Mark Lewis Francis Has 2 Missed Tests, Must Avoid a Third for the Next 3 Years Guardian
*MLF Says Faulty Doorbell, Laziness Were Behind His 2 Missed Tests
*With Creation of Independent Drug Agency UK Sport Has Done a 180
Running USA Looking for New CEO
According to its IRS documents (2006 here, 05 here) the job pays around $60k a year. Better yet to get a consulting job with them as they paid out around $120k in consulting fees the last two years. We're not sure what those were for or exactly what this group does, but it has some heavyweights on its Board of Directors.
Man Running Around the Perimeter of the US
LRC The Week That Was In what we hope will be a weekly take on the week that was in distance running action, LRC takes a look back at the last two weeks of action (hey it was Thanksgiving). We give big props to young upstart Sammy Wanjiru who could become the man who overcomes Kenya's failure in the Olympic marathon (Kenya has 2 medals ever in the Olympic marathon, all from Japanese based Kenyans. Guess where Wanjiru trains?) We totally break down the NCAA meet and tell you who had the best and worse days and seasons. We give out a slew of Thumbs Ups to everyone from the last-place Stony Brook women to the 3rd-place Oklahoma State men as well as a many Thumbs Downs including one to the entire Northeast Region. Josh McDougal gets official Old School Status andSammy Wanjiru is labelled a Sensation. Wanna guess how many people watched the NCAA XC meet live on the Internet? We tell you the answer. We even tell you how Rojo got a UVA runner All-American honors.
Editor's Note:Updated 9am eastern with story on Devine Racing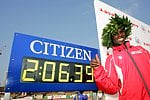 Fukuoka Marathon: Sammy Wanjiru Runs 2:06:39 for Win in Fukuoka in His Marathon Debut World half marathon record holder Wanjiru pulled away from Deriba Merga over the final 2k to get the win in the most competitive marathon ever in Japan (2 sub 2:07s, 3 sub 2:07:15). Wanjiru is barely 21 and his marathon future is bright (the marathon debut record is 2:05:50 by Evans Rutto)
*More on Race from Japan Running News Blog
*Fukouka Photos
*200+ Thread With Live Race updates and Impressions

NCAA Men: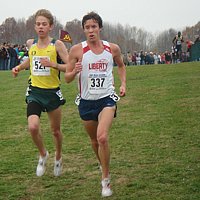 LetsRun.com Men's Recap: OREGON and McDougal
McDougal Triumphs in Great Stretch Battle over Rupp on Live TV
Josh McDougal had won everything in collegiate cross country except for the NCAA championships. That changed on Monday thanks to a thrilling victory over Galen Rupp. Rupp however got some redemption as he put a #1 on the board in team scoring, as Vin Lananna's Oregon Ducks got the NCAA team title, restoring Oregon's XC tradition much quicker than anticipated. Don't underestimate the gutsy performance of Oregon's Mercado twins. Plus we tell you who bombed at nationals, and how some big time streaks in collegiate XC could be coming to an end next year. Article edited to reflect Iona was within 20 poionts at 8k. Photo of McDougal at Finish.
*Results: Men's Team Results
*Men's Individual Results
*LetsRun.com 2007 NCAA Cross Country Men's Photo Gallery
*Video Archive of Race (Once you log in you can skip to any point in the CSTV coverage)
*Photo of the Day: Rupp Celebrates Earlier we thought it was Salazar as well but not any more.
More: Nice Recap from Terre Haute Paper: "I think we probably ran right around 14 minutes for that last 5K … that was into the wind and that's not fast conditions. It was just flat out in the last mile-and-a-half almost. That last 50 meters I almost fell over my legs were so heavy" -Josh McDougal
*Post Race Recap and Quotes from GODucks.com
*CSTV Post Race Recap
*Post Race Interviews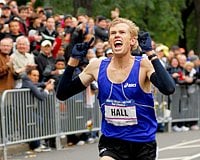 RYAN HALL 2:09:02 Ryan Hall put on one of the most impressive performances ever in American marathoning history, as he destroyed the field and coasted to victory in an incredible 2:09:04 (after a 1:06:17 1st half, yes that's a 1:02:47 2nd half on the hills of Central Park) on the very difficult NYC course. Dathan Ritzenhein ran a very impressive 2:11:07 to get 2nd while Brian Sell got the 3rd Olympic spot in 2:11:40. Former World Record holder Khalid Khannouchi ran a very gutsy race to finish 4th.
Ryan Hall is the real deal in case you didn't know. Here are his 5k splits on the very difficult NY course to prove how incredible he is at the marathon: 16:44, 15:41, 15:27, 15:12, 15:05, 14:48, 14:28. Yes that's right a 14:28 from 30 to 35k. Hall pumped his fist, pointed to the heavens, and waved to the crowd the final mile savoring the incredible run and still ran a 15 minute 5k pace for the final 7.2k (14.56 from 35 to 40k)
*Results
Race Recap From RunnersWorld's Amby Burfoot Amby did an excellent job covering the lead up to the Trials so it is fitting we link to his race article.
*NBCOlympics Recap of 2008 Olympic Marathon Trials: Triumph and Tragedy
*Quotes
*Video: Watch the on Demand (For Free, Skip to Any Crucial Point Instantaneously. Thank you NBC)
*Post Race Press Conference Videos Top 3, Meb, Culpepper, Khannouchi, Lehmkuhle
*Dathan Ritz Quotes
*Brian Sell Quotes
*Khalid Khannouchi 4th at Trials A great great run for Special K. He got 4th hobbling around the park.
*Photos Excellent ones from letsrun.com message boarders skylon
2007 ING NYC Marathon: Paula Radcliffe and Martin Lel Win With Big Finishing Kicks For the second straight day, there was thrilling action in New York's Central Park. Paula Radcliffe led for nearly 26 miles before Gete Wami took her first lead with less than a half mile to go. That move sparked an amazing finishing kick by Radcliffe who got her second NY title in her first marathon in two years. Wami gota nice consolation prize - the $500,000 world marathon majors title. In the men's race, Martin Lel outsprinted Abderrahim Goumri just as he did in London.
Video: Highlight Video from NBC Sports (3:47) NBC did a great job on its coverage this weekend. You can watch for free the entire men's trials here on demand (skipping to any point you want). If you paid $3.99 using code RUN2007 you can watch the full NYC marathon on demand.
LetsRun.com 2008 Men's Marathon Trials Preview Radio Podcast-Relive the glory of Wejo picking the top 3 in the Trials perfectly. Now available on demand to listen or download. We give you our genius opinions and break down the incredible field. And until talking to Toni and Matt we didn't realize the blowout profiles/stories/video on Chasingglory.com this week.
Ryan Hall Officially the Favorite
On the Trials preview radio podcast we first revealed the votes and Ryan Hall is the favorite followed by a close second in Abdi Abdirahman. 7 guys are clearly head and shoulders above everyone else in the voting.
More on Woodruff: 1936 800m Champ Olympian John Woodruff Dies New York Times
*More on John Woodruff from NYTimes Last Year
*More on John Woodruff from ESPN

LaSalle Bank Chicago Marathon Men
Unvelievable:
Invuti Wins Unbelievable Finish in Chicago Words don't do it justice just watch the video above.
*Chicago Tribune Recap of Ivuti's Narrow Win
It's hard for words to describe the greatest finish in (Chicago) marathon history. It came down to two time world champ Jaouad Gharib and former track/xc star Patrick Ivuti, fresh off his 59:27 half marathon. Gharib surged ahead going up a slight incline down the finishing straight. Ivuti then battled back and took the lead on the downhill. Gharib dug back and retoook the lead as they barreled towards the finish and the two guys still standing there with the finish tape which is only about 5 feet wide. Ivuti surged back right at the finish and it was too close to tell but Ivuti got the win. Hot weather took its toll on everyone.
*Video: Patrick Ivuti Talks About His Narrow Win In Chicago
Lengthy Video Interview With Gebrselassie with Sean Hartnett After His World Record Hartnett knows his stuff so we're sure this is a great interview without even watching it. Hartnett knows virtually every top runner in Kenya and Tergat turned to Hartnett for advice prior to moving to the marathon.
Victah Sailer's Berlin Marathon Photos See Geb make history.
Everyone is Running London Once Again Next Year Top marathoner in the world Martin Lel, World Champ Luke Kibet, Paul Tergat, Moroccans Abderrahim Goumri and Jaouad Gharib, and Stefano Baldini and Meb Keflezighi for good measure. There has to be someone left to run Boston but we can't think of anyone. (Oh wait Wanjiru, Ivuti, and Khannouchi)
*When Will 2 Hours Be Broken in the Marathon? London Director Dave Bedford thinks by 2030. Jos Hermens worries about the motivation of the Aficans as they get richer like the Europeans.
Paula Radcliffe Going to Heat Acclimization Camp in S. Africa in January
Matthew Turnbull Hired to Be New Elite Athlete Coordinator for Elite Racing Before this he did the the BUPA, Great North, Great South, etc races. Those races always seem to have great fields.
London Grand Prix Becoming 2 Day Meet It's a great meet and if any meet is worthy of 2 days this one is.
On the boards Olympic Trials Hotel Prices: Super 8 $259.99 How the hell can Eugene not have enough room for 15,000 spectators?
Christine Ohuruogu Only Got .7% of the Votes for British Athlete of the Year We're really not surprised. A gold in an event without the 2 best runners isn't that impressive.
Drug News: Victor Conte to Meet With Dick Pound in NY Today Supposedly he's going to name names.
*IOC Delays Decision on Awarding Marion Jones' Medals
John Steffensen in Trouble in Australia for Verbal Tirade Against Olympic Gold Medallist in Heptathlon Glynis Nunn-Cearns He's upset he wasn't preselected to the Olympic team and has to run race this winter.
*Australian Track Great Raelene Boyle Calls a "Fool"
More Australian News: Is Distance Running an African Affair? theage.com.au With quotes from Wejo. The Aussies are impressed at American's newfound success.
Footlocker XC
Girls: 2007 Footlocker Girl Recap: Ashley Brasovan Wins
Brasovan the LetsRun.com darkhorse pick for the meet came out on top as she stayed off of the suicidal opening pace set by Jordan Hasay and rallied for the win over the final mile. Next year, the past 3 champs will all be back to race one another for supremacy.
*Results
*Foot Locker 2007 Webcast Archive
*2007 Foot Locker Girls Race Photos
*Photos of All 40 Footlocker Girls
*More Post Race Coverage: Dyestat, Milesplit

Honolulu: Ambesse Tolossa Wins Honolulu Again Over Jimmy Muindi, Alvetina Biktimirova Wins Women's Muindi vomited over the final miles.
European XCs: Sergey Lebid Gets His 7th European Cross Country Title
*Spain's Marta Dominguez Gets European XC Crown Before Home Crowd
*Stephanie Twell Repeats at European Juniors
*2007 European XC Women's Results
*2007 European XC Men's Results
*More European XC Results Stephanie Twell repeated in the junior women's race.
PreRace Footlockers:
*2007 LetsRun.com Footlocker Girls' Cross Country Preview: A Battle for the Ages?
The last two champs Kathy Kroeger and Jordan Hasay are going head to head but the favorite is Ohio's Claire Durkin who has dominated this year. Durkin won the Midwesst Region by 42 seconds.
LetsRun.com Footlocker Poll Predictions You all are ignoring Durkin and all picking Hasay.
2007 LetsRun.com Footlocker Boys' Preview Can Chris Derrick stop the German Fernandez juggernaut? We break down the boys race.
*Lengthy Profile on German Fernandez Modesto Bee
*Claire Durkin Nervous Before Nationals
Great News: Footlocker's Not Going Anywhere
*Move Coverage Milesplit.us, Dyestat
Psycho Rich Con Artist College Student Captivating Philly Claimed She Was a 2004 Olympic Pole Vaulter
*More: More on Bonnie and Clyde Con Artists
Good Read: The Mind May Be Your Biggest Obstacle to Running Fast If you're interested in a book on the mental side of running, Wejo higly recommends Running Within. New York Times
British Olympic Trials to be July 11th in Birmingham They are behind the game as USATF has already announced the standards for the 2012 Olympic Men's Marathon Trials (without a lot of consulation we must ad)
Saif Saaeed Shaheen, Isinbayeva Have Some Impressive Undefeated Streaks Heading Into 2008 IAAF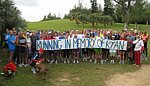 Ryan Shay Run in Bermuda a Huge Success
Organizers Ashley Couper Estwanik and Chris Estwanik were expecting a handful of people, but instead hundreds showed up.
UK Doping News: Paula a Bit Disappointed Christine Ohuruogu Didn't Do More to Get to Her 2nd Missed Test
*UK May Get an Independent Drug Agency
Cuban Hurdling Star Dayron Robles Only 21
Nike Trying to Buy Adidas (and Reebok)? That's the rumor, but that doesn' t seem to make sense as somehow Asics is in the talks as well and Asics has a market cap of $3 billion, 5 times smaller than Adidas (which owns Reebok) and 10 times smaller than Nike. Nike's purchase of Adidas would face a lot of antitrust scrutiny.
Head of UK Athletics Says Bad Press for Ohuruogu Was Her Own Fault
Brooks #1 in Specialty Running

Nike Team Nationals
Chris Derrick Wins & Leads Team To 2 Point Win - Fayetteville Manlius Repeats On Girls Side The power of letsrun.com was on full display as letsrun.com fan Derrick got the individual and team title by handing Footlocker South champ Colby Lowe his first loss of the year. The FM girls, who are located less than an hour from LRC headquarters, repeated. Coincidence? We think not.
*Rewatch the Races on Dyestat
*Runnerspace.com the newest running social network site has a lot of Videos
*More Coverage from MileSplit.Us
Footlocker CC Road Race West Regionals
*German Fernandez Wins as Jordan Hasay 3-Peats Fernandez followed up his unreal performance from states last week to make a statement that he may will be tough to beat next week.. The race was run on a road course due to rain. Funny we thought that running in all conditions and all terrain was the definition of xc.
Dreams Become Reality
"Now, when I watch the final mile of the race part of me gets embarrassed at my enthusiasm as it is very uncharacteristic of my nature, but part of me remembers what I was feeling when I was out there. After years of struggle I was realizing my dream. It was overcoming all the hard times that made that moment so sweet and sharing it with my friends, family; and teammates made it even sweeter. I will never forget running through Central Park that fall morning, running through my sanctuary."
-Ryan Hall talking about his stunning run at the 2008 Olympic Marathon Trials. To watch it again click here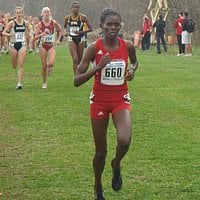 NCAA Women:
LetsRun.com Women's Recap: Stanford Three peats, Kipyego Dominates Sally Kipyego showed she is still head and shoulders ahead of the competition and Stanford showed there was a reason they were #1 in the country all year. Plus we take a look at next year's NCAAs. The Pac10 is so tough Stanford could go from three peating at nationals to 4th in their conference.
*Results:
*Women's Team Results
*Women's Individual Results
*LetsRun.com 2007 NCAA Cross Country Women's Photo Gallery
More: Sally Kipyego Cruises to Another NCAA XC Crown www.tribstar.com
*The Oregon Women Hadn't Made NCAAs Since 2000 and They Leave the NCAA Runnerups www.oregonlive.com
Olympic Champ Noguchi Wins Tokyo Marathon in 2:21:37 She booked her ticket to Bejing with the win.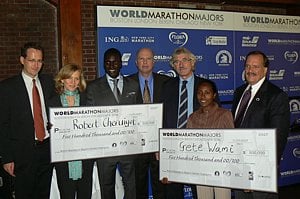 Robert Cheruiyot and Gete Wami Honored With Inaugural World Marathon Majors Titles and Their $500,000 Checks in NYC Both athletes were very humble as they accepted their prizes and were already focused on the future instead of spending their paydays. Cheruiyot is the greatest rags to riches story in sport. Text, photos and video.
*NY Times Article on World Marathon Majors Awarding $500,000 to Cheruiyot and Wami
*London Director Dave Bedford Expects World Marathon Majors to Raise Purse
Pre Race NYC/Trials News:
Friday: Paula Stronger Than Ever? Paula Radcliffe blew into the press area in advance of Hurricane Noel on Friday and she got the star treatment. Paula indicated that her pregnancy has left her stronger than in the past. That's a scary thought. LetsRun.com story above with photos/video of the press conference.
More Paula:
*Philip Hersh Profile in LA Times
*British Article on Comeback
*Brendan Foster: Paula is Britain's Best Hope for Gold in 2008
Thursday: US Men Ready to Rumble
Abdi and Hall the Favorites
Thursday the majority of the favorites for the US Olympic Trials addressed the media (Brian Sell, Dathan Ritzenhein, Alan Culpepper, Ryan Hall, and Abdi Abdirahman).Sell and Hall looked nervous for sure but that all means nothing on Saturday. It is almost time to forget about the hype and let them lace them up and take to the streets of NYC in the most anticipated Olympic Marathon Trials in ages. The media was out in full force on Thursday and the US stars are getting a lot of press, although not much of note was said.
Hall: Ryan Hall Profile in LA Times: "A silver medal trumps a 2:08" Latimes.com
*Full Video of Press Conference With Amerian Men and International Men
Wednesday: 2008 NYC Media Day 2 (Wednesday): Jelena Prokopcuka, Wami Battling for Half a Million $$$$
American Darkhorses: Jason Hartmann, Clint Verran and Ryan Shay Address the Media, Pete Gilmore Sick LetsRun.com recaps Wednesday's Media news. Text, photos, video.
Tuesday at the Trials: Khannouchi, Meb Ready to Go A candid Khalid Khannouchi addressed the media along with Meb Keflezighi. Khannouchi took on a wide range of issues (the fall trials date, the 1 shot American system, and Haile Gebrselassie's new world record in the marathon) as arguably the greatest marathoner of all time tries to make the Olympics for the first time. Both Khalid and Meb say they're training has been good of late.
*Video of Press Conferences
Spira CEO Writes an Open Letter to Letsrun.com Readers You know the company that is dependent on USATF "banning" it's shoes.
*LetsRun.com Readers Respond With an Open Letter to the Spira CEO
LaSalle Bank Chicago Marathon Women
Unbelievable
Adriana Pirtea Blows It
Just watch the video above. Shorter video here if you're impatient
*Chicago Tribune Recap of Ivuti's Narrow Win
Adriana Pirtrea, a runner basically no one has heard of (including ourselves) (she did finish 2nd at an NCAA indoors once), was on her way to winning the Chicago Marathon. She had been clear of Berhane Adere for miles. Pirtrea, as she took the final turn, was high fiving the crowd. She had a 15 second lead with 58 seconds of runing left. Little did she know that Adere had overcome whatever problems she had had and was quickly making up ground. Pirtrea never looked back and was strolling into the finish thinking about her career changing win. Meanwhile, Adere was in an all out sprint on the other side of the road. She flew by Pirtrea and Pirtrea had no chance to respond. A truly incredible turn of events as Adere made up a 15 second deficent in 47 seconds. Watch it to believe it.
*Former Yalie Kate O'Neill 3rd in Her Debut
*Wheelchair Race Decided by 1 Second All the races in Chicago were close.
AL OERTER 1936-2007 The death of this legend basically is being ignored in the US but thankfully the NYTimes gave him the homage he was due in this tremendous article by Frank Litsky on Oerter. And we like Oerter's anti drug stance and honesty (admitting to trying roids in 1976). When he quit competitive throwing he said, "The drug culture had taken over."
*Daily Telegraph in Britain Remembers Al Oerter
*Kansas City Star Remembers Al Oerter
*More Oerter: *Message Board Thread
*More on Oerter from Florida Paper
*Article on Oerter and His Painting: "I know this won't sound right but painting is the same dadgum thing I found in training for the Games"
LetsRun.com 2007 World's Coverage:
*Sunday Homepage Ndereba marathon
*Saturday Homepage
*Friday Homepage Tyson Gay
*Thursday Homepage Lagat
*Wednesday's Homepage Lagat
*Tuesday's Homepage Bekele 10k
*Monday's Homepage Tyson Gay
*Sunday's Homepage Dibaba/Goucher 10k
*Saturday's Homepage Kibet Marathon