NCAAs are Monday:
*NCAA Men's Preview from CSTV Lananna Expects High Scoring Meet, Lomong Says Rupp Better Run Away from Him Early
*NCAA Women's Preview: Stanford and Sally Kipyego Expected to Dominate
LetsRun.com NCAA XC Prediction Polls Lopez Lomong has narrowed Galen Rupp's lead.
(The race will be on live TV on CSTV for the first time ever (most cable networks can receive it ). It will also be streamed live on the internet)
*LetsRun.com World Famous Prediciton Contest: Who Will Win NCAAs?
Give us your top 10 individuals and/or teams as part of our prediction contest. Winners get RoadrunnerSports gift certificates. (scoring system here). Note: Bri Felnagle has been added as one of the women's options. We left her off by mistake orginally but now she is on there and "other" will not count for her.
*Iowa's Diane Nukuri Survived Death Squads in Burundi, Made the Olympics as a Teenager in 2000, And Now is One of the Favorites at Nationals An inspiring story. Probably a quote of the day in here somewhere but she got bumped because of Bonds.
More Drugs, Drugs, Drugs
British Doping Expert Says New HGH Test Is A Joke and HGH Will Be Used With 'Impunity' In Beijing Perhaps even more alarming is a new stat that estimates between 38 and 63% of German track athletes are dopers. Even more bad news, "The estimates are that most athletes think at least half their colleagues are doping."
Dick Pound Asks For Marion Jones Tests To Be Audited Former WADA head Dick Pound had a great quote "It is not much fun to find that someone who has been tested 160 times admits to doping,"

More NCAAs
*Wisconsin's Streak of 5 Straight Years of 1st or 2nd at Nationals is On the Line This Year Super, super impressive (but also full of heart break as they only got 1 title out of 5) So impressive we didn't even believe it at first. So we looked up the 2003 results. And everyone take a moment to remember this: the 2003 Stanford men scored 24 Points at Nationals!! Sick.
*West Region Champ Teresa McWalters Riding High as Stanford Goes for 3peat at Nationals
*Former High School Star Mel Lawrence Has Adapted Well to NCAA Ranks Her Freshman Year at Washington
*Colorado Men Ran Controlled but Got Regional Win The women had to get an at large bid.
*Paul Ereng Pleased With UTEP's Performance at Regionals
*Eric Heins Talks About His First Year as NAU Coach
*LetsRun.com's Rojo Pleased With His Senior Class at Cornell He'll have Sage Canaday who also made the Olympic Marathon Trials at nationals.
Previous: Mike Scott Analyzes the Women's NCAA XC Nationals
Message board thread on women's predictions here.
*Final NCAA Rankings Announced The rankings are meaningless as everyone starts with a clean slate on Monday.
Podcast: Jason Lehmkuhl He talks about his breakthrough at the Trials and running with a heart murmur.
Welsh Athletics Celebrates 100 Years by Creating Hall of Fame and Inducting Steve Jones and Colin Jackson Among Others BBC
World Youth 100m Champ Asha Philip From Britain Blows Out Her Knee at World Trampoline Champs
Elite Racing to Put on Rock N Roll Marathon in San Antonio They've shown they know how to put on world class races. Especially in big cities that haven't had big marathons in the past.
Official IAAF XC Season Gets Underway This Weekend in Portugal
Weekend Action:
Kenya: Moses Kigen Runs 56:14 (Equal to a 59:20 Half Marathon) at 5900 Feet in Kenya That is an incredible time at 6000 feet.
More Kenya: Edwin Soi, World Athletics Final 3k and 5k Champ, Back Running Strong as He Gets Athletics Kenya XC Win Soi seems to have the potential to be the next Kenyan great. IAAF
Portugal: Portuguese XC Race Recap: Former European XC Champ Paulo Guerra Runs Well
Kenenisa Bekele to Marry a Movie Star in Ethiopia
Craig Masback Says Preparations for Track Trials Are Going Great Registerguard.com
Seb Coe Says Give Serious Consideration to Paula Radcliffe for BBC Athlete of the Year in Britain
Association of International Marathons Celebrates Its 25th Anniversary IAAF
Kenyans Janeth Jepkosgei and Samuel Wanjiru Up for 2007 Performances of the Year by IAAF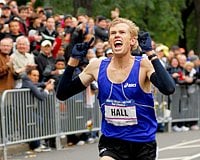 RYAN HALL 2:09:02 Ryan Hall put on one of the most impressive performances ever in American marathoning history, as he destroyed the field and coasted to victory in an incredible 2:09:04 (after a 1:06:17 1st half, yes that's a 1:02:47 2nd half on the hills of Central Park) on the very difficult NYC course. Dathan Ritzenhein ran a very impressive 2:11:07 to get 2nd while Brian Sell got the 3rd Olympic spot in 2:11:40. Former World Record holder Khalid Khannouchi ran a very gutsy race to finish 4th.
Ryan Hall is the real deal in case you didn't know. Here are his 5k splits on the very difficult NY course to prove how incredible he is at the marathon: 16:44, 15:41, 15:27, 15:12, 15:05, 14:48, 14:28. Yes that's right a 14:28 from 30 to 35k. Hall pumped his fist, pointed to the heavens, and waved to the crowd the final mile savoring the incredible run and still ran a 15 minute 5k pace for the final 7.2k (14.56 from 35 to 40k)
*Results
Race Recap From RunnersWorld's Amby Burfoot Amby did an excellent job covering the lead up to the Trials so it is fitting we link to his race article.
*NBCOlympics Recap of 2008 Olympic Marathon Trials: Triumph and Tragedy
*Quotes
*Video: Watch the on Demand (For Free, Skip to Any Crucial Point Instantaneously. Thank you NBC)
*Post Race Press Conference Videos Top 3, Meb, Culpepper, Khannouchi, Lehmkuhle
*Dathan Ritz Quotes
*Brian Sell Quotes
*Khalid Khannouchi 4th at Trials A great great run for Special K. He got 4th hobbling around the park.
*Photos Excellent ones from letsrun.com message boarders skylon
2007 ING NYC Marathon: Paula Radcliffe and Martin Lel Win With Big Finishing Kicks For the second straight day, there was thrilling action in New York's Central Park. Paula Radcliffe led for nearly 26 miles before Gete Wami took her first lead with less than a half mile to go. That move sparked an amazing finishing kick by Radcliffe who got her second NY title in her first marathon in two years. Wami gota nice consolation prize - the $500,000 world marathon majors title. In the men's race, Martin Lel outsprinted Abderrahim Goumri just as he did in London.
Video: Highlight Video from NBC Sports (3:47) NBC did a great job on its coverage this weekend. You can watch for free the entire men's trials here on demand (skipping to any point you want). If you paid $3.99 using code RUN2007 you can watch the full NYC marathon on demand.
Non NY News:
Seoul: Joshua Chelenga Wins in Seoul in 2:08, Women's Course Record Set of 2:29 IAAF
Athens: Athens Marathon Course Records Finally Broken IAAF
Soweto: Soweto Marathon Recap
More New York:
*Text of All Official Olympic Trials Post Race Interviews
*Text of All NYC Post Race Press Conferences
*Video of Press Conferences Here (Trials) and Here for NYC Lance Armstrong even speaks.
Woman with MS, Zoe Koplowitz, Finishes NYC Marathon Nearly 29 Hours After She Started
Previous NYC News:
*Radcliffe Shrugs Off Pregnant Pause & Wins NYC Paula showed that post-pregnancy she is still the world's finest marathoner as she unleased an amazing finishing sprint to beat her old track rival Wami . Wami had taken the lead from Radcliffe after Paula led for theentire race up to that point. Paula put 23 seconds on Wami over the final 600 or so. Paula: "My legs got tired and when she came alongside me I thought this was not happening to me again. I've had years and years of her outsprinting me on the track and I thought she's not going to do it in a marathon."
*Paua Rembered World XC Win in Ostend During Finishing Sprint. In Ostend, Wami kicked a bit prematurely.
*Wami's 2nd Marathon In 35 Days Results In Big $500,000 Payday 2nd was good enough to giver her the world marathon majors title.

NYTimes Recap of Women's Race: On Familiar Turf, Radcliffe Shakes Off Old Rival
NYTimes Recap of Men's Race: London Sequel Has Same Ending For Lel
*Ramaala Settles For 3rd As Wheelchair Athlete van Dyk Is Forced To Withdraw After South African Air Loses His Wheelchair (For The 2nd Time)
Katie Holmes Completes NY Marathon 5.5 hours.
Details on Paula Radcliffe Training Extensively During Her Pregnancy New York Times
*Jelena Prokopcuka Going for 3 Peat New York Times
LetsRun.com 2008 Men's Marathon Trials Preview Radio Podcast-Relive the glory of Wejo picking the top 3 in the Trials perfectly. Now available on demand to listen or download. We give you our genius opinions and break down the incredible field. And until talking to Toni and Matt we didn't realize the blowout profiles/stories/video on Chasingglory.com this week.
Ryan Hall Officially the Favorite
On the Trials preview radio podcast we first revealed the votes and Ryan Hall is the favorite followed by a close second in Abdi Abdirahman. 7 guys are clearly head and shoulders above everyone else in the voting.
More on Woodruff: 1936 800m Champ Olympian John Woodruff Dies New York Times
*More on John Woodruff from NYTimes Last Year
*More on John Woodruff from ESPN
$100,000 LetsRun.com Marathon Trials Prediction Contest Get your picks in. Who will come out on top: Meb, Abdi, Hall, Ritz, Alan, or Sell? Want to win $100,000? Just predict the top 10 perfectly and be the only one to do so.
IOC Head Jacques Rogge Undecided if Thanou Should Get Marion Jones' Gold

Human Interest Trials Stories Below- (Race Stories To The Right)
Maybe there is hope for Rojo in 2012
39 Yr Old Cecil Franke Excited To Compete In First Trials - The former Ball St. star rises each morning at 4:45 am to train prior to going to his job as a teacher and coach at a HS.
*Star Tribune Looks At Jason Lehmkuhle and Chris Lundstrom
*Nick Schuetze Ready For 1st Trials - The 25 yr old UPortland Grad Ran 2:16 at the downhill St. George Marathon
*New York Times Profile on Lost Boy from Sudan Olympic Trials Marathon Runner Macharia Yuot New York Times
ChasingKimbia.Com: Fasil Ready For Trials The most recent blog update includes a great quote from Kenyan marathoner Stephen Baba Kiogora who says when asked if he really wants to beat Ethiopians when he's racing: "Matt, everyone wants to win. Even me, if I was racing against my father, my brother, and my son, I want to beat them. But they are not my enemy."
Even The New York Times Is Catching On To The Fact That Baseball's Drug Testing Program Is A Joke Baseball teams often are tipped off two days prior to the tests that a random, unannounced test is coming.
IAAF To Issue New Rules Concerning Youths Changing Countries It's expected the new rules will help the Kenyans keep some athletes being bought by Qatar/Bahrain.
Runnersworld Says Ryan Hall is the Favorite for the Trials
Russians Aleksey Sokolov and Alina Ivanova Repeat at Dublin Marathon in 2:09 and 2:29 The last Monday in October is a holiday in Ireland.
Chariots of Fire Record at Cambridge Broken The only 2 other guys to do it under the allowed time are Olympic gold medallists including Seb Coe.
World 400m Champ Christine Ohuruogu Gets Private Hearing at Her Request to be Allowed to Compete at Beijing Olympics Guardian
Weekend Road Action:
Frankfurt: Wilfred Kigen Threepeats at Frankfurt Marathon (Gets $64,000) Olympic steeple champ Wilson Boit Kipketer runs 2:13 PR, Dieter Baumann runs 2:30 IAAF
DC: Former Footlocker Champ Kristen Henehan (Gordon) Wins Marine Corps Marathon
*Ruben Garcia Fails to Threepeat at Marine Corps Marathon as Tamrat Ayalew Wins
*Former Brooks Hansons Runner Carl Rundell Gave Up Opportunity to Run Olympic Trials to Run Marine Corps Marathon
The Washington Post now has streaming video of the finish by time at the Marine Corps Marathon.
Nairobi: Rose Chesire Jepkosgei and John Njoroge Win Standard Chartered Nairobi Marathon and $20,000+ The Nairobi Marathon often is a true rags to riches story. Jepkosgei had trouble coming up with the $20 bus fare to the race.
Britain: World Champ Luke Kibet, Rose Cheruiyot Wins Great South 10 Miler
New Delhi: Ethiopia's Derebe Alemu , Rwanda's Dieudonne Disi Win New Delhi Half Marahton and $20,000 Each IAAF
Venice: Jonathan Kipkorir Kosgei and Lenah Cheruiyot Do Something That is Very Hard, Get Repeat Victories at Venice Maratohn (2:12 and 2:27) IAAF
Drugs:WADA Head Dick Pound Defends Elka Graham She's the swimmer who said she was offered drugs by another swimmer but has refused to give the name.
*Some Fellow Swimmers Defending Elka Graham for Not Naming Names
Ridiculous: Roy Martin, Arrested, Sent to Jail for Buying a $1 Xanax and Attempting to Stop Drug Problem at His School Article and brief video. For those of us from Dallas, Martin is a legend. He ran 20.13 for 200 in high school.
*Roy Martin Podcast We haven't had time to listen to it but the finalsprint tracked him down.
LaSalle Bank Chicago Marathon Men
Unvelievable:
Invuti Wins Unbelievable Finish in Chicago Words don't do it justice just watch the video above.
*Chicago Tribune Recap of Ivuti's Narrow Win
It's hard for words to describe the greatest finish in (Chicago) marathon history. It came down to two time world champ Jaouad Gharib and former track/xc star Patrick Ivuti, fresh off his 59:27 half marathon. Gharib surged ahead going up a slight incline down the finishing straight. Ivuti then battled back and took the lead on the downhill. Gharib dug back and retoook the lead as they barreled towards the finish and the two guys still standing there with the finish tape which is only about 5 feet wide. Ivuti surged back right at the finish and it was too close to tell but Ivuti got the win. Hot weather took its toll on everyone.
*Video: Patrick Ivuti Talks About His Narrow Win In Chicago
London Champ Martin Lel, London Runner Up Goumri To Race at 2007 ING NYC Marathon Remember the days when NY was 2nd class to Chicago?
*Video: Watch the Incredible Sprint Finish in London this Year (Final Quarter Mile of arguably the greatest men's marathon ever)
Post of the Week on the Message Board A guy wrote in talking about possibly passing out at the Chicago Marathon because of low blood pressure in the heat and then the author of the scienceofsports blog came onboard and helped explain the situation. Interesting Read.
Lengthy Video Interview With Gebrselassie with Sean Hartnett After His World Record Hartnett knows his stuff so we're sure this is a great interview without even watching it. Hartnett knows virtually every top runner in Kenya and Tergat turned to Hartnett for advice prior to moving to the marathon.
Victah Sailer's Berlin Marathon Photos See Geb make history.
Olympic Champ Noguchi Wins Tokyo Marathon in 2:21:37 She booked her ticket to Bejing with the win.
Drug News:
Drug Cheat Sureyya Ayhan Fails Another Dope Test Could Get Lifetime Bans
WADA Convention: WADA Code Change Says Athletes in Some Circumstances Will Get 4 Year Bans
*Australian John Fahey Elected New Head of WADA
*WADA Does Not Adapt 1 Hour Guideline for Unnanounced Testing Britain wanted athletes to say where they will be 1 hour each day for unannounced testing. In other countries like the US, athletes tell the testers where they will be all day and the testers try and show up at any time unnanounced.
*Dick Pound Wants an Audit to Be Done to Figure Out Why Admitted Doper Marion Jones Passed 160 Doping Tests It's pretty simple. The tests aren't very good at detecting what athletes actually use yet WADA wants to pretend its effective.
*Endocrinologist Says HGH Test is Ineffective
WADA Running Low on Cash Thanks to Strength of Canadian Dollar
On the boards: Who would be the National Champion if NCAA Coaches Raced?
*Which coach would you want as your wingman Saturday night in Terre Haute
Just Wait Until The Drug Scandal Hits The NFL
American Baseball Star Barry Bonds Indicted The slugger has been accused of lying when he says he didn't know he took drugs. His trainer has been released from prison after 13 months behind bars for not cooperating. Indictment (PDF)
Jay Mariotti Column Bonds Busted: A Day To Celebrate
Great Match Up in Japan This Weekend:
Olympic Champ Noguchi vs Former Japanese Record Holder Shibui at Tokyo Women's Marathon LetsRun.com reader Brett Larner has written an incredible preview of this weekend's race and the Japanese qualifying systme.
*Olympic Champ Noguchi Ready to Qualify for Olympics Again at This Weekend's Tokyo Marathon
Previous: 2004 Olympic Champ Mizuki Noguchi Back from Altitude Training for Matchup Vs Japanese Record Holder Yoko Shibui in Next Week's Tokyo Marathon
More Japanes News: Next Week's Chiba Ekiden to Be Coed for First Time
*More on Wanjiru's Marathon Debut Next Month in Fukuoka

Haile G's Greatness About To Get A Bit Greater It appears that the GOA (greatest of all time) is going to be the first marathoner in 48 years to have run the fasetest marathon time in a given year for 3 straight years.
Pro Cross Country Season Gets Going This Weekend At IAAF Meeting In Oeiras, Portugal A nice field has been assembled
Martin Lel and Robert Cheruyiout Want To Run Olympic Marathon Kenya would be stupid to leave the London and NYC champ Lel off as well as World Marathon majors champ Cheruiyot as in our minds they are the top 2 marathoners in the world currently (sorry Haile).

In Case You Missed Our Update Yesterday:
Not All Is Good on the Anti-Doping Fight: "Leading anti-doping authorities are convinced that an investigation-oriented approach is more effective than drug tests" Washington Post How about actually spending money to develop better tests or at least trying to spend serious money on the tests. Professional sports in the US get billions in subsidies every year yet we toss a few million to anti doping research and act like we're combating the problem.
One We Missed from Last Month WADA Vice President: "WADA has taken a step backwards, we've gone back ten years."
*Athlete Passports May Be Best Anti Doping Tool USA Today
*A Secret Push by Europeans May Be Held to Prevent Australian John Fahey From Becoming WADA Head
Because of Error With Chip Timing, State High School Title Changes Hands in Texas 2 Days After the Fact The officials should be embarrassed for not fixing the problem right away. Chips do not replace good old scoring by hand if the meet is anywhere close.
More HS News: Police Probing Whether Spectator Through Sand in Face of Runner at New England Championships
Australia: Super Impressive: 17 Year Old in Australia Run 8:01 3k to Break Craig Mottram Junior Record
Runners in Iten Are Being Accused of Impregnating Young Girls and Town Wants to Kick Some of them Out As Wejo pointed out in his highly praised recap of his trip to Kenya, tiny Iten is full of runners.
More Kenyan News: Robert Cheruiyot is Now Focused on Olympic Gold in Marathon
Special 10 Euro Coin to Be Made for 2009 Worlds in Berlin
NCAA News: John McDonnell Pleased With His Arkansas Team, Says it Reminds Him of 2000 National Championship Team
*Rupp Dominated West Region Registerguard.com
On the boards: What happened to Jess Baumgartner? Remember the guy who finished 3rd at NCAAs last year out of nowhere as a junior.
*NCAA Cross Country - Build Your Case Here For Which Team You Think Can Win It
Great Matchup at Fukuoka Tergat vs Wanjiru The former world record holder Tergat will take on the world half marathon record holder Wanjiru in his debut, plus Japanese stars Takaoka and Fujita. From what wise old people tell us, Fukuoka was once the greatest marathon in the world.
Gouchers Update: Adam Has Foot Surgery, Kara to Focus on 10k Next Year
NCAA At Large Selections
Syracuse was th last team left out on the men's side.
Drug News WADA Conference This Week in Madrid:
*Australia's John Fahey Will Replace Dick Pound as WADA Head (He's the Only Candidate Left)
*Drug Bans Could be Lengthened to 4 Years from 2 at This Week's WADA Conference in Madrid
*Making Enemies Was Part of Dick Pound's Job as WADA Head
*Top Agents Say They Won't Represent Athletes Who Get 2 Year Drug Bans
NCAA Regionals:All Regional Results Here
*Who Is Getting In At Large? Looks like it comes down to Syracuse or Indiana.
Mountain: Colorado over NAU and UTEP (Lopez Lomong Wins Individual) Don't tell us you're surprised
*Colorado State Women Win, Colorado Only 4th That is surprising
Great Lakes: Men's Results: Michigan Beats Wisconsin (Technically They Tied)
*Women: Michigan State Wins
Midwest Women Team Results: Minnesota Women Win
*Diane Nukuri Dominates Individuals
Mid Athlantic: Georgetown Men Win Mid Atlantic Nova gets the 2nd auto as Princeton suffers heartbreak again as for 2nd time in 3 years they are left out of big dance by less than 5 points.
*Princeton Women Win Mid Atlantic
NorthEast: StonyBrook Women Make It We're surprised. Not sure if we should be.
*Men: Iona and Providence Congrats to Rojo's Sage Canaday, the youngest runner at last weeks Olympic Marathon Tirals for qualifying for the Big Dance.
South Region: Men Alabama Rebounds As FSU Trounces Florida
Women FSU And Georgia Get Auto
South Cetnral: Men Same Old Same Old This region is a good example of why there needs to be a superregional as all regions are by no means equal
Women: Rice Women Win as Arkansas Edge Baylor
SouthEast Region: Duke Women Rise to Occasion To Nab 2nd Their season had been disappointing up until Saturday
Men: NCStated Edges Louisivlle By 1 As W&Mary and UVA Also Advance
West: Oregon Men Win Nation's Most Competitive Region Question is how many teams will get in?
Women: Stanford Women Roll and Look To Be Team To Beat At NCAAs 33 points is fantastic
Glasgow Gets 2014 Commonealth Games They beat out Abuja Nigeria.
IAAF Top 50 Lists for 2007 Announced IAAF
Hayley Yelling Running Gateshead's Riverside Bowlon XC Saturday
Isinbayeva Honored by Zurich Golden League
Lornah Kiplagat to Run Standard Chartered Dubai Marathon Perhaps this race can replace Berlin as a World Marathon Major (although JasoninAsia points out Berlin has a beautiful course and tens of thousands of spectators). It already has the biggest prize purse in the marathoning world and Haile Gebrselassie.
*Amsterdam the Fastest Marathon in 2007 And while we think Berlin is the weakest of the majors it does have the fastest 10 times in the world all-time. (Plus we actually have the right Khannouchi video where he talks about Berlin and Geb's record)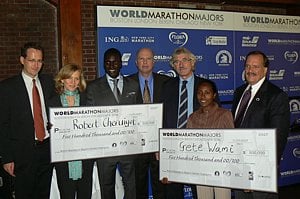 Robert Cheruiyot and Gete Wami Honored With Inaugural World Marathon Majors Titles and Their $500,000 Checks in NYC Both athletes were very humble as they accepted their prizes and were already focused on the future instead of spending their paydays. Cheruiyot is the greatest rags to riches story in sport. Text, photos and video.
*NY Times Article on World Marathon Majors Awarding $500,000 to Cheruiyot and Wami
*London Director Dave Bedford Expects World Marathon Majors to Raise Purse
Post NYC News:
*Paula Radcliffe Turns Attention to Beijing and Will Do Some Things Differently This Time Times of London
*Radcliffe Hoping to Compete at London Olympics at Age 38 in 2012 BBC
*Seb Coe Praises Paula Radcliffe BBC
*Steve Cram Full of Praise for Paula
*Paula Radcliffe Interview With BBC BBC

(Most of Our NY News is Above and to the Left)
Pre Race NYC/Trials News:

Her Mom Runs 2:15
and Her Dad 3:34


Friday: Paula Stronger Than Ever? Paula Radcliffe blew into the press area in advance of Hurricane Noel on Friday and she got the star treatment. Paula indicated that her pregnancy has left her stronger than in the past. That's a scary thought. LetsRun.com story above with photos/video of the press conference.
More Paula:
*Philip Hersh Profile in LA Times
*British Article on Comeback
*Brendan Foster: Paula is Britain's Best Hope for Gold in 2008
Thursday: US Men Ready to Rumble
Abdi and Hall the Favorites
Thursday the majority of the favorites for the US Olympic Trials addressed the media (Brian Sell, Dathan Ritzenhein, Alan Culpepper, Ryan Hall, and Abdi Abdirahman).Sell and Hall looked nervous for sure but that all means nothing on Saturday. It is almost time to forget about the hype and let them lace them up and take to the streets of NYC in the most anticipated Olympic Marathon Trials in ages. The media was out in full force on Thursday and the US stars are getting a lot of press, although not much of note was said.
Hall: Ryan Hall Profile in LA Times: "A silver medal trumps a 2:08" Latimes.com
*Full Video of Press Conference With Amerian Men and International Men
Wednesday: 2008 NYC Media Day 2 (Wednesday): Jelena Prokopcuka, Wami Battling for Half a Million $$$$
American Darkhorses: Jason Hartmann, Clint Verran and Ryan Shay Address the Media, Pete Gilmore Sick LetsRun.com recaps Wednesday's Media news. Text, photos, video.
Tuesday at the Trials: Khannouchi, Meb Ready to Go A candid Khalid Khannouchi addressed the media along with Meb Keflezighi. Khannouchi took on a wide range of issues (the fall trials date, the 1 shot American system, and Haile Gebrselassie's new world record in the marathon) as arguably the greatest marathoner of all time tries to make the Olympics for the first time. Both Khalid and Meb say they're training has been good of late.
*Video of Press Conferences

Spira CEO Writes an Open Letter to Letsrun.com Readers You know the company that is dependent on USATF "banning" it's shoes.
*LetsRun.com Readers Respond With an Open Letter to the Spira CEO

Gebrselassie Talks About Running First 10 Miles of Detroit Free Press Marathon into Canada "This one, one day, I believe can become big like Chicago, New York and Boston"

Scott Bauh, DII Star, Turning Heads With his 1:03:04 Half Marathon Clearly he looks like the real deal.

Let the Hoopla Begin: LetsRun.com
Thousands of Spectators, The Greatest American Field Ever Assembled, and Much More: America's Top Coaches Brad Hudson, Keith Hanson, and Terrence Mahon Talk About the 2008 Olympic Marathon Trials
Hudson's Athletes Doing "Much, Much, Much Harder" Training
Teleconferences are usually pretty boring but since the greatest American field ever is assembling in New York in two weeks we've broken down for you the highlights of what America's top coaches are saying about the Olympic Marathon Trials and their athletes' preparations. Learn how Brad Hudson's athletes have done "much, much, much harder" training for this marathon than anything else, learn about Brian Sell's 150+ mile weeks, predictions of hundreds of thousands of spectators, how USATF was "inept" at developing marathoners, and much more including Jason Lehmkuhle no longer being a darkhorse candidate at the Trials.
*Audio Highlights and Full Teleconference If You're Into That
On the boards: Is this the greatest collection of American distance talent ever in one race?
More Marathon News:
*Meb Keflezighi Celebrating 20 Years in America
*Dathan Ritzenhein Interview
*Ryan Hall Interview

LaSalle Bank Chicago Marathon Women
Unbelievable
Adriana Pirtea Blows It
Just watch the video above. Shorter video here if you're impatient
*Chicago Tribune Recap of Ivuti's Narrow Win
Adriana Pirtrea, a runner basically no one has heard of (including ourselves) (she did finish 2nd at an NCAA indoors once), was on her way to winning the Chicago Marathon. She had been clear of Berhane Adere for miles. Pirtrea, as she took the final turn, was high fiving the crowd. She had a 15 second lead with 58 seconds of runing left. Little did she know that Adere had overcome whatever problems she had had and was quickly making up ground. Pirtrea never looked back and was strolling into the finish thinking about her career changing win. Meanwhile, Adere was in an all out sprint on the other side of the road. She flew by Pirtrea and Pirtrea had no chance to respond. A truly incredible turn of events as Adere made up a 15 second deficent in 47 seconds. Watch it to believe it.
*Former Yalie Kate O'Neill 3rd in Her Debut
*Wheelchair Race Decided by 1 Second All the races in Chicago were close.

We're Not Joking: RunnersWorld with Extensive Olympic Marathon Trials Section The editor, Amby Burfoot, was a Boston Marathon champ back in the day, and has done a good job. You learn that Brian Sell looked good in the Olympic Trials simulator in Central Park, Khannouchi is fasting for Ramadan, Josh Cox is running 150 miles a week, and more.

AL OERTER 1936-2007 The death of this legend basically is being ignored in the US but thankfully the NYTimes gave him the homage he was due in this tremendous article by Frank Litsky on Oerter. And we like Oerter's anti drug stance and honesty (admitting to trying roids in 1976). When he quit competitive throwing he said, "The drug culture had taken over."
*Daily Telegraph in Britain Remembers Al Oerter
*Kansas City Star Remembers Al Oerter
*More Oerter: *Message Board Thread
*More on Oerter from Florida Paper
*Article on Oerter and His Painting: "I know this won't sound right but painting is the same dadgum thing I found in training for the Games"

LetsRun.com 2007 World's Coverage:
*Sunday Homepage Ndereba marathon
*Saturday Homepage
*Friday Homepage Tyson Gay
*Thursday Homepage Lagat
*Wednesday's Homepage Lagat
*Tuesday's Homepage Bekele 10k
*Monday's Homepage Tyson Gay
*Sunday's Homepage Dibaba/Goucher 10k
*Saturday's Homepage Kibet Marathon