update: Chris Whetstine Issues Statement to LetsRun.com Saying He Offered to Take a Lie Detector Test in Regards to Gatlin Doping Allegations Whetstine is the massage therapist Gatlin is saying doped him secretly.
Justin Gatlin to Claim Sabotage in Monday's Drug Hearing Personally we believe all drug cheats should get lifetime bans. But we also believe in fairness. And in the light that Gatlin's first drug positive was a joke (he was taking a prescription he had taken all his life) we believe he should get a 2 year sentence if convicted. The article above is a good read and if true it says that Gatlin was willing to rat out his coach Trevor Graham.
Justin Gatlin's Arbitration Hearing to Avoid an 8 Year Drug Ban is Today and Tuesday
24 Hour Mark Broken for First Time at Badwater Ultramarathon Dean Karnazes' claim to fame besides marketing himself to death was winning this race.
*70 Year Old Man Finishes Badwater
Bekele Runs 12:49 in Spain
Mutola Runs 1:58 World Leader as Well Bekele won by 38 seconds.
*Results
Kenyan Trials: Recap of Kenyan Trials Olympic champ Ezekiel Kemboi won the steeple as World Junior XC Champ Asbel Kiprop, just 18 was the surprise 1500m winner. The Kenyan champ will head into worlds with a pr 5 seconds slower than Alan Webb.
*World Junior XC Champ Asbel Kiprop Wins Kenyan Trials EA Standard
*Kenyan Team for Worlds Announced IAAF
*Athletics Kenya Says No Athletes Will be Allowed to Compete Abroad Between Now and Worlds
Pan Am Games: *Results
Saturday: Pan Am Recap Cuba's Yeimer Lopez Sets Pan Am Record in 800, US Champ Josh McAdams Leads Sweep in Steeple More Americans should take in the opportunity of championship racing before big crowds.
*IAAF Recap
Friday:
David Galvan Outkicks NYC Marathon Champ Marilson Santos to Win Exciting Men's 10k at Pan Am Games Dos Santos ran both the 5k and 10k here before the hometown fans but came up short in both. In the 10k, he came agonizing close to gold but Galvan was just too good down the stretch as he also set a Pan Am Games record. American Jorge Torres was 4th. Former NCAA champ Megan Metcalfe of Canada won the women's 5k over the USA's Cack Ferrell. In the men's 400m hurdles, defending champ Felix Sanchez clipped the last hurdle while leading and had to settle for 4th.
*Photos from 10k at Pan Am Games
*USATF Recap Mary Jayne Harrelson gets 1500m silver.
*Friday Recap of Pan Am Games
European Action: Belgium Lauren Fleshman Runs 15:08 to Win Molly Huddle with her second pr in 4 days. At this rate she'll have the WR by September.
Seb Coe Calls for 4 Year Doping Bans
World XC Champ Lornah Kiplagat Out of Worlds
Robert Cheruiyot Joins Gebrselassie in NY Half Plus Abdi, Alan, and Special K. Catherine Ndereba joined the women's field. Mary W and the NYRR continue to impress.
IAAF Herculis Super Grand Prix From Monaco
Full Results
LRC Distance Recap: Fantastic 3ks and Men's 800 Highlight The Super Grand Prix We give you a blow by blow recap of some great mid-d and distance action. In the women's 3k, Mariem Alaoui Selsouli followed up her 14:36 breakthrough in Rome with a world leading 8:28 as Kim Smith earned a national record and American Jen Rhines continued her sensational rejuvenation in 2007 becoming the 4th fastest American. In the men's 3k, Bekele won but a national record went to Moses Kipsiro as Alistair Cragg ran one of the finest 3ks ever run by a runner not born in Africa (actually he was born in Africa so we should have said Caucasian). In an incredibly tight men's 800, the top 6 all set seasonal bests as Olympic silver medallist Mublaeni Mulaudzi won in a world leading 1:43.74 as American Khadevis Robinson was passed in the last 50.
*IAAF Recap of Monaco Meet
*Mbulaeni Mulaudzi Runs World Leading 1:43.74 To Win In Monaco

Sex Sells?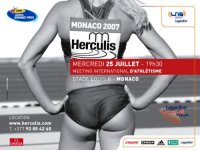 *Monaco Start Lists (Matt Tegenkamp, Shalane Flanagan, Deena Kastor in 3k, Treniere Clement 1500)
*Athlete Quotes from Monaco Press ConferenceIAAF
Alexandre Vinokourov Tests Positive And just yesterday we were commenting that his ride on Monday reminded us of Floyd Landis incredible ride last year (after which he tested positive). Well, at least cycling does not have its head in the sand and has the most aggressive tesitng program in sports. We wish the NFL nd MLB would follow suit.
*Tour Director Calls for 'Revolution' after Latest Drug Scandal Independent
*Message board thread
All Africa Games Post Mortem:
*Nice Profile: Moses Kipsiro Saves Uganda's Image By Winning Gold at 5k allafrica.com
*After African Games Silve and Mastesr 10k World Record, Edith Masai Has Given Up Track Running for Roads, Up Next World Champs Marathon
*African 100m Champ Olusoji Fasuba May Not Run for Nigeria Again
Webb Post Mortem:
*Webb Turns His Focus to Worlds USA Today He's got to keep his peak form 1 more month. If you think about the fact that he ran 3:51 in April, it's a bit scary but if he ran 3:51 off of base, then he should be running 3:46 now and come August he'l be fine.
*Steve Scott's Reaction to Alan Webb's American Mile Record
*On the boards: How Little Attention Did Webb's Run Get in Your Hometown? Don't worry, the people in Belgium didn't care too much either.
Alan Webb Breaks 25-Yr Old American Record In Mile!! In front of a tiny crowd of less than 1,000 in Belgium, Webb ran 3:46.91 to break Steve Scott's record. Webb is now the 8th fastest miler in history, and the 7 ahead of him are a who's who of track and field's all-time bad-ass middle distance runners. The Belgium meet actually had a lot of fine distance action with tons of Americans. In the women's 5k, American Molly Huddle got the win in a new pr of 15:26. In the men's 5k where American Dathan Ritzenhein had the lead with 400 to go but got blown away by Daba Bekanaand Alistair Cragg over the last lap. Bekana got the win in 13:06 as Ritz ran 13:16. In the women's 1500, Lauren Fleshman had a 4 second PR as she ran 4:07 to get the win over Amy Mortimer. In the men's 1500, Ian Dobson, whose previous pr was 3:43.04 ran 3:39.62 for 2nd.
*Results
*Race Video
*Post-Race Teleconference Excerpts From Webb

All Africa Games:
Day 4: Van Zyl leads South African gold parade in Algiers
Day 3: Kaki surprises Mulaudzi in Algiers - All Africa Games Day 3
Day 2: World XC Champ Zersenay Tadesse Wins All Africa 10k Title in 27:00, Nigeria Sweeps 100m Crowns Tadesse got Eritrea's first gold at the Games but it has only been a country for 14 years.
*Results
Track Talk- 1st Podcast
Our 1st Ever Edition of Track Talk (Tuesday)Featured Alan Webb - Download or Listen Here
Since two weeks ago our live broadcast of the USATF 10ks made history and was the largest live show ever listened to on talkshoe.com, we thought we'd try again. Despite a few technical difficulties (sorry about the small echo on our end when Wejo or Rojo spoke for the first part), the show ended up being a success as Alan Webb joined us live from Sweden and answered any and all questions - including questions no one but LetsRun.com would dare to ask. Webb talked about everything from his chances of medalling at worlds, to his failure at Pre, to who would win at 10k Ritz, Hall or himself. Webb even picked a winner in a hypothetical race between Jim Ryun and Steve Scott and even talked about his future marathon debut. Plus the personal side of Webb came out as he talked about running with random high schoolers in Europe. At the end of the interview, Webb even answered the question that has spawned at least 3 lengthy threads in the last month - Rogaine or Propecia? Download or listen here
*More On Alan Webb's 800 PR From Monday: The guy who beat him wasn't a chump - he was world junior champ last year.
AT&T USA Nationals: *Results
Post Nationals:
*Jenny 'Puddles' Barringer Has to Decide Whether She Will Go to Osaka Denverpost.com
*Triple Jump Champ Aarik Wilson is Upset New IU Coach Ron Helmer is Not Retaining Wayne Pate
*JJ Clark's Athletes Do Well at USAs
*Webb Still Has Soft Spot for Maize and Blue
*Third Placer in Steeple Tom Brooks Was a Scrub at IU
Sunday: Tyson Gay Is The Man, Alan Webb Impresses
Khadevis Robinson Still the King
Gay ran 19.61 (2nd fastest time ever) into the wind and showed he is the top sprinter in the world as the Xman went out with an injury. Alan Webb blew away the field the last 50m of the 1500 to win a thrilling race as Webb, Lagat, Manzano and Lukezic were all together with 100 to go despite the quick pace. Webb also broke Steve Scott's meet record. Watching the men's steeple was like watching a train wreck as the 3 favorites including American record holder Dan Linocoln and Anthony Famiglietti all failed to qualify for the World Champs. Cal star Alysia Johnson edged Hazel Clark in the 800m as high schooler, yes high schooler, Chanelle Price led the first 400m. LetsRun.com recap here.
*Allen Johnson Fails to Qualify for Worlds For First Time Since 1993 Even if he wasn't our cousin, Johnson would be our favorite hurdler on the circuit.
*Xavier Carter Tumbles to Track With Injury at Nationals with Injury
*Ritz Says He Will Run the 10k Not the Marathon at the Olympics
*Day 4 Distance Recap from Race Results Weekly: Fast Times Take Webb, Robinson, Johnson to 2007 USATF Titles
Video: *Video of Webb's 1500
*Nice 2 minute highlight video from NBC
*Video of all Sunday's Races
*Post Race Interviews
Photos: Here and Here
On the boards:
A LetsRun.com First: NBC Covrage Almost Perfect
*Is Webb's Hair Giving Him Confidence?
*Khadevis Vs Nick Symmonds KD is the king.
Saturday: Sanya Richards fails to Qualify for Worlds *Video
*Tim Layden of SI on the Rise and Fall of Sanya Richards and Angelo Taylor
Clement Three Peats
The poster child for AT&T and women's track and field in America, the 2006 IAAF athlete of the year, Sanya Richards, failed to qualify for Worlds in a shocking performance. The underrated Treniere Clement got the three peat in the 1500m, Jenny Barringer won a tight women's steeple, Angelo Taylor won a tight men's 400m, and James Carter got the win and a world leader in the 400m hurdles. Plus, Jordan Hasay showed she is one of the best high school runners ever in America and she's only a sophomore and AJ Nation and Matt Centrowitz put on a nice duel. Don't miss Sunday's action which is all finals including the men's 800, 1500, and steeple.
Video: NBC Gets it and Now Is Putting Up Internet Video of Its TV Coverage Men's, Women's 400, 400m Hurdles, Women's 1500 etc
*Nice Little 3 Minute Recap of Saturday's Action from NBC
*Plus Flocast Post Race Interviews and Even Dyestat Jr Videos You can Downlaod
*Saturday Quotes
*Nice AP Recap of Saturday's Action
*Grace Upshaw Goes from 5th to First in Long Jump on Final Jump
Friday: Shalane Dominates, Lagat Outsprints Tegenkamp Again in a Thriller
Bernard Lagat won a thrilling men's 5000m with an unbelievable kick the final 200m to push Matt Tegenkamp into the runner up spot for the 2nd stragiht year. Shalane Flangan dominated the women's 5000m and NCAA champ Michelle Sikes continued to impress by making the World Champs team. Tyson Gay ran a sizzling 9.84 into a .5 mps wind, the 2nd fastest time ever into a headwind.
*Race Results Weekly Friday Distance Recap: Lagat Completes First Half of Double Title Defense
*Torri Edwards Back on Top (Friday Recap) Washington Post
*Tyson Gay's Run May Have Been One of the Best 100m Performances Ever indystar.com
*AP Recap of Friday
*Bryan Clay Withdraws from Decathlon But Still Will be Able to do Worlds
Video: Bob Kennedy, Tegenkamp and Solinsky Talk abou the Great Men's 5k
*Men's and Women's 5k Highlights From the Kimbia perspective but you see Lagat's great finish.
*Audio Download or Listen to the Letsrun.com Post Race Audio Recap Podcast (30 minutes) from Friday featuring Matt Tegenkamp and Bob Kennedy (they start 2/3 of the way through)
Thursday: Abdi Abdi Abdi
Deena Wins Women's Crown
Abdi Abdirahman had the best credentials in the field (top time in the US in 2006 and 2007, 10th place in 2000 Olympics) and he showed he is the top 10,000m runner in America by winning his 3rd US title versus an incredibly strong field as he pulled away from Dathan Ritzenhein over the final half mile. Ritz faded badly the final lap in the heat and Galen Rupp had a very impressive run to finish 2nd. On the women's side, Deena Kastor blew away the women's field for the win and just dipped under the "B" standard to book her ticket to Osaka. The inaugural Letsrun.com audio broadcast of the 10ks was as success as we try and work out the kinks and featured guest commentator Toni Reavis (the best announcer in the business), plus interviews with Abdi, Ryan Hall, John Meyer (Denver Post writer), and Brad Hudson (you can listen to it or download it here). In other action, things went according to form, and Nick Symmonds passed nearly the entire field the final 100m to run 1:46 in round 1 of the 800, Tyson Gay went sub 10 in the first round, and Breaux Greer set another American record.
*Recap of 10ks from Denver Post
*Breaux Greet Gets 8th Straight US Title USA Today
*Youngster Galen Rupp Finishes 2nd at USATF cstv.com
*Tyson Gay Plays it Safe in 100m Qualifying wit 9.98
*McDougal Drops Out of USATF 10k
*Masback Says USADA Doing a Good Job in Drug Fight, US Will Not Bid to Host Worlds
*Brian Clay Still Hurting in Terms of Sponsorships
Video/Audio: *Galen Rupp/Alberto Video from CSTV Watch Alberto pump his fist.
*Thursday Races Up on Flotrack Yep the entire men's 10k. Beautiful. Plus Post race interviews.
*2 Hour Letsrun.com podcast of 10k action With guest commentator Toni Reavis (the best announcer in the business), plus interviews with Abdi, Ryan Hall, John Meyer, and Brad Hudson
*Photos Galen Rupp a young gangster
PreMeet:
*IAAF Preview of Meet (Ignores the 10ks)
*Nick Symmonds Says 800m is Weakest Event in America and He Wants to Change That
*Tyson Gay Wants PB in 100 to Make Teams in 100, 200
*Justin Gatlin Still Trying to Stay in Shape Despite Doping Ban
Previous Nationals News:
*Sanya Richards a Star in the Sport
*Indianapolis Star Talks About Track's Tough Task of Marketing Itself To General Public
Martin Lel and Chunxiu Zhou Triumph
Ryan Hall 2:08:24 Debut!!
*London 2007 Photos updated 4/23
*Article on Hall's Debut
*Recap from Reuters
The stellar London men's field delivered an incredible finish as it came down to six guys going head to head over the final half mile: 2006 champ Felix Limo, 2005 champ Martin Lel, world record holder Paul Tergat, 2 time world champ Jaouad Gharib, NYC champ Hendrick Ramaala, and Abderrahim Goumri in his debut. In the end , Lel, Gharbi, Limo and Goumri sprinted for the win over the final 200. Lel came out in top in 2:07:41,after losing out last year in a sprint finish. And the future of American marathoning looks bright as Ryan Hall showed he is the real deal and nearly stole the show. He caught the leaders and was leading the race at 35k, and went on to run 2:08:24 an American debut record and an American born record. Only Khalid Khannouchi has run faster. So Hall is the fastest American ever except for a guy who already held the world record when he became an American citizen.
*Gebrselassie Drops Out in London
*Australia's Benita Johnson 7th in London
*London Marathon Video Highlights from BBC
*IAAF Recap of London Marathon IAAF
*Ryan Hall's Debut As Reported by Associated Press
*Liz McColgan Runs 2:50:39

Post Boston News: Cheruiyot Undecided on Fall Marathon He says its between Chicago and NY.
*A Look at 78 Year Old Bill Welsh Who Led 1955 Boston Marathon
*BAA Launches Boston 2008 Olympic Trials Website It's one of the better websites we've seen. Meanwhile, while everyone else's websites were crashing on Monday, the LetsRun .com juggernaut performed flawlessly.
Boston: Race results
Cheruyiot Triumphs Again, Lidiya Grigoryeva Surprise Winner
Robert Cheruyiot defended his Boston crown in the extreme weather conditions (heavy winds, rain) that made the race a real dog fight. Cheruyiot hit half way in 1:08:45 but dropped the hammer over the more difficult second half to pull away from James Kwambai over the final 2 miles to win in 2:14:13. Lidiya Grigoryeva of Russia also threw down the hammer over the final 2 miles (5:10 mile) to defeat NYC champ and World Marathon Majors leader Jelena Prokopcuka. And hundreds of thousands in appearance fees, could not spare Deena Kastor from the fate that does in many a marathoner, an unscheduled bathroom break as her bid to become the first American winner in Boston came up short. Deena did come back to finish 5th in 2:35:09, and get the US title. *Race results
Women:
*Bathroom Break Cost Deena Big Time in Boston Boston Globe
*Boston Marathon Played Wrong Russian National Anthem
Men: Pete Gilmore is Top American at Boston in 8th
*Kimbia boys go 3, 4 6
*Kimbia Auction of 3rd place finisher (Stephen "Baba" Kiagora) singlet and number Stephen Kiagora.

*A Must Read Inspirational Profile of Boston Marathon Record Holder Robert Cheruiyot The life story of Cheruiyot, who is looking for his 3rd Boston title Monday, is truly remarkable. After being abandoned by his parents, he found a way to survive, first as an indentured servant and then on 30 cents a day helping out at a barbershop where he smoked every day. Thoughts of suicide entered his mind but now less than 10 years later he is running for history although last year's crazy fall at Chicago hasn't helped him as he had to go back to the hospital just 3 weeks ago.

In case you missed it:
Todd Williams Hangs them up
In our lengthy 3 part interview, Todd Williams, the premier 10,000m runner in the US, talks about his illustrious career and the sport of running in general.
Part I here, Part II here, Part III here
Also take a look at Amby Burfoot's look at Todd Williams' incredible American record at 15k in 1995, the same year he finished 9th at World Cross Country.
More isn't always better:
"I had over-trained. I put too much pressure on myself because I wanted that gold medal too much. If I had trained 15 per cent less, I would have won. I was training like a crazy person. There was a lack of self-confidence and a lack of maturity. An athlete does not only train with his body. He trains with his mind."
-Hicham El Guerrouj on why he didn't win Olympic gold in 2000
JK Speaks: Progressing To Peak Fitness LetsRun.com coaching guru John Kellogg talks about progression runs and the art of the sport versus the science of the sport.
LetsRun.com Book Reviews 2 Good Reads on Milers 50 years apart:
Sub 4:00 and The Perfect Mile
"Paul Maurer, in The Gift, not only presents an interesting and captivating story, but he explores the deeper questions of why runners run, why we compete, and what makes such a simple sport, running, so rewarding to those of us who do it. The Gift is one of the best running books I have ever read. "
-LetsRun.com's Weldon Johnson on a new Running novel, The Gift
(The Gift is now available from Amazon.com)
Paul Tergat
*"As the holy scriptures say, 'for whoever much is given, much is expected,' it is, therefore, my duty and privilege to help in any small way in giving back to society."
-Marathon world record holder, Paul Tergat, speaking after founding a sports foundation that will help disadvantaged youths.
*Tergat's hamstring injury has healed and he says he's ready to go at NYC: "I expect good results as I am in good shape" but he's out of next week's Half Marathon in Britain, but interestingly Gezahegne Abera (remember him, formerly the greatest marathoner in the world) is running. www.registerguard.com
And the winner is:
Best Running Movie of All-Time: Fire on the Track
After sitting on the results for months, we're proud to announce that the best running movie of all-time as selected by our viewers is a not an academy award winner, Chariots of Fire, or a highly publicized film produced by Tom Cruise (Without Limits), but rather a running documentary, Fire on the Track: The Steve Prefontaine Story. Read all about the voting and see the 10 best running movies of all-time as selected by our viewers.
A Staff of One:
"Perhaps the most valuable gift from Letsrun.com is a friendly willingness to share lessons learned by their editorial staff, which includes successful college coaches and highly competitive athletes. "
-Gary Droze, writing about letsrun.com in the Tallahassee Democrat

More Weekend Action:
Wales: Jon Brown Only Runs 30:32 at BUPA Great Wales Run But Pleased With Return to Racing, Berhane Adere Wins Women's Race
Bogota: Issac Macharia, Neriah Asiba Pull Upsets at Bogota Half MarathonIAAF
Lisa Galaviz Writes About her American Record in the Steeple steeplechics.com
British News: UK Athletics to Announce Small Team for Worlds
*Steve Cram Says Britain Only Has 2 Serious Medal Contenders for WorldsBBC
Sunday's Action:
British Trials:
*Marlon Devonish Wins 200 to Complete 100-200 Sprint Double
*Jessica Ennis Has Shot at Medal in Osaka Hepathlon
*Back Injury May Keep Triple Jumper Idowu Out of Worlds
*Video Highlights of Day 2 of British Trials
*Colin Jackson Says it Is 'Much Harder' Being An Athlete Now Than Back in His Day Times of London
*Becky Lyne, Britains' 2006 Athlete of the Year, May Not Be Selected for Worlds
Heusden: *Results
Alan Webb 1:43.84!!!
American Steeple Record for Galaviz
Just in case you figured Webb was past his peak, think again. Webb shocked everyone, including himself by running 1:43.84, a 2 second pr to get the win (he never had broken 1:46 before this year). Lisa Galaviz ran 9:28.75 a 10 second pr to get the American steeple record, and Aaron Aguayo got the steeple "A" standard putting Tom Brooks on the team even though he ran 8:30. Brian Olinger did what he seems to do out of nowhere every few years- run 8:19 in the steeple. Chris Solinsky ran 13:12 and Bolota Asmeron 13:15, showing 13:15 is the new 13:30. Erin Donohue hit the "A" standard in the 1500m
*Webb/Aouita - only two ever sub-27:40/sub-1:44??

British Champs: *Results
Saturday: British Champs Recap Marlon Devonish Wins 100 IAAF
*Malachi Davis Still Getting UK Lottery Funding Despite Only Running 46.8 This Year
*Heptathlete Jessica Ennis Wins High Jump and Hurdles at British ChampsIndependent
*Video Highlights from British Athletics Trials
Friday:
*Florida State's Andrew Lemoncello Wins Steeple at British Trials
*Nicola Sanders Makes 400m FInal at British Champs but Has Knee Problem
*British Heptathlete Jessica Ennis in Fine Form
Kelly Holmes Was Right! Jolanda Ceplek Suspended For Positive EPO Test The world indoor 800 record holder claims she's innocent but we don't believe her as she becomes the 6th prominent European track athlete to test positive this year. The rumor on the circuit for the longest time was she was dirty but Kelly Holmes was the only one to have the guts to basically state it (sort of like LetsRun.com with Regina Jacobs). Ceplak of course denies she is guilty

Pan Am Games:
*Results
Day 4 Wednesday:
LRC Recap: Hudson de Souza Wins 1500 Gold The South American record holder defended his gold in impressive fashion as Juan Luis Barrios nabbed his 2nd silver and Andrew McClary really, really struggled..
*USATF Recap: Sheena Johnson's 400m hurdle gold is one of 3 US medals

Previous Pan Am Action
Day 3 Tuesday:
LRC Recap of Women's 800:
Canada's Diane Cummins Gets Gold
She defeated a deep field including US champ Alysia Johnson who took it out in a fast 42.2 through 300.
*Diane Cummins Wins Gold For Canada In 800 Canada.com
*USATF Recap of Day 3 of Pan Ams: Miki Barber Runs 11.02 for 100m Gold and Games Record

Asafa Powell to Duck Racing Tyson Gay Before Worlds as He Turns Down Offer to Race Him Next Weekend
Day 2 Pan Ams: Monday: Sara Slattery, Ed Moran Get Gold 2007 had been a difficult year for Slattery. The 2006 Bolder Boulder champ missed the USA XC champs in her hometown of Boulder with an injury and had struggled a bit in her return to action. But that changed big time on Monday as she captured gold at 10,000m in Rio. (earlier we said it was a PR but the results are wrong) Moran's victory was perhaps even more impressive as he defeated Juan Barrios and David Galvan who have run 13:11 and 13:12 respectively this year. Plus he defeated NYC Marathon champ dos Santos (who will double back in the 10,000m) and ran a meet record of 13:25.
*More on Moran
Good Read: Canadian Hurdler Perdita Felicien Has the Fire (Anger) Back "Why are you not seizing these opportunities? They're so limited. They're so rare. And you're getting older. You're not going to have many more"
Day 1: Cuba's Mariela González Wins Pan Am Gold in Marathon IAAF
All Africa Games Over: World Junior XC Champ Asbel Kiprop Wins 1500m Gold at All Africa Games, Tariku Bekele Upset in 5k Kiprop is a rising star.
*Wilson Komen, The Next Kenyan Steeplestar? (He Was a Surprise Winner at All Africa Games)IAAF
Dennis Shaver, LSU Coach, Gets 3 Year Contract Extension Starting at $165,000
*Lengthy Profile on Shaver
Tero Pitkämäki, Guy Who Speared French Long Jumper in Rome With Javelin, Returns With 91.28 Throw IAAF
IAAF Madrid
*Meet Recap (Terrible article)
*Full Results
The meet featured a good 800 as Youssef Saad Kamel ran 1:44.49 to beat Americans Khadevis Robinson (1:45.03) and Nick Symmonds (1:45.06) as Ivan Heshko got the win in the 1500. In the women's 1500, 3-time US Champ Treniere Clement was a disappointing 6th (4:11). Steve Slattery had a strong 2nd place showing in the steeple (8:24).
IAAF Wlling to Spend 30,000 Euros to Test Oscar Pistorius's Legs We hate to sound like cold harded people who hate the handicapped but they should save the money. He runs faster the 2nd half of the 400 than the first. No one does that (Except us actually)
*'Go Get 'Em Oscar'
European men's 400m champion Marc Raquil Out of Worlds With Torn Thigh Muscle
Golden League #3 Rome: *Results IAAF
Recap: Asafa Powell returned from injury to run 9.90 and Sanya Richards stayed in the $1 million hunt. Plus Adil Kaouch ran 3:30 in the 1500m. Jen Rhines went sub 15 for 5k but American record holder Shalane Flangan only ran 15:04. The meet was overshadowed somewhat by a French long jumper being speared by a javelin.
*Results IAAF
*'Blade Runner' Oscar Pistorius Runs 46.90 For 2nd In B Heat in Rome He's an inspiring story but will get smoked by Jeremy Wariner on Sunday in Sheffield.
Sports Illustrated's Tim Layden Looks At Alan Webb's Rocky Rise: Emotional Webb has plan to be USA's best-ever miler Layden recounts an encounter with Webb in high school and states there has always been a long-term plan that "media, bloggers and anonymous web posters" (i.e. the LetsRun.com posters) didn't recognize.
Paris Golden League Meet
WEBB 3:30.54 Win in Paris!!!!!
Webb went through the 1200 in 2:49 when Baala took the lead. Both guys were battling down the home stretch but Webb just had enough strength left over the last 50 meters to get the biggest win of his career in a time that makes him the #3 American (fastest American born). Unlike the Sports Illustated cover jinx, appearing in a LetsRun.com live podcast gives one great karma. Listen to Webb talk about his career on Tuesday - just 3 days before the biggest win of his career.
*Results
*Distance Recap (RRW) The men's steeple was a disaster as they miscounted the laps
*Overall Meet Recap (IAAF)
*Recap of Webb's Race (IAAF)
*AP Recap: Sanya Richards Runs Fastest 400m Of Year
*Cuba's Dayron Robles Stuns WR Holder Liu Xiang 13.13 to 13.15
*Derrick Adkins Asafa Powell's 2nd cousin Wins 100m
*James Carter Edges A. Taylor In 400h as Tirunesh Dibaba Wins 5k in 15:21
*Webb Post Race Flocasat Video Interview
*American Star Jim Spivey Posts About Alan Webb Twice Here and Here Spivey made three Olympic team, got 5th in the 1984 Olympics, and ran 3:31.
*Britain's Phillips Idowu Skips Paris GL
*Britain's Tim Benjamin Struggles Home 7th In 400m
*Start Lists
*Paris Golden League Preview IAAF
The Golden League meets are the top ones in the world for a reason. The LetsRun.com anticipation centers on the hot men's 1500 with a stacked field including Americans Lagat and Webb.
*Lagat Ready for Baala's Challenge Today in Hot 1500 in Paris IAAF
*Asafa Powell Out of Golden League Meet and $1 Million Chase With Groin Injury
*British Triple Jumper Idowu Out of Golden League Chase with Injury
*Isinbayeva Ready for Golden League Challenge Today IAAF
Video: *Bernard Lagat Pre Race Press Conference

A Great Read!! An Interesting Profile Of Currently The World's Fastest Man Tyson Gay The former Razorback talks about drug acusations in sport, running fast and being coached by a man in prison.
Haile Gebrselassie's Addicted to Running: "I always have a goal to do something. That way I keep running. It's an addiction to winning. But it's also an addiction to run - it is like a drug. If I'm not sweating I don't feel good."
Wejo's Kenya Trip: Kenyan Distance Running Part I: Kenya, the Land of Opportunity You've seen the highly praised photos, read the incredible race recap, now learn about the Kenyan distance phenomenon. In this article, Wejo looks at the motivations of Kenyan runners. "Running in Kenya is by and large about one thing: money opportunity.
LetsRun.com Wejo's Kenya Photos: 546 Photos from His Post World XC Trip See how the Kenyans live and train in Eldoret and Iten. Plus photos of Kip Keino's center, St. Patrick's High School, Singore Girls School, Lornah Kiplagat's, and the Kimbia house. Not to mention photos of Tergat, Tanui, Kiplagat, and many more.
Boston Commentary::
*Bob Ryan of Boston Globe: Kenyans Have Established a Tyranny "Dominance? Did I hear someone say "dominance"? That would be an improvement. What the Kenyans have done to the Boston Marathon, and a few other marathons, is establish a tyranny that certainly should be an embarrassment to the rest of the running world...Well, guess what? You think the outcome would have been much different if it had been 80 degrees and sunny?"
*LetsRun.com Rojo Speaks: Inspired By a Kenyan Robert Cheruyiot Cheruyiot is a true star in the sport and a truly unbelievable rags to riches story.
*LetsRun.com Wejo Speaks: Spira Shoes Attempting to Make a Mockery of the Boston Marathon 2 guys wearing what we thought at the time were "illegal" (now USATF is saying they are not) shoes led the Boston marathon for the first half of the race in what if emailers are correct was just a publicity stunt.
*Update: USATF is Saying the Spira Shoes are Not Banned Just maybe they could have told us this 1, 2 years ago? If they're not banned and Spira knew this, Spira (and USATF) should be ashamed. If they are, Spira should be ashamed.
*Weather Better Than Expected in Boston Boston Globe
Mt Sac Shalane Flanagan Sets American 5000m Record (14:44.80) Shalane's fabulous 2007 season kicked off outdoors like it did indoors, with an American record. This time she took down drug cheat Regina Jacobs 5k record, (14:45.38) as Flanagan ran 14:44.80 thanks to a strong final k. And in the men's 5k, Juan Barrios won, but 4 American hit the World Championship "A" standard, led by Anthony Famiglietti who was 2nd in 13:11. (Ryan Kirkpatrick, Ed Moran, and Josh McDougal are the others) Fam's huge pr was less than a month after his American 8k win in NYC. Juan Barrios of Mexico won the men's 5k in a world leading 13:11.
*Results
*IAAF Recap of Mt. Sac Including Juan Barrios World Leading 13:11 5k
*VIDEO: Flocast Has Recaps of All the Top Races (and even the "B" races)and Interviews with Shalane and Fam.
*Scott Davis, Mt. Sac Meet Director is Calling it Quits as Meet Director God gave him another chance at life and being a meet director no longer is in his plans.
Sonia O'Sullivan Running Great Bupa Ireland Run This Weekend As Her Final Road Race BBC
Steve Riddick Fraud Case Gets Underway, His lawyer Accuses Tim Montgomery of Brokering Kilo Drug Transactions If true, Montgomery's case is getting sadder by the minute.
Devine Racing Still Trying to Tarnish Whatever Little Reputation it Still Has Left The way we read this article the checks have been in the mail for over a month as Devine still has not paid last year's prize money for the Salt Lake City Marathon (this year's race is next week). USATF also is a joke for continuing to sanction such an event. We need to start a section on here where you all can rate the road races you run.
Drugs, Drugs, Drugs:
Balco II is Here
In case you didn't know the drug testing in the major sports isn't too effective. Pharmacists and doctors all over America were arrested in a new huge steroid scandal. NFL, MLB players, and boxer Evander Holyfield are implicated along with the Pittsburgh Steelers' team doctor who ordered up $150,000 of HGH on his private credit card.
*Longer Recap from Albany Times Union
*Doctors Reap Tons of Money from Prescribing Drugs
*Unrelated but in the news: Barry Bonds' Camp Has Never Disputed Steroids Evidence in Game of Shadows Book
JoggersWorld buys Running Times Seriously we think Runnersworld magazine has improved recently. Usually 1 article worth reading plus Ed Eyestone.
*Message board thread
*LetsRun.com Gets Unsolicited Buyout offer
LetsRun.com Boulder XC Coverage
*Results
Kastor Dominates, Culpepper Upsets
A NewDay for US Cross Country
It was a momentous day in US cross country history as 10,000 spectators poured onto the Boulder golf course to witness the return of a single champion at the US championships. Alan Culpepper got the come from behind victory that could define a career, and Deena Kastor put on a clinic, showing she is still the best cross country runner in America by a longshot.
*Splits from all the races
Video:
*LetsRun.com Video of the Men's Finish nd Culpepper Pumping His Fist
Great Flocast Videos:
*Men's Race *Women's Race
Photos: Women's Race Photos
(Other races coming soon)
Denver Post Coverage:
*Culpepper, Kastor Get Titles
*Boulder Running Reputation Solid
*Incredible: 10,000 Fans Turned Out
*Support of Fans Touches Kara Goucher
Boulder Daily Camera Coverage:
*Boulder Does it Self Proud
*Culpepper Feels Right at Home
*Deena Kastor Dominates
*Race Results Weekly Recap of 2007 USATF XC Nationals
*LetsRun.com Boulder 2007 Preview No more hype, no more talking. It's time to lace them up and race so we've got our prerace preview and picks.
*Boulder 2007 LetsRun.com Fan Predictions
*Jordan Hasay Ready for Junior Race
Friday: Wejo in Boulder: The Buzz In Boulder? 'Who's Going to Win' That's what everyone wants to know and it's refreshing to be in a town where people actually care.
*Alan and Shayne Culpepper Balancing Family and Running
Thusrday: Gouchers Ready To Go
*Adam Goucher Profile: In an in-depth LRC profile, Adam Goucher talks about his current fitness level, his thoughts on 2006, his goals for 2007, the end of 4k xc, his relationship with Mark Wetmore and even what it's like to pass Cragg Mottram in a race. (Goucher is 31, not 32 as re originally said in the article)
*Kara Goucher Interview: The American set PRs at 1,500, 3k, 5k and 10k last. She has since upped her training by at least miles per week and is expecting big things in 2007.
*Meb Issues Statement on Pulling Out He got a cold and London is the focus.
*Ritz Ready to Rumble, Says the Course is In Great Shape
*Jorge Torres Ready for Battle in Boulder
*Meb Keflezighi is Out
Wednesday: Alan and Shayne Culpepper Speak
Alan talks about the showdown in Boulder, the most disappointing year of his professional career, returning to the track, the economics and professionalism of the marathon, Mary Wittenberg, and the good 'ole days of American distance running- which are now. Shayne talks about 10 minute miles, the 1500m, the advantages, (and disadvantages) of being forced to take time off from the sport, and the incredibly strong women's field assembled for the US champs this weekend.
Tuesday: LRC Deena Kastor Excited to Return to Her Roots Before she was America's greatest marathoner, she was America's greatest cross country runner and she's returning to her XC roots this weekend. In an depth LetsRun.com profile of America's greatest female runner, Deena explains why she was 'disappointed' with 2006 despite being #1 in the world in the marathon, and how she is training harder than ever. Plus she talks about the Boston Marathon, Shalane Flanagan, Ryan Hall and even letsrun.com.
*Deena Kastor Profile in Ventura Newspaper Racing more is the plan in 2007.
*Gouchers Ready for Happy Return to Boulder for XC Champs It's hard to believe, but Adam says he didn't really become a pro until moving to Oregon and training under Alberto, "One of the main changes for us was becoming professional athletes". Boulder Daily Camera
*Pete Julian, The Man Behind Boulder 2007 If everyone in the world was like Pete Julian it would be a much better place.
Monday: LRC Ritzenhein Ready to Battle in Boulder One of the greatest American XC hopes ever is ready to take on all comers in Boulder at the US championships. He talks about the race in Boulder, his 2006 season, his marathon debut, running more mileage, his relationship with Mark Wetmore, Ryan Hall, his plans for 2007 and whether he intends to run the Olympic Marathon trials.
Upcoming: Interviews with the Culpeppers, the Gouchers, Sara Slattery (who is now officially out of the race with a hot spot on her foot.
*Meet website here.
*The snow is melting (photos of the course from Brad Hudson's Boulder Performance Trainng website) and the forecast is for warmer temps for the middle part of the week but possibly more snow on the weekend.
*Other LetsRun.com Boulder Profiles: Abdi Abdirahman and Shalane Flanagan

Married Thanks to LetsRun.com:
"I don't want to say it. It sounds crazy but it was a dream come true"
-John Stiner, on getting married to his wife, Sarah, who he met on the LetsRun.com message boards. Read about their incredible story.