Jason Gardener Ready for Europeans, He Would Have Withdrawn If His Form Hadn't Improved
*Jason Gardener May Retire After Europeans
Birmingham: *Results
Bekele Breaks 2000m World Record, Bernard Lagat Gets American 3000m Record This may be the year Lagat smashes most of the American 3k-5k records. The indoor 3k record was soft (Ireland's Alistair Cragg ran faster while in college), but even Bob Kennedy's 12:58 has looked like low hanging fruit for Lagat for 2 years now. Lagat had a superb kick to get the win.
*Jo Pavey Fades Badly in World Record Attempt But Hangs On For Win and British Record in 2 Mile Independent
*Jason Gardener Shows He's Back After Winning 60 in Birmingham
*Xavier Carter DQd in 400 in Birmingham
More Indoors: Otto Improves to 5.90 - German Indoor Championships Day 1 RecapI AAF
Collegiate: Big East Day 1 Results
Reebok Boston Games:
Tirunesh Dibaba 14:27.4 5k WR, Shalane Flanagan 8:33.25 AR
story updated with photos
*Results
The Reebok Boston Games had it all once again. Tirunesh Dibaba may have gotten the world record but the biggest surprise was American Shalane Flanagan challenging one of the greatest distance runners in the world, Meseret Defar, over the final laps in the 3k, and setting an American record of 8:33.25. Nick Symmonds showed he is the real deal and that he runs to win, as did Alan Webb in the mile. Craig "Buster" Mottram, destroyed the 3k field, with a 55 last 400, in his first time on a track since September. Not to mention Australian records in the women's mile, and men's pole vault.
Photos:
*Victah Sailer Reebok Boston Photo Gallery
*LetsRun.com Photo Gallery
*On the boards: If You Watched the Reebok Boston Indoor Games on TV Posts Your Comments
More Coverage
*Boston Herald Recap of Reebok Boston Games (Much Better than the Globe's General Recap)
*Craig Mottram Turns Race into a Route Boston Globe
*Boston Globe Recap of Reebok Boston Games The author calls an indoor 14:35 women's 5k "relatively slow".
*Tirunesh Dibaba Smashes World 5k Recrod at Reebok Boston Games
*More Quotes from Reebok Boston Games *LetsRun.com 2007 Reebok Boston Indoor Preview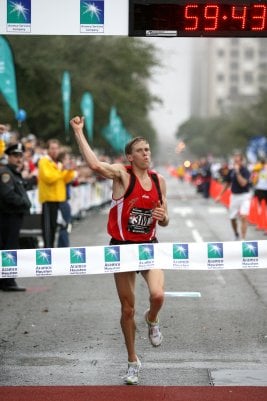 59:43 for RYAN HALL
Yep, sub 1 hour in the half marathon for an American on American soil on a certified course. One of the best American distance performances ever as Ryan Hall won the US Title, the Aramco Houston Half, picking up $21,000, to become the 9th fastest ever on a record certifiable course.
*Photo from Victah Sailer of PhotoRun.net
*Videos of the Race From the Flocast Guys Here

The Legend of Nick Symmonds: The DIII Star You Had Never Heard Of Until 7 Months Ago Opens Up in 3:56 Maybe he'll go undefeated this year. His time dropped a second overnight without him running a step.

Photos Kip Keino Comes to Ithaca The legendary Kip Keino came to Ithaca, NY, the east coast home of letsrun.com. See photos of the event including Olympic champ Peter Rono, Keino's son, Ian, and LetsRun.com's Wejo, Rojo, and even JK.

Dean Karnazes Profile in the LA Times Quotes from LetsRun.com's Wejo, and message board poster, John Morelock. NCAA XCs:
Women: Sally Kipyego Dominates, Stanford Survives
Recap: Sally Kipyego Dominates, Stanford Wins With Highest Point Total Ever
*Individual results
*Team Results
Kipyego dominated the individual field and the Cardinal repeated, but just narrowly over Colorado, as the Cardinal scored 195 points, the highest ever for a winning team (that total on the men's side would have been 2 points from 7th). Mark Wetmore almost did the unthinkable again (with a squad that was only 6th at PreNCAAs), leave Terre Haute with 2 titles, but the Buffaloes' 5th runner finished 165th.
*Ivy League Women Have Top 3 Finisher for 5th Straight Year
*Women's Recap from Terre Haute Newspaper

LetsRun.com Classic Emails #1 We share with you some of the classic emails from our site's visitors and give you valuable knowledge at the same time. You'll read conclusive proof Lance Armstrong dopes, learn AJ Acosta is not as much an a**hole as you thought, and much more.

A Legend Passes: "I don't train never have. I don't think of running as training. I just go out and run each day, and let the racing take care of itself"- Jack Foster of New Zealand, who ran a 2:11:17 marathon at the age of 41 to win silver at the Commonwealth Games in 1974. He died in a bike accident yesterday at the age of 72.

In case you missed it:
Todd Williams Hangs them up
In our lengthy 3 part interview, Todd Williams, the premier 10,000m runner in the US, talks about his illustrious career and the sport of running in general.
Part I here, Part II here, Part III here
Also take a look at Amby Burfoot's look at Todd Williams' incredible American record at 15k in 1995, the same year he finished 9th at World Cross Country.

More isn't always better:
"I had over-trained. I put too much pressure on myself because I wanted that gold medal too much. If I had trained 15 per cent less, I would have won. I was training like a crazy person. There was a lack of self-confidence and a lack of maturity. An athlete does not only train with his body. He trains with his mind."
-Hicham El Guerrouj on why he didn't win Olympic gold in 2000

JK Speaks: Progressing To Peak Fitness LetsRun.com coaching guru John Kellogg talks about progression runs and the art of the sport versus the science of the sport.

LetsRun.com Book Reviews 2 Good Reads on Milers 50 years apart:
Sub 4:00 and The Perfect Mile

"Paul Maurer, in The Gift, not only presents an interesting and captivating story, but he explores the deeper questions of why runners run, why we compete, and what makes such a simple sport, running, so rewarding to those of us who do it. The Gift is one of the best running books I have ever read. "
-LetsRun.com's Weldon Johnson on a new Running novel, The Gift
(The Gift is now available from Amazon.com)

Paul Tergat
*"As the holy scriptures say, 'for whoever much is given, much is expected,' it is, therefore, my duty and privilege to help in any small way in giving back to society."
-Marathon world record holder, Paul Tergat, speaking after founding a sports foundation that will help disadvantaged youths.
*Tergat's hamstring injury has healed and he says he's ready to go at NYC: "I expect good results as I am in good shape" but he's out of next week's Half Marathon in Britain, but interestingly Gezahegne Abera (remember him, formerly the greatest marathoner in the world) is running. www.registerguard.com

And the winner is:
Best Running Movie of All-Time: Fire on the Track
After sitting on the results for months, we're proud to announce that the best running movie of all-time as selected by our viewers is a not an academy award winner, Chariots of Fire, or a highly publicized film produced by Tom Cruise (Without Limits), but rather a running documentary, Fire on the Track: The Steve Prefontaine Story. Read all about the voting and see the 10 best running movies of all-time as selected by our viewers.
Tokyo Marathon: Daniel Njenga Wins Tokyo Marathon in 2:09
*Brief Results
Collegiate Action:
Big East: Notre Dame Men, Georgetown Women Win Ron Mann's Louisville program 2nd. The former NAU coach has built a strong team fast.
Patriot: Army Win, Bucknell Win
Down Under Outdoor Action: John Steffensen Takes it To LaShawn Merrit in 400 in Sydney Steffensen is coached by John Smith. IAAF
*Shawn Crawford Runs 10.16 to Win in Sydney
*Craig Mottram Trying to Make African Domination a Thing of the Past
*Sydney Results
S. Africa: Hardus Pienaar Books Ticket to World Champs in Javelin at S. African Meet
Jamaica: Sherone Simpson, Asafa Powell Get 400m PRs in JamaicaIAAF
Mbulaeni Mulaudzi Skips S. African Outdoor Meet With Flu
Sweden Has Become an Athletics Power after Bankruptcy of Hosting 2005 World Champs BBC
One of Lornah Kiplagat's Athletes Was Kidnapped Last Week in Kenya There is a state department advisory on travel to Kenya. Help LetsRun.com's Wejo decide if he should go.
*Kenyan Team Not Planning at Training at Low Altitude in Heat Before Worlds
*Lornah Kiplagat Says World's Course Favors Ethiopians
LetsRun.com Boulder XC Coverage
*Results
Kastor Dominates, Culpepper Upsets
A NewDay for US Cross Country
It was a momentous day in US cross country history as 10,000 spectators poured onto the Boulder golf course to witness the return of a single champion at the US championships. Alan Culpepper got the come from behind victory that could define a career, and Deena Kastor put on a clinic, showing she is still the best cross country runner in America by a longshot.
*Splits from all the races
Video:
*LetsRun.com Video of the Men's Finish nd Culpepper Pumping His Fist
Great Flocast Videos:
*Men's Race *Women's Race
Photos: Women's Race Photos
(Other races coming soon)
Denver Post Coverage:
*Culpepper, Kastor Get Titles
*Boulder Running Reputation Solid
*Incredible: 10,000 Fans Turned Out
*Support of Fans Touches Kara Goucher
Boulder Daily Camera Coverage:
*Boulder Does it Self Proud
*Culpepper Feels Right at Home
*Deena Kastor Dominates
*Race Results Weekly Recap of 2007 USATF XC Nationals
*LetsRun.com Boulder 2007 Preview No more hype, no more talking. It's time to lace them up and race so we've got our prerace preview and picks.
*Boulder 2007 LetsRun.com Fan Predictions
*Jordan Hasay Ready for Junior Race
Friday: Wejo in Boulder: The Buzz In Boulder? 'Who's Going to Win' That's what everyone wants to know and it's refreshing to be in a town where people actually care.
*Alan and Shayne Culpepper Balancing Family and Running
Thusrday: Gouchers Ready To Go
*Adam Goucher Profile: In an in-depth LRC profile, Adam Goucher talks about his current fitness level, his thoughts on 2006, his goals for 2007, the end of 4k xc, his relationship with Mark Wetmore and even what it's like to pass Cragg Mottram in a race. (Goucher is 31, not 32 as re originally said in the article)
*Kara Goucher Interview: The American set PRs at 1,500, 3k, 5k and 10k last. She has since upped her training by at least miles per week and is expecting big things in 2007.
*Meb Issues Statement on Pulling Out He got a cold and London is the focus.
*Ritz Ready to Rumble, Says the Course is In Great Shape
*Jorge Torres Ready for Battle in Boulder
*Meb Keflezighi is Out
Wednesday: Alan and Shayne Culpepper Speak
Alan talks about the showdown in Boulder, the most disappointing year of his professional career, returning to the track, the economics and professionalism of the marathon, Mary Wittenberg, and the good 'ole days of American distance running- which are now. Shayne talks about 10 minute miles, the 1500m, the advantages, (and disadvantages) of being forced to take time off from the sport, and the incredibly strong women's field assembled for the US champs this weekend.
*If somehow you're not excited about this weekend's race watch this: Trailer for Showdown Race DVD Released (click on trailer)
*AJ Acosta Running Junior XC Nationals This Weekend
Tuesday: LRC Deena Kastor Excited to Return to Her Roots Before she was America's greatest marathoner, she was America's greatest cross country runner and she's returning to her XC roots this weekend. In an depth LetsRun.com profile of America's greatest female runner, Deena explains why she was 'disappointed' with 2006 despite being #1 in the world in the marathon, and how she is training harder than ever. Plus she talks about the Boston Marathon, Shalane Flanagan, Ryan Hall and even letsrun.com.
*Deena Kastor Profile in Ventura Newspaper Racing more is the plan in 2007.
*Gouchers Ready for Happy Return to Boulder for XC Champs It's hard to believe, but Adam says he didn't really become a pro until moving to Oregon and training under Alberto, "One of the main changes for us was becoming professional athletes". Boulder Daily Camera
*Pete Julian, The Man Behind Boulder 2007 If everyone in the world was like Pete Julian it would be a much better place.
Monday: LRC Ritzenhein Ready to Battle in Boulder One of the greatest American XC hopes ever is ready to take on all comers in Boulder at the US championships. He talks about the race in Boulder, his 2006 season, his marathon debut, running more mileage, his relationship with Mark Wetmore, Ryan Hall, his plans for 2007 and whether he intends to run the Olympic Marathon trials.
Upcoming: Interviews with the Culpeppers, the Gouchers, Sara Slattery (who is now officially out of the race with a hot spot on her foot.
*Meet website here.
*The snow is melting (photos of the course from Brad Hudson's Boulder Performance Trainng website) and the forecast is for warmer temps for the middle part of the week but possibly more snow on the weekend.
*Other LetsRun.com Boulder Profiles: Abdi Abdirahman and Shalane Flanagan

A Staff of One:
"Perhaps the most valuable gift from Letsrun.com is a friendly willingness to share lessons learned by their editorial staff, which includes successful college coaches and highly competitive athletes. "
-Gary Droze, writing about letsrun.com in the Tallahassee Democrat

Married Thanks to LetsRun.com:
"I don't want to say it. It sounds crazy but it was a dream come true"
-John Stiner, on getting married to his wife, Sarah, who he met on the LetsRun.com message boards. Read about their incredible story.
"Everybody in Kenya is trying to come to America. I had no dream about coming because I knew this was impossible. It was a miracle," Kiplagat said. "That is why I take advantage of every opportunity. I came here, graduated in three years, and count myself blessed"- Richard Kiplagat who graduated from Iona in 3 years and had a 3.75 GPA
"This is not coming out of retirement, this is just me showing that if you just enjoy what you are doing and stay in there and set little goals. I do a lot of speaking, I've spoken to every group in Australia and I tell them back when I ran I set little goals and I think here I am telling these guys, but I've got to do it myself and tonight was really a chance to walk the walk"
-Steve Moneghetti, who at age 43, broke the world best for the 1 hour run for master's, averaging sub 5 minute pace the whole way as Ron Clarke, John Landy, and Robert De Castella watched him run.