Ben Limo To Skip Cross Trials as 12k is Too Far for Him He's a world champ at 5k but iff he were American you guys would rip him.
Olympic Medallists Deena Kastor and Meb Keflezighi to Run at Gate River Run 15k US Champs Next Month
UK Athletes Sending Out Letters Trying to Get Athletes to Switch Sports so They Can Medal Times of London
Another French Athlete Test Positive Khalid Zoubaa
US Distance News: Team USA Minnesota's McGregor, Carlson, Gabrielson Going to World XC, Jason Lehmkuhle Skipping it to Focus on Boston We think everyone else has to declare whether they are running by today.
*Women's Hansons-Brooks Distance Project Team to Run Boston Marathon
*Goucher Wants to Break Alberto Salazar's 8k American Record
List of Top Marathon Marks in 2006 Men's running is so much deeper than women's. 2:12 for 200th place on the men's side. 2:33 for the women.
New Oregon AD Hired, He's Donated Millions to Oregon Unless you have a problem with a guy who dropped out of college being a college AD, it seems like a good hire at U of N (we're serious about it being a good hire). The guy has donated millions to Oregon, has a lot of business success and gets along with Phil Knight.
*New Oregon AD Has Given Millions to the School, Helped Buy Out Old AD
*Ron Bellamy Editorial on Oregon's New AD
Across the Pond: In Depth Profile of Mo Farah He's a young star in the sport in Britain. And then you realize Bekele is less than a year older than him. Guardian
*Sonia O'Sullivan Is Winding Down Her Career and This May be the Last Year BBC
*Francis Obikwelu Ready to Race Pickering, Gardener This Weekend in Birmingham
Eunice Barber Cited For 'Insulting police' For Incident Last Year
British News: Paula Radcliffe Back Running Again, She'll Train in Colorado At the End of the Month As Shayne Culppepper told us, coming back to competing after having a baby is no picnic.
*Despite Finishing 7th at UK Trials, Jason Gardener Named to UK Team, Gets Chance to Win 4th European Title Full squad listed.
*Nathan Douglas Out to Star in Triple Jump This Year Times of London
Former World 5k Champ Eliud Kipchoge Ready for Kenyan World Trials on February 24
More Weekend Action We Didn't Report Yesterday:
S. Africa: S. African Marahon Champs Recap: George Mofokeng Defends His Title in 2:13
*South African Marathon Championship Results
XC: Italy: Dorcus Inzikuru Dominates Cross Race in Italy IAAF
Luxembourg: Veerle De Jaeghere, Khamis Zaman Win in Luxembourg IAAF Cross Meet IAAF
Track: Tia Hellebaut Scores 4th Highest Ever in Pentathlon
Coach Malcolm Arnold Expects Jason Gardener to Be Named to UK European Team in 60 BBC
*Mark Lewis Francis Can't Explain Poor Form
European Indoor Action:
British Indoor Trials: IAAF Recap of UK Championships
*Craig Pickering Wins 60 as His Fine Season Continues, Jason Gardner is 7th and Mark Lewis Francis Doesn't Make the Final Guardian
*Craig Pickering First White Athlete to Win 60 at British Trials in 20 Years
*Video of Men's 60 at British Trials BBC
*Francis Obikwelu Says the Real Matchup With Craig Pickering Will be Outdoors
*UK Indoor Champs Results
Germany: Karlsruhe, Germany Recap: 2:18 1000 for Lagat, Liu Xiang Asian Record in Hurdles, 1:58.99 for Ceplak IAAF
*Karlsruhe, Germany Results
Spain: Valencia Recap: Daniel Komen II Runs 3:33.69 World Leader in Spain, Reese Hoffa Wins Shot IAAF
*Valencia Spain Results
XC: Kenyan Champs: Lornah Kiplagat, Richard Matelong, Police Champ, Win Kenyan Champs IAAF
Japan: Kenyan Joseph Gitau and Analia Rosa from Portugal Win Chiba XC in Japan IAAF
Yelena Isinbayeva Breaks Her World Record in Pole Vault
Washington Results: Amy Hastings 15:30, American Collegiate Record We Believe, Solinsky 13:30
Sammy Wanjiru Runs 58:53 World Record in Half Marathon as Three Guys Run 59:43 or Better This half marathon ponied up a ton of cash and got great results. IAAF
Tyson Invite: Recap: Allyson Felix Sets American Record in 300, Kevin Sullivan Canadian Record at 3k Tegenkamp ran 7:40 behind Sullivan as Webb pulled out. And Nick Symmonds somehow got spanked in the mile. We don't believe it.
*Results
*Tyson Invite Photos Yahoo UK
Daniel Komen after 1500m World Record in Spain Today
Some Critical of UK Athletics Plan to Not Take Everyone Who Qualifies to Worlds
Heat and Humdity to Be a New Thing for Runners at Kenyan XC Champs in Mombasa
Tegla Laroupe Gets Jubilee Insurance Samaritan Award for Her Peace Work
Sub 10 Second Guy in S. Africa Still Basking in Limelight He should enjoy it while he can because we doubt it's legit. 2 no names don't all of a sudden become sub 10 second guys.
Overkill: Korea Sending 60 Strong Delegation to Mombasa to Bid for 2011 Worlds
NBC Pays Nearly 4 Times What European Union Does to Televise Olympics s
1500m record holder Hind Dehiba Tests Positive for EPO, She Had Lied And Said She Was Training in Morocco When She Was in US A good way to avoid being tested is top say you're in a third world country.
XC News: Kenyan Nationals This Weekend is Not the World Trials Race
*UK Champ Frank Tickner to Skip Worlds to Focus on Exams, UK Squad NamedBBC
National Record for 400m Irishman David Gillick IAAF
German Indoor Action: Helen Clitheroe Runs 4:08 World Leader 1500 in Germany BBC
*Duesseldorf Results: Ismael Kombich 1:46.7, Augustine Choge 3:36, Tetyana Petlyuk 1:49.6, Jeff Hartwig Wins Pole Vault, Xiang Hurdles
S. Africa Runs 9.95 and a White Dude Runs 10.00?
More: South Africa Sprinter Lee-Roy Newton' Runs 9.95
Kenyan Champs: Catherine Ndereba Hoping to Make Kenyan Worlds Team
*Lornah Kiplagat Headlines Foreign Contingent Competing at Kenyan XC Champs This Weekend
UK Athletics Chairman Says They Won't Take Also Rans to World Champs America takes everyone and they've got the best team in the world.
UN Convention Approves WADA Banned Substance List
Weekend Half Marathon Action We Haven't Reported:
*Kenya's Mogusu Blitz's Runs Half in 59:48, Japan's Fukushi Wins Women's in 1:08:00 at Marugame Half Marathon If Mogusu were white you'd have heard of his run before now. Regardless he is an up and coming talent at age 20.
*Khalid Khannouchi Back Racing Again at San Blas Half Marathon
Alan Webb to Move up to 3k at This Week's Tyson Invite, Tegenkamp, Cragg in Field as Well We now guarantee Nick Symmonds will win the mile.
S. Africa Marathon Champs in Port Elizabeth This Weekend on Course Where Mark Plaatjes Ran Sub 2:10 (Roughly $15,000 for 1st) Plaatjes would go on to win gold for the US at the World Champs in the marathon 1993.
38 Year Kenyan XC Star John Kibowen May Hang up the Spikes
IAAF Magazine Features Many Top Athletes IAAF
More Weekend Action: Japan: Atsushi Fujita Wins in 2:10:23, But Misses World Champs Qualifying Time for Japan IAAF
*Hanson Brooks Runners, Peter Gilmore Compete in 30k in Japan The Boston Marathon sent them over there.
Uganda: Boniface Kiprop and Moses Kipsiro Go 1-2 at Ugandan XC Champs Checkout the finishing photo.
Belgium: Britain's Clitheroe Runs 4:09 1500 in Ghent IAAF
New UK Athletics Head Says Expect Change
SI's Tim Layden Looks Back at Millrose
100th Millrose *Photo Gallery *Results

*Lagat Over Mottram for 5th Millrose Title, Webb Falters in Wanamaker LRC brief distance recap
*Lagat Mile is High Five www.nydailynews.com
*Lagat Masters Mile www.nypost.com
*Gail Devers Defies Mother Nature, Bernard Lagat Wins Studly Wanamaker Mile, and Isinbayeva Vaults High Washington Post
Many thought Gail Devers was just at Millrose to sell tickets. Not only did she do that but she stunned the field to win the women's 60m hurdles at the age of 40. Mo Greene didn't hold up to his end of the bargain, as he stumbled in the men's 60, but he had a great start in the first 60 which was called back due to a false start. In the event most people came to watch, the Wanamaker Mile, Bernard Lagat outkicked Craig Mottram for his fifth title, while Alan Webb stunned us all with a very subpar performances.
*Millrose Games Recap from IAAF IAAF
*Gail Devers Wins Millrose at 40
*Dibaba Wins 3k at Millrose
*Video of Lagat/Mottram Press Conferences
Millrose PreRace
*100th Millrose Preview from IAAF Lagat vs Mottram vs Webb in the Wanamaker mile. Dibaba in the 3k, Steve Hooker and Isinbayeva in the pole vault. Mo Greene and Gail Devers trying to prove they still belong. And of course, Cornell in the 4 x 800.
*Lagat, Webb Ready for Wanamaker Showdown newsday.com
*Webb, Ready for Mottram at Millrose www.nj.com
*100th Straight Millrose is Here We figured there had been a break during the World Wars but we guess not.
*Craig Mottram Says Don't Count Him out on Small Millrose Track in Great Wanamaker Mile Matchup
*Isinvabayeva Ready for Her First Millrose in the Pole Vault New York Times
*Maurice Greene at 32, Gail Devers at 40 Ready for Millrose nypost.com
*Steve Hooker Still Doesn't Have His Poles But He's the Favorite at Millrose
*Millrose Turns 100: "I remember when New York had nine newspapers, and every paper had a track writer. Every paper had a guy writing track every day of the week from mid-January to early March" -meet director emeritus Howard Schmertz. It's hard to believe IMG nearly let this thing go under. USA Today
*Bernard Lagat Talks About Taking on Webb, and Mottram for His 5th Wanamaker Mile Title He's the favorite for Friday but it should be a great race.
*NY Times Looks at T Dibaba and Women Runners in Ethiopia Somehow they became world class without access letsrun.com. In addition to not understanding English, there is no internet where the Dibabas come from. And the author did not mention the rivalry between Dibaba and Defar.
*NY Daily News Looks at History of Millrose Michael Johnson and Jim Ryun skipped the meet in their prime.
*Alan Webb Profile from Earlier in Week New York Times
*Craig Mottram Gets Standing Ovations Throughout the World, but is Overlooked in Australia After he defeated Bekele last year, he got a standing "O" on the atheltes bus.
*Gail Devers and Mo Greene Giving it a Go at Millrose
*Danielle Tauro Ready to Defend Her Millrose Girls Mile Title
*Alan Webb Ready to Challenge Lagat, Mottram at Millrose, Still Has Eyes on 1500m World Record nypost.com
*Russian Immigrants Flocking to Millrose to Watch Isinbayeva Did you know there is a Russian radio station in the city? And the college guys coming up for Saturday's New Balance Games are wanting to know the best places to go party Saturday night. (Just don't put the photos on facebook.)
*Bernard Lagat, Eamonn Coghlan Talk About Wanamaker Mile Buy your tickets now because this could sell out soon. Mottram, Lagat, Webb all in the mile.
Serious Training for Nick Willis to Begin in April
Ryan Hall Podcast He talks about London a little and running a 10k at Stanford before London. It dawned on us, that maybe all is the US version of Paula Radcliffe (although not as good at shorter distances)
Leonard Mucheru's Fate Not Settled, He May be Banned from Representing Bahrain for 2 Years
Japan to Send Full Squad to World XCs
Mark Lewis Francis is a Reminder Against Hyping Craig Pickering Too Much Mark Lewis Francis was once seen as having more talent than Justin Gatlin. Gatlin turned to Trevor Graham. MLF didn't. Oh wait, bad comparison. Guardian
Vivian Cheruiyot Running Well for Kenya, She Was Competing as a Junior in 1998
Reebok Boston Games:
Tirunesh Dibaba 14:27.4 5k WR, Shalane Flanagan 8:33.25 AR
story updated with photos
*Results
The Reebok Boston Games had it all once again. Tirunesh Dibaba may have gotten the world record but the biggest surprise was American Shalane Flanagan challenging one of the greatest distance runners in the world, Meseret Defar, over the final laps in the 3k, and setting an American record of 8:33.25. Nick Symmonds showed he is the real deal and that he runs to win, as did Alan Webb in the mile. Craig "Buster" Mottram, destroyed the 3k field, with a 55 last 400, in his first time on a track since September. Not to mention Australian records in the women's mile, and men's pole vault.
Photos:
*Victah Sailer Reebok Boston Photo Gallery
*LetsRun.com Photo Gallery
*On the boards: If You Watched the Reebok Boston Indoor Games on TV Posts Your Comments
More Coverage
*Boston Herald Recap of Reebok Boston Games (Much Better than the Globe's General Recap)
*Craig Mottram Turns Race into a Route Boston Globe
*Boston Globe Recap of Reebok Boston Games The author calls an indoor 14:35 women's 5k "relatively slow".
*Tirunesh Dibaba Smashes World 5k Recrod at Reebok Boston Games
*More Quotes from Reebok Boston Games *LetsRun.com 2007 Reebok Boston Indoor Preview
Slum Dwellers in Kenya Were Charged Nearly 5 Times What They Make on a Good Day to Enter Conference Probably not a good idea when the whole idea was to have a road race to uplift these people living in total poverty ($1.50 a day)
It's London: Ryan Hall to Make Marathon Debut In London The hottest American star will have his hands full as he decided to challenge the world's best in his marathon debut. Tergat, Gebrselassie, Khannouchi, Limo, Lel, Ramaala, Gharib, Baldini, Keflezighi, NYC champ Gomes dos Santos. That's 10 stars of the sport (11 counting Ryan) in 1 race. Sick.
*Was Hall's choice a wise one? Some are applauding it saying its ballsy, others are saying it is "mismanagement"
*Hall to Skip US XC Champs The US still should have an incredibly strong team at Worlds.
In Case You Missed It: "In the history of track and field, I can't think of anyone doing anything comparable to what he did"
-Walt Murphy on the incredible Delano Meriwether, who after becoming a doctor became a world class sprinter (and US Champ) at the age of 27, after not having been involved in track and field. Even more impressive is what the Meriwether has done off the track: from being the first black medical student at Duke, to providing medical care in apartheid S. Africa, to regarding material things as irrelevant. A must read.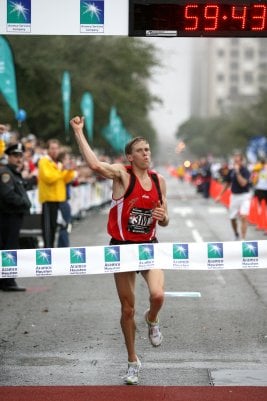 59:43 for RYAN HALL
Yep, sub 1 hour in the half marathon for an American on American soil on a certified course. One of the best American distance performances ever as Ryan Hall won the US Title, the Aramco Houston Half, picking up $21,000, to become the 9th fastest ever on a record certifiable course.
*Photo from Victah Sailer of PhotoRun.net
*Videos of the Race From the Flocast Guys Here

The Legend of Nick Symmonds: The DIII Star You Had Never Heard Of Until 7 Months Ago Opens Up in 3:56 Maybe he'll go undefeated this year. His time dropped a second overnight without him running a step.

Photos Kip Keino Comes to Ithaca The legendary Kip Keino came to Ithaca, NY, the east coast home of letsrun.com. See photos of the event including Olympic champ Peter Rono, Keino's son, Ian, and LetsRun.com's Wejo, Rojo, and even JK.

Dean Karnazes Profile in the LA Times Quotes from LetsRun.com's Wejo, and message board poster, John Morelock. NCAA XCs:
Women: Sally Kipyego Dominates, Stanford Survives
Recap: Sally Kipyego Dominates, Stanford Wins With Highest Point Total Ever
*Individual results
*Team Results
Kipyego dominated the individual field and the Cardinal repeated, but just narrowly over Colorado, as the Cardinal scored 195 points, the highest ever for a winning team (that total on the men's side would have been 2 points from 7th). Mark Wetmore almost did the unthinkable again (with a squad that was only 6th at PreNCAAs), leave Terre Haute with 2 titles, but the Buffaloes' 5th runner finished 165th.
*Ivy League Women Have Top 3 Finisher for 5th Straight Year
*Women's Recap from Terre Haute Newspaper

LetsRun.com Classic Emails #1 We share with you some of the classic emails from our site's visitors and give you valuable knowledge at the same time. You'll read conclusive proof Lance Armstrong dopes, learn AJ Acosta is not as much an a**hole as you thought, and much more.

A Legend Passes: "I don't train never have. I don't think of running as training. I just go out and run each day, and let the racing take care of itself"- Jack Foster of New Zealand, who ran a 2:11:17 marathon at the age of 41 to win silver at the Commonwealth Games in 1974. He died in a bike accident yesterday at the age of 72.

In case you missed it:
Todd Williams Hangs them up
In our lengthy 3 part interview, Todd Williams, the premier 10,000m runner in the US, talks about his illustrious career and the sport of running in general.
Part I here, Part II here, Part III here
Also take a look at Amby Burfoot's look at Todd Williams' incredible American record at 15k in 1995, the same year he finished 9th at World Cross Country.

More isn't always better:
"I had over-trained. I put too much pressure on myself because I wanted that gold medal too much. If I had trained 15 per cent less, I would have won. I was training like a crazy person. There was a lack of self-confidence and a lack of maturity. An athlete does not only train with his body. He trains with his mind."
-Hicham El Guerrouj on why he didn't win Olympic gold in 2000

JK Speaks: Progressing To Peak Fitness LetsRun.com coaching guru John Kellogg talks about progression runs and the art of the sport versus the science of the sport.

LetsRun.com Book Reviews 2 Good Reads on Milers 50 years apart:
Sub 4:00 and The Perfect Mile

"Paul Maurer, in The Gift, not only presents an interesting and captivating story, but he explores the deeper questions of why runners run, why we compete, and what makes such a simple sport, running, so rewarding to those of us who do it. The Gift is one of the best running books I have ever read. "
-LetsRun.com's Weldon Johnson on a new Running novel, The Gift
(The Gift is now available from Amazon.com)
Justin Gatlin Wants Arbitration Hearing to Challenge His 8 Year Doping Suspension
S.Africa Action ThisWeekend: 800m Stud Mbulaeni Mulaudzi Competing Outdoors in A. Africa This Weekend in the Heat
*Lee-Roy Newton Competing This Weekend 10.25 would be great for him.
Euromeetings AdocatesTrevor Graham's Athletes No wonder they all say they're coached by someone else.
Balco Reporters to Avoid Jail, as Conte's Lawyer to Plead Guilty to Leaking Grand Jury Documents He's gettting 2 years. Meanwhile if you help millionaire athletes cheat themselves to millions of dollars you get a few months.
Interesting Read: In Depth Interview With USADA's General Counsel, Travis Tygart, He Dispels Some Myths about USADA Put Forth by Defense Lawyers It's good to know that USADA testers are allowed to testify on the behalf of the accused. And we wish Dick Pound would be professional like USADA and keep his mouth shut about pending cases.
Stefan Holm Goes Over 2.30 For 100th Time IAAF
"I got to 15 and said no more — too cold and it hurt too much"
-Nathan Douglas, Britain's #1 triple jumper, on his pretty successful career as a cross country runner.
Post USA XC News: Flatirons Golf Course a Little Beat up after USA Nationals Boulder Daily Camera
*Inside Triathlon Article Says 5000-6000 in Attendance in Boulder Whatever the number was, it was a huge party in Boulder.
Usain Bolt Opens Season in 45.92 IAAF
Lance Armstrong to run NYC Again
A Look at Inga Abitova, Who Won European Champs 10k in 30:31 IAAF
Lee-Roy Newton 9.95 Not Ratified (He False Started and Ran a Meter Short)
Craig Mottram Racing 3k This Week Outdoors in Australia
Goucher, J Torres Running NY 8k And there is a possibility he may try the marathon in the fall at the Olympic trials.
Joggers Sick of Finding Dead Bodies
LetsRun.com Boulder XC Coverage

*Results
Kastor Dominates, Culpepper Upsets
A NewDay for US Cross Country
It was a momentous day in US cross country history as 10,000 spectators poured onto the Boulder golf course to witness the return of a single champion at the US championships. Alan Culpepper got the come from behind victory that could define a career, and Deena Kastor put on a clinic, showing she is still the best cross country runner in America by a longshot.
*Splits from all the races
Video:
*LetsRun.com Video of the Men's Finish nd Culpepper Pumping His Fist
Great Flocast Videos:
*Men's Race *Women's Race
Photos: Women's Race Photos
(Other races coming soon)
Denver Post Coverage:
*Culpepper, Kastor Get Titles
*Boulder Running Reputation Solid
*Incredible: 10,000 Fans Turned Out
*Support of Fans Touches Kara Goucher
Boulder Daily Camera Coverage:
*Boulder Does it Self Proud
*Culpepper Feels Right at Home
*Deena Kastor Dominates
*Race Results Weekly Recap of 2007 USATF XC Nationals
*LetsRun.com Boulder 2007 Preview No more hype, no more talking. It's time to lace them up and race so we've got our prerace preview and picks.
*Boulder 2007 LetsRun.com Fan Predictions
*Jordan Hasay Ready for Junior Race
Friday: Wejo in Boulder: The Buzz In Boulder? 'Who's Going to Win' That's what everyone wants to know and it's refreshing to be in a town where people actually care.
*Alan and Shayne Culpepper Balancing Family and Running
Thusrday: Gouchers Ready To Go
*Adam Goucher Profile: In an in-depth LRC profile, Adam Goucher talks about his current fitness level, his thoughts on 2006, his goals for 2007, the end of 4k xc, his relationship with Mark Wetmore and even what it's like to pass Cragg Mottram in a race. (Goucher is 31, not 32 as re originally said in the article)
*Kara Goucher Interview: The American set PRs at 1,500, 3k, 5k and 10k last. She has since upped her training by at least miles per week and is expecting big things in 2007.
*Meb Issues Statement on Pulling Out He got a cold and London is the focus.
*Ritz Ready to Rumble, Says the Course is In Great Shape
*Jorge Torres Ready for Battle in Boulder
*Meb Keflezighi is Out
Wednesday: Alan and Shayne Culpepper Speak
Alan talks about the showdown in Boulder, the most disappointing year of his professional career, returning to the track, the economics and professionalism of the marathon, Mary Wittenberg, and the good 'ole days of American distance running- which are now. Shayne talks about 10 minute miles, the 1500m, the advantages, (and disadvantages) of being forced to take time off from the sport, and the incredibly strong women's field assembled for the US champs this weekend.
*If somehow you're not excited about this weekend's race watch this: Trailer for Showdown Race DVD Released (click on trailer)
*AJ Acosta Running Junior XC Nationals This Weekend
Tuesday: LRC Deena Kastor Excited to Return to Her Roots Before she was America's greatest marathoner, she was America's greatest cross country runner and she's returning to her XC roots this weekend. In an depth LetsRun.com profile of America's greatest female runner, Deena explains why she was 'disappointed' with 2006 despite being #1 in the world in the marathon, and how she is training harder than ever. Plus she talks about the Boston Marathon, Shalane Flanagan, Ryan Hall and even letsrun.com.
*Deena Kastor Profile in Ventura Newspaper Racing more is the plan in 2007.
*Gouchers Ready for Happy Return to Boulder for XC Champs It's hard to believe, but Adam says he didn't really become a pro until moving to Oregon and training under Alberto, "One of the main changes for us was becoming professional athletes". Boulder Daily Camera
*Pete Julian, The Man Behind Boulder 2007 If everyone in the world was like Pete Julian it would be a much better place.
Monday: LRC Ritzenhein Ready to Battle in Boulder One of the greatest American XC hopes ever is ready to take on all comers in Boulder at the US championships. He talks about the race in Boulder, his 2006 season, his marathon debut, running more mileage, his relationship with Mark Wetmore, Ryan Hall, his plans for 2007 and whether he intends to run the Olympic Marathon trials.
Upcoming: Interviews with the Culpeppers, the Gouchers, Sara Slattery (who is now officially out of the race with a hot spot on her foot.
*Meet website here.
*The snow is melting (photos of the course from Brad Hudson's Boulder Performance Trainng website) and the forecast is for warmer temps for the middle part of the week but possibly more snow on the weekend.
*Other LetsRun.com Boulder Profiles: Abdi Abdirahman and Shalane Flanagan
Stuttgart: Meseret Defar Edges Meselech Melkamu as Both Smash Old Indoor Record at 3k If you read the article or watch the video, you barely know that Defar only won by .02. There is something wrong with our sport when the the competition between 2 athletes becomes an afterthought (or when we mix up Defar and Dibaba)
*Video of Defar's World Record
*Stuttgart Results
*Nathan Douglas Triple Jumps 17.14 PR in Stuttgart
*Craig Pickering Continues Strong 2007 With Third Place in Stuttgart
Greece: Thanou Returns from Drug Suspension and Wins 60 at Greek Champs in 7.28 BBC
*2007 Greek Indoor Results
Outdoor Action: 2 S. Africans Qualify for WorldsIAAF
BUSA XC: Frank Tickner and Kate Reed Win BUSA World XC Trials We're clearly not experts about HTML but the Ukathletics site doesn't work if you use Firefox.
LetsRun.com Exclusive Abdi, Ritz, Torres, Meb, Slatteries, Culpepper Give Their Superbowl Picks Who cares how they train. See who they're pulling for in the big game. Plus a little trash talking aimed at the Torri. A must read especially if you want to lose some money on the game. Updated: Meb's pick now added and new picture of Cruz Culpepper.
Christine Ohuruogu's Appeal Not to Be Decided Until End of Month BBC
Mo Greene Wants Gold in Beijing and Then That is It BBC
Clemson Track Team Remembers Coach Jarrett Foster Who Was Killed in a Jet Ski Accident link fixed
Ecker and Otto clear 5.82 in Cottbus IAAF
Drunk Who Killed 8 Wyoming Cross Country Team Members Being Moved to Minimum Security Facility
Kenny B to Have 2 Week Indoor Season: 1500 Next Week in Spain, 2000m Week After That in Birmingham IAAF
Yelena Romanova, the 3,000-meter gold medalist from 1992 Dies of Heart Condition at Age 43
Battle in Boulder
2 Weeks Away, The Races You've All Been Waiting For:
Shalane Flanagan's Focus All Along was on XC This Winter, But Her American Record Has Made Her Re-evaulate Her Career Flanagan feels like she is finally training like a pro and calls her record run in Boston her professional debut. She talks about possibly beating Defar except for a tacitcal mistake. Plus it sounds like she can't stand Regina Jacobs. Join the club. LetsRun.com
Monday: Dathan Ritzenhein Interview Yes Rojo actually did something for the website for once.
Previous:
*Goucher Not Out to Prove Anything, But He's "Going to Be Tough to Beat" Denver Post
Interview with Pete Julian, The Man Behind Boulder XC "I want this to sort of be the Woodstock of Running". They've embraced our business model: Free admission (or giving it away for free) And don't forget the Reebok/LetsRun.com afterparty.
Boulder Excited About Hosting USA XCs Boulder Daily Camera Clearly there is something to this Woodstock thing. CU coach Mark Wetmore is skipping his team's meet to watch XC nationals and says: "Track and field is Carnegie Hall; indoor track is Las Vegas, and cross country is Woodstock."
Abdi Abdirahman Interview: "If you make worlds, go to worlds"
Ex Rugy Exec, De Vos, Takes Over UK Athletics, He Had Talked of Having This Job Years Ago He says he knew almost nothing about rugby when he took over a rugby club in the UK and turned it around, so he seems like a good choice as he actually knows something about running. He acts like he was a hack, but he ran 1:57 in high school in the UK. Kids in America run those times, and expect a college coach to pay attention. Then again kids in America choose which college they're going to because of how many tshirts they'r going to get. Guardian
Monday's Action:
Austria: Ceplak Goes Sub 2, Jason Gardener Wins 60 in Vienna IAAF

Arkansas Reports Violations to NCAA Regarding Brauman, Tyson Gay
Sad News: CK Yang, Former Decathlete World Record Holder and Rafer Johnson's Rival, Dies at Age of 74 We're too young to know much about Yang but used to hear out dad talk about Yang and Rafer Johnson. Clearly track and field used to be in the public consciousness, and its sad to see the former world's greatest athlete leave us.
Boston and Chicago Champ Robert Cheruiyot Back Running Well after Chicago Fall, but Evans Cheruiyot Wins Discovery XC Race in Kenya Robert Cheruiyot will put his 2 Marathon Major win streak on the line in Boston.
Glasgow: *Glasgow 2007 Indoor Results
*Bernard Lagat Wins Representing America for the First Time in Glasgow and Says: "I'm very proud to be part of the American milers"
*Susanna Kallur Wins 60 and 60 Hurdles in Glasgow IAAF Recap
*Craig Pickering a Star? He Smashes Jason Gardener and Mark Lewis Francis in Glasgow Independent
*Swedish Team, Lagat vs Rotich Highlights Glasgow MeetIAAF
*Mark Lewis Francis, Jason Gardener, Kelly Sotherton Among British Athletes Competing in Glasgow Today
Weekend College Action:
*Terrier Classic Women's Results
*Terrier Men's Results 3:59 for BU's David Proctor
*Notre Dame Invite Results
4:02 and 4:03 in the mile for two Notre Dame guys.
*Penn State Results: *Women *Men
45 Year Old Ramilya Burangulova Wins ING Miami Marathon in 2:40, Teshome Gelana Wins Men's in 2:17, Both Pocket $5000
Tia Hellebaut Jumps 2.00m Before Homecrowd in Belgium IAAF
Asafa Powell Runs 47.46 400 in Jamaica to Win His Heat
Arkansas Reports Violations Regarding Lance Braumann They're giving up 3 scholarships and implementing some other sanctions.
*Lance Brauman Mail Fraud Charges Were Related to Tyson Gay Who Testified Against Him
*Former Arkansas Star Kyle White Has Replaced Lance Brauman
1 Race, 1 Champion:
Boulder 2007 XC
LetsRun.com! Abdi Abdirahman Eyes American Record at 10k, Olympic Marathon Team in 2007 27:22, 1:01:07, 2:08:56. No American has run as fast in one year at the 10k, half marathon, and marathon as Abdirahman did last year. He's hoping for bigger things in 2007, including a trip to Mombasa, Kenya (where he lived for most of his childhood) and the World Cross Country champs. Abdi gives his views on why so many African runners are successful, poverty in Africa, the resurgence of American distance running, and even the conflict in his native Somalia.
Footlocker XCs:
Boys: Chad Hall Gets the Crown US star Ryan Hall is Chad's brother, but Chad has something Ryan never can get- the high school national championship.
*Footlocker XC Results
Girls: South Reigns Supreme, Kathy Kroeger Wins, Aurora Scott 2nd link fixed Defending champ Jordan Hasay was 10th and 3 time runner up Mel Lawrence was 5th.
Predictions: Tebo and Forys Neck and Neck, Hasay Expected to Repeat Check out the letsrun.com predictions. We give rankings for all 38 runners getting votes.

A Staff of One:
"Perhaps the most valuable gift from Letsrun.com is a friendly willingness to share lessons learned by their editorial staff, which includes successful college coaches and highly competitive athletes. "
-Gary Droze, writing about letsrun.com in the Tallahassee Democrat
NCAA XCs
Men: Mark Wetmore is the Man:
Colorado Stuns Wisconsin Again, Rohatinsky Wins
Team Recap: Colorado Does it Again: Men Come Out on Top, Women Finish 2nd
Individual: Josh Rohatinsky Just Wanted to Get to 8k Near Lead No he's not 30. He's 24 and a few days younger than Jess Baumgartner who came out of nowhere to finish 3rd.
*Individual results
*Team Results The race was eerily similar to 2 years ago when Colorado, a huge underdog, came from behind to upset the heavily favored Badgers. Josh Rohatinsky won the individual title.
*Chris Solinsky Takes the Blame for Wisconsin's Loss www.madison.com
*Men's Recap from Terre Haute Newspaper
*Stanford Women Defend, Colorado Men Upset Wisconsin at 2006 NCAA XC Champs Race Results Weekly
Video:
*Flocast Postrace Interviews of Mark Wetmore,Chris Solinsky and Josh McDougal 1 very happy guy and 2 very disappointed ones.
*Flocast Interviews With Men's Top 3 Post Race
*Flocast Video Highlights of Men's Nationals Watch them before CBS comes calling.

Bob Kennedy Interview
"I think the question then becomes when, and at what point are we, as organizing bodies, USA Track and Field, IAAF, the other national governing bodies from all over the world, going to really invest the money that its necessary in testing to keep up and get ahead of, the people who are using the system to cheat. And that will take money. It takes money to develop the tests for the different variants of the drugs that these people are coming up with, and only when you have that kind of investment will you really stop it. Otherwise, they're just faking it."
-Bob Kennedy, in a LetsRun.com interview where he talks about drugs, success, shoes (the Kennedy XC) and Tegenkamp
Married Thanks to LetsRun.com:
"I don't want to say it. It sounds crazy but it was a dream come true"
-John Stiner, on getting married to his wife, Sarah, who he met on the LetsRun.com message boards. Read about their incredible story.
"Everybody in Kenya is trying to come to America. I had no dream about coming because I knew this was impossible. It was a miracle," Kiplagat said. "That is why I take advantage of every opportunity. I came here, graduated in three years, and count myself blessed"- Richard Kiplagat who graduated from Iona in 3 years and had a 3.75 GPA
"This is not coming out of retirement, this is just me showing that if you just enjoy what you are doing and stay in there and set little goals. I do a lot of speaking, I've spoken to every group in Australia and I tell them back when I ran I set little goals and I think here I am telling these guys, but I've got to do it myself and tonight was really a chance to walk the walk"
-Steve Moneghetti, who at age 43, broke the world best for the 1 hour run for master's, averaging sub 5 minute pace the whole way as Ron Clarke, John Landy, and Robert De Castella watched him run.
Paul Tergat
*"As the holy scriptures say, 'for whoever much is given, much is expected,' it is, therefore, my duty and privilege to help in any small way in giving back to society."
-Marathon world record holder, Paul Tergat, speaking after founding a sports foundation that will help disadvantaged youths.
*Tergat's hamstring injury has healed and he says he's ready to go at NYC: "I expect good results as I am in good shape" but he's out of next week's Half Marathon in Britain, but interestingly Gezahegne Abera (remember him, formerly the greatest marathoner in the world) is running. www.registerguard.com
And the winner is:
Best Running Movie of All-Time: Fire on the Track
After sitting on the results for months, we're proud to announce that the best running movie of all-time as selected by our viewers is a not an academy award winner, Chariots of Fire, or a highly publicized film produced by Tom Cruise (Without Limits), but rather a running documentary, Fire on the Track: The Steve Prefontaine Story. Read all about the voting and see the 10 best running movies of all-time as selected by our viewers.