Next Weekend:
Reebok Boston Games: Women's Mile Shaping up for 2007 Reebok Boston Indoor Games
*Mottram, Cragg set for 2007 Reebok Boston Indoor Games Next Weekend
This Weekend: Third Leg of Standard Chartered Greatest Race on Earth on Tap This Weekend in Mumbai
Link Fixed Great Matchup in 2.5 Weeks: Alan Webb to Race Craig Mottram, Bernard Lagat at Wanamaker Mile at 100th Millrose Plus Isibayeva in the women's vault in her US debut, and a competitive men's vault. Get your tickets now. Drop the Mary Slaney boycott. If you really dislke her you can boo her. Plus you can also boo Rojo as a Cornell 4 x 800 squad is entered along with Oregon, Nova, Gtown, Seton Hall and BC.

Great Matchup Next Month At USATF XC The USATF XC Nationals will be full of excitement not seen in over a decade as the fields are loaded and there will only be on male and female champion. Meb Keflezighi, Deena Kastor and Ryan Hall have all been confirmed as entrants.
More Ryan Hall: Ryan Hall Makes Page 3 of USAToday with a Photo (He'll Choose a Spring Marathon Soon) "The thing I'm most pleased about is that my preparation for the marathon has been really enjoyable. I've never enjoyed running more than the last couple of months. I love the long runs; I love doing the hard tempos; I love the volume. I think I'm made for the longer distances."
*Bob Larsen Says Everyone in the World Will Notice Hall's Run, Meb Hasn't Been to Altitude Yet
Ryan Hall Mania:
Ryan Hall surprised all of us with one of the most impressive and shocking performances in American distance running history by smashing the American record and running 59:43 a the Aramco Houston Half Marathon to pocket $21,000. He even shocked himself as even the best splits on his hand came out to 1:00:01 for the half.
*Best Full-post race recap from David Monti
*Houston Chronicle Recap
*Ryan Hall Photo Gallery
Video, Video Video:Click Here
In Case You Made the Terrible Decision to Not Come Here Recently: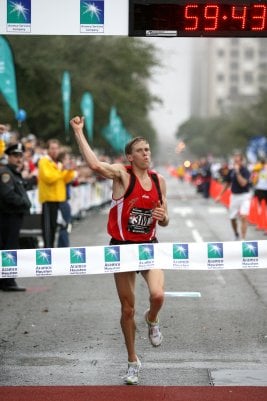 59:43 for RYAN HALL
Yep, sub 1 hour in the half marathon for an America on American soil on a certified course. One of the best American distance performances ever as Ryan Hall won the US Title, the Aramco Houston Half, picking up $21,000, to become the 9th fastest ever on a record certifiable course.
*Photo from Victah Sailer of PhotoRun.net
*Videos of the Race From the Flocast Guys Here

The Legend of Nick Symmonds: The DIII Star You Had Never Heard Of Until 7 Months Ago Opens Up in 3:56 Maybe he'll go undefeated this year. His time dropped a second overnigh without him running a step.

Athletics Kenya Says World XCs is $700,000 (US) In Debt

Friday's Action: William Rotich Dips under 2:10 at Standard Chartered Dubai Marathon IAAF
Track: Armory New Balance Collegiate Results

Judge Mbaye, Chairman of IOC Ethics Commission and President of ICAS (Court of Arbitration in Sport Body) dies IAAF

Bahrain's Kenyan-born runner Abel Cheruiyot Buried in Kenya after Mysterious Death in Portugal

Sick: London Marathon Does it Again: Tergat, Gebrselassie, Limo, Gharib, Baldini, Ramaala, Khannouchi, Keflezighi and More to Race in 2007 London never seems to rest on its laurels and is the most competitive marathon in the world for a reason.. Hopefully for once just as a goodwill gesture they can put this race on tv in the States. American Meb Keflezighi will test his skills against the worlds best on a flat fast course.
*Meb in the Mix at the 2007 Flora London Marathon
*Gebrselassie Out for Elusive London Marathon Title
*2007 London Marathon Preview from IAAFIAAF
*Boston Gets 2: Two-time Boston Champion Robert Kipkoech Cheruiyot and Two-time New York Champion Jelena Prokopcuka (World Marathon Major Leaders) to Run Boston Cheruyiot won Boston last year and both runners want to stay atop the World Marathon Majors.

UK Athletics Chooses Businessman Ed Warner as Chairman BBC
*Ed Warner Joined an Athletics Club After Seeing Ad Last Year Times of London

Reese Hoffa Training on His Own After Adam Nelson Moved to Georgia IAAF

USATF Announces 2007 USA Running Circuit Schedule: Men's US 8k and 10k Champs Are Back The Peachtree Roadrace willlserve as the men's US 10k champs.
*Meb Keflezighi Running USA Half Marathon Champs Next Weekend in Houston

New Year's Eve Action:
Madrid: Eliud Kipchoge Runs World Best 26:55 at San Silvestre Road Race in Madrid updated Results here.
Italy: Morocco's Abderrahim Goumri and Aniko Kalovics Win in BoClassic in Italy
Japan: All Japanese Chugoku Electric Power Team Wins Prestigious New Year's Ekiden in Japan This is the most prestigious Ekiden in Japan.
New York City: Thomas Morgan Wins Emerald Nuts Midnight 4 Mile in NY
New Hampshire: Hunter Spencer Runs 3:52 at Millenium Mile
*Millenium Miile Results
*Millenium Mile Photos
Brazil: Brazilians Franck Caldeira and Lucelia de Oliveira Peres Win Sao Silvestre in Sao Paolo Brazil
DC: Slicko Is Back Wins Beer Mile in 5:51
Angola: Ambessa Tolassa Wins San Silvestrie in Angola, Paul Tergat 4th
Germany: Defending Champion Moses Kipsiro (Uganda) and Ethiopian Belaynesh Fekadu Win Trier Germany New Year's Eve Race
Albany: Eliot Spitzer Goes for 6am Run after Being Sworn in as New York's Governor
Britain: 71 Year Old Wins 110m New Year Sprint at Musselburgh

Jeremy Wariner and Sanya Richards named US Men's and Women's Athlete of the Year for 2006

Hicham El Guerrouj to back Madrid's Olympic Bid for the 2016 Olympic Games

Great article on Kip Keino the humanitarian, who the Ithaca community was fortunate enough to have pay a visit

Chinese track star and Olympic Gold Medalist Liu Xiang plans on running past 30 years old to prove he is not "a flash in the pan."

Tiger Woods voted AP Male Athlete of the Year for 4th time in his career, tying the record set by Lance Armstrong

Sports Illustrated top 20 Best Looking Athletes (Female), Carrie Tollefson ranking in at 4th

Russian 3000m steeplechase champion Lyubov Ivanova has been handed a two-year suspension after testing positive for steroids

38 year-old Jamaican 400-meter runner Sandie Richards announced her retirement in Jamaica on Sunday

Indian athlete who failed rare gender test may need surgery: doctors say

Jamaican sprint king Asafa Powell promises big year

Tokyo's bid for the 2016 Summer Olympic Games

Photos Kip Keino Comes to Ithaca The legendary Kip Keino came to Ithaca, NY, the east coast home of letsrun.com. See photos of the event including Olympic champ Peter Rono, Keino's son, Ian, and LetsRun.com's Wejo, Rojo, and even JK.

Dean Karnazes Profile in the LA Times Quotes from LetsRun.com's Wejo, and message board poster, John Morelock.

Choge Defeating Mottram at Commonwealths 5k Was One of the Highlights of the 2006 Athletics Year for Steve Cram

Yoko Shibui to Try and Make Japanese Worlds Team at Osaka Marathon Next Month

Believe it or not, Justin Gatlin may have been sabotaged link fixed. We're surprised the Washington Post printed such a one sided story. Sure sabotage is a possibility (and Trevor Graham and THG clearly shows rival sprint camps will turn in other sprint camps) but considering Gatlin's ties to Trevor Graham, there are plenty of people out there (including this guy who even links to the pink bottle mentioned in the article) who don't think Gatlin's case is that strange. Perhaps the saddest thing is that everyone in the article assumes Gatlin has to be sabotaged or otherwise there is no way USADA could have caught him doping. Shows how confident everyone is in the testing system that it is more likely a top sprinter was sabotaged than actually caugh doping.

Dog saves two-time adventure racing World Champion's life, amazing story

Olympic marathon champion Noguchi heads all-star London field Plus Asian Games Champ Chunxiu Zhou, Chicago Chanp Ethiopia's Berhane Adere and Galina Bogomolova

Isaac Songok and Augustine Choge quit cross country to focus on World Championships

Possible drug cheat starts legal measures against the IAAF, seeking compensation for lost prize money and earnings

Jon Brown will not compete at next year's World Cross Country Championships in Kenya because he doesn't want to get injections

4th Athletics Kenya XC meet recap

China eyes Beijing 2008: 14 victories at Asian Games, same as 2002

Indian athlete fails gender test

Unofficial 2006 Poster of the Year I'm going to have to vote for Henry Rono.

USA Left out of Bidding for 2011, 2013 Worlds www.latimes.com
*Sweden Pulls Out as Possible Host to 2011, 2013 Worlds IAAF

Proposal to Shift Some Schools into Different NCAA Track Regions


Australian News: Jana Pittman Gives Birth to Baby Boy
*Tamsyn Lewis Speaks out Against Athletics Australia

2006 Grandma's Marathon Champ Halina Karnatsevich Gets DQ and Doping Suspension
Wow no one can be surprised after looking at this

Zatopek: Rupp Wins Zatopek With 28:28 in Australia photo as well
The message baorders are making a big deal he wasn't in an Oregon uniform. Who knows it might be an NCAA violation if he was in one.
*Patrick Johnson Wins 100 Yard Race at Zatopek
*2006 Telstra Zatopek Classic Results and Links to More Recaps

UK Sports Minister Says WADA Shouldn't Test for Weed or Cocaine

Frank Shorter Gets Lifetime Achievement Award from Runners World

AIMS Marathon Museum Finds a Real Home in Berlin

Tuesday's Asian Games Action: Liu Xiang Runs 13.15 to Win Hurdles at Asian GamesAnd to show you that people will cheat no matter what, an Iraqi bodybuilder was busted for roids at the Games. We were shocked Iraq had many athletes at the Games, much less ones who had the time and resources to dope. But they even have a 10 year old swimmer.The Iraqi soccer team is kicking ass and in the gold medal match. Too bad Iran lost in the semis, otherwise they could have could have settled Mideast peace on the pitch.

Part II in LA Times Look at USADA And WADA The article isn't too different than Part I as the author hates the concept of strict liability. However, we do agree with the author that purposeful cheats deserve a longer sentence than someone who takes Rogaine and is a doper by accident.

Laban Nkete, Who Finished 7th at Boston Marathon Twice, Murdered in S. Africa for His Car

Brendan Foster Becomes Latest to Say He's Not Interested in UK Athletics Head Job

European XCs: Mo Farah Gets Gold at Europeans The future is bright for this young star.
*Tetyana Holovchenko of Ukraine Wins European XCs
*After 6 Silvers, Farah Finally Gets Gold Times of London
*Paula Radcliffe Helped Inspire Junior Girls Champ Steph Twell Independent
*More Coverage of Europeans
*Results

White Rock Half Results:
*Fasil Bizuneh 1:02:59, Joan Benoit Samuelson 1:31:15
*Bizuneh is being coached by Scott Simmons who his making a name for himself.

USATF Club XC Nats
*Zap Men, BAA Women Win Club Nats
Results: Matt Downin Wins XC Club Nats
*Amy Hastings Wins XC Club Nats

LA Times Takes a Critical Look at USADA and WADA Some of the article is sensationalist and focuses on strict liability and tainted supplements, but WADA scientists should be able to work on the defense of other drug cases. WADA should be after the truth, not convictions. Sometimes it seems they forget that.

Asian Games: Maryam Yusuf Jamal Wins 800 Easily, Bahrain's Hasan Mahboob Wins Men's 10k in His First Track Race Ever
*Saudi's Get 100m, Long Jump Gold at Asian Games

Asian Games Day 2 Recap (Tareq Mubarak Salem Wins Men's Steeple, Kayoko Fukushi Wins Women's 10k) IAAF
*Qatar Importing Athletes in Many Sports Not Just Track and Field (60% of the People in the Country are Foreigners)
*Asian Games Results

Fukuoka Marathon:
Third Time's a Charm:
Geb Wins in 2:06:52
10 Weeks After Berlin
Haile Gebrselassie won an exciting Fukouka Marathon , his third marathon of the year, as he pulled away from 2 time World Champ Jaouad Gharib and defending champ Dmytro Baranovskyy over the final 3k. American 25k record holder Fernando Cabada ran an impressive 2:12:27 debut.
*More on Geb from Japanese English Newspaper
*Jon Brown Has Problem With His Foot in Fukuoka Runs 2:11:46
*Michael Aish of New Zealand Runs 2:13:42 in Fukuoka
*Brief Results and also Updates as They Happened Are Here
*Photo of Geb at the finish.


Can't Live With 'Em, Can Live Without Them?: #1, #2 Pole Vaulters in World Giving Up Women
More Aussie News: Sally McLellan is Chasing Australia's 34 Year Old 100m Hurdler Record


NCAA XCs:
Women: Sally Kipyego Dominates, Stanford Survives
Recap: Sally Kipyego Dominates, Stanford Wins With Highest Point Total Ever
*Individual results
*Team Results
Kipyego dominated the individual field and the Cardinal repeated, but just narrowly over Colorado, as the Cardinal scored 195 points, the highest ever for a winning team (that total on the men's side would have been 2 points from 7th). Mark Wetmore almost did the unthinkable again (with a squad that was only 6th at PreNCAAs), leave Terre Haute with 2 titles, but the Buffaloes' 5th runner finished 165th.
*Ivy League Women Have Top 3 Finisher for 5th Straight Year
*Women's Recap from Terre Haute Newspaper
Video: Flocast Video of Women's Press Conference Post Race
*Flocast Video Highlights of Women's Nationals

Deena's Pacer Runs 2:17:50 in Philly www.philly.com

LetsRun.com Classic Emails #1 We share with you some of the classic emails from our site's visitors and give you valuable knowledge at the same time. You'll read conclusive proof Lance Armstrong dopes, learn AJ Acosta is not as much an a**hole as you thought, and much more.

A Legend Passes: "I don't train never have. I don't think of running as training. I just go out and run each day, and let the racing take care of itself"- Jack Foster of New Zealand, who ran a 2:11:17 marathon at the age of 41 to win silver at the Commonwealth Games in 1974. He died in a bike accident yesterday at the age of 72.

In case you missed it:
Todd Williams Hangs them up
In our lengthy 3 part interview, Todd Williams, the premier 10,000m runner in the US, talks about his illustrious career and the sport of running in general.
Part I here, Part II here, Part III here
Also take a look at Amby Burfoot's look at Todd Williams' incredible American record at 15k in 1995, the same year he finished 9th at World Cross Country.

More isn't always better:
"I had over-trained. I put too much pressure on myself because I wanted that gold medal too much. If I had trained 15 per cent less, I would have won. I was training like a crazy person. There was a lack of self-confidence and a lack of maturity. An athlete does not only train with his body. He trains with his mind."
-Hicham El Guerrouj on why he didn't win Olympic gold in 2000

JK Speaks: Progressing To Peak Fitness LetsRun.com coaching guru John Kellogg talks about progression runs and the art of the sport versus the science of the sport.

LetsRun.com Book Reviews 2 Good Reads on Milers 50 years apart:
Sub 4:00 and The Perfect Mile

"Paul Maurer, in The Gift, not only presents an interesting and captivating story, but he explores the deeper questions of why runners run, why we compete, and what makes such a simple sport, running, so rewarding to those of us who do it. The Gift is one of the best running books I have ever read. "
-LetsRun.com's Weldon Johnson on a new Running novel, The Gift
(The Gift is now available from Amazon.com)
Matt Tegenkamp Talks About Ryan Hall's Run, His Winter Training He wants Hall to focus on the track.
Lengthy Look at Dueling D's Dibaba and Defar set women's running on fire in 2006.
Russian Andrey Silnov After World Record in High Jump IAAF
Hungarians Roland Varga, Sprinter Geza Pauer and Javelin Thrower Gergely Horvath Get Doping Suspensions
Paula Radcliffe Has a Girl The baby doesn't have a name yet. But it is the only baby's who's mom has run 2:15 in the marathon. Just in case that's not enough, dad Gary has 3:34 1500m speed. Hopefully, mom and dad aren't too late that the baby didn't realize worlds are in August as she came out 10 days late.
*Kristiansen: Baby Won't Stop Paula
*Radcliffe's Birth Proves She's A Big Star In Britain As Exclusive Rights To First Pics of Baby Have Been Sold To A Celebrity Magazine Just like the big movie stars.
Banned Kenyan Lydia Cheromei Blames Fertility Treatments For Positive Test An interesting defense as Cheromei tested positive in Feb 2005 and she did have a daughter in Feb of 2006. Or perhaps she got pregnant after realizing she was banned?
Ugandan Road Race Attracting Top Talent
Interesting as the article says the race has a budget of only $1,000 but it's attracting African 10,000 champion Moses Kipsiro and Commonwealth chamipion Boniface Kiprop

Good News: WADA to Ammend Drug Code to Reduce Some Aspects of Strict Liability People who cheat on purpose should be treated differently.
Bad News: German Athletes Skip Doping Tests With No Repercussions
Ryan Hall Om the Boards::
One of the greatest American road performances (non marathon) ever was Todd Williams 42:22 15k Gate River Run. Ryan Hall split 42:21 Sunday and then ran nearly 4 more miles (although William's course was tougher)
*How Much Does Ryan Hall Make a Year?
*Can Ryan Hall Win World XC?
*Did Your Local Paper Have Press Coverage of Hall? Not unless you lived in Texas.
*Renato Canova, Jason in, Wejo, Malmo etc...input on Ryan Hall's 2007 10000m/marathoning potential?
*Ryan Hall Shouldn't Run a Spring Marathon Some want him to focus on the 10k instead. Some say he should run a marathon now, so he gets the huge appearance fee he deserves for his debut marathon. (Instead of the Olympic Trials marathon getting him for "free." He could run a fall marathon besides the Trials instead of course and the 10k at the Olympics)
Other Sunday Action:
Houston: Marathon:
Dire Tune Runs 2:26:52 to Pick Up $35,000 and Break Ingrid Kristiansen's Record at Chevron Houston Marathon
Men: Feyisa Tusse Wins Chevron Marathon in 2:11:39
Women's US Championship Half: Elva Dryer Wins Her $12,000 Win Got Overshadowed by Hall
Arizona: Yae Captures Second Victory at 2007 P.F. Chang's Rock 'n' Roll Arizona Marathon
Edinburgh XC:
9.3k Bekele Dominates Bekele may be skipping this year's world XC in Kenya (some might think he's afraid to race on Kenyan soil, we doubt it), but he's the best XC runner in the world. American Dathan Ritzenhein was 6th. World Short Course XC Champ Gelete Burka won the women's race easily.
4k: Lebid Outsrpints Mo Farah
*Edinburhg Photos
Great Racing This Weekend
This Weekend in the States:
Houston: US Half ChampsMeb Keflezighi Looking to Start Season Strong in 2007 at US Half Marathon Champs at Aramco Houston Half A great field has been assembled including US 20k record holder Ryan Hall, Olympian Dan Browne, and Brian Sell.
*Chevron Houston Marathon Doesn't Want You Listening to Music
Arizona: Gebrselassie's World Record Last Year Has Increased Profile of PF Chang's Rock N Roll Arizona Marathon IAAF
Tirunesh Dibaba to Make History by Running First Female Race over a Mile at Millrose This Year
Seb Coe Welcomes Appointment of Ed Warner as UK Athletics Chairman
Christine Arron Leave Her Coach
Olympic Champ and World Record Holder Meseret Defar and Shalane Flanagan Running Reebok Boston Games
Francis Obikwelu European Male Athlete of the Year
20 Year Old Moses Kipsiro is Uganda's Latest Star after Winning XC Race in Belfast IAAF
Bob Ehrhart, Longtime Drake Coach, Drake Relays Director, Dies
Sydney Wooderson, Former World Record Holder in Mile (4:06 in 1937) Dies
Indoor Track: Alan Webb Runs 3:59 for the Mile Low key meet at George Mason. Message board thread here.
*Dartmouth Relays Men's Results
*Dartmouth Relays Women's Results
Bernard Lagat to Face Craig Mottram in Wanamaker Mile at 100th Millrose Games NY should quit talking about being the savior of the running world if it can't sell out the 100th Millrose.
Floyd Landis Launches Fund for His Drug Defense He wants to raise $2 million.
*Website of Floyd Landis Fund
Alan Webb, Chris Lukezic to Battle in Mile at Reebok Boston Indoor Games, World Record Holder Dibaba Back in 5k End of the month in Boston. Message board thread on the meet here
Athletics Kenya Wants More Control of Road Races in Kenya They seem power hungry to us and we're glad athletes seem to be resisting the new license scheme.
Linford Christie Will Help Jamaican Sprinters Guardian
Athletes Not Too Supportive of New License Scheme in Kenya
News We Missed: Floyd Landis Relying on Internet to Help Defend Himself
*Russian Steeplechaser Lyubov Ivanova Banned for 2 Years
Nick Willis Has Possible Stress Fracture
*Message Board Thread on Willis
Athletics Kenya Wants Athletes to Get Licenses to Compete Abroad We hope the Kenyan athletes boycott this power grab, but if somehow it is tied to getting travel visas they may have no choice.
2007 Means World XCs in Kenya, Prize Money for Men for First Time at Nationals in Kenya
2006 Year in Review:
IAAF:
*IAAF Year in Review: Long Distance IAAF
*IAAF Year in Review: Mid Distance IAAF
*IAAF Year in Review: Sprints IAAF
*2006 Was the Year of the 200 Xman, Tyson Gay and Wallace Spearmon IAAF
*IAAF Year in Review: Road Running IAAF
*IAAF Year in Review: Hurdles (Xiang's World Record) IAAF
*IAAF Year in Review: Combined Events IAAF
*IAAF Year in Review Jumps IAAF
Canadian Year in Review
El Guerrouj Supports Madrid 2016 Olympic Bid
Double World cross country bronze medallist Meselech Melkamu Wins at Addis Ababa XC Champs IAAF
Nice piece on Xavier Carter as he eyes the 200m World Record, "Anything is possible."
Great Britain welcomes back Dwain Chambers
Sydney W
ooderson, the former world record holder for the mile (4:06.4 in 1937), dies in a nursing home at age 92
Michael Johnson looks back on the athletics season of 2006 with mixed emotions
Mo Farah equalled Rob Denmark's British 5km road running record in County Donegal, Ireland...13:30
Benita Johnson wins Sanyo Half Marathon with new course record in 1:10:01, beating the previous mark of 1:10:23
Mathemetician Says World Record in Men's Marathon Can Only Drop 49 Seconds, Women Can Run 8:50 Faster Paul Tergat is amazing, but we'd bet the house that we'll see a sub 2:04:00 from a man before we see a 2:06 for a woman.
Brian Sell Previews US Olympic Marathon Trials Course in NY The men's trials is just around the corner thanks to the trials being in the fall for the first time ever.
Landis Says Procedural Error in Paris Anti-Doping Lab That Cleared Another Rider, Helps His Case as Well We think it only helps his case if the lab made the same error with him which we don't see people alleging..
40 Year Old Gail Devers Will Still Race Occasionaly But She Now Also is a Coach and Agent to Danielle Carruthers IAAF
Dave Collins Says Dwain Chambers Can Be on 2007 Worlds Team
Weekend Action:
*Bernard Chepkok, Teyiba Erkesso Win in Brussels IAAF
*Abebe Dinkesa and Wude Ayalew Yimer Win in Spain IAAF
*Japanese Ekiden Recap IAAF
Justin Gatlin Works out With Arizona Cardinals He also had a workout with the Houston Texans as he apparently is getting ready for life away from track and field.
*Mark Lewis Francis Talks About "Dirty" Justin Gatlin

Marion Jones Back in Belize She talks about the state of the Marion Jones athletics facilty. We've seen it. Its a cement track about a half mile around.
Lagat Set for 2007 Indoor Start in the UK
Tammy Thomas, Woman With Facial Hair and Husky Voice, Indicted for Perjury in Balco Case She told the grand jury she didn't use performance enhancing drugs despite already having served a drug suspension.
Marion Jones May Retire to Spend Time With Her Son
Doped East German Athletes Get 9,250 Euros in Compensation BBC
Patrick Johnson After 100 Yard Record in Australia
IAAF Coaching Mag Made Available Online IAAF
U of N News:
*Galen Rupp Running Zatopek 10k in Australia Thursday Night Seems like the typical college junior for sure. Just jump over to Australia for an outdoor 10k in December. Rupp and travel companion Brett Schoolmeister ran 13:58 and 14:11 last weekend.
*Zatopek Preview
*Zatopek Start Lists
On the boards: Vin to Be AD At Oregon?
Dwain Chambers May Quit Track for Ever, He's Definitely Skipping Indoors as He Tries out for NFL Europe His problem is he gets no money from track until he repays the money he stole while doping.
*John Mayock Says Don't Be Like Dwain Chambers
Asian Games: Asian Games Recap: Yusuf Saad Kamel Gets 800m Gold (He's the Son of 2 Time World Champ Billy Konchellah), Xue Fei Gets 5k Gold IAAF
*Qatar: "We don't mind foreign athletes running for Qatar as long as they do well for us..." Foreign athletes hmmm.
Today's Sign of the Apocalypse: The Nike Swoosh on the Muslim Hijab Sounds like a South Park episode.
Mark Lewis Francis Wants European Indoor Gold He and Justin Gatlin were once mentioned in the same breadth as the future of sprinting. Ironically, now that they're not it's a good thing for MLF.
Honolulu Marathon: Course Record for Denisova at 2006 Honolulu Marathon Jimmy Muindi's 3 years winning streak came to an end as he finished second.
*Results
Asian Games:
*Daham Najim Bashir Wins Supertight Men's 1500 as Rashid Ramzi Finishes 3rd great photo at link above. Ramzi got double World golds last year but has had a subpar 2006.
Las Vegas Marathon: Joseph Kahugu Runs 2:16:43 to Win $65,000 at Las Vegas Marathon Kahuga hasn't run under 2:15 since 2003 but he's not going to apologize to the race directors for putting $50,000 into the battle of the sexes and not recruiting a strong field.
*Former Wisco Star Josh Spiker Wins Las Vegas Half in 1:10
*White Rock Marathon:
*Two Course Records Set at Wellstone Dallas White Rock Marathon 2:12 on the men's side and 2:29 on the women's as the race has increased is prize money. Joan Benoit Samuelson 1:31:15 in the half.
*White Rock Marathon Results (Drug Cheat Deeja Youngquist 2nd in 2:43) link fixed.
Footlocker XCs:
Boys: Chad Hall Gets the Crown US star Ryan Hall is Chad's brother, but Chad has something Ryan never can get- the high school national championship.
*Footlocker XC Results
Girls: South Reigns Supreme, Kathy Kroeger Wins, Aurora Scott 2nd link fixed Defending champ Jordan Hasay was 10th and 3 time runner up Mel Lawrence was 5th.
Predictions: Tebo and Forys Neck and Neck, Hasay Expected to Repeat Check out the letsrun.com predictions. We give rankings for all 38 runners getting votes.

Ben Johnson Implies Carl Lewis' Camp Spiked His Sample in 1988, Joe Douglas Admits to Having Plant in Drug Testing Room The biggest revelation to us is that Douglas admitted that Lewis' camp was able to put people in the drug testing room with Johnson. Even if you accept Douglas' reason for the plant (to make sure Douglas did not take a masking agent), it shows what a joke drug testing was in 1980s. But rival sprint camps perhaps sabotaging one another or ratting on one another sadly is still a relevant topic today.
A Staff of One:
"Perhaps the most valuable gift from Letsrun.com is a friendly willingness to share lessons learned by their editorial staff, which includes successful college coaches and highly competitive athletes. "
-Gary Droze, writing about letsrun.com in the Tallahassee Democrat
NCAA XCs
Men: Mark Wetmore is the Man:
Colorado Stuns Wisconsin Again, Rohatinsky Wins
Team Recap: Colorado Does it Again: Men Come Out on Top, Women Finish 2nd
Individual: Josh Rohatinsky Just Wanted to Get to 8k Near Lead No he's not 30. He's 24 and a few days younger than Jess Baumgartner who came out of nowhere to finish 3rd.
*Individual results
*Team Results The race was eerily similar to 2 years ago when Colorado, a huge underdog, came from behind to upset the heavily favored Badgers. Josh Rohatinsky won the individual title.
*Chris Solinsky Takes the Blame for Wisconsin's Loss www.madison.com
*Men's Recap from Terre Haute Newspaper
*Stanford Women Defend, Colorado Men Upset Wisconsin at 2006 NCAA XC Champs Race Results Weekly
Video:
*Flocast Postrace Interviews of Mark Wetmore,Chris Solinsky and Josh McDougal 1 very happy guy and 2 very disappointed ones.
*Flocast Interviews With Men's Top 3 Post Race
*Flocast Video Highlights of Men's Nationals Watch them before CBS comes calling.

Bob Kennedy Interview
"I think the question then becomes when, and at what point are we, as organizing bodies, USA Track and Field, IAAF, the other national governing bodies from all over the world, going to really invest the money that its necessary in testing to keep up and get ahead of, the people who are using the system to cheat. And that will take money. It takes money to develop the tests for the different variants of the drugs that these people are coming up with, and only when you have that kind of investment will you really stop it. Otherwise, they're just faking it."
-Bob Kennedy, in a LetsRun.com interview where he talks about drugs, success, shoes (the Kennedy XC) and Tegenkamp
Married Thanks to LetsRun.com:
"I don't want to say it. It sounds crazy but it was a dream come true"
-John Stiner, on getting married to his wife, Sarah, who he met on the LetsRun.com message boards. Read about their incredible story.
"Everybody in Kenya is trying to come to America. I had no dream about coming because I knew this was impossible. It was a miracle," Kiplagat said. "That is why I take advantage of every opportunity. I came here, graduated in three years, and count myself blessed"- Richard Kiplagat who graduated from Iona in 3 years and had a 3.75 GPA
"This is not coming out of retirement, this is just me showing that if you just enjoy what you are doing and stay in there and set little goals. I do a lot of speaking, I've spoken to every group in Australia and I tell them back when I ran I set little goals and I think here I am telling these guys, but I've got to do it myself and tonight was really a chance to walk the walk"
-Steve Moneghetti, who at age 43, broke the world best for the 1 hour run for master's, averaging sub 5 minute pace the whole way as Ron Clarke, John Landy, and Robert De Castella watched him run.
Paul Tergat
*"As the holy scriptures say, 'for whoever much is given, much is expected,' it is, therefore, my duty and privilege to help in any small way in giving back to society."
-Marathon world record holder, Paul Tergat, speaking after founding a sports foundation that will help disadvantaged youths.
*Tergat's hamstring injury has healed and he says he's ready to go at NYC: "I expect good results as I am in good shape" but he's out of next week's Half Marathon in Britain, but interestingly Gezahegne Abera (remember him, formerly the greatest marathoner in the world) is running. www.registerguard.com
And the winner is:
Best Running Movie of All-Time: Fire on the Track
After sitting on the results for months, we're proud to announce that the best running movie of all-time as selected by our viewers is a not an academy award winner, Chariots of Fire, or a highly publicized film produced by Tom Cruise (Without Limits), but rather a running documentary, Fire on the Track: The Steve Prefontaine Story. Read all about the voting and see the 10 best running movies of all-time as selected by our viewers.