Martin Franklin- You Should Be in Jail
LetsRun.com staff
By now most of you have heard of the complete fraud, Martin Franklin, who in the original NY marathon results finished 5th in the US championship portion of the race in 2:18. The problem is Mr. Franklin is a complete fraud who only ran the start and the finish of the race. Gradually, we have put together a little more info on Mr. Franklin and most importantly have been provided a picture of him so if he shows up in your hometown race, you can kick him out.
Mr. Franklin has had a history of cheating in races that precedes this year. Apparently he showed up as an elite athlete at the Green Bay Marathon, Vermont City Marathon, and San Diego Marathon in the past. He even picked up $200 in Green Bay this year by "finishing" in 2:28. The only thing holding Mr. Franklin back however from truly reaching the top of the sport is that no one has ever seen him run a complete race at a fast pace from start to finish.
But for some unknown reason or mental disorder, Mr. Franklin wants to believe he is an elite athlete. Problem is he does not put in the work or have the talent. He showed up at the testing for the FILA USA program late last year. We're not sure what type of times he told them he ran, but fortunately they physiologically test the athletes and he did not make the cut.
Then, Mr. Franklin began making his mark as a fraud in the Northwest US. A reader of the site who first notified us to this story on Sunday said Mr. Franklin came into the New Balance store where our reader worked and began talking about possibly being sponsored by New Balance. The store representative said Mr. Franklin seemed a bit shifty so he went home, typed Mr. Franklin's name into a search engine and could not confirm any of the prs that he provided (he said he had ran 31 minutes for 10k at the Crescent City 10k Classic). The suspicion was on.
Nonetheless, Mr. Franklin was provided a free entry into the local 8k by the store representative where he was passed only a half-mile in the race while going 5:30 mile pace. But alas, like all good con men, Mr. Franklin had an excuse and said his hamstring was tight.
On Labor Day, Mr. Franklin took his cheating to another level at a local half-marathon in Washington, the Super Jock & Jill Half-Marathon, that served as the Pacific Northwest Champs. It was an out and back course, and the leaders were only at 4.5 miles, and there was Mr. Franklin coming the other way already on his 7th mile. He continued onto the finish, pretending to win the race somehow thinking no one would notice. Well, they did and he was disqualified. But that did not deter our champion as he set his sights even higher on the fabled NY marathon.
But first, Mr. Franklin like all great champions had to fine tune his skills. For that purpose he went to the Issaquah Rotary Run 10K on October 7th. He went off with the eventual leader Scott Muoio, but then he disappeared from the course only a quarter mile in. He obviously needed the practice before NY as apparently he didn't find his bike or means of transportation and never made it to the finish. The race directors banned him from future events, but that did not deter Mr. Franklin for he had put in the work and was now ready for the big-time, the New York City Marathon.
In NY, Mr. Franklin begged his way into the race as one of the elite Americans, no doubt providing fake times on his resume. Not only that, but he begged some more and was put up at the house of a member of the New York Road Runners Club so he wouldn't have to pay for his lodging. Then, like all great runners, there was Mr. Franklin on the Verrazzano bridge starting the New York Marathon. The gun was off and Mr. Franklin started the race.
Mr. Franklin did not let the difficult New York course get in his way because he had a plan to conquer it- the subway. Mr. Franklin had obviously studied his profession well and known that in 1980 Rosie Ruiz had won the Boston Marathon by cutting the course. He was attempting to do what no person had done since and follow in her footsteps. What courage! He was spotted by two LetsRun.com viewers on the subway on 8th avenue heading towards the finish wearing his champion chip and spandex uniform. Our viewers joked that he must doing some serious cheating, but Mr. Franklin did not let their words deter him. Remember boys and girls, champions must not let the harsh words of others stop them from reaching their dreams.
A few minutes later our two fabled viewers on the subway were stationed near the finish and they were shocked to Mr. Franklin making his charge to the finish. He had the courage to go by American Keith Dowling who had been the 5th American. The New York fans were on their feet cheering for this marathoner who looked so fresh (see the photo below).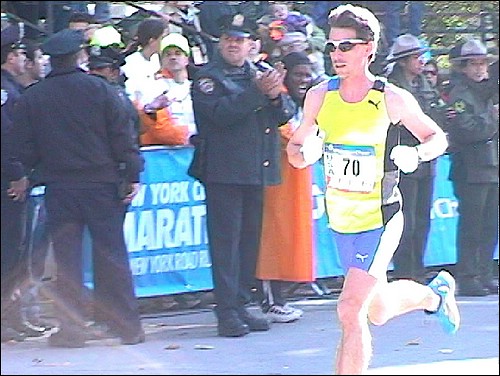 Sad: NY's Finest Cheering for a Fraud
Dowling said Mr. Franklin looked a bit nervous at the finish, perhaps knowing he would get caught. Race officials contacted him after the race and he insisted he ran the entire distance, but he must have known he had failed in his valiant attempt because soon he was skipping town. Who knows where he is today, but undoubtedly he is planning a miraculous comeback.
But where Mr. Franklin should be is in a jail. He committed fraud and has a pattern of disrupting events and attempting to steal money. If someone tries to rob a bank or run onto the field at a major league baseball game, where do they end up? - in jail. Hopefully, the New York Marathon will press charges against Mr. Franklin, but we doubt it will happen as it would likely result in them getting what they view as "negative" publicity. Perhaps, the best solution would have been to let him show at the awards ceremony and let the other runners handle the situation in a "diplomatic manner". We know for a fact that at least one real elite checked with their shoe sponsor to see if they would lose their sponsorship if they handled things in such fashion. The answer thankfully was, "No, go ahead."

Don't let this guy show up at your race!