In this race, running transcends time
By Andy Arnold
August 2, 2016. Published on August 5, 2016
Editor's note: Andy Arnold ran for LetsRun.com co-founder Robert Johnson at Cornell for three years (he ran under Zeb Lang his final year) and did a fifth year at Ohio State under Brice Allen. A 4:19 performer in HS, Arnold improved to PRs of 3:47, 8:09, 14:09, and 29:35. Johnson, Arnold and a slew of others went to Kenya in 2011 and Arnold caught the Kenyan bug. An anthropology major, Arnold recently received a Young Explorers Grant from National Geographic and thanks to that funding and the support of many others, including LetsRun.com, Andy has spent this spring and summer in Kenya. This is his seventh dispatch; you can read the previous six here.
When asked about his adoption and commitment to educate 69 orphaned children, Kipchoge Keino replied, "This life we have is short, so let us leave a mark for people to remember." It was a profound statement, and one that was rife with many levels of meaning. Although Kip Keino was responding in regards to his philanthropic work, his words recall visions of his past athletic performances. His win over 1500 meters, besting heavy favorite Jim Ryun at the 1968 Mexico City Olympics, sent ripples through the sport that still reverberate today. Little did Keino know at the time, while crossing the finish line wearing a humble smile and thanking the roaring crowds with a gracious wave, that his three-minute and thirty-six-second effort was the catalyst for a proliferation of dreams, opportunities, and compassion from all corners of the globe.
It is this collision of human performance, personal inspiration and charitable purpose that makes track and field such a unique (and human) endeavor. It is one of those few activities that is at once agonizingly individualistic and yet also wonderfully communal; for running is a ubiquitous activity, as common among people as thoughts, and yet we engage in this physical struggle in a myriad of ways. This contrast within athletics no doubt attracts personalities that are similarly complex, and like Kip Keino, their efforts inside the sport often affect far more than just the record books.
Zane Branson was one such ambassador of athletics, a man that engaged in every facet of the sport. He was a runner, a collegiate athlete, a road racer, a manager, an agent and a coach. But most of all, he was a compassionate guy who understood how important support was for human beings to achieve their dreams (you can read more about Zane via the words of one his close friends, Pat Butcher, here). His far-ranging travels brought him to Kenya and his passion for track and field encouraged him to become one of East Africa's most beloved managers. For over 25 years, Zane Branson helped countless Kenyans reach the highest thresholds of international athletics, including Joyce Chepkirui, Wilson Chebet and former marathon world record holder Patrick Makau.
But Zane was also a visionary and he believed that athletics in Kenya could use a healthy dose of camaraderie. The collegiate teams and running clubs that many Westerners take for granted are all but absent here in the Rift Valley, and Zane believed that by bringing the more team-oriented elements of the sport into Kenya, its talented runners could achieve even greater performances. But more than that, he hoped to establish a greater sense of community among the athletes he managed. Community in training is one thing, but developing that relationship in competitions, in travel to and from international races, and sustaining those relationships through retirement — those are the bonds that are necessary to create solidarity. In time, that solidarity could blossom into a Kenyan athletic community that boasts a structure and federation worthy of its talented individuals.
Like all great ideas, the realization of this dream had modest beginnings. Alongside Carlo Capalbo, Davor Savija, Evgeniia Zhgir, Kip Evans and many others, Zane helped to create RunCzech Racing, a running club that brought promising Kenyan athletes into a larger team structure. In addition to providing its members with opportunities for international races, corporate sponsorships and cultural experiences, RunCzech Racing created an environment for its athletes to develop the camaraderie Zane and his friends hoped to facilitate. This underlying goal made sure that "talent" was only one component of the RunCzech Racing interview process. Personality, teamwork, and cohesion with the group were all factors that determined who would join the club's ranks. More often than not, the RunCzech Racing athletes themselves made the deciding vote.
In a short time, Zane and his friends, supported by Spencer Nel (head of Global Sports Marketing for adidas) had successfully created the first running club to combine the virtues of Western team structure together with the brilliance of Kenyan athleticism. It was a revolution; a contrast of running cultures that was in keeping with the spirit of track and field. But like so many visionaries, Zane didn't stop there. Together with his partners, he helped to establish a one-of-a-kind race in the heart of western Kenya, an exclusive, invitation-only 15-kilometer competition through the lowlands of "Baringo." The flat, asphalt course (a rarity in western Kenya) meanders past cow ranches and sisal plantations, crosses the Equator and concludes its journey just before the homestead of Baringo's most legendary athlete, Paul Tergat. It was a perfect setting for RunCzech Racing athletes to run fast, providing the team's coaches with insight into their runners' development as well as establishing a vital "timed effort" for bargaining with race organizers throughout Europe. The race also serves a small scouting role, as the athletes are encouraged to invite friends whom they believe to be strong runners.
But more than anything else, the race was about team building. Zane and co. wanted their athletes to experience what it's like to compete as a team, while also taking advantage of the lower altitude and flat, paved roads. Therefore, the day before race, the RunCzech Racing club travels together in buses, lodges together at nearby hotels and homes, and afterwards celebrates together at an awards ceremony. The 15K was still very much like any other Kenyan footrace, especially given the level of competition, but these small details helped to give it the camaraderie that Zane Branson had purposed years before.
Sadly, Zane passed away suddenly last year at age 57, robbing the track and field world of one of its luminaries. But his legacy lives on, in the countless lives he touched and in the dreams he realized. The RunCzech Racing club embodies those dreams, and the 15K race through Baringo is a tangible display of Branson's wishes. That race now bears his name, and I had the privilege this past weekend to witness the running of the third edition of the bi-annual "Aloha Zane Branson Memorial 15K". In all my time spent in Kenya, nothing quite compared to how perfectly this event captured the spirit of athletics.
***
The journey began Friday morning, July 22. Kip Evans had organized a car to carry me and three others from the highlands of Iten, down and across the Kerio Valley, up through Kabarnet, around Lake Baringo, and finally into the lowlands leading towards Nakuru. The three-hour car ride went by quickly, and just before dusk we turned off the race course and towards the home of Paul Tergat.
But our host that evening was not the legend of Baringo, but one of his neighbors, the equally impressive Joshua Chelanga. Chelanga was one of the best road runners of the past decade, winning the Rotterdam and Seoul marathons in 2007, finishing second at the Commonwealth Games marathon in 2002, and placing third in the Boston Marathon back in 2001. He also was a member of Kenya's unbeatable World Cross teams of the late nineties, garnering team gold medals in both 1997 and 1999. American fans are familiar with his brother, Sam, who won the NCAA cross country title in 2009 and 2010. Running is in the blood of the Chelanga family, and even after retirement, Joshua happily volunteers his home and time to be near the sport he loves.
Chelanga's hospitality may be the only thing that can rival his running career. That night, he graciously opened his country home to the staff of RunCzech Racing, their guests and the 55 men competing the following morning (there is no women's race as there are far fewer female athletes than male in Kenya). He had prepared dinner for his 70-something visitors, and even opened up his guest house for athletes to spend the night. It was no easy task making such a large group feel comfortable, but Chelanga did it amiably.
After parking our car within the towering hedgerows bordering Chelanga's property, I mingled with the athletes and coaches in the fading light. Gathered on the lawn that evening were some of running's greatest prospects, diminutive Kenyans that had been patiently training hard over the years for this moment. All the men were young and excited, and those with the RunCzech Racing team were eagerly talking to the newcomers about the event and what to expect for tomorrow. You could see in their eyes the blissful joy of opportunity as each man dreamed about how tomorrow's performance could advance his career and change his life. Among them were also some of the region's top coaches, including former 800-meter star John Litei and Iten's up-and-coming amateur coach Dan Ngetich. Edward Yego, a visa coordinator, was in attendance, as was RunCzech Racing organizer Evgeniia Zhgir.
I, however, spent most of my time chatting with the host, who upon hearing that I was an American began sharing stories about his races throughout the USA. Chelanga's tales were extraordinary, from how he came to love apples in New York (he had missed breakfast before the Goodwill Games in NYC, and all that was left was a solitary apple. He ate the apple and then won the race. It later became his good luck food), to how he became a blues fan after winning a 10k road race in New Orleans. I was taken aback by the extent of Joshua's travel, but he was quick to bring the attention back to the race at hand.
"It all started from just one race," Chelanga said. "That is why I love having everyone here at my home, hopefully one of these guys running tomorrow can go on to experience the things that I have. It's a blessing!"
Just as the stars began to emerge in the night sky, Joshua announced it was time for supper. The large assembly filed into his home, taking seats among the sofas lining the living room or the plastic chairs surrounding the dining room table. The space was limited, but we made do and helped ourselves to ample portions of ugali, potatoes, sukuma wiki (a vegetable) and sheep intestines: the perfect pre-race meal. After everyone had finished eating, Kip and Eva handed out the race bib numbers to the athletes and explained the schedule for the following day. The race was to go off at 7:30 a.m., meaning the entire group had to be ready to leave by 6:00 sharp. Chai, bread and bananas would be served by Joshua in the early hours just before departure. Kip then described the race course, which would be point-to-point, 15 kilometers total over relatively flat roads. The traffic, which can be deadly in Kenya, would not be a problem as Chelanga had arranged for a police escort to clear the road for the competitors.
Coaches and organizers would follow behind in chase cars and on motorbikes, making sure that no athletes were left behind in the case of an emergency. The finishing times, Kip explained, would then be recorded and sent to RunCzech, adidas, several athletics websites and other management teams throughout Kenya.
"So tomorrow, whether you are number one or number 55, it is very important that you finish the race… because your name is going somewhere," Evans said. "I'm not promising that this means you will be given a chance right away, but at least your name is going somewhere. Last year, the only man who did not finish was the pace maker, so please… no pressure… but do your best to finish the race."
Despite Kip's plea, you could sense the nervous energy building as the 55 athletes in the room started to envision the trial awaiting them tomorrow. The talk about shoe sponsors, managers and prize money suddenly reified the stakes surrounding the competition to be held at dawn. As if on cue, the coaches took turns dishing out motivational speeches to the runners. Joshua shared stories of his past athletic accomplishments and Dan explained the importance of training and preparation and why it would pay off at sunrise. But they were all hammering home the same theme of taking nothing for granted.
"Whatever chance you have guys," Coach Litei insisted, "USE IT, because you never know about tomorrow. People talk about tomorrow, about second chances, but in my experience, that tomorrow may never come. Use the shape you have NOW."
Sitting on the floor and listening to the speeches, I suddenly realized that my heart was racing. The moment was a powerful dose of déjà vu, one that brought me back to my college running days. Despite being half a world away in a culture alien to equatorial Africa, my track and field team would perform the same pre-race ritual. After traveling to the race location and scarfing down a meal together, all of us would pile inside a small hotel room to hear our coaches explain the timetable, the strategy and the stakes the night before a big race. The gatherings always conjured the same emotions as well, summoning that uncomfortable mixture of excitement and anxiety deep in your gut that leaves you feeling like a child on Christmas Eve; eager for the next day to come but unsure of what you may find wrapped beneath the tree. Presents, or just a lump of coal? Looking around at those 55 young Kenyan men, thin black bodies with fire in their eyes, each having to overcome untold hardships just to be sitting there in Joshua Chelanga's living room, I at once understood how universal a sport running can be.
With the talks at an end, the runners exited the house to their rooms while the coaches and guests made a short drive to a motel adjacent to the racecourse. Daybreak would come soon, and everyone wanted to get some rest before the main event.
Morning came quickly and my group arrived at the starting line just before 6:30. All of the athletes were there and beginning their warm-up routines. A few brightly colored packs had taken off jogging down the lone ribbon of highway, while others were still dashing out into the bush to relieve themselves. The social atmosphere of yesterday evening had been replaced by a charged silence, and the quiet focus of the runners caused the coaches (and me) to speak in hushed voices.
After the police escort arrived, a large Toyota Land Cruiser in navy blue livery, the runners took to the starting line and completed their last remaining strides. Just before 7:30, Kip Evans called the 55 athletes together for a final word of encouragement, causing the caravan of cars and motorbikes to start their engines in anticipation. These vehicles would be responsible for carrying the coaches and media teams throughout the race, bringing up the rear to take photos and pick up any unlucky competitors.
At Chelanga's bidding, the Land Cruiser started down the highway to give the athletes some space. Its flashing red and blue lights reflected off the bright neon racing tops of the competitors, casting an ominous glow over their faces and the start line. Meanwhile, the runners began to crouch over the small speed bump marking the beginning of the racecourse, jockeying for space along the thin strip of tarmac. The sun was just now peeking out over the hills to the east and the air still held its chill from the night before, ideal conditions for running a fast time.
When the police escort reached a quarter mile, Kip gave the command and the race began. Fifty-five lean bodies tore off down the highway in a mad dash, a fearless display in the face of 15 kilometers. The caravan of cars and motorbikes gave chase and over the next 45 minutes, we coordinated what felt like a stage in the Tour de France. I was on a motorbike behind Kip, who frequently pulled up alongside the leaders to give them splits and encouragement.
The leaders set a hellish pace, causing the pack to reach five kilometers in 14:13. A few men had begun to drop off, but for the most part, the core group remained intact, with some athletes running along the dirt paths just beside the road to gain a better position.
The police car maintained its 400-meter buffer, making certain that the path was clear for the competition unfolding behind. Aside from the occasional cattle crossing or careening matatu, the race developed without a hiccup, and the athletes were free to do battle along the 15-kilometer stretch of highway.
The road dipped slightly around 6k, forcing the athletes to endure a gradual 300-meter climb. Here the pack began to splinter, for the front group, led by Eliud Mwangi, was relentless, pushing the pace every time Evans approached on his motorbike. Mwangi passed 10k in 29:08, followed closely by Josphat Tanui and Abraham Kipyatich. At this point, the peloton had all but dissolved into a long line of carnage. The lead group was whittled down to just 10 men.
At 11k, with the temperature creeping higher over the arid plain, the pace seemed to lull and the group once again bunched up, running five abreast down the road. Up until this point, the course record, 43:57 set by Wilfred Kimitei (a 27:54 10k performer, at altitude) in the previous race, had been in jeopardy, thanks to the leaders' suicidal first 5k.
Fearing a lost chance to make history, Kip once again accelerated towards the front runners to have a word, "You can break the record, but you must go NOW!"
It was the spark the competition needed, for Kipyatich and Tanui shifted gears and powered away from the group. The surge was devastating, breaking the pack apart in mere seconds and leaving the remainder of the group staggering to keep up.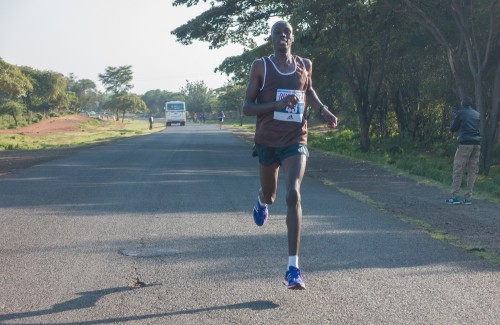 The two men were alone up front now, and Kipyatich continued to set the tempo while Tanui did his best Galen Rupp impression by sitting on his heels. They clipped off each kilometer faster than the previous, but neither seemed to be able to shake the other. Finally, with 500 meters remaining, Tanui kicked and opened a gap up on Kipyatich, who, after leading for the last five kilometers, was unable to respond. With victory imminent, Tanui continued to surge, breaking the finish tape first in 43:59, just missing the course record. Kipyatich, beaten but proud, finished strong in 44:02 for second place.
Over the next seven minutes, the remaining line of competitors stumbled their way over the finishing line, with 12 men breaking the coveted 45-minute barrier, at 5,200 feet above sea level! It was a great race, and the smiles on the finishers' faces showed it. Kip and Joshua were ecstatic, and even some local matatus pulled over on the roadside to blast upbeat Kalenjin music as the runners stretched and pulled on their warmer clothes.
As I stalked among the athletes cooling down, snapping pictures as they replenished themselves with the water and food provided by the organizers, I could see the seeds of Zane Branson's vision beginning to take root. Regardless of position, training camp or tribe, the athletes appeared as one family. A few stretching in the shade of the acacia trees were belly-laughing together, while others standing by the matatus were eagerly recapping the race. Some of the men were commenting about the crazy start, their faces animated as they acted out the sprint during the first 5k. A few from the lead pack were cracking jokes about Kip Evans and how he never let them take a break, swooping in each time the pace stalled. Even the winner, Tanui, thanked Kipyatich for pushing the final 5k, saying that he never would have run that fast without him. Everyone I spoke to hoped to return to the race the following year, and although only a handful of the finishers would receive invites and contracts from RunCzech Racing, adidas or other management teams, I could see that the friendships forged today were not going to fade. From position 1 to 55, a bond had been formed. It was the genesis of a fledgling camaraderie, one that Kip and Davor and the RunCzech Racing team believe can bolster the motivation of these young men as they continue to climb one of the world's most punishing ladders. Zane Branson intimately knew the struggle and obstacles facing Kenya's athletes, and it is why he believed in the strength of fellowship and teamwork.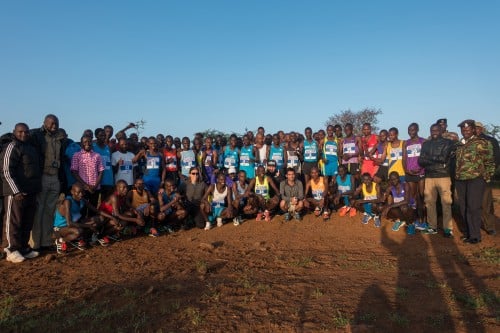 Zane Branson intimately knew the struggle and obstacles facing Kenya's athletes, and it is why he believed in the strength of fellowship and teamwork. Above all else, he wanted to leave a mark on Kenyan athletics that left it stronger than how he found it. Ikaika Sports is the name of the management team founded in Zane's memory by his colleagues and loved ones, a team dedicated to carrying out his vision for East African athletes. Ikaika means "strong," a fitting reminder of how Zane spent over 20 years strengthening the professional race at the Honolulu Marathon, and infusing that spirit of "ohana" — family — into every project he touched all over the world. Zane Branson's life may have been cut short, but there is no doubt that the mark he left behind will be remembered for generations to come.
2016 Aloha Ikaika Sports Test Run Zane Branson Memorial
Results – 15km
Kabarak, Kenya – 7/23/2016
POS NAME DOB TIME BASE GROUP
1 Josphat TANUI 04/02/1994 43:59 Kapngetuny Lani RUTTO
2 Abraham KIPYATICH 10/05/1993 44:02 Iten Willy KIBOR
3 Eliud MWANGI 12/10/1989 44:15 Kericho Eliud MWANGI
4 Jerome LUMBASI 22/05/1997 44:24 Iten Erick KOGO
5 Donald MITEI 02/04/1996 44:25 Kapngetuny Geoffrey MUTAI
6 Evans CHERUIYOT 24/09/1991 44:29 Iten Wilson CHEBET
7 Mathew KIPROTICH 15/01/1991 44:39 Iten Dan NGETICH
8 Boaz KIPYEGO 07/11/1991 44:47 Iten Dan NGETICH
9 Fredrick KIPYEGON 02/01/1990 44:51 Iten Clement LANGAT
10 Daniel ROTICH 10/09/1997 44:53 Iten David MARU
11 Timothy KIMELI 20/01/1994 44:55 Iten Willy KIBOR
12 Shadrack KIMUTAI 28/12/1999 44:57 Keringet Geoffrey KIRUI
13 Timothy KIPTOO 02/08/1984 45:11 Iten Gilbert KIRWA
14 Philip NGEYWO 04/08/1988 45:14 Iten David MARU
15 Robinson SIMOTWO 01/08/1983 45:18 Iten David MARU
16 Festus TALAM 20/10/1994 45:28 Iten Gilbert KIRWA
17 Nicholas KIPTOO 26/06/1994 45:31 Iten Wesley KORIR
18 Noah KIGEN 12/06/1989 45:32 Iten Wilson KIPSANG
19 Dominic KORIR 12/05/1993 45:37 Iten Caroline CHEPKOECH
20 Geoffrey KIPYEGO 17/07/1987 45:54 Iten Dan NGETICH
21 Isaac KIBET 31/02/1996 46:06 Iten David MARU
22 Danvace OCHICHI 09/10/1995 46:14 Ngong Isabella OCHICHI
23 Lazarus YEGO 18/08/1984 46:17 Iten Caroline CHEPKOECH
24 Kenneth KETER 04/08/1996 46:25 Iten Wilson KIPSANG
25 Rodgers MAIYO 03/09/1993 46:32 Iten Willy KIBOR
26 Silas KEITANY 10/11/1993 46:46 Eldoret Wilson CHEBET
27 Mathew KIMELI 04/01/1998 46:55 Iten Ian KIPRONO
28 Stephen KIBOR 15/06/1997 47:03 Iten Wilson KIPSANG
29 Solomon KIPSANG 08/04/1988 47:04 Iten David MARU
30 Henry RONO 12/12/1996 47:09 Kapngetuny Lani RUTTO
31 Ambrose BORE 08/08/1995 47:20 Kaptagat Enock KOECH
32 Edwin MOKUA 31/12/1993 47:21 Kisii Edwin MOKUA
33 Weldon KERICH 09/09/1995 47:27 Kericho Mike ROTICH
34 Raymond KEMBOI 08/02/1986 47:39 Iten Gilbert KIRWA
35 Charles LEITICH 25/02/1997 47:45 Keringet Geoffrey KIRUI
36 Haron NDIEMA 20/12/1996 47:46 Iten David MARU
37 Daniel KIBET 17/05/1996 47:47 Eldoret Wilson CHEBET
38 Laban KEITANY 02/02/1988 47:48 Eldoret Wilson CHEBET
39 John ROTICH 06/04/1990 48:09 Iten Individual
40 Yoone LORONYOKWE 26/01/1987 48:09 Iten John LITEI
41 Titus KIBET 01/02/1988 48:11 Iten Individual
42 Richard RUTO 02/12/1986 48:16 Kapngetuny Geoffrey MUTAI
43 James MAINA 01/01/1994 48:25 Nyeri Patrick MAKAU
44 Elias RUTTO 03/09/1989 48:27 Iten Caroline CHEPKOECH
45 Samuel NYARWABA 05/01/1982 48:28 Kisii Eliud MWANGI
46 Shadrack KORIR 01/09/1998 48:29 Keringet Geoffrey KIRUI
47 Benson KOSGEI 01/11/1987 48:37 Kapngetuny Geoffrey MUTAI
48 Duncan KIPTIS 01/01/1995 49:11 Iten Abel KIRUI
49 Evans KIPTOO 01/01/1999 49:21 Iten Gilbert KIRWA
50 Hillary KIPKOSGEI 05/10/1979 49:55 Iten Individual
51 Victor KIPRUTO 21/03/1996 50:23 Iten Abel KIRUI
52 Jacob SHAYO 23/11/1995 50:29 Iten John LITEI
53 Robert LELEI 14/01/1986 50:58 Iten Caroline CHEPKOECH
54 Boniface KIVUVI 08/07/1992 51:34 Ngong Patrick MAKAU
DNF Eliud TARUS 03/03/1993 DNF Iten Abel KIRUI
---
Like LetsRun.com on Facebook!