by LetsRun.com
June 5, 2015
Shalane Flanagan ran super quick at the Rock N Roll half in San Diego running 1:07.51, beating training partner and Olympic Trials champ Amy Cragg by two minutes. Cragg actually set a personal best but lost by 2 minutes Flanagan's run was so good.
Flanagan's previous pb was 1:08:31 from 2013 in New Orleans.
Results and press release below.
Discussion here. More results here.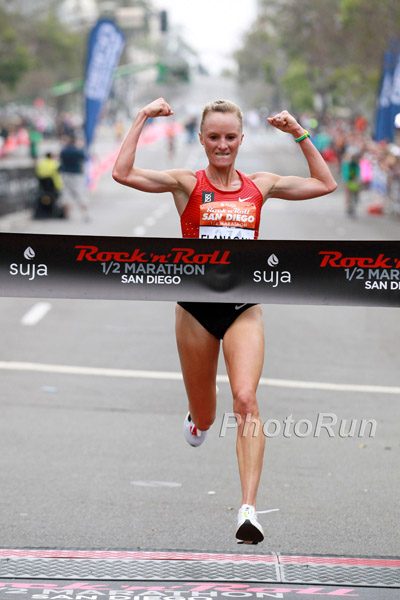 SAN DIEGO, CA – June 5, 2016 – Shalane Flanagan and Amy Cragg are close U.S. Olympic team members, but today they were competitors at the Suja Rock 'n' Roll San Diego Marathon & 1/2 Marathon. The two decided to run their own race in Sunday's half-marathon and it was impressive, particularly for Flanagan.
The 34-year-old Flanagan ran a blazing time in San Diego, winning the women's race in 1:07:51. It smashed her personal-best in the half marathon, and was the second-fastest half run by an American this year (behind Molly Huddle's 1:07:41 at the NYC Half in March).
Cragg, who beat Flanagan at the U.S. Olympic Trials marathon in February, finished two minutes behind Flanagan on Sunday, but still ran a personal-best 1:09:51.
Their coach, Jerry Schumacher, was ecstatic to see such a promising performance leading up to Rio this summer.
"For both of them to run personal records like that shows that they are capable of something big in Rio. And that's what you want," said Schumacher.
The Suja Rock 'n' Roll San Diego Half Marathon will be the pair's only race between February's Olympic Trials and the Olympic marathon in August. At the Trials in Los Angeles, the two ran together for the first 25 miles, until they split up when Flanagan started having trouble with the heat. Cragg won the race, and Flanagan finished third—both securing an Olympic bid along with Desiree Linden.
The two have trained together throughout the entire year, including going to Rio together in April to familiarize themselves with the Olympic marathon course. But on Sunday, they were competitors.
"Amy and I have done some intense workouts together, but we also maintain a competitive spirit." Today we pushed ourselves individually to both beat personal records," said Flanagan.
On the men's side, Scott Smith won the half-marathon in a time of 62:35, ahead of Daniel Teklebrhan (63:38) and Jeffrey Eggleston (63:48).
In the marathon, Eric Noel placed first in the men's race (2:26:39) followed by Franklin Tenorio (2:34:37) and Eddie Venegas (2:37:50). On the women's side, McKale Davis won the marathon with a time of 2:56:16 coming in behind her was Maija Hitchings (3:03:09) and Bessy Leszczynski (3:06:15).
Rock 'n' Roll loyalist, Kevin Gonzalez completed his 100th Rock 'n' Roll event today in San Diego. The 43-year-old from Wellington, Fla., just outside of West Palm Beach, wore bib number 100 to commemorate the achievement, in which all but two races have been half marathons.
More than 33,000 runners hit the streets and scenic neighborhoods at the 19th annual Suja Rock 'n' Roll San Diego Marathon & ½ Marathon. The event wrapped up with a finish line festival and post race Toyota Rock 'n' Roll Concert Series headlined by Gavin DeGraw. Race weekend kicked off with the annual Suja Rock 'n' Roll 5K on Saturday at Balboa Park. Participants that ran Saturday and any distance Sunday earned the coveted Remix Challenge medal along with each race's finisher medal.
Download Photos:
19th Annual Suja Rock 'n' Roll San Diego Marathon (Photo Credit: Ryan Bethke)
Download Video Clip:
https://www.dropbox.com/s/9qjsyskabk1j73b/PR%20Video.mp4?dl=0
About Suja Rock 'n' Roll San Diego Marathon & ½ Marathon
The 19th annual Suja Rock 'n' Roll San Diego Marathon & ½ Marathon will run through San Diego over the weekend of June 3-5, 2016. The Rock 'n' Roll 5K presented by Brooks will take place on Saturday, June 4, creating two days of running and a special Remix Challenge for runners. The race is known for lining the course with live bands and cheerleaders interspersed with themed water stations along the route. The original Rock 'n' Roll Marathon in 1998 is still recognized as the largest inaugural marathon in U.S. history with 19,979 entrants.
A free two-day Health & Fitness Expo at the San Diego Convention Center kicks off race weekend, featuring the latest fitness retailers, exhibits, free samples and interactive clinics. The event concludes Sunday afternoon with the Toyota Rock 'n' Roll Concert Series at Waterfront Park. Over the 18-year history of the race, charities have raised more than $179 million for various causes. For more information about the Suja Rock 'n' Roll San Diego Marathon, please visit RunRocknRoll.com or follow @RunRocknRoll on Twitter.
2016 Suja Rock 'n' Roll San Diego Marathon & ½ Marathon Results
Name, Age, Hometown, Time
Men's Marathon
Eric Noel, 28, San Luis Obispo, CA,

2:26:39

, $1,000
Franklin Tenorio, 46, Ecuador,

2:34:37

, $750
Eddie Venegas, 38, La Verne, CA,

2:37:50

, $500
Rob Coslick, 33, Phoenix, AZ,

2:39:02

Zach Withall, 22, La Jolla, CA,

2:43:37
Women's Marathon
McKale Davis, 31, Chandler, AZ,

2:56:16

, $1,000
Maija Hitchings, 32, San Diego, CA,

3:03:09

, $750
Bessy Leszczynski, 31, San Diego, CA,

3:06:15

, $500
Katherine Frydryk, 23, Naperville, IL,

3:07:22

Stephanie Sanders, 22, Orland Park, IL,

3:08:48

, $750
Men's Half Marathon
Scott Smith, 29, Flagstaff, AZ,

1:02:34

, $3,500
Daniel Teklebrhan, 28, Los Angeles, CA,

1:03:37

, $2,000
Jeffrey Eggleston, 31, Boulder, CA,

1:03:44

, $1,500
Miguel Almachi, 32, Ecuador,

1:05:12

, $1,000
Segundo Jami, 30, Ecuador,

1:05:18

, $750
Women's Half Marathon
Shalane Flanagan, 34, Portland, OR,

1:07:51

, $3,500
Amy Cragg, 32, Portland, OR,

1:09:50

, $2,000
Eri Hayakawa, 34, Japan,

1:14:10

, $1,500
Christina Vergara Aleshire, 34, Henderson, NV,

1:15:42

, $1,000
Lauren Martin, 24, Alamosa, CO,

1:15:43

, $750
---
Like LetsRun.com on Facebook!