by: LetsRun.com
June 14, 2014
EUGENE, Ore. — Oregon's Mac Fleet held off Arizona's eight-time NCAA champion Lawi Lalang in a great home-stretch duel to repeat in the men's 1500 at the 2014 NCAA Outdoor Track and Field Championships at Hayward Field. Fleet became the first repeat champion since Arkansas' Seneca Lassiter in 1998, while Lalang, who won last night's epic 5,000 final, had to settle for second in his final NCAA race.
The Race
Lalang went straight to the front and after a first lap of 57 seconds, the field was strung out behind him. Fleet got out well and sat on Lalang in second, a position he would hold until the homestretch.
The wind picked up on the second lap and the pace slowed, as Lalang hit 800 in [1:57]. Fleet was right behind him, with Villanova's Jordy Williamsz, Minnesota's John Simon, Oregon's Sam Prakel and New Mexico's Peter Callahan in tow.
Lalang covered 700 to 1100 in 61.14; as he hit the bell everyone was still in it except Brandon Kidder of Penn State. Lalang really started to push on the first turn of the final lap, and the race was on. On the final turn, Fleet and Lalang started to gap the field with the exception of Callahan, who made a hard move with 250 to go to move up from eighth place. Callahan pulled even with Fleet on the turn but couldn't pass him. Fleet then started to gain on Lalang and by 75m to go, the two were stride for stride. Fleet then moved slightly ahead of Lalang and though Lalang was clearly straining, he couldn't manage to pull even with Fleet in front of the raucous Oregon crowd.
Fleet would just hold off Lalang, [3:39].09 to [3:39].13, and ended his NCAA career with a repeat title on his home track. He was jubilant afterwards, pointing to the crowd and flashing the Oregon "O" with his hands. Loyola's Sam Penzenstadler moved up well to edge Callahan for third.
Results and quick takes below.
Quick Take #1: This was a fitting end to five great men's distance races at NCAAs. Unlike last year, when Lalang won the 5,000 and 10,000 without being challenged, every men's distance race in 2014 was really exciting. The 800 was a four-man race in the home stretch, the 1500 and 5,000 each featured two runners stride for stride in the last 100, the 10,000 was memorable for Edward Cheserek's 24.8 last 200 and the steeple was a great battle between Anthony Rotich and Stanley Kebenei. You can't ask for much more from a meet.
Quick Take #2: Oregon owned the distances at NCAAs. The Oregon men set a record with 88 team points (most since the NCAA began scoring eight places in 1985) and they piled up 47 between the 1500, steeple, 5k and 10k, highlighted by two individual wins. Most years, that's almost enough to win the meet (from 2007 to 2013, the winner scored between 48 and 55 every year). Head coach Robert Johnson said at the pre-meet press conference that the focus all year had been on peaking for NCAAs and distance coach Andy Powell and his runners definitely accomplished that.
Quick Take #3: Lalang almost became the first man to win the 1500 and 5k in the same meet. No one had done it since the 5k (originally 3 miles) was added to the meet in 1959, and Lalang was just .04 seconds from being the first. In the end, beating a fresh Fleet proved a tougher task than beating Cheserek, who had doubled back from the 10k on Wednesday night.
Quick Take #4: Lalang wasn't upset with the loss and revealed after the race that he will forego his final season of cross country and turn pro. He's headed to Europe this summer and plans on running a 1500 in Berlin and possibly a 5,000 at the Paris Diamond League meet. Lalang also said that he might consider a 10,000 at the end of the season.
Lalang said that he's finished his degree and though he will remain in Tucson to train with coach James Li, he had no reason to remain a student at Arizona. We asked him if he would reconsider since the fans need someone to challenge Cheserek in cross country, but Lawi said that in this case he had to think of himself first.
Quick Take #5: Peter Callahan was very happy with his tactics despite his fourth-place finish. Callahan was very happy with his tactics as he stayed with the pack throughout and didn't get gapped by the field. Callahan has a tendency to get gapped before making a big move to the front late in the race.
While he didn't get gapped by the field today, he did get gapped by Fleet and Lalang. They were in the front throughout whereas Callahan was in the back half of the field with 250 remaining.
Callahan ended up right with Lalang and Fleet on the final turn but had to make up a lot of ground on the backstretch to catch them. Once they hit the homestretch, Callahan didn't have as much in the tank as the other two and had to settle for fourth. Callahan was pleased with his strategy, but we believe he really couldn't afford to cede that much ground to two studs Fleet and Lalang and still hope to win an NCAA title.
Regardless, Callahan was correct in realizing it's been a good season for him because he was finally able to train to race instead of training to stay healthy. He's looking forward to racing at USAs or NECAC and hopes to get a sixth year of eligibility from the NCAA so he can compete for the title again next year.
Quick Take #6: Loyola's Sam Penzenstadler said that it "hasn't sunk in" that he will be the top returner in 2015 and was ecstatic with his third-place finish. 
Quick Take #7: It was windy during the final three laps, but when we asked Penzenstadler and Stanford's Michael Atchoo about the wind, they said they didn't really notice it.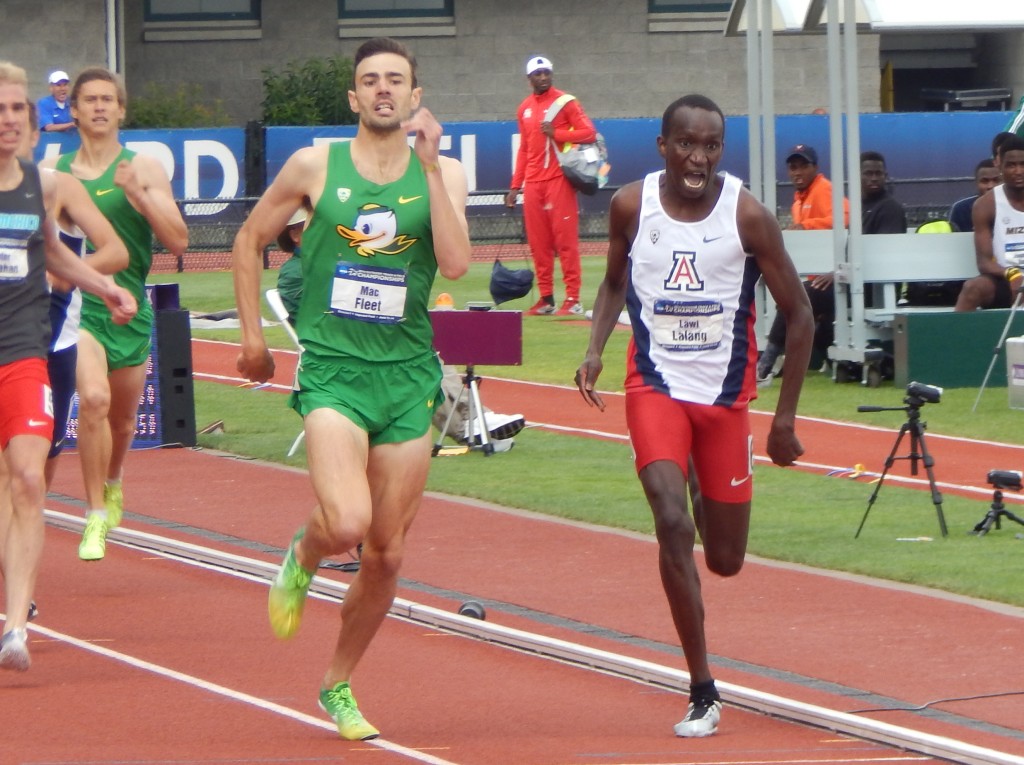 ---
Like LetsRun.com on Facebook!