By LetsRun.com
February 1, 2013
Who will win the 2013 US Cross Country titles tomorrow in St. Louis? That's not known but what is known is that whoever wins will have to overcome cold and windy conditions to do so.
The women's race starts 1pm CT on Saturday and the men's championship is at 1:45 pm CT. Weather.com is expecting temps in the high 30s with wind-chills in the low 30s. But the sun will be out so it shouldn't be too bad for the runners (nothing like it is today in St. Louis (at 12:05 CT, it's 19 degrees and feels like 11).
Considering the world cross country championship are in Poland this year, the weather in St. Louis is certainly appropriate.
The elite men and women will have it the easiest though. The action in St. Louis actually starts at 8:30 am with an open 4k run and then you have the masters and junior races, which will certainly be run under colder and windier conditions.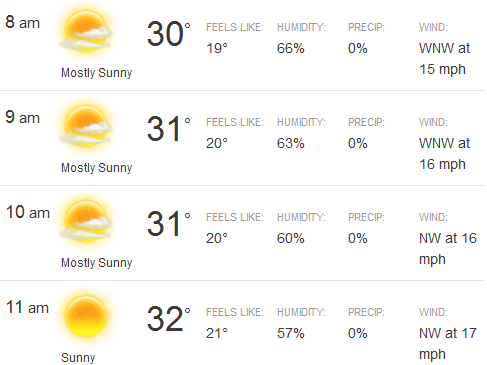 Saturday February 2nd:
8:30am- FLEET FEET 4K
9:15am- Masters Women's 6K presented by the Running Center of Saint Louis
10:00am- Masters Men's 8K presented by Toolen's Running Start
11:00am- Big River Running Company High School 4K
11:30am- Junior Women's 6K presented by the St. Louis Sports Commission
12:15pm- Junior Men's 8K presented by Missouri Running Company
1:00pm- Open Women's 8K presented by Michelob Ultra
1:45pm- Open Men's 12km presented by the SAINT LOUIS TRACK CLUB
More: LRC USATF XC Preview: Shalane Vs. Deena, 10 Sub-28 Minuters, Including Ritz And Teg, Square Off
*Live Webcast February 2nd 10:15AM ET
*USA XC Meet Site