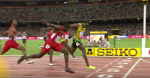 Bolt looked horrible after stumbling in the semis but he showed the resilience that makes him the Greatest of All Time by running 9.79 in the final to edge Gatlin by .01. Gatlin led most of the way but he couldn't hold his form once Bolt caught him in the final 10 meters and had to settle for silver.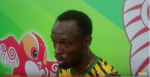 Wind adjusted only .02 separated Gatlin and Bolt on Saturday, but Gatlin was glancing around with 40 meters to go. Race videos plus video interviews with both.
Event Schedule
| Race | Date | EST | CST |
| --- | --- | --- | --- |
| Prelims | 08/10/13 | 10:10pm | 10:10am |
| Quarterfinals | 08/10/13 | 8:15am | 8:15pm |
| Semifinals | 08/11/13 | 7:05am | 7:05pm |
| Final | 08/11/13 | 9:50am | 9:50pm |
| Final | 08/12/13 | 9:50am | 9:50pm |
Outside Letsrun
A JAAA media officer says the American complained about Jamaicans celebrating too loud and refused to drink Gatorade that had Usain Bolt's picture printed on i.
List includes Emily Infeld, a Kenyan winning the 400 hurdles and Dafne Schippers.
They'll both be at the Brussels Diamond League meet, but in different events.
To questions about doping, he repeated three times, 'I am thankful'
Mills also let on that they have been focusing on training for the 100 at the expense of the 200.Mills: "He really showed that he was a true champion. It's not the easy ones that show your character, it's those that you can win when you are not supposed to win."
BBC commentator Steve Cram: "Bolt has saved his title, he's saved his reputation, he may have even saved his sport. It was the result that everyone wanted, apart from Justin Gatlin. I've never been happier commentating on a 100m final."