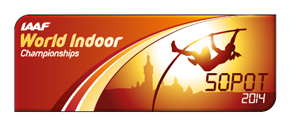 Sopot Poland
March 7, 2014 to March 9, 2014
Outside Letsrun
Aden's athletes include stars like former world 800 champion Abubaker Kaki, 1500 Olympic champion Taoufik Makhloufi and Ayanleh Souleiman and Dibaba benefits from training with some of the other athletes who are in Ethiopia.
He also wonders if it's good that track stars can just skip indoors.
Mekonnen Gebremedhin and Silas Kiplagat are out.
Ajee Wilson and Laura Muir both struggled coming up well short of the final. Iceland's world youth star, Anita Hinriksdottir, appeared to make the final but was DQd for a lane violation.
Vlasic in her third competiton of the year, after missing most of the last two years with an achilles problem, missed three time at 1.95 but made the final. Spain's Ruth Beita led the qualifying.