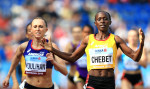 Both Hassan (2:40 final 1k) and Chebet (56.2 final lap) closed incredibly fast while Kipruto turned the steeple into a laugher after both Soufiane El Bakkali (DNF) and Evan Jager (DNS) missed out due to injury. Clayton Murphy was second in the 800, barely edging out Nijel Amos.

Ostrava, Czech Republic
September 8, 2018 to September 9, 2018
Outside Letsrun
No outside links found.