Wednesday Live/Taped Stream Women's steeple at 2:45 Eastern, men's 400 at 3:30 pm Eastern 800 semis at 4:00 pm Eastern.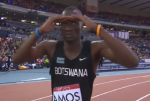 LRC
All Set for Dream 800 Final – David Rudisha and Nijel Amos Both Win Their Semis To Set up Seismic Clash
The dream final we all wanted is set for 2:50 pm ET Thursday. Take a break from work and watch this one as it's worth 1:45 of your time. The real drama in the semis involved a
brazen foul
by NCAA champ
Brandon McBride
of Canada.
Previous Commonwealth Games News
LRC Video Of Tuesday's Track Finals At Commonwealth Games: videos fixed A tremendous finish in the women's 10,000m, plus the women's 1,500m, men's 110m hurdles, and women's 400m.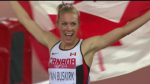 LRC Women's 1,500: Faith Kipyegon Claims Gold As Hellen Obiri Struggles, Weightman Nabs Silver, van Buskirk Bronze Obiri looked like the best 1,500 runner on the planet earlier this year but Glasgow has not been kind to her – she was 8th in the DL meet there on July 11 and was just sixth in today's Commonwealth Games final. England's Laura Weightman took silver while former Duke runner Kate van Buskirk claimed the bronze for Canada.
The Men's 800 Is Special!! LRC Commonwealth Games Men's 800 Preview: David Rudisha Vs. Nijel Amos In A Championship Race Set your DVR for 2:50 pm ET Thursday.
*Rudisha: "I just want Kenyans to pray for me and promise not to disappoint them as I do my best and leave the rest to God."
US Stars In The News
News From Europe
A Crazy Day Off The Track At The Commonwealth Games
Historic Paper: Usain Bolt Says The 2014 Commonwealth Games Are "A Bit Shit" The initial report comes from The Times which dates to 1785.
*Bolt denies: "Journalist please dont create lies to make headlines"
*Agent: "utter rubbish"
LRC: Can we at least all agree Bolt's performances in 2014 have been utter ****?
Austalian arrested in Athletes village
Australian coach Eric Hollingsworth says Sally Pearson sets a "bad example" – Athletics Australia responds by kicking him out of Games
*Coach had released statement criticizing Pearson for not coming to training camp
*Good for him: Hollingsworth kept coaching to the very last minute
Previous Commonwealth Games News