Preview of the Men's 2012 Bank of America Chicago Marathon
By LetsRun.com
October 5, 2012
Considering the London Olympic marathon was less than two months ago, one might think the 2012 Bank of America Chicago Marathon would really be down in quality this year as basically no Olympic runners will try to bounce back that quickly.
Think again.
The marathon is where most of the money in the sport is these days and as a result, in the year 2012, the world of marathoning is very, very deep. So deep in fact that Chicago race director Carey Pinkowski has called this year's Chicago men's field his deepest ever. "The men's field is the deepest we've ever had in Chicago, and I think it will take a career performance to win on October 7," said Pinkowski.
The field lacks some of the biggest names in the sport but it is indeed deep and it includes two highly touted runners who have never finished a marathon but could win in Chicago. Plus Chicago serves as the return to the marathon for America's Dathan Ritzenhein after his fourth place finish at the Trials in January.
To help make sense of it all for you, we've narrowed down the field as follows.
We start with a list of "We Think One of These 5 Guys Will Win".
We then move on to "The Seven Sub 2:07:05 Guys Who We Don't Think Will Win".
Then we go to "What about Ritz" before concluding with "Everyone else".
"We Think One of These 5 Guys Will Win" (listed in order of PRs)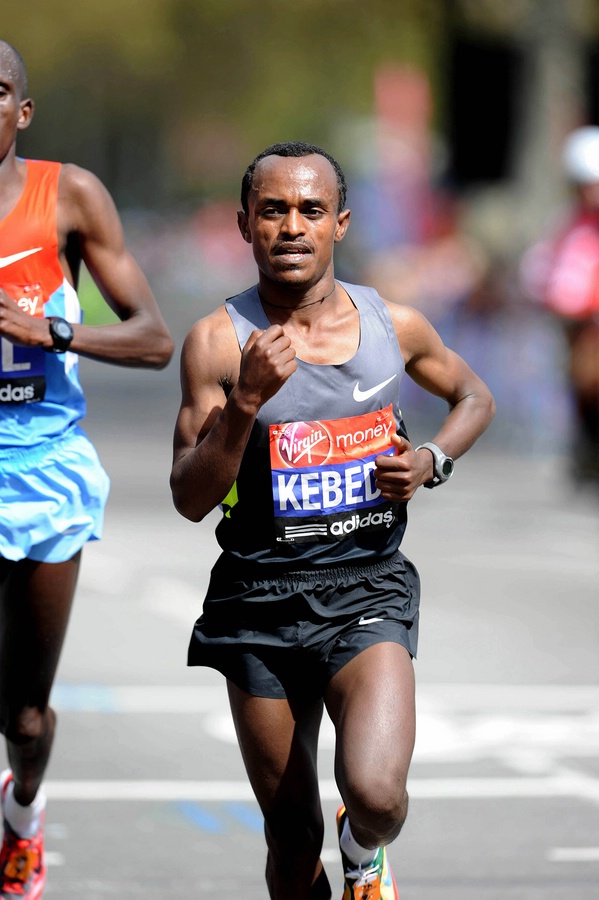 Pint Sized Kebede
1. Tsegaye Kebede ETH 2:05:18 - The 25-year old has won in Fukuoka (twice), Paris and London in the past and is definitely the biggest name in the field. He nearly beat the great Sammy Wanjiru in Chicago in 2010 and was the 2008 Olympic bronze medallist. If the Ethiopians want to know why they didn't medal in the marathon in London, they should ask themselves why they left Kebede off the Olympic team. There was a period after the 2008 Olympics when Kebede was arguably the best marathoner in the world. Finishing third at the Virgin London marathon is nothing to be ashamed of and that's what he did earlier this year.
2. Feyisa Lilesa ETH 2:05:23 - The 2011 world championship bronze medallist picked up $17,500 for running 59:22 in Houston in January, but only was 10th at this year's London Marathon. After winning his first two marathons, he hasn't finished higher than third in his last five although one third was in Chicago in 2010. Still only 22, his 2:05:23 from 2009 came when he was 19. Training group includes: Deriba Merga, Tadese Tola, and Tilahun Regassa.

3. Levy Matebo KEN 2:05:16 - The 22-year old ran 2:05:16 for second in Frankfurt last year in the race where Wilson Kipsang just missed the world record. He then had the lead late in Boston before getting caught and finishing second once again.
4. Sammy Kitwara KEN 58:48 (half marathon) - The 5th fastest performer in half-marathon history was labeled by us in 2009 as "The Best Runner You've Never Heard Of". He's won lots and lots of big-time road races including the World's Best 10k and Bay To Breakers. He made his much anticipated debut in marathon debut in Rotterdam this year but dropped out at 30k after going through half-way in 61:38. So this isn't technically his debut but it might be his first finish.
5. Tilahun Regassa ETH 59:19 (half marathon) - The 22-year old is making his much anticipated marathon debut in Chicago. So far, his claim to fame is picking up a cool $300,000 by winning the biggest prize in the history of professional running (at least we think it was the biggest ever) - the 2010 Zayed Half Marathon. Over the year's he's won virtually every US road race as well including Falmouth, Cooper River Bridge Run, Bolder Boulder 10K, Crazy 8s 8K and Utica Boilermaker 15K. The Crazy 8s and Utica wins came this year. How cool would it be if you could run 22:15 for 8k like he did in July? He's in the same training group as Lilesa.
"The Seven Sub 2:07:05 Guys Who We Don't Think Will Win" (listed in order of PRs)
1. Dadi Yami ETH 2:05:41 Yami ran 2:05:41 in Dubai. Problem was everyone ran fast in Dubai and that only got him sixth place. He then came back and ran Hamburg to finish second, where his 2:07 got him second place behind Shami Dawit (see next).
2. Shami Dawit ETH 2:05:42 - Coming into the year, he'd run five marathons and his PR was 2:09:42 and he'd run three straight 2:09s. Then he ran 2:05:42 in Dubai in January. That was the good news. The bad news? That only placed him seventh. He followed that up with a 2:05:58 win in Hamburg in April. Marathoning is at a different level if we dismiss a two-time 2:05 guy. To win in Chicago however, you likely need to be better than a high 2:05 guy.
3. Laban Korir KEN 2:06:05 - The 26-year old made his marathon debut last Fall and his 2:06:05 debut in Amsterdam was at the time the 3rd fastest debut in history. He followed that up with a 60:38 half pb in February before getting sixth in Boston.
4. Wesley Korir KEN 2:06:15 - The surprise winner of the hot Boston marathon this spring is running Chicago for the 5th straight year. Considering he started in the masses race five years ago, it's certainly a surprise that he's a major champion. A good bet to place in the top five but unlikely to see everyone crater in front of him like in Boston. We'll admit it's probably a bit of slap in his face to not list him as a potential winner as he did win Boston, and got second in Chicago last year, but hey you come here to get our actual opinion, not some PC message. But since Korir is such a great human being (Please read this profile of him), we feel a bit guilty. Plus, he went to school in the States (University of Louisville), so a lot of you know him. The hate emails go here.
5. Raji Assefa ETH 2:06:24 - Marathon PR was 2:12:12 coming into year. Ran 2:10 in January and then 2:06 in Paris in April.

6.Bernard Kipyego KEN 2:06:29 - 2009 world half marathon silver medallist was 3rd last year in Chicago and third this spring in Boston. Ran 61:25 half marathon in early September.
7. Michael Kipyego KEN 2:06:48 - Many people don't seem to realize this 29-year old is the older brother of Sally Kipyego. As a junior, he won the world title in the steeplechase where he eventually ran 8:08. He was the guy who stunned Haile Gebrselassie in Tokyo in February when Kipyego won in 2:07:37.
8. Samuel Ndungu KEN 2:07:04 - The Japanese based runner (Team Aichi Seiko) who runs high mileage - averaging 180 miles per week and peaking at more than 200 miles - was the surprise winner of the Lake Biwa marathon in March in his debut.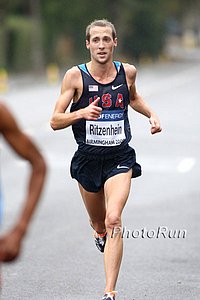 Dathan Ritzenhein: What Can the American Hope Do?
That brings us to the great American hope Dathan Ritzenhein. Ritz has shown amazing talent in his career (bronze medallist at the Junior World XC Championships, bronze medallist with a 1:00:00 half marathon at the World Half-Marathon Championships, 12:56 for 5000). Ritz clearly loves the marathon, but the one problem is he hasn't had great success with it.
Here are Ritz's career marathons:
| | | | |
| --- | --- | --- | --- |
| Nov 2006 | New York | 2:14:01 | 11th |
| Nov 2007 | Olympic Trials (NYC) | 2:11:07 | 2nd |
| Aug 2008 | Olympics | 2:11:59 | 9th |
| April 2009 | London | 2:10:00 | 11th |
| Nov 2010 | New York | 2:12:33 | 8th |
| Jan 2012 | Olympic Trials (Houston) | 2:09:55 | 4th |
| Oct 2012 | Chicago | ???? | ???? |
The 9th place at the Olympics was a good performance, but besides that for a guy of Ritz's talent, the marathon has been a huge disappointment. Ritz admitted as much after the Olympic Trials. After the Trials, Ritz talked about putting less emphasis on the marathon saying, "I do love the marathon, but I think I love being good better." Ritz didn't stay away from the marathon very long as he's back running Chicago, nine weeks after the Olympics where he ran 27:45.89 for 13th in the 10,000m.
The one thing Ritz has battled throughout his career is injuries. In very few of his marathons has Ritz entered the race healthy coming off a full marathon build up. Ritz ran a pr at the Olympic Marathon Trials but for much of the Fall he was battling injuries and was hooked up to a wound-vac.
Entering Chicago, Ritz has been relatively healthy all year and firing on most if not all of his cylinders. His only excuse is the short build-up after the Olympics. Ritz told Peter Gambaccini of RunnersWorld:
It is time for Ritz to put up or shut up in the marathon. He has talked of wanting to run 2:06 in Chicago and be competitive. Can a consistent 2:09 guy become a 2:06 guy? Yes, Shami Dawit (above) ran three straight 2:09s and then ran two straight 2:05s.
Let's make one thing clear. With good weather we don't expect 2:06 to win Chicago. Khalid Khannouchi ran 2:05:42 in Chicago thirteen years ago. There have only been three years with the winner under 2:06 in Chicago, but with this field and the state of marathoning in the world Chicago should be being won for sure in the 2:05s, possibly 2:04s.
A 2:04 race could put Ritz in no man's land. We'll report back this weekend with more info on the pacing, but if Ritz wants to be competitive that means going with the lead pack and that really could be unchartered territory for him. We're sure most US fans would like to see Ritz hang for as long as possible instead of going out with a second pack.
The Others:
Takeshi Horiguchi JPN 2:09:16
Dathan Ritzenhein USA 2:09:55
Takeshi Kumamoto JPN 2:10:13
Yuki Moriwaki JPN 2:11:52
Hiroki Kadota JPN 2:12:25
Jimmy Grabow USA 2:12:35 - Grabow is beloved on the LetsRun.com messageboard - Jimmy Grabow - The Ultimate Blue Collar Runner - as he works and runs. His 2:12:35 marathon debut at the Olympic Trials was the 12th fastest debut in US history and placed him 10th. He's taking his working and running to a new extreme though now as he now gets up at 4:30 am to run before work - it used to be 5:30.
Koji Kobayashi JPN 2:12:52
Jeffrey Eggleston USA 2:13:12
Jason Gutierrez COL 2:13:24
Patrick Rizzo USA 2:13:42
Drew Polley USA 2:14:58
Patrick Smyth USA 2:15:00
William Naranjo COL 2:15:39
Craig Leon USA 2:15:42
Diego Colorado COL 2:16:45
Malcolm Richards USA 2:17:29
Tim Tollefson USA 2:18:26
Stephen Muturi KEN 2:18:51
Thomas Frazer IRL 2:19:42
Carlos Trujillo USA 2:20:56
Stephen Pifer USA Debut
LRC Predictions: Check back later Friday and on Saturday with more coverage on Chicago.
Women's Field: The Women's field is led by two sub 2:20 performers Liliya Shobukhova and Lucy Kabuu. More coming.
---
Comments, questions, suggestions, story you'd like to submit? Email us