Leonard Komon Runs 27:15, Mara Yamauchi 32:19 For 10k at Asics Grand 10 in Berlin
By RaceNewsService
October 9, 2011
Leonard Komon runs another world-class time in Berlin.
Leonard Komon has again clocked a world-class 10 k time in Berlin on Sunday. The defending champion from Kenya took the ASICS Grand 10 with 27:15 minutes, exactly matching the world leading time of his fellow countryman Micah Kogo. While Leonard Komon just missed his course record by three seconds there was a course best in the women's race. Mara Yamauchi (Great Britain) was a comfortable winner in 32:19 minutes. More than 7,000 runners started in good but cool conditions.
Kenyans Leonard Komon, Josphat Bett and Henry Kiplagat dominated the race from the start. Setting a very fast pace they passed the 5 k mark in 13:23 minutes. Even the world record was still in reach. Komon holds this mark with 26:44 from 2010.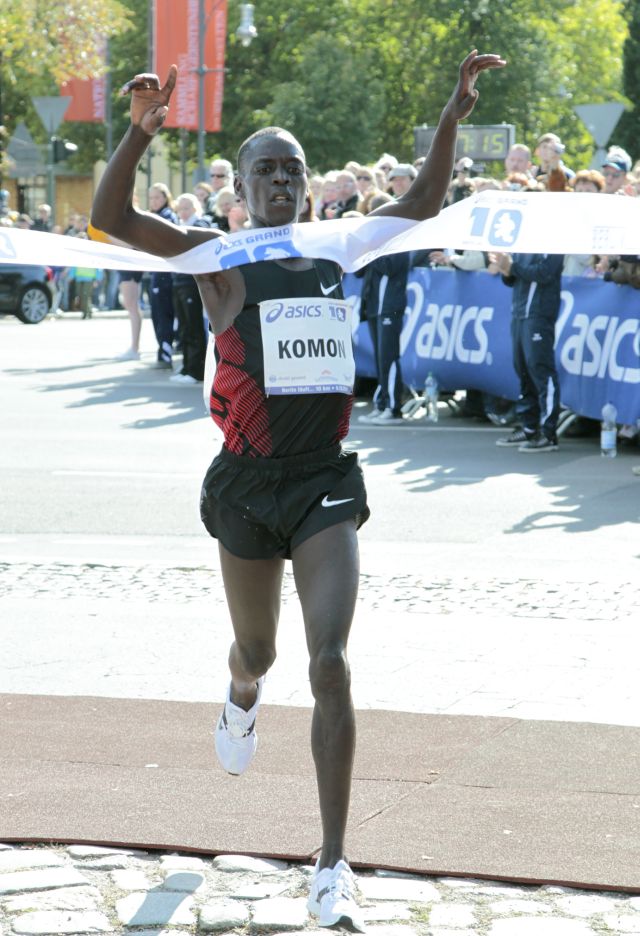 The defending champion then took the lead between 6 and 7 k and was now running against the clock on his own. But he was also running against a slight headwind and lost some time. In the end he just missed his course record. Josphat Bett took second in 27:45 while Henry Kiplagat was third with 27:52. "I like running in Berlin. Unfortunately I did not reach all my goals today, but I am happy with my performance. Missing the course record by just three seconds is of course unfortunate but it is still a good time," said Leonard Komon.
Mara Yamauchi was all on her own in the women's race with no real challenge. Preparing for the Yokohama Marathon in November she improved the course record by almost one and a half minutes. While Yamauchi clocked 32:19 on Sunday Kenya's Joan Aiyabei had won the race in 33:48 in 2009.
More information is available online at: www.berlin-runs.com
Women's Results:
1
1
2
»

Yamauchi, Mara (GBR)
W
00:15:47
00:32:19
00:32:19
2
1
6140
»

Boitz, Sandra (GER)
W35
SC DHfK Leipzig
00:18:18
00:37:03
00:37:03
3
1
7742
»

Kratzenstein, Claudia (GER)
W30

SG TSV Kronshagen/Kieler ...

00:18:24
00:37:08
00:37:08
4
1
6941
»

Mattern, Carolin (GER)
WH
OSC Berlin
00:18:48
00:37:50
00:37:50
5
2
6189
»

Buchhauser, Mares-Elaine (GER)
WH
SCC Berlin
00:18:32
00:37:58
00:37:58
6
1
7064
»

Niederberger, Miriam Renata (SUI)
WJA
00:18:45
00:38:02
00:38:02
7
1
7103
»

Parsiegla, Karsta (GER)
W45
SCC Berlin
00:18:46
00:38:42
00:38:42
8
3
7900
»

Merz, Christina (GER)
WH
SC DHfK Leipzig
00:19:31
00:39:14
00:39:14
9
4
6331
»

Feuerherdt, Lisa (GER)
WH
Post SV Uelzen
00:19:26
00:39:18
00:39:18
10
2
7441
»

Stickelmeier, Lena (GER)
W30
Lauftreff Zinnowitz
00:19:18
00:39:21
00:39:21
---
Runner's World &
Running Times



Combined Only $22
a Year
Save $87

---

Running & Track and Field Posters
---

Running Shoe Savings: Nike Lunar Glide 20% Off Super popular shoe from Nike featuring Flywire and Lunar Foam
---