LetsRun.com Photo Albums | January - March, 2010
By LetsRun.com, PhotoRun, and independent photographers
More: *April - June 2010 Photos
Favorite Albums: World XC | NYC Half | World Indoors Day I • Day II • Day III | Lake Biwa Marathon | Mardi Gras HM | RAK HM | USATF XC | Reebok Boston Indoors | Jenny Barringer Signs | Dubai Marathon | Houston Marathon/HM
More: Berlin Half | Prague Half | Nike Indoor Nationals | Nagoya Women's Marathon | USATF XC Masters | New Balance Games | Tokyo Marathon | Osaka Marathon | Haile in Dubai |
Every week, LetsRun.com gets beautiful photo albums from races and events from around the world. We're putting all the photos in one place for you to easily browse photos from some of the world's most interesting racing venues.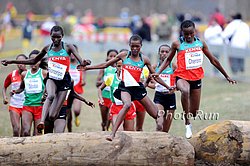 March, 2010
World Cross Country Championships March 28 - Bygdosczc, Poland
Photos of the winners and medallists from each of the 4 races on the day. It was a day dominated by Kenya but the Americans had at least a taste of success with a bronze medal performance by the senior women. See photos of all the Americans and the race leaders as they navigated the twisty course with log barriers to jump.
---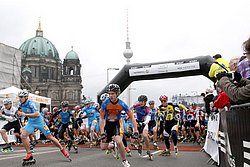 Vattenfall Berlin Half Marathon March 28, 2010
Prague Half Marathon March 27, 2010
Wind and rain greeted the runners in these two capital cities of Germany and the Czech Republic. In Berlin, Pasalia Kipkoech beat Germany's reigning champion Sabrina Mockenhaupt while Eshetu Wendimu ended a long string of Kenyan victories with a sprint finish over Kenyan Peter Kirui. Prague was won by Joel Kemboi and Rose Kosgei.
---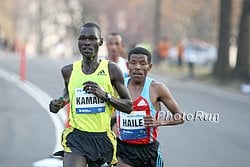 New York City Half Marathon March 21, 2010
NYRR's NYC Half Marathon moved to the spring and brought in Haile Gebrselassie and a number of top Americans. But it was Peter Kamais who took the win as Gebrselassie dropped out shortly after this photo was taken. Morocco-born American Mo Trafeh recorded a fast 1:00:40 to take 3rd. On the women's side, Deena Kastor took it out hard and led most of the race before fading at the end and succumbing to Japan-based British runner Mara Yamauchi who was runner-up in London last year. The two runners and 3rd-placer Maida Perez - Mexico's marathon record holder - will meet this year in the Virgin London Marathon.
---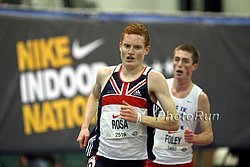 Nike Indoor Nationals Distance/Mid-Distance Races March 14, 2010
Alex Hatz and Emily Lipari ran some of the best indoor miles ever run by high schoolers and there were many other exciting races including the girl's 2-mile, boy's 5000 where Kirubel Erassa ran 14:19 and the disrelays. The photos tell the story.
---
World Indoors Day 3 Photos March 14, 2010 - Doha, Qatar
LRC Lagat Is Utterly Brilliant In Men's 3k As Johnson Earns Bronze In Women's 800 - Day 3 Recap Bernard Lagat put on a clinic in the men's 3,000. No one came close to touching him thanks to a sub-4 final 1,600 and 2:25 final 1k. In other action, Alysia Johnson earned a surprise bronze in the 800, Abubaker Kaki defended his crown and an 18-year-old may have ended Jordan Hasay and Steph Twell mania for eternity by winning the women's 1,500.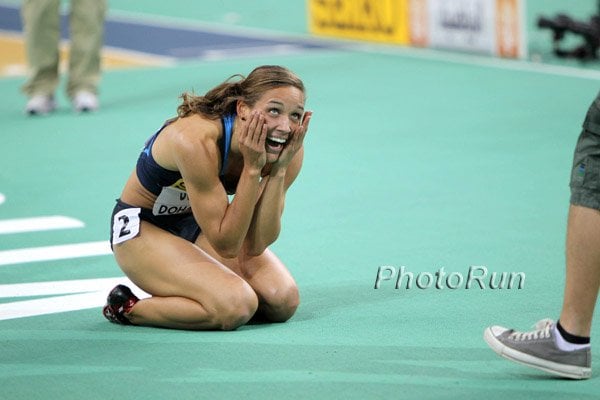 World Indoors Day 2 Photos March 13, 2010 - Doha, Qatar
Finals in the men's mile, women's 3000, men's 60, women's 60hurdles, men's 400 and more.

LRC Dwain Wins World Title - Wild Day 2 Recap Day 2 of the 2010 World Indoor Champs was a complete thrill to watch, as Meseret Defar unleashed one of the best kicks of her career to split the field in the women's 3,000, Christian Cantwell won the best-ever indoor shot put competition on his last throw with a huge put, and Americans Bryan Clay and Trey Hardee went 1-2 in the Heptathlon. But the men's 1,500 took the cake as the race of the day decade indoors, as the pros ran like high schoolers in a wild event that thrilled the announcers and the cheap seats in Doha filled with Ethiopian fanatics. Not to mention a former fallen drug cheat won the 60, calamity Jane Lolo finally won a championship race, and more ...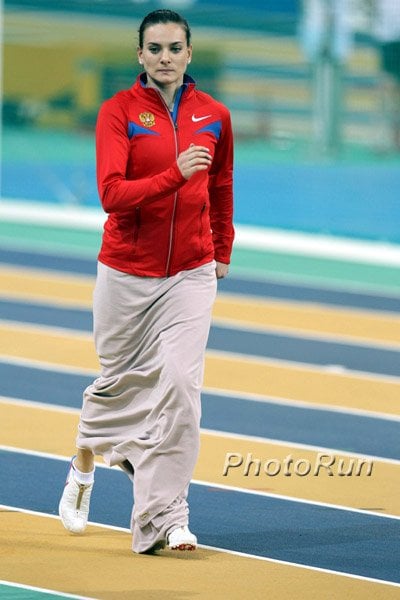 IAAF World Indoors Day 1 Photos March 12, 2010 - Doha, Qatar
Preliminary action includes Galen Rupp and Bernard Lagat in the men's 3000.

*LRC Day 1 Women's Distance Events - 5 Out Of 6 Advance To Final Hats off to the American distance and mid-distance runners, as 5 out of the 6 Americans advanced to the final. Anna Pierce won her heat of the 800 and marathoner Desiree Davila ran a shocking 8:51 to make the final of the 3,000.

*LRC Day 1 Men's Distance Recap - Symmonds DQd The US distance men had a great day except for the disqualification of Nick Symmonds, who ran the 2nd-fastest time in the first round of the men's 800. The race judges determined Symmonds ran out of his lane in the first lap. In other action, Bernard Lagat won his heat of the 3,000, while Galen Rupp got a bit lucky to move forward after finishing 5th in the sprint finish.
---
Nagoya International Women's Marathon March 14, 2010 - Nagoya, Japan
Japanese marathoner Yuri Kano won the title in 2:27 over a late-charging Derartu Tulu of Ethiopia.
---
65th Lake Biwa Marathon March 7, 2010 - Japan
South African marathoning icon Hendrick Ramaala tried to stay at the front, but in the end faded as Ethiopian Yemane Tsegay took the title in a relatively slow (partly thanks to the cold, rainy weather) winning time of 2:09:34. The top-10 was filled with Japanese marathoners (and a lone Eritrean), led by 2nd place Tomoyuki Sato in 2:10:07. Ramaala finished in 2:15 in 11th.
*Race Recap
*Video Highlights
---
February, 2010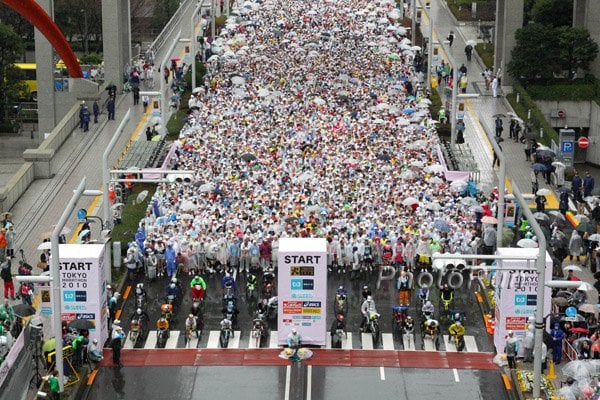 Photos From Bad Weather Tokyo Intl Marathon February 28, 2010 - Tokyo, JPN
Despite terrible conditions, the toughest marathoners on the planet (that would be the Japanese) had 6 under 2:13:16 including three runners diving across the line within 2 seconds of one another.

*Japan Running News' Excellent Race Recap and Results
*LRC Robert Johnson Talks Tokyo Marathon In LRC Week That Was Only 7 Americans ran 2:13:16 or better in 2009. 6 Japanese marathoners did it in tsumani conditions in Japan this weekend.
---
Photos From 1st Ever Mardi Gras Marathon and Half Marathon February 28, 2010 - New Orleans, LA
Berhane Adere and Kim Smith both dipped under the US all-comers record in the half-marathon, running 67:52 and 67:55, respectively. In the men's race, marathoning legends Martin Lel and Sammy Wanjiru both ran 61 minutes with Oregon alum Shadrack Biwott only 9 seconds behind Wanjiru (sporting a new moustache) for 3rd.
---
RAK Half-Marathon Photos February 19, 2010 - Ras Al Kaimah, United Arab Emirates
In one of the fastest half-marathons in the world, Kenyan Geoffrey Mutai got the biggest win of his career at age 28, winning in 59:43. Ethiopian-born Turk Elvan Abeylegesse won in a debut-record 67:07.
---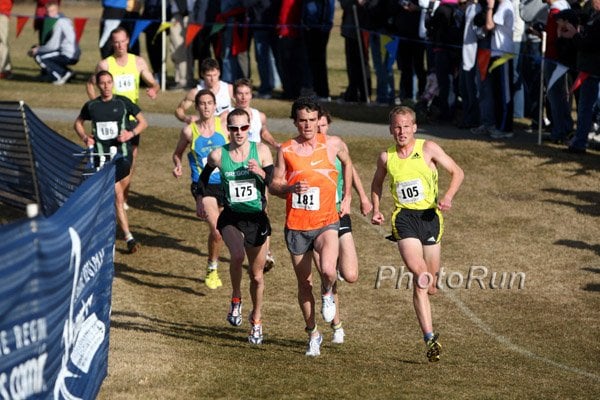 USATF Cross Country Championships February 13, 2010 - Spokane, WA
Dathan Ritzenhein won his 3rd senior title by 18 seconds over Patrick Smyth. Shalane Flanagan romped over Molly Huddle and the women's field by an amazing 51-second margin. Photos of the men's, women's, boys' and girls' race winners.

USATF XC Championships Masters (Age 40+) Races February 13, 2010 - Spokane, WA
The star of the show was former South African Colleen de Reuck who continues to run superbly into her mid to late 40's.

---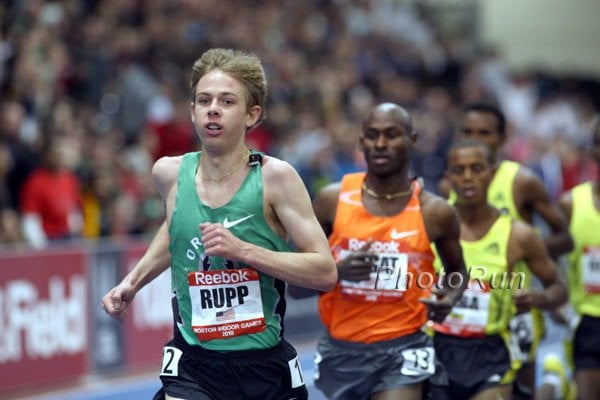 Reebok Boston Indoor Games February 6, 2010 - Boston, MA
Bernard Lagat sets a new American 5000m indoor record (13:11) while Galen Rupp runs 13:14. World's top athletes compete in one of 2 big international professional indoor meets annually on U.S. soil.
Lagat Photos From Boston February 6, 2010 - Boston, MA
Pre-Boston Athlete Headshots February 5, 2010 - Boston, MA
---
January, 2010
Osaka Women's International Marathon January 31, 2010 - Osaka, Japan
---
New Balance Meet At The Armory January 24, 2010 - New York, NY
Early season mile races won by Andy Baddeley and Erin Donohue.
---
Jenny Barringer Signs With New Balance January 22, 2010 - New York, NY
Collegiate star Jenny Barringer signs with New Balance in surprise move.
---
Standard Chartered Dubai Marathon January 22, 2010 - Dubai, UAE
Haile Gebrselassie wins in 2:06:09 after a bad night's sleep that hurt his back.
Haile Gebrselassie Pre-Dubai January 20, 2010 - Dubai, UAE
Running great Haile Gebrselassie smiles for the cameras in front of the world's new tallest building.
---
Chevron and Aramco Houston Marathon and Half Marathon January 19, 2010 - Houston, TX
Top performances include Brett Gotcher's 2:10, Antonio Vega winning US half championship and Shalane Flanagan debuting at the half marathon distance for a win.
---
Zayed International Half Marathon
World's richest prize payout gave $300,000 to the winners Mary Keitany and Tilahun Regassa at "the richest race nobody saw".
---
---
Runner's World &
Running Times



Combined Only $22
a Year
Save $87

---

Running & Track and Field Posters
---

Offers of interest: Nike Lunar Glide Discount Discounting on this shoe not allowed until recently.
---