2009 ING New York City Marathon Men's Preview
The 40th Edition Should Be A Race For The Ages
by: Robert Johnson
October 28, 2009

Note Scroll to the Bottom of the Page to Vote in the Rojo Put Your Money Where Your Mouth is NYC Prediction Contest
The men's race of 40th edition of the ING NYC Marathon should be one to remember as the field is totally loaded. On Tuesday, NYRR head Mary Wittenburg rightfully said the following about the men's field: "I believe we will host our strongest field ever."
That statement was almost certainly true when she said it, as the race had lined up an amazing cast of characters, including 5 guys who had run 2:06:17 or faster in James Kwambai (2:04:27), Martin Lel (2:05:15), Jaouad Gharib (2;05:27), Patrick Makau (2:06:14) and Ryan Hall (2:06:17), former champions Hendrick Ramaala and Marilson Gomes dos Santos, a four-time world marathon major winner in Robert Cheruiyot, 2008 Boston runner-up Abderrahim Bouramdane, former Olympic silver medallist Meb Keflezighi, and then tons of other top US talent, including US Olympians Abdi Abdirahman, Dan Browne, Brian Sell, and Jorge Torres.
As I was going to publish this preview, I learned that Martin Lel has withdrawn. He was going to be my pick to win, so his withdrawal is a major blow, but the race is still stacked nonetheless.
And since generic race overviews are boring, I'm going to go out on a limb and give you a list of three guys from whom one will win the marathon. If my prediction is wrong, LetsRun.com will give one person who picks the winner correctly $50.
One Of These Men Will Win The 2009 ING NYC Marathon
Jaouad Gharib - I'm certainly not going out on a limb when I say that Gharib has to be considered one of the biggest threats for the crown in New York, as his track record in the marathon is unbelievably impressive. The world champion in 2003 and 2005, the 2008 Olympic silver medallist, and a 2:05:27 personal best (which is the 2nd best in the field).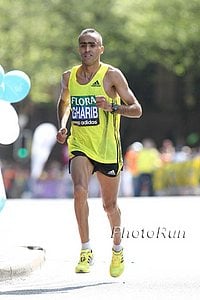 About the only reason to not like Gharib is because he's 37 years old. But that shouldn't scare people, as he's shown no signs of slowing down of late. Sure, he can't have that many years left in the tank, but he set his PR and national record of 2:05:27 this year when he got 3rd in London - just 17 seconds arrears of the greatest marathoner on the planet - Sammy Wanjiru. The year before in Beijing, when Wanjiru ran in my mind the single greatest marathon in history, Gharib was the only guy within 3:28 of him, as his 2:07:16 runner-up performance was just 44 seconds back.
So earlier this year, Gharib set a PR in the full marathon. More recently, he ran 60:04 for 3rd at the BUPA Great North Run on September 20th. He's clearly in good form.
One other thing to consider about Gharib is he is amazingly consistent. He's run 12 marathons in his life and they've all been big time marathons - either a global championship marathon, world marathon major or Rotterdam or Fukuoka. In those 12 races, he's finished in the top four nine times.
Side note: It's really hard to believe that 2:05:27 puts him at #10 on the all time performers list.
Martin Lel - (Editor's Note: Lel has now pulled out but we decided to leave up what Robert wrote about him as we found it to be interesting)
The 31-year-old Martin Lel is without a doubt one of the greatest marathoners in history. A 2-time winner in New York (2003 and 2007), Lel also has three times won the most competitive marathon in the world, London. His PR of 2:05:15 makes him the 7th fasest in history and he comes into New York in great form as he won the BUPA Great North run on September 20th in 59:32, defeating one of his biggest New York rivals in Gharib in the process.
The scariest thing bout Lel is that he comes into New York very hungry as he was forced to withdraw from London last spring due to injury the week of the race. And as far as consistency goes, Lel's track record is even more impressive than Gharib's. Since getting serious about the marathon in 2003 when he ran his first world marathon major, Lel has run 10 marathons, 9 majors and the 2008 Olympics and he has finished in the top three in nine of them (he was 5th in the Olympics).
Patrick Makau - If you look at his bio on the New York Marathon site, Makau is described as a "half-marathon specialist." Well that's what people used to say about Sammy Wanjiru when he was moving up to the marathon as the half marathon world record holder. Last year, in our Chicago preview, we talked about how great success at the half marathon often equals great success at the marathon. Makau is one who is proving that once again, as he ran a 2:06:14 in his marathon debut in Rotterdam in April.
A 2:06:14 in his debut - and the crazy thing was that it was viewed as a disappointment by some, as that was the race where both Duncan Kibet and James Kwambai ran 2:04:27. In my mind, 2:06:14 in one's debut is very, very good. Makau is only 24 and normally runners improve once they get a marathon or two under their belt. And it looks like Makau has already learned a thing from his debut, as prior to New York, he hasn't done any prep races. Before Rotterdam, he went for the world record in the half in Ras Al Khaimah and came up as the #2 performer in history at 58:52. In my mind, you don't want to be 58:52 sharp just 6 weeks out from a marathon, as one needs to be working more on their endurance at that stage in their training. Makau apparently now agrees.
Since he's known for scorching fast times on flat courses, one might be concerned how Makau will handle the difficult New York course. That concern is unfounded, though, as Makau is a past winner of the Healthy Kidney 10k in Central Park.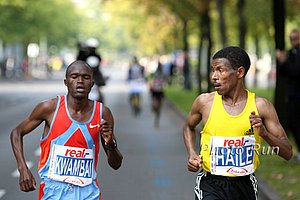 Geb was surprised by Kwambai. Will we be?
Absolute Studs That Won't Win
James Kwambai - It's appropriate that we mentioned Kwambai in Makau's profile as my only question about Kwambai is, "Is he too half-marathon sharp for the marathon?
7 weeks ago, he ran 59:08 for third in the half marathon in Rotterdam. Admittedly, it was a ridiculous race where 7 Kenyans broke 60:00. But it's hard to emphasize the point enough that one might not want to be that sharp that close to a marathon. To prove my point, please realize that Sammy Wanjiru only ran 61:08 in that race and he went on to break the course record a few weeks ago in Chicago. Additionally, 8 weeks out from his 2:04:27 this spring, Kwambai only ran 62:21 in the half.
Regardless, the 26-year-old did run 2:04:27 this spring, making him the 3rd fastest in history. The bad news was that Kwambai was only #2 in that race. Kwambai has a history of running well and finishing 2nd, as he is the one that helped push Haile Gebrselassie to the world record in Berlin in 2008 (when Kwambai was 2nd in 2:05:36) and he also was 2nd in Boston in 2007.
So we know Kwambai has been very fast in the past and is very sharp. And Kwambai does have a good coach in Italian Claudio Berardelli and he has great training partners in Lel and Cheruiyot. Has Barardelli been able to keep his form for the last 7 weeks? We'll find out Sunday.
Marilson Gomes dos Santos - Unlike a lot of the other leading contenders in this year's race, the two-time New York champion (2006 and 2008) isn't a consistent major player in big-time marathons. Besides his two wins in New York, dos Santos has run 7 other marathons and has never finished higher than 6th in any of them. He is a New York specialist in some ways. But last time I checked, this was a New York City marathon preview, so the 32-year-old has a shot.
And since this preview seems to be all about me stating how one doesn't want to be overly sharp at the half marathon prior to racing the marathon, let me point out that dos Santos ran 63:14 in the half last year before winning in New York. The year before, he ran 59:33 in his prep half before getting 8th in New York. Well the "good news" for dos Santos fans is that this year he was only 15th at the World Half Marathon Championships on October 11th, where he ran 62:41.
Robert Kipkoech Cheruiyot - Just over a year ago, Cheruiyot was definitely considered one of the greatest marathoners on the planet, as in April of 2008, he captured his 4th Boston (3rd straight) title. However, since then things haven't gone great for Cheruiyot and he comes into New York with a bit of a chip of his shoulder. He was forced to pull out of last year's Olympics with a thigh injury before DNFing with stomach problems as he sought a 4th straight Boston title.
Cheruiyot rebounded a bit in August, as he was a creditable 5th at the World Championships in August. Lots of runners have run a World or Olympic championship in August and then done well in New York in November, but Cheruiyot doesn't have a great track record of doing two marathons in one season. Four times in his career, Cheruiyot has run a marathon within 10 weeks of his goal race and the results haven't been impressive, as he's run 2:12:14 (Prague 2005), 2:15:13 (Istanbul 2007), 2:14:38 (Portugal 2008), and 2:19:11 (Rio 2009) in those races.
As a result, it's hard for me to think he'll win in New York in 2009 unless Cheruiyot was using Worlds as a prep for New York and that doesn't appear to be the case, as he was one of the last additions to the 2009 ING NYC field.
And please don't think I don't personally want Cheruiyot to do well. He's one of the most inspirational stories in running in my book. In 2007, I wrote an article where I talked about how inspired I was by his life story, Inspired By A Kenyan Robert Cheruiyot, and in 2008, we at LetsRun.com wondered if he was the best marathoner in the world. More: *IAAF Profile Of Cheruiyot.
Studs That Won't Win
Hendrick Ramaala - Hendrick is one of the great personalities on the marathon circuit. Always a great interview as the man has a law degree, the 37-year-old is also a fearless racer, as he was the lone guy to try to go with Tola in August's New York Half and that was after he said the one thing he didn't want to do at age 37 was go out hard!
But let's face the facts. He's 37 and he's run 23 world marathon majors and won just one of them. He isn't going to win in New York, but we hope he does well.
Abderrahim Bouramdane - Since finishing as the runner-up in Boston 2008, Bourmadane hasn't done a whole lot that would make one think the 31-year-old Moroccan with a 2:08:20 PR could win in New York. He was 26th in the Olympics and then 5th in New York last fall before having a bunch of subpar races in 2009. So far in 2009, he's dropped out of a marathon in March, been 13th and 10th in two road 10ks in over 29 minutes in May, and then finished 6th in the New York Half in August.
The Americans
Many of the LetsRun.com faithful are probably irate that I don't have any of the Americans in the "One of these men will win the 2009 ING NYC Marathon category." But calm down, people. I'm not trying to insult the American entrants. The New York field is so strong this year that I don't even have the third-fastest marathoner in history, James Kwambai, listed in that category.
The 2009 ING NYC Marathon is serving as the US Championships for this year, so there is a lot of US talent in the race. In my mind, there are three studly Americans entered who I guess theoretically could possibly win under some strange scenario: Ryan Hall (less strange things have to happen for him to win) Meb Keflezighi and Abdi Abdirahman, and then three more US Olympians - Dan Browne and two guys that are headed in different directions, one of whom is making his much anticipated marathon debut, Jorge Torres, and one running the last marathon of his career, Brian Sell.
Let's take a look at them all.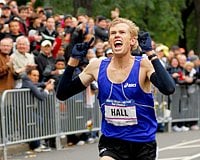 Ryan Hall - America's Best Hope
Ryan is the greatest American hope for a victory. Having a 2:06 American-born athlete running in New York is something that Americans have been awaiting for 233 years (or at least 40). It's very, very exciting indeed, but people need to understand just how competitive the world of marathoning is in the year 2009.
Up until 1998, Ryan Hall's 2:06:17 would have been the world record, as from 1988 to 2002, the world record didn't change much. It was 2:06:50 in 1988 and 2:06:05 in 2002 until Khalid Khannouchi ran 2:05:42 in October of 2002. But since 2002, the world of marathoning has been revolutionized as the world record has dropped 2:06 in 7 years to 2:03:59 after only coming down 45 seconds in the 14 years from 1998 to 2002.
As a result, Hall's 2:06:17 puts him at 25th on the all time list. Yes, 24 people have run faster than Hall. And Hall's 2:06:17 is just the 5th 4th best PR in the 2009 New York field, as Kwambai (2:04:27), Lel (2:05:15), Gharib (2:05:27) and Makau (2:06:14) have all run faster.
At best, Hall is the fifth best marathoner on paper in New York and even that would mean one is ranking him ahead of past New York champions dos Santos and Ramaala (whom Hall is better than now) as well as a 5-time world marathon major champion in Robert Cheruiyot, whom as recently as last year we were wondering if he was the best marathoner on the planet.
Regardless, Hall has a chance and he comes into New York in good spirits as his 2009 year has gone well so far. In Boston last spring, he led early, then faded before rallying for 3rd. But a 3rd in Boston is much easier achieved than in New York as New York's field is simply better.
More recently, Hall has two respectable half marathons to his name in his leadup to New York. He ran a 62:35 half for third in New York half in August before winning the Philadelphia Distance Run in 61:52 in September. After the first race in New York, Hall said some very encouraging things as he told LetsRun.com, "(In November) I should be able to run this pace twice over."
Now I clearly think there is zero chance Hall can run 2:05:10 on New York's challenging course, but one of the things I like most about Hall is he doesn't limit himself. Trying to do something that is almost impossible - beat the Africans (and a Brazilian) and give America its first champion since 1982 - isn't easy so the fact that he possesses that self belief is huge.
Hall made another statement after that New York race that made a lot of sense as well: "Even if I don't run any faster (in Philadelphia on September 20th), I'll be confident going into the marathon."
Hall is correct in thinking that his prep races are plenty fast for a good New York showing. And there are a lot of reasons to think he'll run well on Sunday.
For one, Hall seems to always run well in New York, as he's won both a US Cross-Country title in New York as well as the 2008 US Olympic Marathon Trials. Moreover, I think Hall may be well suited for the full New York course, as I've always thought good cross-country runners are well suited for the challenging New York course and Hall's silky smooth stride has always resulted good XC showings as, in addition to the US title in New York, he also was 2nd at NCAAs in college and 3rd at Foot Locker finals in HS. Moreover, Hall's win on a modified New York course at the 2008 Olympic Trials in Central Park was simply electrifying.
But again, the odds are stacked against Hall. I hope he defies those odds and pulls off a victory, but if he does, it will be the greatest performance ever by a US distance runner in my mind.