The Week That Was Page 2
February 25, 2008

Page 2 of 2 - Previous Page
European Action: Kaki
There were a couple of big meets this week in Europe - the GE Galan meet in Sweden on Thursday and the KBC Indoor Meet in Belgium on Sunday. The GE Galan meet had a lot of really good indoor action (more on that below) but this is after all indoor track in an Olympic year. In 20 years, no one will remember any single event from some European indoor meet early in an Olympic year.

But one thing everyone may remember is the name - Abubaker Kaki. Who is Kaki? Simply put, Kaki very well may be the future of the 800 on the men's side.

He is an 18-year old Sudanese runner. He ran at worlds last year but was eliminated in the first round. In hindsight, he was just getting started as he ultimately would run a 1:43.90 in November to win the All-African Games. We're not sure if we missed that race or forgot about but let it be known we now are officially giving him LetsRun.com Sensation Status (He and Kiprop both have it). Maybe we should have given it to him earlier if we had realized he ran a 1:45.78 as a 16 year old. Unreal.

Kaki has turned a lot of heads in the last few days as he's undefeated so far this year. He won an 800 in his 2008 opener on Feb 17 in 1:46.06 before running and winning two 1ks this week. In Sweden on Thursday, he ran 2:15 before running 2:16 in Belgium on Sunday.

We look forward to watching him run at world indoors.

*Messageboard thread on 18-year old Kaki here

Oh yeah, there were a lot of talented athletes besides Kaki in the two big European meets this week. See the notes below:

GE Galan - Sweden Full Results
*Sold Out Crowd of More Than 10,000 Watches 18 Year Old Abubaker Kaki of Sudan Run 2:15 1k, Lagat Runs 7:34 The kid who ran a 1:43.9 last year to win the All African Games is ready to run in 2008. His splits were 25.4 – 27.1 – 28.1 – 28.7 – 26.5. American Bernard Lagat continued his sensational 2008 indoor campaign with a comfortable win in the 3k. In the women's 800, Maria Mutola got the win in 1:59. In the men's 800, Dmitrijs Milkevics won the B race by 5 seconds in 1:46.09. In the A race, reigning world indoor champion Wilfred Bungei edged reigning Olympic champ Yuriy Borzakovskiy by .06 (1:47.16 to 1:47.22). In the women's 1,500, ex-Ethiopian Maryam Jamal edged current Ethiopian Gelete Burka in a 4:04 race.

KBC Indoor Meet From Ghent, Belgium Kaki Wins 1k In 2:16 as Kipchirir Komen Falters in 3ks

Outdoor Track From Down Under
SPRINT BIG GUNS START YEAR WELL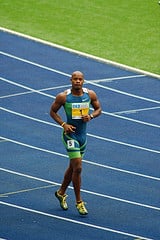 Asafa Powell

by

Jonas Witt

2008 is obviously an Olympic year and there is nothing bigger at the Olympic Games than the men's 100 meters. Every four years, one man earns the right to claim in the public's consciousness that he is the world's fastest man (when it matters - it didn't do cavemen any good either to sprint fast when not under pressure). Asafa Powell, up until this point the world's fastest man when it doesn't matter, will be looking to overcome a history of failure in major championships and win gold this summer. Four years ago in 2004, he entered the Olympics with a record 9 sub-10 clockings but finished a disappointing 5th. In 2005, he missed the world champs due to injury after setting the world record. Last year, he finished 3rd at worlds. Certainly, he has a lot to prove.

If he wins Olympic gold in 2008, Powell will without a doubt be viewed instantly as one of the greatest sprinters in history. If he doesn't, he will be labeled at least for 4 years as an Olympic choker.

Powell's 2008 season got off to a fine start. He came in at less than 100% as he cut himself a few weeks ago and needed stitches. No worries. Despite being less than 100% and letting up 10 meters from the line, Powell ran 10.04 to win the 100m at the Telstra Melbourne Track Classic on Thursday.

In the same meet, the man who will certainly challenge Powell's hold on the title of "World's most scrutinized sprinter for 2008," Jeremy Wariner, ran his main event - the 400 - for the first time. Wariner has nothing to prove on the track as he won Olympic gold in 2004 as well as world championship gold in 2005 and 2007, but his performances in 2008 are bound to be hyper-scrutinized this year as he fired the greatest 400 coach in history, Clyde Hart, after a contract dispute.

Wariner's performance certainly didn't seem to suffer too much as he won his 400 meter opener in 44.82. It's hard to totally compare his 2008 opener to his 2007 opener as they came at different points in the year. Last year, Wariner didn't open up until two months later on April 21st. Last year he opened later but ran a bit faster - 44.66 - which ended up being his slowest open 400 of the year save for an early round at the world champs.

*Powell and Wariner Dominate (We probably should point out that Craig Mottram won his 6th Aussie title in 13:11 in the same meet)

Other News: A Couple Of Things To Look Forward To Next Month


World cross and world indoors will obviously be very big meets next month. Additionally, in America, the men's US 8k road championships in Central Park will be a real treat for the fans. The race often attracts a great field as it comes at the perfect time for guys racing world cross. They can run a good race in the US, pick up a nice paycheck and be totally sharp for worlds. Sure enough, 2008 US XC champ Dathan Ritzenhein was added to the field for the race this week which means we're going to get to see Ritz vs. Webb once again as it was already previously announced that the race would serve as miler Alan Webb's 2008 debut.

We can't wait to see Ritz vs. Webb once again. Ritz vs. Webb in Central Park March 15th Plus Jorge Torres, Abdi (who could be the favorite on paper), and more at the US 8k champs.
*Message Board Thread on this Race

In other news, it was announced that Kenenisa Bekele will run world cross and not world indoors. Thank goodness that the greatest xc runner on the planet chose world xc over world indoors. It'll be interesting to see if Tirunesh Dibaba runs worlds as well, as it also was announced this week that Dibaba wasn't selected to run the 3k at world indoors for Ethiopia despite her 8:33 clocking in Boston. Admittedly, 3k is pretty short for the current 10k world champion but it's still fast. To put it in perspective, the US leader is 8:54.97.
*Tirunesh Dibaba Left Off Ethiopia's World Indoor Squad


***Proof That 19% of the Population Is Idiotic***
Lastly we leave you with a stat that shows why on any issue in the world there will never be 100% agreement. If someone surveyed the world on whether 5 x 5 was 25, we bet at least 10% would say no.

Here it is: Proof that 19% of the world's population is idiotic:
19% of Britains Want an Olympic Boycott

The Chinese stance on a lot of issues is deplorable. But we thought the international world decided about 2 decades ago to stop with the Olympic boycott thing. It is not like the Chinese - just all of a sudden after being awarded the Olympics - started abusing people's human rights for the first time. The problems were by-and-large known when the IOC awarded the Olympics to China (granted China wasn't pillaging Africa to the extent it is now). Thus, the Games should go on. We're all for athletes speaking out at the Games and perhaps even some form of mild protest (perhaps some sort of hand gesture by athletes in the opening ceremonies that will clearly mean to convey the lack of free speech in China (if you have a better idea email us)).

Got an opinion, news, info, or results? How about a name for our column? "The Week That Was" is not too catchy. Email us at [email protected]

---
Runner's World &
Running Times



Combined Only $22
a Year
Save $87

---

Running & Track and Field Posters
---

Great Running Shoe Deals Nike Lunar Glide $79.99 A very popular innovative Nike shoe on sale now.
---