Steve Riddick, Olympic Gold Medallist and Marion Jones' Coach, Charged with Felony Bank Fraud
LetsRun.com
February 24, 2006
Steven Riddick, Marion Jones' current coach and gold medallist for the United States in the 4*100m at the 1976 Olympics, has been arrested and charged with felony bank fraud.
Riddick was arrested on February 10th in Arkansas, where he was going to attend the Tyson Invite. He is now out on bail and is allowed to travel internationally with the permission of the court, so his ability to coach should not be hampered as he awaits his trial.
Riddick is one defendant in a larger bank fraud conspiracy that involves multiple alleged instances of fraud. Riddick is not considered to be one of the ringleaders of the group. The charges might seem comical to some if they both weren't felonies. He's accused of depositing two forged checks into the bank account of his business, "Steve Riddick Sports Training Inc" that totaled $825,000. One of the original checks was allegedly for $55 and was changed to $375,000. Not as complex as Frank Abagnale of "Catch Me If You Can" fame, but then again Riddick is a lot faster than Abagnale.
The indictment versus the entire group is quite long and involved multiple charges, stolen identities, and much more. You can read the full indictment here. (link fixed) The main charges against Riddick are excerpted below.
1st main charge against Riddick: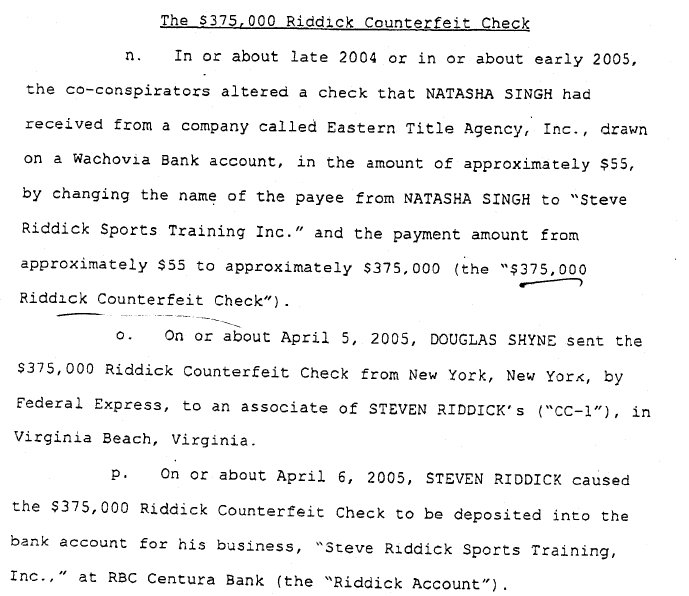 2nd main charge against Riddick:

Discuss this in this thread in our message board.