Arkansas Men, Iona's Richard Kiplagat Put on an Exhibition at 2005 Iona Meet of Champions
September 24, 2005
LetsRun.com
The #3 ranked Arkansas Razorbacks made a rare trip to the Northeast to race at New York City's storied Van Cortlandtt Park and take on the #7 ranked Iona Gaels. The Razorbacks left New York City with a dominating victory and showed they could contend for the national title come November. Despite sitting two runners (Peter Kosgei and Seth Summerside) whom they expect to be in their top seven, the Hogs swept places 2-6 at the meet to score a near perfect 20 points and destroy the field.
Iona's Richard Kiplagat was the only runner able to prevent the Hogs from having a perfect day as he put on an exhibition of his own, running 22:54 for a convincing win, and coming up just short of the 30 year collegiate Van Cortlandtt Park record of 23:51 set by David Merrick in 1975.
Kiplagat, Arkansas' Australian Shawn Forrest, and Arkansas' Josphat Boit (3rd at nationals last year in cross) hammered away from the field after the opening mile and by the time they exited the back hills at the half way point it was a three man race. By 5k Boit was 6 seconds back and it was between Forrest and Kiplagat for the win. Kiplagat would pull away from Forrest over the final 3/4 mile for a convincing win (7 seconds), smash the meet record in the process (24:17), and come up just short of the course record.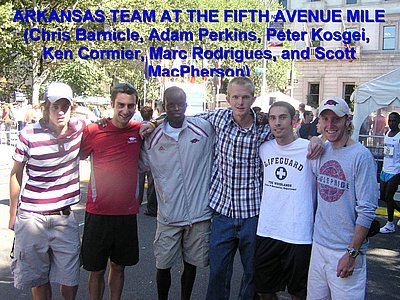 Arkansas's remaining runners were well positioned in a chase pack and three of them (impressive freshman Chris Barnicle who won the Footlocker northeast region on this course last year, Adam Perkins, and Marc Rodrigues) pulled away from the rest of the field to finish close to the fading Boit (who may have put it on cruise control after being dropped by the top two). Boit had 17 seconds on his teammates at 5k but the four finished within six seconds of each other in 3, 4, 5, 6 in 24:43, 24:45, 24:46 and 24:49.
The depth of Arkansas runners' was not only evidenced by the times they ran (5 under 24:49, with two expected to be in their top five sitting out), but who they beat. 8th place finisher Stephen Chemlany was 33rd at the 2004 NCAA XC nationals, 9th place finisher Sean Quigley ran 28:59 on the track, and 10th place finisher Bruce Hyde was the Northeast XC Champion last year, 27th at the 2004 NCAA XC nationals, and the first collegian in this meet last year in 25:02 which would have gotten him 10th today, which is where he finished.
2004 Footlocker High School XC Champion Ken Cormier was the Hogs sixth man in his collegiate debut. He finished 14th overall in 25:11.
Rounding out the top 5 in the team standings was #7 Iona in a clear 2nd, Cornell 3rd, Brown 4th and LaSalle 5th in the field of 25 teams.
*Full Men's Results Here
*LetsRun.com Iona Photo Gallery Here
The meet on the women's side lacked any national powers, but American junior record holder at 10k Harvard's Lindsey Sherf did run, getting the convincing win. The Cornell women put on an exhibition in pack running as with the help of 3 freshmen they had 6 runners finish within 20 seconds of each other to get a dominating victory with 67 points to runner up Iona's 115. Dartmouth, Lasalle and Princeton rounded out the top 5.
Cross Country Spikes 10% off
---
---
---

Running & Track and Field Posters
---
Unbelievable interest
ING Orange Savings Account
Sponsor of the NYC Marathon


5 Minute Process to Open an Account
No Minimum Deposit
---
---